Andy Williams dies at 84; 'Moon River' singer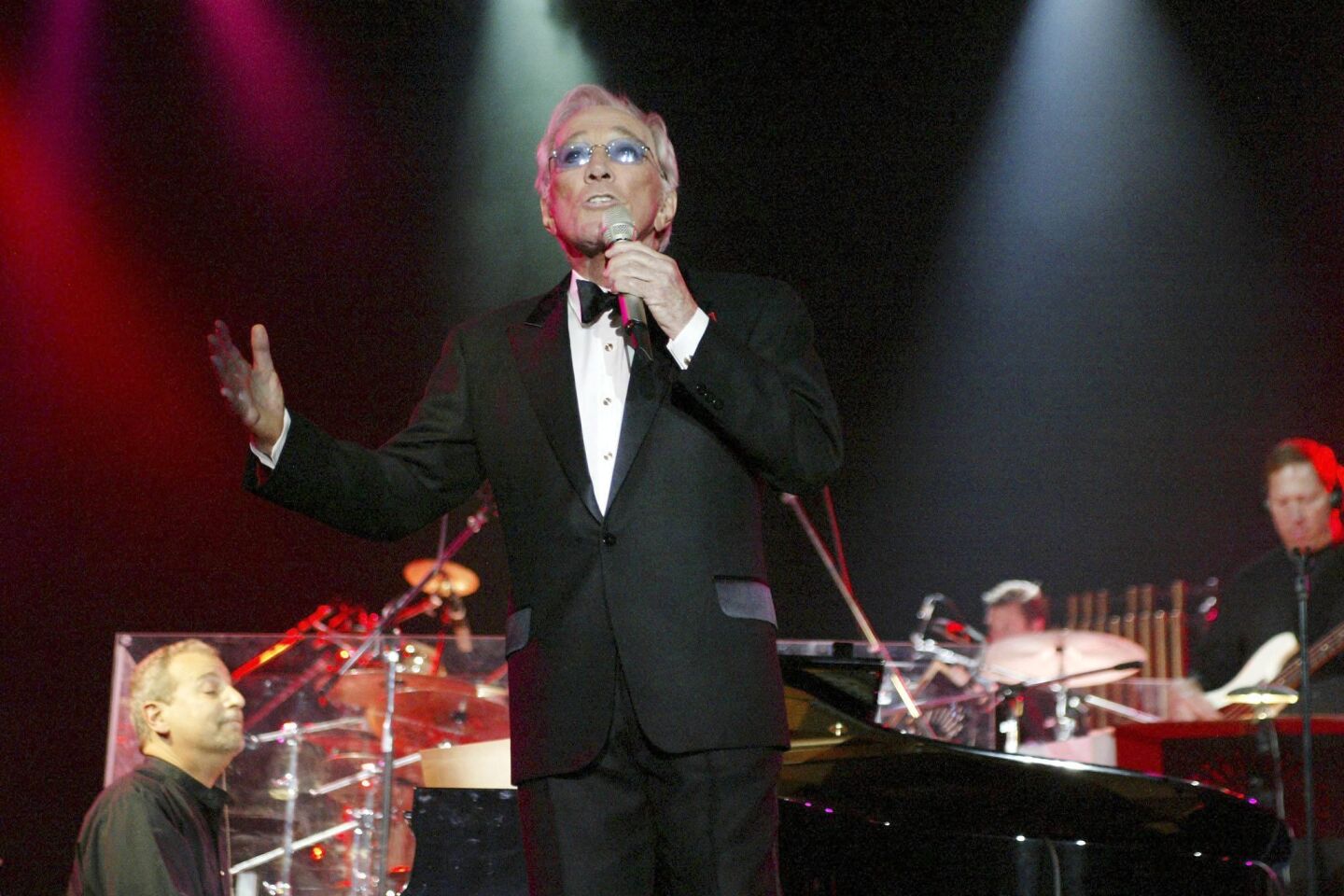 Andy Williams performs in 2004 in Bangkok, Thailand.
(Uthaiwan Boonloy / EPA)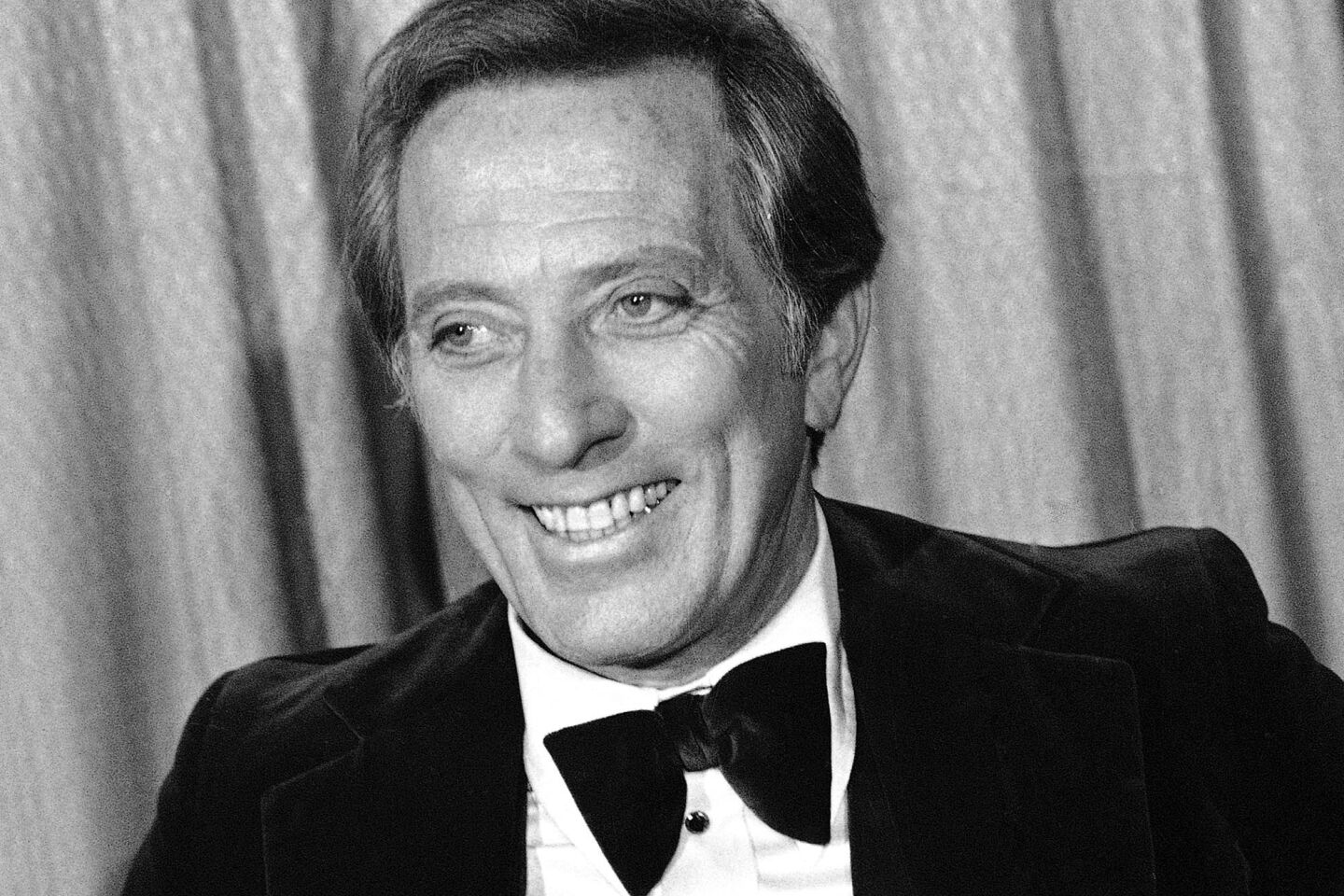 Andy Williams at the 1978 Grammy Awards in Los Angeles. Williams hosted the ceremony seven times.
(Lennox McLendon / Associated Press)
Andy Williams in New York in 1974. Williams had a string of gold albums and hosted a popular television variety show and several Christmas specials.
(Jerry Mosey / Associated Press)
Andy Williams visits his boyhood home in Wall Lake, Iowa, in 1998 while in town to attend ceremonies dedicating the house as a historic site.
(Dave Weaver / Associated Press)
Andy Williams at a news conference in Tokyo in 2004.
(Shizuo Kambayashi / Associated Press)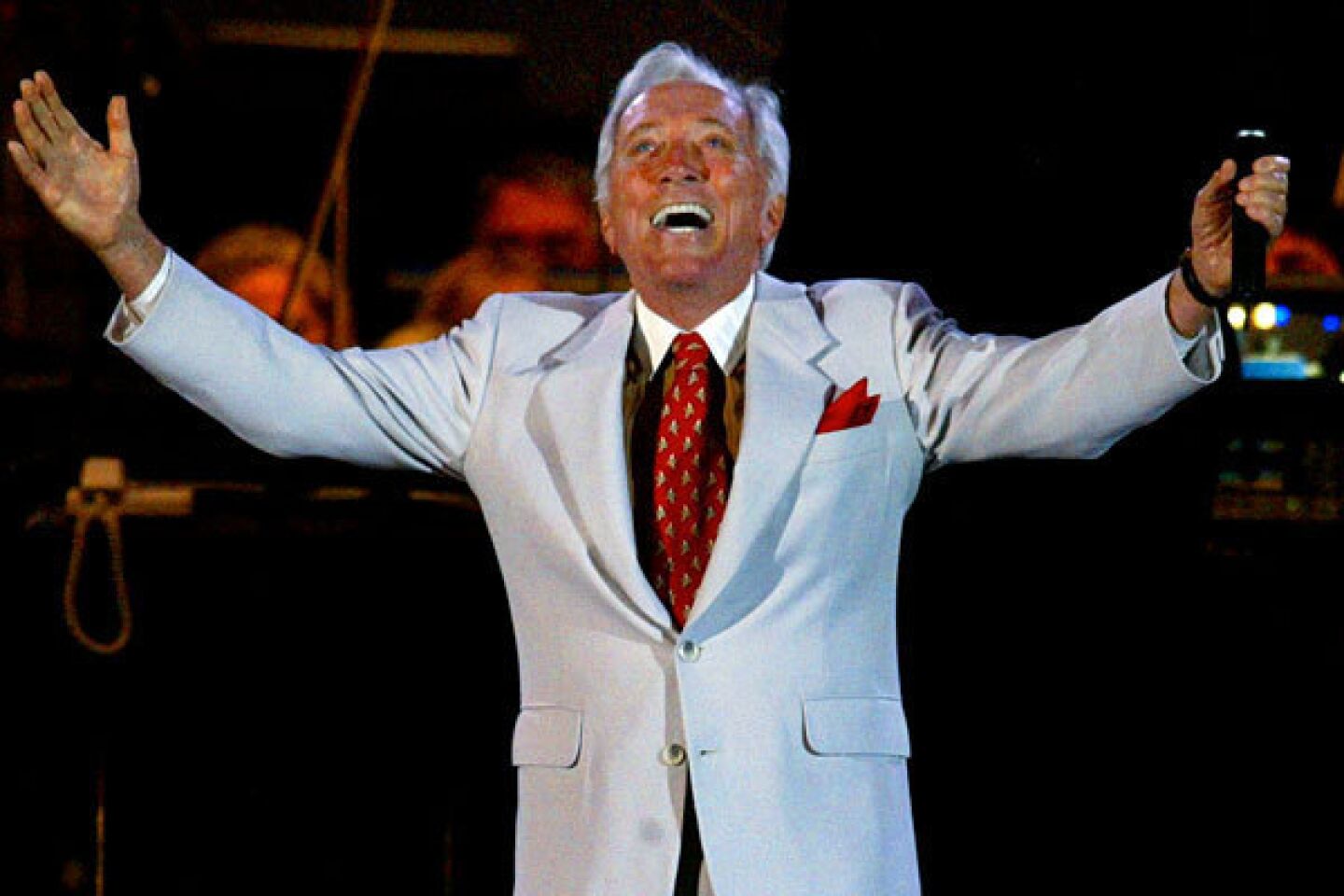 Andy Wililams, shown performing in 2009, said he never tired of singing "Moon River," whose melody he considered "beautiful" and whose lyrics he called "timeless."
(Lawrence K. Ho / Los Angeles Times)
Andy Williams' signature hit song from the early 1960s was no accident of timing.
Audrey Hepburn sang it first in the 1961 film "Breakfast at Tiffany's," and it was nominated for an Oscar. But when the producers of the Academy Awards show asked Williams to perform "Moon River" on the 1962 broadcast, his record label hatched a plan.
With four weeks till air time, Williams recorded an album featuring "Moon River" and other "great movie themes." It was rushed into stores on Oscar day and by the next morning was on its way to being a hit.
Williams, 84, whose soothing baritone and laid-back style made him one of America's top vocalists from the 1950s into the 1970s, died Tuesday at his home in Branson, Mo., his family said. Late last year, he announced he had bladder cancer.
When rock music was stirring up the 1960s and 1970s, Williams and his silky voice soothed the masses hankering for the familiar rhythms of a bygone era. "The Andy Williams Show" aired weekly from 1962 to 1967 and again from 1969 to 1971, with occasional specials in the interim, and was reassuringly old school, at least in its early years.
For his part, Williams was much like other popular television personalities of the day such as Dinah Shore and Johnny Carson. Williams was a relatable and reassuring presence, often wearing his trademark sweaters as he sang such hit songs as "Days of Wine and Roses" and "Born Free."
"The Andy Williams Show," which was taped at NBC in Burbank, won three Emmy Awards, and its casual host received two Emmy nominations.
Williams said he never tired of singing "Moon River," whose melody he considered "beautiful" and whose lyrics he called "timeless."
"You wouldn't believe how 'Moon River' became a hit," he told the Chicago Tribune in 1989. "I was having dinner with [songwriters] Henry Mancini and Johnny Mercer, who had just finished recording the movie 'Breakfast at Tiffany's,' with Audrey Hepburn singing 'Moon River' out on the balcony with a guitar.
"So Mancini and Mercer played this song for me, which I thought was great," he said, but his record company at the time "was really into singles then, and they said: 'I don't think phrases like "my Huckleberry friend" will make it with the kids — they won't know what it means.'"
His next record label, Columbia, hurriedly sent him to the studio to record "Moon River."
The singer hosted "The Andy Williams Show" on NBC from 1962 to 1967, then did occasional specials before again taking the series weekly from 1969 to 1971.
"In some cases, people who go on television, their record sales drop off; mine seemed to go up," Williams told the Orlando Sentinel in 1991.
"I think it's because the music is kind of soft and easy and it's not jamming down anybody's throat. It's just there and people find it pleasant and like it, and they go out and buy the albums."
"The Andy Williams Show" featured established entertainers such as Bing Crosby, Ella Fitzgerald, Jonathan Winters and Phyllis Diller as well as newer talents such as Linda Ronstadt, the Mamas and the Papas, Elton John and the Jackson 5.
Williams also regularly showcased the Osmond Brothers, who were billed as "a youthful barbershop harmony group from Ogden, Utah" when they debuted on the show in 1962.
A popular feature of the TV program was the annual Christmas special, which invariably showed Williams surrounded by his family.
The Christmas shows were so popular that when the weekly series went off the air, "we got thousands of pieces of mail" asking us to come back, Williams later said. He returned annually to host Christmas specials for many years and later presented Christmas shows in theaters around the country.
The Iowa-born Williams began singing professionally as a boy with his three older brothers in the 1930s, and he went solo when the quartet broke up in the early 1950s.
After becoming a regular featured singer on Steve Allen's "Tonight" show in 1954, Williams had hits with songs such as "Canadian Sunset" and "Butterfly."
He continued to turn out hits in the 1960s and '70s, including "Can't Get Used to Losing You," "Dear Heart," "Charade," "Music to Watch Girls By" and "(Where Do I Begin) Love Story."
The son of a railroad mail clerk, Williams was born Dec. 3, 1927, in Wall Lake, Iowa. As a boy, he began singing with his three older brothers — Bob, Don and Dick — in the local Presbyterian church choir.
"The very first time he heard his four sons harmonize together, my dad became a man with a dream and a mission in life, convinced that we had a future as professional singers," Williams wrote in his 2009 memoir "Moon River and Me."
With their father as their manager and "driving force," the Williams Brothers landed a 15-minute show every weekday morning on a Des Moines radio station in 1936 when Andy was 8. They had similar success after moving to Chicago in 1941, and later Cincinnati.
The family headed west in early 1944 and the Williams Brothers soon got two big breaks in Hollywood: Bing Crosby hired them to do the backing vocals on his 1944 hit "Swinging on a Star" and MGM signed them to a contract.
They appeared as a quartet in half a dozen forgettable movies, including "Kansas City Kitty." While his brothers were in the service during World War II, Andy sang in a few other close harmony groups before spending six months in the merchant marine toward the end of the war.
In 1947, the Williams Brothers teamed with singer-comedienne Kay Thompson to form a critically acclaimed nightclub act that toured the country for a number of years. The Williams Brothers split up in 1953; his older brothers were tired of travel and were starting their own families.
Williams spent more than two years as a regular on Steve Allen's "Tonight" show, singing and appearing in comedy sketches, and then hosted summer replacement variety series from 1957 to 1959 before launching his long-running NBC variety show in 1962.
In 1961, he married Paris-born Claudine Longet, then a young Las Vegas dancer, with whom he had three children, Noelle, Christian and Robert, named after their close friend Sen. Robert F. Kennedy.
The Williamses were among those gathered in Democratic presidential candidate Kennedy's suite at the Ambassador Hotel in Los Angeles on June 4,1968, when he won the California presidential primary. They were headed downstairs to meet with Kennedy when the senator was fatally shot shortly after midnight.
At Kennedy's funeral, Williams sang "The Battle Hymn of the Republic." He later called it "probably the hardest thing I ever did."
"It was thrilling and heart-wrenching," he told the Chicago Sun-Times in 2000. "I remembered he loved hearing that song at rallies and such wherever his campaign travels took him. I started singing it and then everybody in the church just joined in, and it was the most moving moment I have ever experienced."
Williams and Longet were divorced in 1975, and the next year a dark chapter of his personal life began when Longet was charged with the shooting death of her boyfriend, skiing champion Vladimir "Spider" Sabich.
He later said he received only positive feedback for supporting his ex-wife, who claimed the pistol went off by accident. She was found guilty of criminally negligent homicide, a misdemeanor, and sentenced to 30 days in jail in 1977.
"People respected me for standing by her," Williams said in 1981. "I didn't think I did anything special — I just did what I had to do. I was there to take care of my kids and make sure they were all right, and because I love my ex-wife. I wasn't worried about my image. That was the last thing I cared about."
When Caesars Palace opened in Las Vegas in 1966, Williams was the first performer to headline, and he remained a star attraction there for two decades.
An avid golfer, he hosted the variously named Andy Williams San Diego Open for many years.
In 1992, while continuing to perform across the country, he opened the Andy Williams Moon River Theatre in Branson, when it was mainly a hub for country music.
"I didn't want to pretend I was a country singer," he told the Vallejo (California) Times-Herald in 2004. "I was going to be myself. I wanted to make a theater that represented what I felt I was — classy, sophisticated in a way. So I built a theater like that."
Even in his 80s, Williams retained a singing voice that, as one British writer put it, was "still as smooth as silk lingerie."
Williams' survivors include his second wife, Debbie; his three children, Robert, Noelle and Christian; six grandchildren; and brothers Don and Dick.
Must-read stories from the L.A. Times
Get the day's top news with our Today's Headlines newsletter, sent every weekday morning.
You may occasionally receive promotional content from the Los Angeles Times.