Anne Francis dies at 80; costarred in the 1950s science-fiction classic 'Forbidden Planet'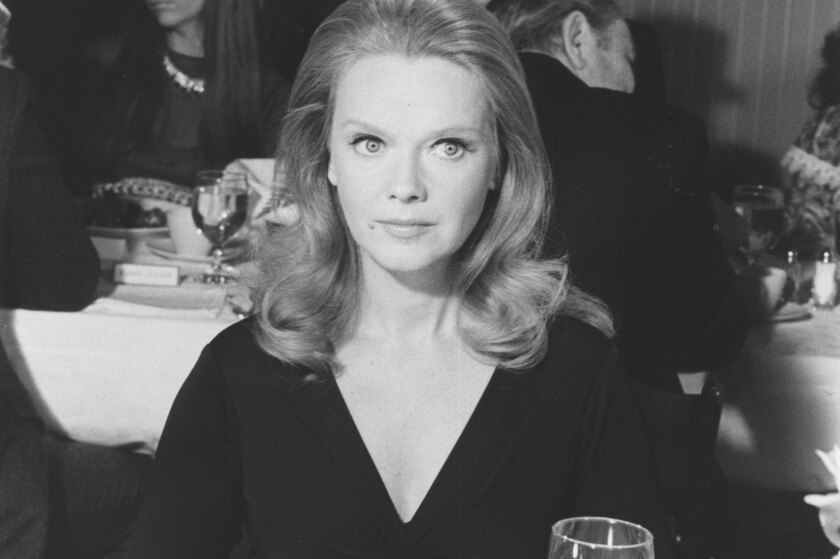 Anne Francis, who costarred in the 1950s science-fiction classic "Forbidden Planet" and later played the title role in "Honey West," the mid-1960s TV series about a sexy female private detective with a pet ocelot, died Sunday. She was 80.
Francis, who was diagnosed with lung cancer in 2007 and underwent surgery and chemotherapy, died of complications of pancreatic cancer at a retirement home in Santa Barbara, said Jane Uemura, her daughter. Friends and family members were with her, said a family spokeswoman, Melissa Fitch.
A shapely blond with a signature beauty mark next to her lower lip, Francis was a former child model and radio actress when she first came to notice on the big screen in the early 1950s.
She had leading or supporting roles in more than 30 movies, including "Bad Day at Black Rock," "Battle Cry," "Blackboard Jungle," "The Hired Gun," "Don't Go Near the Water," "Brainstorm," "Funny Girl" and "Hook, Line and Sinker."'
She also achieved cult status as one of the stars of "Forbidden Planet," the 1956 MGM movie costarring Walter Pidgeon and Leslie Nielsen and featuring a helpful robot named Robby.
Francis, however, never became a major movie star and was more frequently seen on television as a guest star on scores of series from the late '50s and decades beyond, including an episode of "The Twilight Zone" in which she played a department store mannequin who comes to life at night.
But it's as the star of "Honey West," the first female detective to be featured in a weekly TV series, that Francis may be best remembered.
Based on the title character in G.G. Fickling's series of Honey West paperback mysteries launched in 1957, Francis' Honey West was introduced to TV viewers in an episode of "Burke's Law" in the spring of 1965.
The episode served as the pilot for the half-hour "Honey West" series, which was executive produced by Aaron Spelling and made its debut in the fall of 1965.
In it, West, who inherited a Los Angeles detective agency from her late father, had a partner named Sam Bolt (played by John Ericson), shared an apartment with her Aunt Meg ( Irene Hervey) and owned a man-hating pet ocelot named Bruce Biteabit.
In what Francis later described as "a tongue-in-cheek, female James Bond," her karate-chopping private eye drove a custom-built Cobra convertible sports car and, when necessary, worked out of a specially equipped mobile surveillance van that masqueraded as a TV service vehicle.
Among her Bond-style gimmicks: a lipstick radio transmitter, a fake martini olive on a toothpick for bugging conversations, earrings that exploded with tear gas when they were thrown to the floor and a black garter with pink lace that doubled as a gas mask.
As the glamorous and sexy Honey, Francis was outfitted in an eye-catching wardrobe that included a black snakeskin trench coat, a white beaded gown trimmed in sable and a tiger- skin bathing suit with matching cape.
In a television era of Donna Reed and Harriet Nelson housewives, the independent, take-charge Honey West has been described as being a role model for young baby-boomer women.
"She was probably the forerunner of what we would call the good aspects of female independence," Francis told the (Memphis) Commercial Appeal in 1997.
"Producers and writers I work with, young women in their 30s and 40s, tell me all the time, 'You have no idea what an influence you had on me with Honey West. You showed that I could do something unusual with my life, that I could have my freedom and not be dependent on another human being for my livelihood.'"
Francis won a Golden Globe as best female TV star and received an Emmy nomination for her portrayal of Honey West.
The series received good ratings, but ABC canceled it in 1966 after 30 episodes. "They were able to buy 'The Avengers' [spy drama] from England for less than it cost to produce our show," Francis later said.
She was born Sept. 16, 1930, in Ossining, N.Y. At the age of 7, after her family moved to New York City, she was signed by the John Robert Powers modeling agency.
Her career as a child model led to acting roles on the children's radio shows "Let's Pretend" and "Coast-to-Coast on a Bus," and she then moved on to radio soap operas. In 1941, she also appeared on Broadway, playing Gertrude Lawrence as a child in "Lady in the Dark."
Francis arrived in Hollywood for the first time in 1946 and was signed to a contract with MGM. But after a year of "grooming" at the studio, during which she had a small part in the Mickey Rooney musical "Summer Holiday," the teenage Francis returned to New York, where she began appearing in live TV productions.
After playing a teenage prostitute with a baby in a girl's reform school in "So Young, So Bad," a 1950 movie drama shot in New York, Francis was signed to a contract at 20th Century Fox. After three years at Fox, she was signed again at MGM and by the late '50s was freelancing.
While at MGM, she co-starred in "Forbidden Planet," a big-budget, box-office hit that received an Oscar nomination for special effects.
Francis played Altaira, the alluring daughter of the scientist character played by Pidgeon: the two sole-surviving human inhabitants of the mysterious, technologically advanced planet.
"I got that part because I was under contract to MGM and I had good legs," Francis, who wore futuristically abbreviated costumes, said in a 1992 interview for Starlog magazine.
At the time, she recalled, "I don't think that any of us really were aware of the fact that it was going to turn into a longtime cult film, probably much, much stronger today than it was then. … 'Forbidden Planet' just had a life of its own, something that none of us was aware was going to happen."
Francis, who wrote the 1982 memoir "Voices From Home: An Inner Journey," continued to appear on television throughout the '90s.
In addition to Uemura, the twice-divorced Francis is survived by another daughter, Maggie, and a grandson, Fitch said.
---
Must-read stories from the L.A. Times
Get all the day's most vital news with our Today's Headlines newsletter, sent every weekday morning.
You may occasionally receive promotional content from the Los Angeles Times.