Dr. Antonio De la Cruz dies at 65; neurotologist performed ear surgery on Rush Limbaugh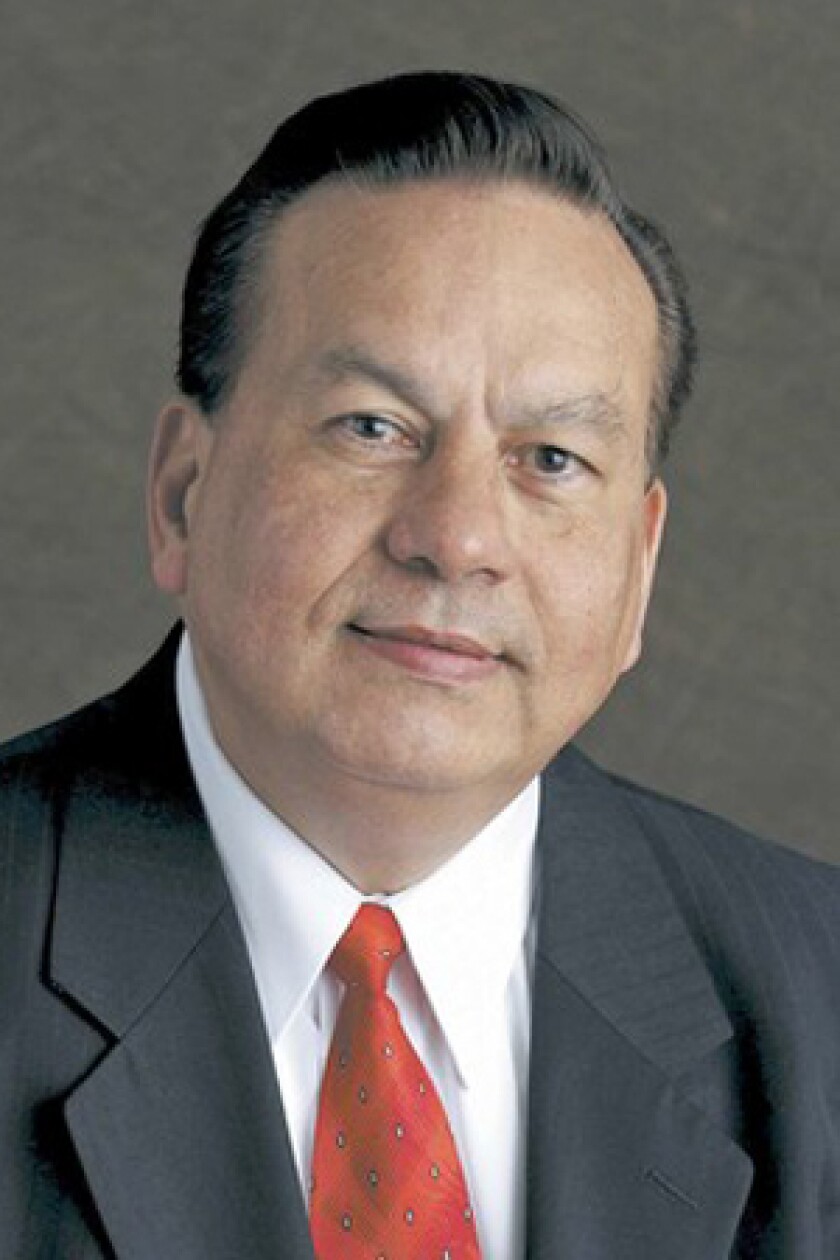 Dr. Antonio De la Cruz, a renowned neurotologist at the House Ear Clinic in Los Angeles who performed cochlear implant surgery on conservative radio talk-show host Rush Limbaugh, has died. He was 65.
De la Cruz, who also was the director of education at the House Ear Institute, died July 31 of complications of lymphoma at St. Vincent Medical Center in Los Angeles, an institute spokeswoman said.
An associate of the House Ear Clinic since 1975, De la Cruz was in the news in 2001 when he successfully performed cochlear implant surgery on Limbaugh.
A cochlear implant is an electronic device surgically implanted in the inner ear that, when used with a small external receiver, picks up sound and helps compensate for hearing impairment.
Limbaugh's hearing loss was the result of autoimmune inner ear disease.
"Dr. De la Cruz literally saved my career and got me my life back with that surgery," Limbaugh said this week.
He said his hearing loss "was rapid, within six months, and Dr. De la Cruz did everything to try to save it. Nothing worked." But throughout the process, "he was always confident, always reassuring, always upbeat and supportive."
Without the cochlear implant surgery, Limbaugh said, "I wouldn't have been able to continue my career. For a month before I had the implant surgery, I did my show totally deaf."
Limbaugh said he and De la Cruz "got together socially a lot for years after we met. He was the epitome of refinement and class; he had a dignity he just exuded. We all had a very special affection for him."
As director of education at the House Ear Institute, De la Cruz led professional training programs for hundreds of visiting physicians in otology/neurotology surgical procedures and practices.
Fluent not only in English and Spanish but in French, Italian, Portuguese and other languages, he frequently lectured and taught around the world.
De la Cruz served as president of the American Academy of Otolaryngology-Head and Neck Surgery in 1997-98 and received the academy's presidential citation in 2004 and its Distinguished Service Award in 2007.
From 1988 until his death, he served on the review panel for otology and neurotology for the academy's journal Otolaryngology-Head and Neck Surgery. He also was an active member of the House Ear Institute's board of trustees since 1984.
The last of nine children, De la Cruz was born June 13, 1944, in San Jose, Costa Rica. He received his doctorate in medicine from the University of Costa Rica School of Medicine in 1967 and completed his specialty training in otolaryngology at the University of Miami Hospitals in 1973.
He is survived by his son, Anthony; his daughter, Jeannette; his sisters, Matilde and Lilia; his brothers, Alvaro and Enrique; his longtime companion, Nilia Matos, and her daughter, Gwenael Salha.
A funeral service will be held at 7 p.m. Monday at Church of St. Mark, 940 Coeur d' Alene Ave., Venice. A celebration of his life will follow the service.
Instead of flowers, the family requests that memorials be sent to the House Ear Institute, 2100 W. 3rd St., Los Angeles, CA 90057.
---
Must-read stories from the L.A. Times
Get all the day's most vital news with our Today's Headlines newsletter, sent every weekday morning.
You may occasionally receive promotional content from the Los Angeles Times.