Arthur Ferrante dies at 88; half of the popular piano duo Ferrante and Teicher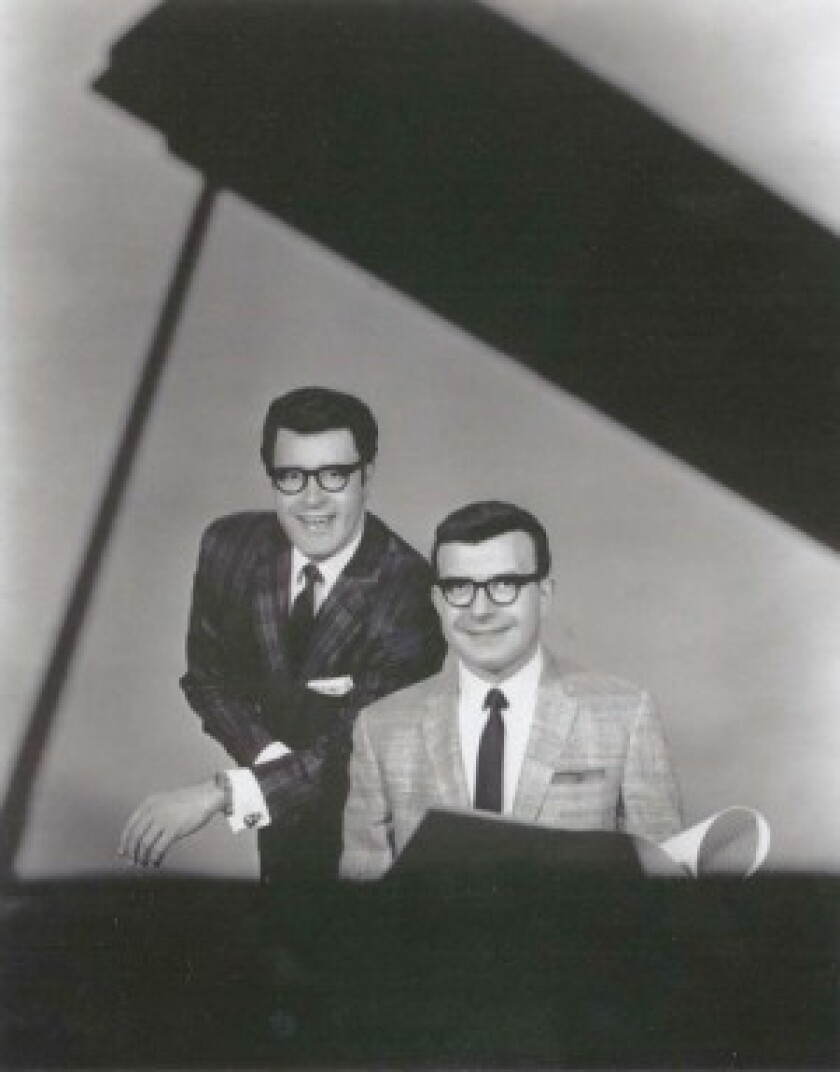 Arthur Ferrante, one half of the piano duo Ferrante and Teicher whose lush orchestral recordings of 1960s movie themes propelled them to popular and commercial success, has died. He was 88.
Ferrante died of natural causes early Saturday at his home in Longboat Key, Fla., his manager, Scott W. Smith, said Sunday. Lou Teicher died in August 2008 at age 83.
"Although we were two individuals, at the twin pianos our brains worked as one," Ferrante said last year after Teicher's death.
The classically trained pair met and became friends at the Juilliard School in New York, where they both had enrolled as children.
A few years after graduating, they rejoined as a piano duo and toured the country throughout the 1950s, playing 9-foot concert pianos while facing each other on stage. The pianists relied on their classical repertoire during the main concert performance but skipped to pop songs and novelty tunes for encores.
Over the course of their 40-year partnership, the "Grand Twins of the Twin Grands" recorded 150 albums, racking up 22 gold and platinum records and selling 90 million records worldwide, and performed 5,200 concerts before retiring in 1989.
"They made beautiful music, but they were not easy listening," Smith said. "They were very dynamic."
In 1960, Ferrante and Teicher teamed with producer Don Costa to record their arrangement of the theme to the Billy Wilder film "The Apartment." The single shot up to Billboard's Top 10, as did their next movie recording that same year, the theme to "Exodus," based on Ernest Gold's soundtrack music. The duo continued to please their audience with embellished versions of movie music performed on their twin pianos along with a full orchestra and chorus.
Next up was a Top 10 recording of "Tonight," Leonard Bernstein and Stephen Sondheim's song from "West Side Story" in 1961.
They soon became known as the Movie Theme Team after releasing themes from "One-Eyed Jacks" (1961), "Lawrence of Arabia" (1962), "Cleopatra" (1963) and others. They finished the decade in 1969 by earning a Top 10 hit with the theme from "Midnight Cowboy," based on John Barry's soundtrack tune.
" 'The Apartment' record came out while we were on tour, and after just a couple weeks we started noticing our audiences were acting different," Teicher told the Chicago Tribune in 1987. "Whereas before they would be listening raptly to our classical music, now they were rustling their programs and obviously not too interested in what was going on. So we did the only thing we could: We switched styles, and we haven't regretted it for a minute."
Arthur Richard Ferrante was born Sept. 7, 1921, in New York City. Three years older than Teicher, he entered Juilliard at age 9. They both studied piano with Carl Friedberg, and Ferrante graduated in 1940.
He returned to Juilliard a few years later as a piano instructor and played at night in clubs with Teicher. In the late '40s, the duo began touring the United States and Canada and in 1952 made their first recordings.
Showmen from the start, they weren't content to merely play notes from a sheet of music. They began altering their pianos, adding mutes and other objects such as metal chains, glass, wood and cardboard to the strings to create different sounds. And they didn't only strike the keys, they would pluck, pound or strum the strings inside the piano to make alternative sounds.
These "gimmicks," as they called them, landed them spots on the leading TV variety programs of the day, including "The Ed Sullivan Show," "The Tonight Show," "The Dean Martin Show," and invitations to perform at the White House for presidents Kennedy, Nixon and Reagan.
Ferrante is survived by his wife, Jena; a daughter, Brenda Eberhardt; and two granddaughters.
---
Must-read stories from the L.A. Times
Get all the day's most vital news with our Today's Headlines newsletter, sent every weekday morning.
You may occasionally receive promotional content from the Los Angeles Times.