Emmy winner Barbara Hale, who played Perry Mason's secretary, has died at 94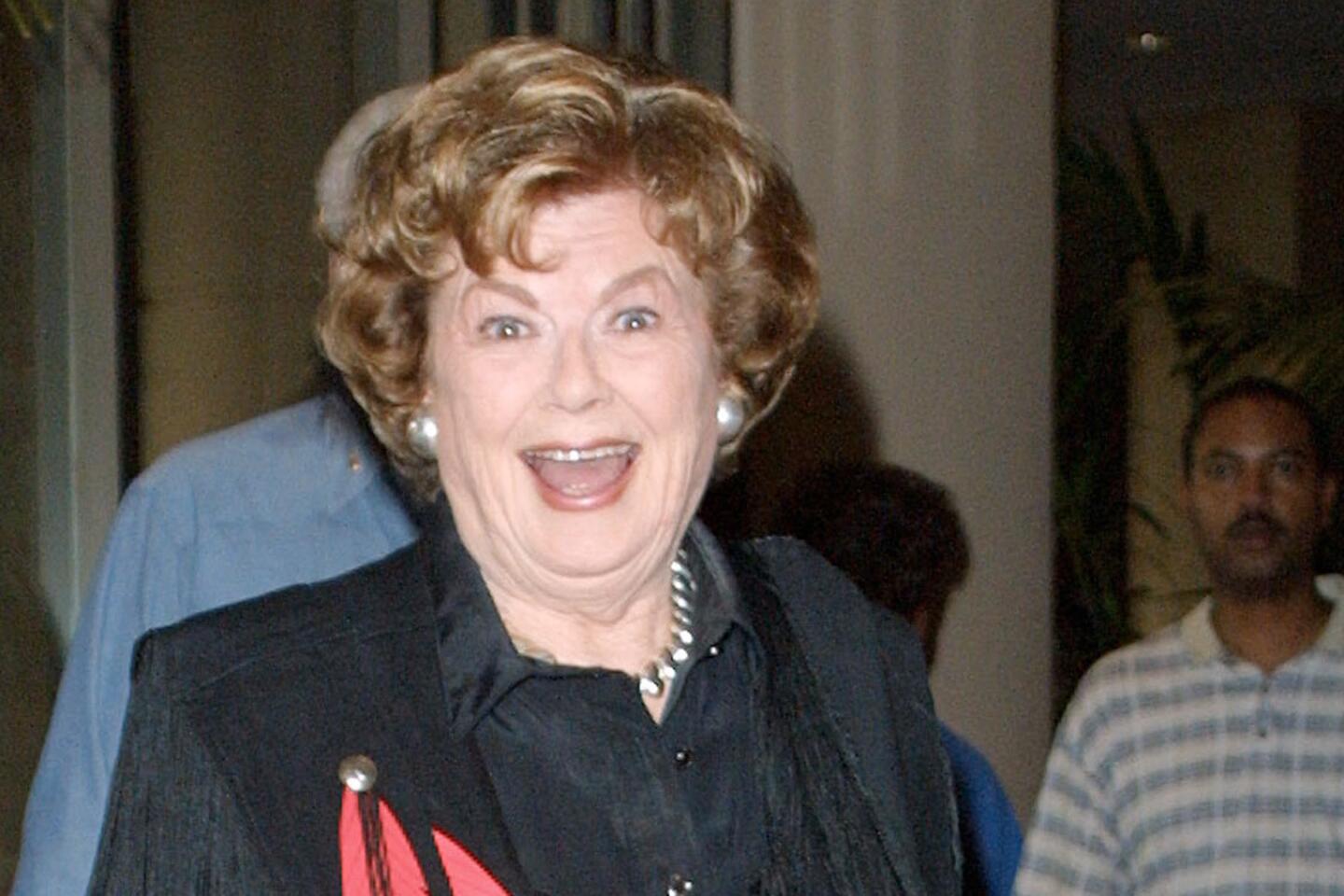 Barbara Hale, best known for her Emmy Award-winning role as Perry Mason's loyal secretary Della Street on the 1950s and '60s TV series starring Raymond Burr as the crime-solving defense attorney, has died at 94.

Pictured: Hale arrives at the 19th Golden Boot Awards on Aug. 11, 2001 in Beverly Hills.
(Frederick M. Brown / Getty Images)
Frank Sinatra speaks with Barbara Hale during a radio broadcast circa 1940 in New York.
(Mark Rucker / Transcendental Graphics)
Actors Janis Carter, Robert Young and Barbara Hale star in Columbia Pictures' comedy "And Baby Makes Three" in 1949.
(Hulton Archive / Getty Images)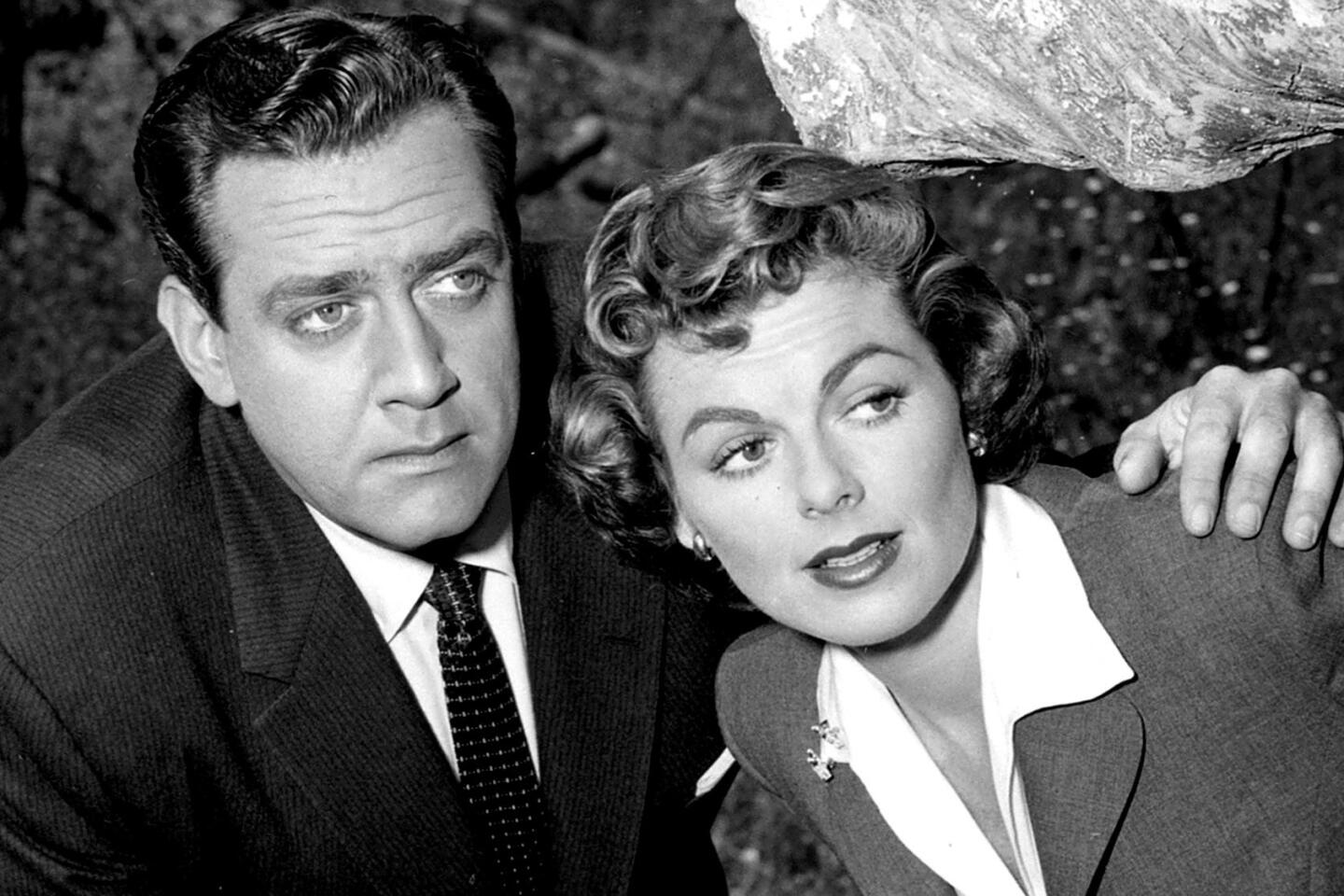 Raymond Burr and Barbara Hale star in the "Perry Mason" episode "The Case of the Runaway Corpse" in 1957.
(CBS Photo Archive / Getty Images)
Barbara Hale plays secretary Della Street and Raymond Burr is the titular defense attorney in the "Perry Mason" episode "The Case of the Loquacious Liar" in 1960.
(CBS Photo Archive / Getty Images)
From left: Tim Tallman, Jayne Meadows Allen and Barbara Hale attend the Early TV Memories First-Class stamp dedication ceremony held at the Academy of Television Arts and Sciences on Aug. 11, 2009 in North Hollywood.
(Alberto E. Rodriguez / Getty Images)
Barbara Hale, best known for her Emmy Award-winning role as Perry Mason's loyal secretary Della Street on the long-running 1950s and '60s TV series starring Raymond Burr, has died. She was 94.
Hale died Thursday, according to her son, actor William Katt, who posted the news on his Facebook page. Katt's agent, Jacqueline Sander, said Hale died at home, at peace with her family and friends.
"We've all been so lucky to have her for so long. She was gracious and kind and silly and always fun to be with …," Katt wrote on Facebook. "We're all a little lost without her but we have extraordinary stories and memories to take with us for the rest of our lives."
Based on characters in author Erle Stanley Gardner's popular mystery series, the hourlong "Perry Mason," about a crime-solving defense attorney, ran for nine seasons on CBS, from 1957 to 1966.
Hale viewed the devoted Della as "a woman who knew what everybody was thinking."
"She was informed and very observant of everything that went on," Hale said of the character in a 1993 interview with the Chicago Tribune. "That was my challenge as an actress — to be a necessary part of the office without being too aggressive.
"Della was quietly overpowering: She knew when to speak and when to keep her mouth closed."
Hale was a former RKO and Columbia Pictures contract player with a string of movies and TV dramatic anthology series appearances behind her when producer Gail Patrick Jackson offered her the role of Della.
The onetime Chicago fashion model, who was married to actor Bill Williams (TV's Kit Carson) and had young children at home, wasn't interested in working full time on a weekly TV series. But at Jackson's urging, she agreed to read the pilot script.
"I called back after reading it and said: 'Good luck, dear,' " Hale recalled in a 1993 interview with the Los Angeles Times, saying she didn't think an actor could sustain Mason's lengthy courtroom monologues on a weekly basis.
But when Jackson told her that Gardner had chosen Burr to play Mason, Hale said she thought they had an actor who could pull it off.
"He's so professional and so fine and looks great for the part. Well, I think he's just a marvelous choice," Hale recalled telling Jackson. "She said, 'Now, Barbara. You must do it.' "
After discussing the offer with her husband and obtaining a promise from Jackson that CBS was only going to shoot 18 episodes, Hale agreed to play the part. The series she thought would never go beyond 18 episodes earned her the Emmy Award in 1959 and another Emmy nomination in 1961.
She learned early on that her portrayal of Della also had made an impression at home.
"When [my son] Billy was in the first grade, we went to school for the first parent meeting, and on his desk were little projects he'd made — pictures of Daddy and Mommy and his sister and his animals," she recalled in the 1993 Chicago Tribune interview.
"And underneath my picture … he'd written in inch-high block letters, 'This is my mom. I love her. She is a secretary.' "
Billy went on to become actor William Katt, which also was his father's real name.
After "Perry Mason" went off the air in 1966, Hale served as a commercial spokeswoman for the Amana Corp., played Dean Martin's wife in the movie "Airport" and made TV guest appearances.
In 1985, Burr and Hale reprised their old roles in a reunion movie on NBC, "Perry Mason Returns." A major ratings success, it led to 25 more Perry Mason TV movies until Burr's death in 1993.
Hale's son Katt played the part of investigator Paul Drake Jr., the son of the character originally played by William Hopper, in a number of the popular TV movies. Hale previously had played the mother of Katt's character in the 1978 movie "Big Wednesday" and in an episode of his early '80s TV series "The Greatest American Hero."
She was born April 18, 1922, in DeKalb, Ill., and grew up in Rockford, Ill. After graduating from high school, where she was voted May Queen, she studied at the Chicago Academy of Fine Arts.
Her plans to become a commercial illustrator and portraitist changed after she was spotted on a Chicago street corner by the owner of a modeling agency.
She worked a year and a half as a fashion model in Chicago before RKO saw photos of her and signed her to a contract.
She went on to play leads in films such as "West of the Pecos" (with Robert Mitchum), "Jolson Sings Again" (with Larry Parks), "Lorna Doone" (with Richard Greene), "The Jackpot" (with James Stewart) and "A Lion Is in the Streets" (with James Cagney).
While at RKO, Hale met and married her husband, with whom she starred in "The Clay Pigeon" and "A Likely Story." He died in 1992.
Hale is survived by her three children, six grandchildren and three great-grandchildren.
McLellan is a former Times staff writer.
Sign up for Essential California for the L.A. Times biggest news, features and recommendations in your inbox six days a week.
You may occasionally receive promotional content from the Los Angeles Times.