William Del Monte dies at 109; last survivor of San Francisco quake and fire of 1906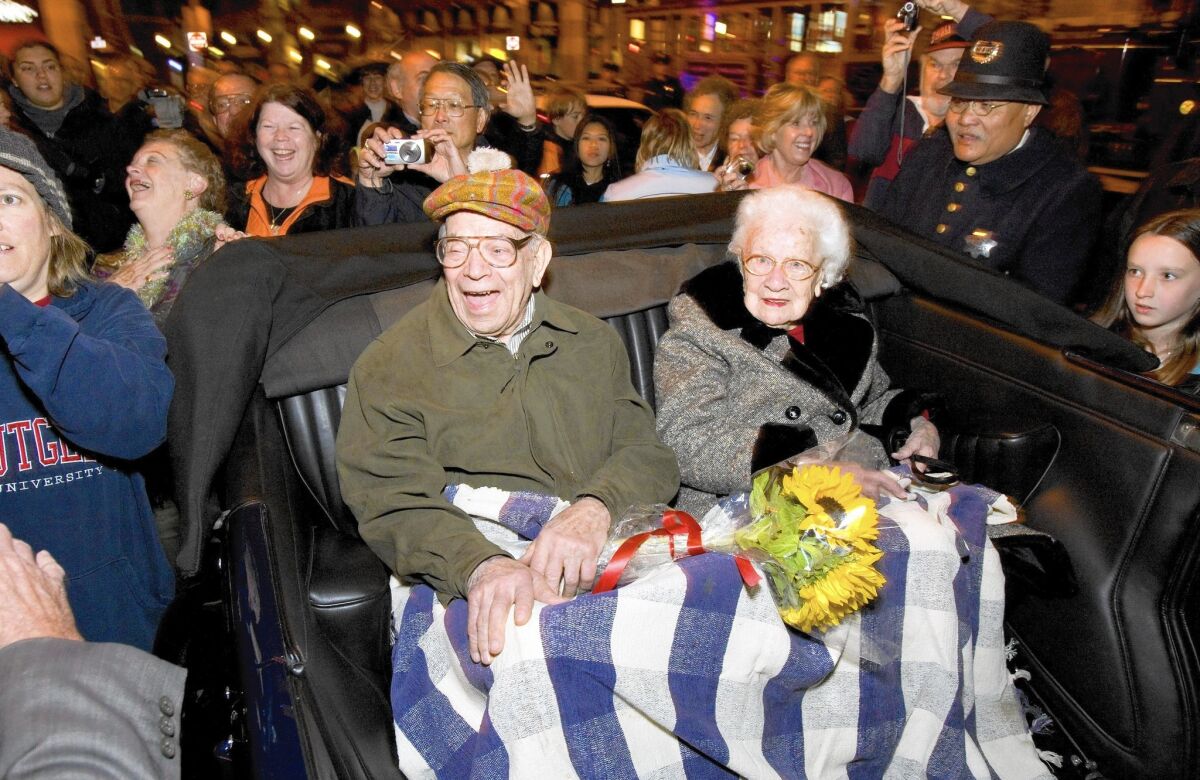 Associated Press
Reporting from San Francisco —
The last survivor of the devastating San Francisco earthquake and fire of 1906 has died.
William A. "Bill" Del Monte died Monday at a retirement home in Marin County. He was 11 days shy of his 110th birthday. His niece, Janette Barroca of San Francisco, confirmed his death of natural causes.
He'd been doing "great for 109 years old," Barroca said.
Del Monte was 3 months old when the quake struck — forcing his family into the streets to escape in a horse-drawn buckboard with fire burning on both sides. The family crossed the bay to Alameda County and returned to San Francisco after their home was rebuilt, Barroca said.
His father had opened the famous Fior d'Italia on Broadway in 1886, which was destroyed in the quake but reopened in a tent not long after. Del Monte attended San Francisco schools and after graduation worked briefly for his father at the North Beach restaurant.
In his teens he was interested in playing the stock market — and he was good at it. By 1929, when he was 23, he was worth $1 million, according to the San Francisco Chronicle.
He lost the money, but around the same time he gained a wife: Del Monte and Vera Minetti eloped to Reno in 1925 and were married for more than 55 years before she died in 1991. They never had children. Though his true passion was playing the stocks, he also ran a San Francisco Bay Area theater for years.
Del Monte's death leaves a void in the city's history.
At 113, Ruth Newman was the oldest remaining survivor of the earthquake before her death last summer. Four years old when the quake struck in the early morning of April 18, 1906, she never attended the city's annual quake commemorations.
But Del Monte did over the years. In 2010, he was the only survivor who made it to Lotta's Fountain downtown, riding in the back of the city's big black 1930 Lincoln convertible.
More than 1,000 people were killed in the earthquake and fire. According to the U.S. Geological Survey, the quake's magnitude has ranged from 7.7 to 8.3.
"The common thread I would draw with all of these survivors is they had a unique, dry, wry sense of humor as anyone would have at being so rudely tossed out of bed at 5:11 in the morning," said commemoration organizer Lee Houskeeper. "But none could compare to Bill.
"He had absolutely the sharpest mind of anybody I've ever known. A sharp mind, a sharp sense of humor and he was a complete flirt. My guess is there are a lot of heartbroken nurses out there today."
---
Must-read stories from the L.A. Times
Get the day's top news with our Today's Headlines newsletter, sent every weekday morning.
You may occasionally receive promotional content from the Los Angeles Times.