Billy Graham dies: Presidents, pastors and celebrities react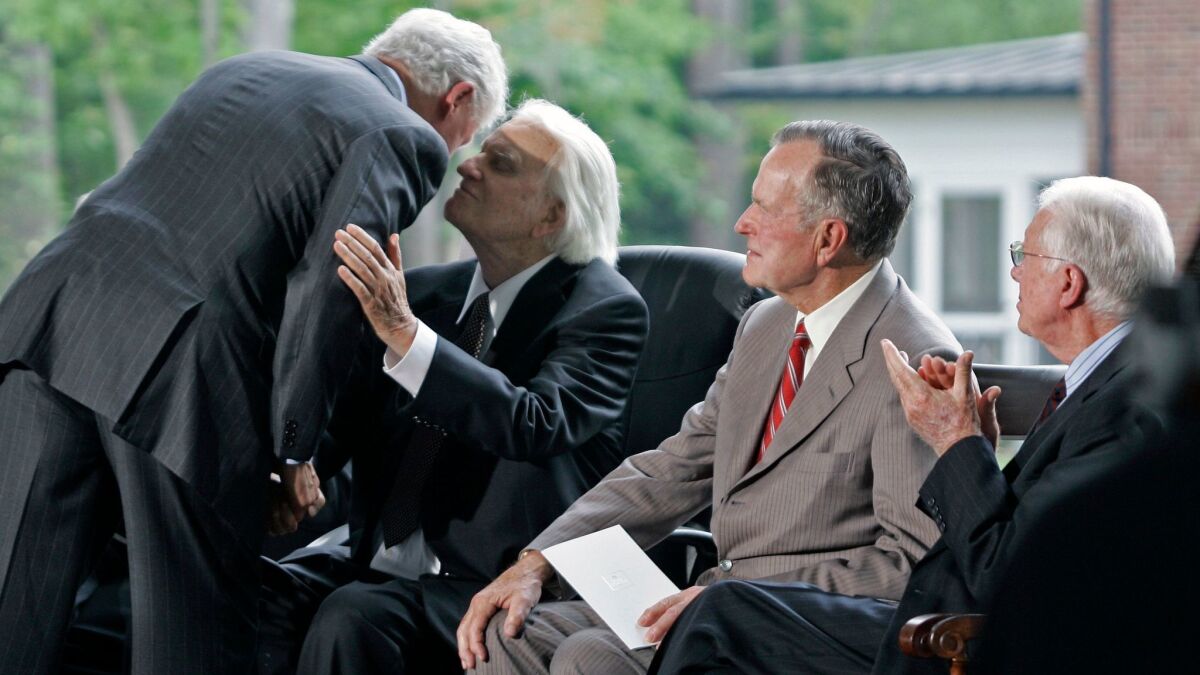 Christians, conservatives, critics and others have commemorated religious leader Billy Graham, who died Wednesday at age 99.
The reverend brought evangelism into the religious mainstream, and his broad influence was seen in the tributes on social media that followed the news of his death. Graham preached to approximately 215 million people in 185 countries and advised about a dozen U.S. presidents.
President Trump tweeted that "there was nobody like him" and that he would be "missed by Christians and all religions." Former President Obama remembered Graham as a "humble servant who prayed for so many — and who, with wisdom and grace, gave hope and guidance to generations of Americans."
Vice President Mike Pence christened Graham "one of the greatest Americans of the century" and praised his years of ministry that affected the lives of millions.
"Tirelessly spreading a message of fellowship and hope, he shaped the spiritual lives of tens of millions of people worldwide," former President Carter said in a statement, speaking for himself and his wife, Rosalynn Carter.
"Broad-minded, forgiving, and humble in his treatment of others, he exemplified the life of Jesus Christ by constantly reaching out for opportunities to serve. He had an enormous influence on my own spiritual life, and I was pleased to count Reverend Graham among my advisers and friends."
"I was privileged to have him as a personal friend," former President George H.W. Bush said in a statement obtained by KPRC-TV in Houston. "He would come to Maine to visit with Barbara and me, and he was a great sport. He loved going really fast in my boat. I guess you could say we had that in common. Then we would come home and talk about life."
Graham also mentored several of his children, he said, including former President George W. Bush.
Evangelist Billy Graham holds a Bible aloft in the mid-1950s.
(Hulton Archive / Getty Images)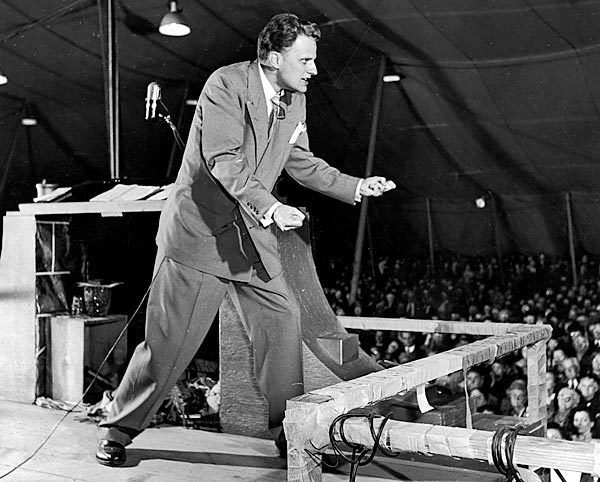 The Rev. Billy Graham preaches during a tent crusade in 1955.
(Hulton Archive / Getty Images)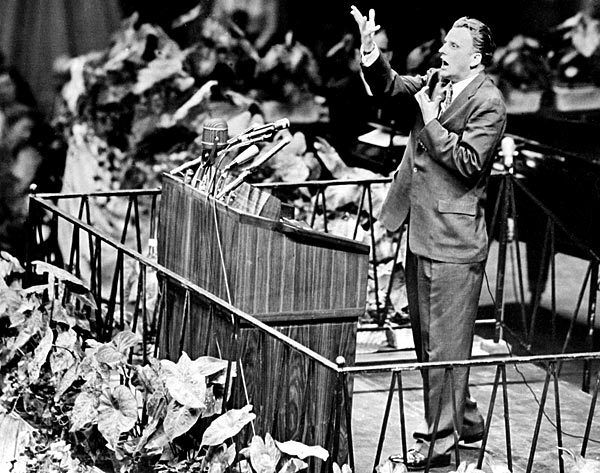 Graham preaches at Madison Square Garden in New York on May 20, 1957.
(AFP / Getty Images)
In western Nigeria in 1960. According to the Billy Graham Evangelistic Assn., Graham preached to more than 215 million people in more than 185 countries and territories.
(Don Royle / Associated Press)
The Grahams prepare to depart for London aboard the Queen Mary in May 1966.
(Pictorial Parade / Getty Images)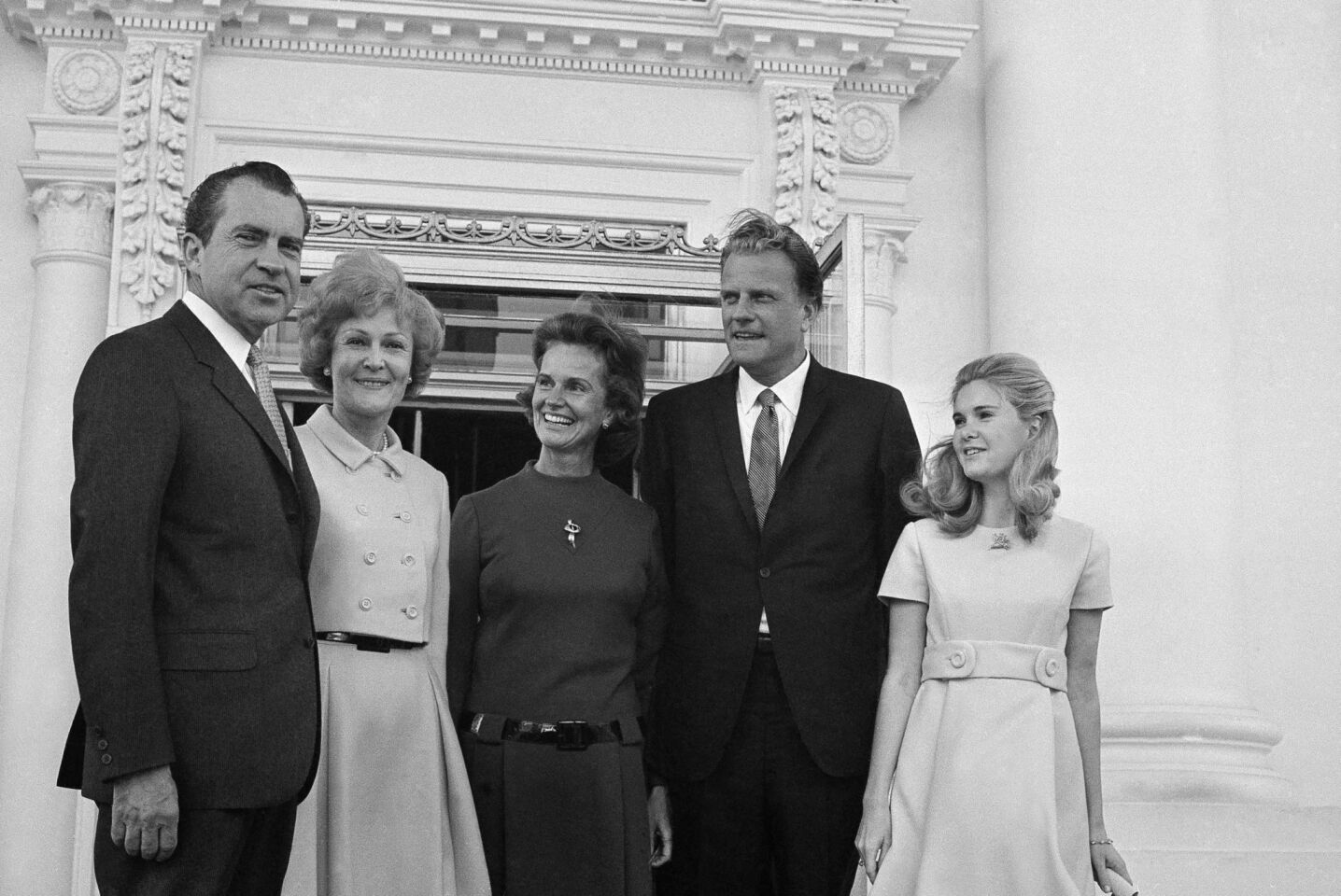 President Nixon and First Lady Patricia Nixon with daughter Tricia and the Grahams after a White House church service in 1969.
(Harvey Georges / Associated Press)
On July 4, 1970, Graham took his message to the steps of the Lincoln Memorial.
(David Fenton / Getty Images)
Former President Lyndon B. Johnson chats with the Rev. Billy Graham shortly before the evangelist spoke at Texas Stadium in Irving on Sept. 18, 1971.
(Dallas Morning News / Associated Press)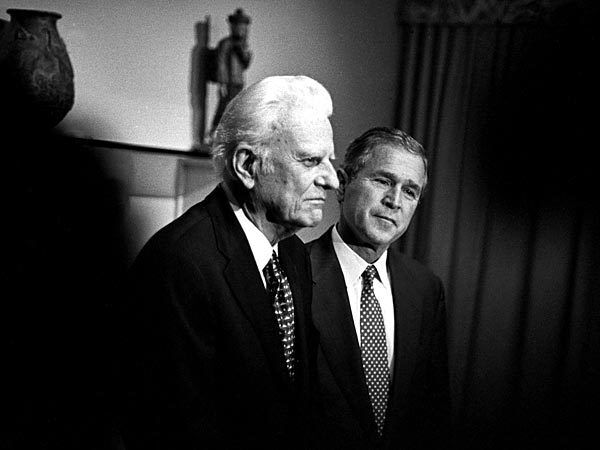 The Rev. Billy Graham meets with Republican presidential candidate George W. Bush on Nov. 5, 2000, in Jacksonville, Fla.
(Charles Ommanney / Getty Images)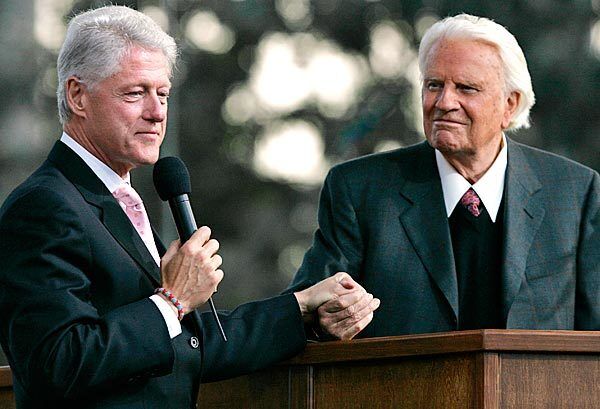 Former President Clinton spoke during Billy Graham's final crusade in 2005 at Flushing Meadows in New York.
(Stephen Chernin / Getty Images)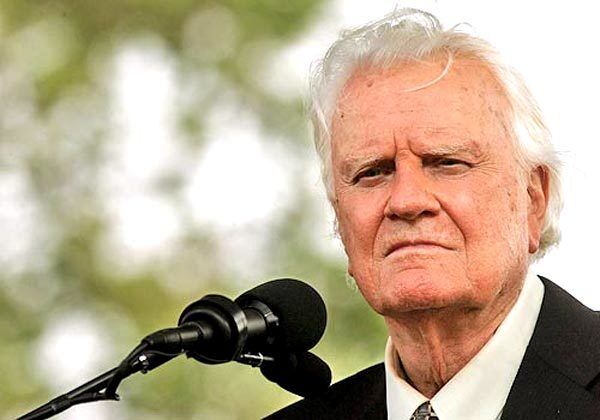 In 2005, Billy Graham conducted his last crusade, drawing 90,000 people in New York.
(Mario Tama / Getty Images)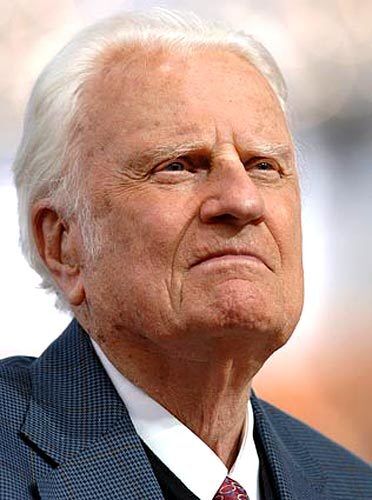 Graham pauses during a sermon at the Metro Maryland Festival in Baltimore in July 2006.
(Gail Burton / Associated Press)
Graham speaks during a memorial service for his wife in Montreat, N.C., on June 16, 2007.
(Chuck Burton / Associated Press)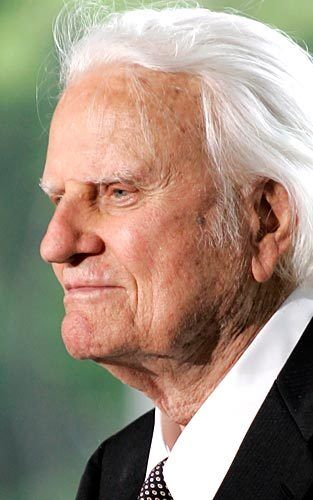 The evangelist at the dedication of the Billy Graham Library in May 2007. Writer-critic Elaine Kendall called Graham "the preeminent prophet of this time, the generic clergyman. To millions of Americans, he was religion, the way Kleenex are tissue or Life Savers are mints."
(Chuck Burton / Associated Press)
Several conservative politicians and prominent Republicans joined in with their sentiments. Mike Huckabee in particular highlighted Graham's far reach.
"[It] didn't matter if he was talking to Presidents, Popes, Prime Ministers, or ordinary people he stuck to the stuff of a very simple message that we are sinners and Jesus Christ is our hope to be rescued from our sins," the former Arkansas governor said in a statement. "He would [be] criticized and sometimes held in contempt by the elites and academics for such a simple message, but while the critics came and went, Billy Graham never turned to the right or left, but kept his eye on the Cross."
Meanwhile, Christians in sports and entertainment also fondly remembered the late crusader by quoting his words and recalling the effect he had on their lives.
However, his influence did not make him immune to critics and hecklers — actress Nia Vardalos, for one.
---
Must-read stories from the L.A. Times
Get the day's top news with our Today's Headlines newsletter, sent every weekday morning.
You may occasionally receive promotional content from the Los Angeles Times.