Bob Bogle dies at 75; co-founded rock band the Ventures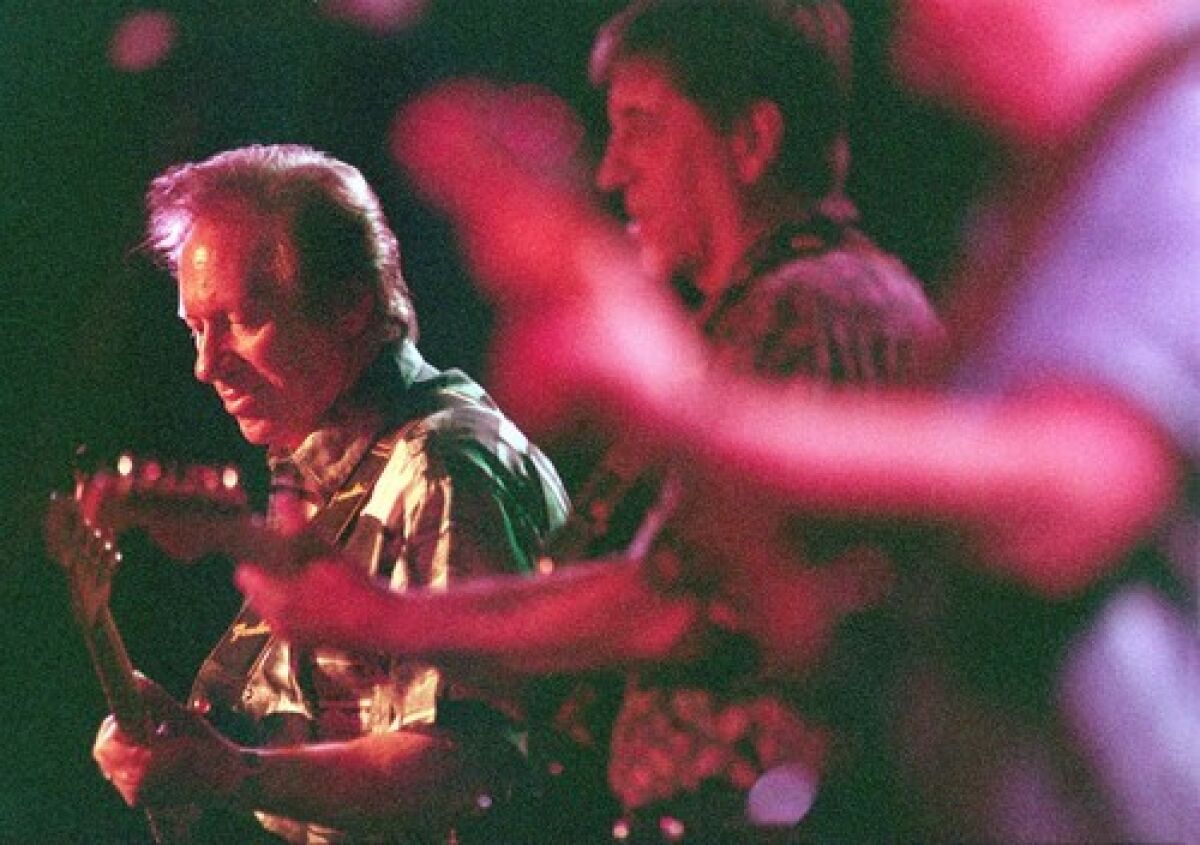 Bob Bogle, the co-founder and original lead guitarist of the Ventures, the influential instrumental rock band whose hits included "Walk -- Don't Run" and the "Hawaii Five-0" TV theme, has died. He was 75.
Bogle, a resident of Vancouver, Wash., who suffered from non-Hodgkin's lymphoma, died Sunday in a local hospital, said Don Wilson, who co-founded the Ventures with Bogle.
"His last four years have not been pleasant at all; it's kind of a blessing he doesn't have to endure that pain anymore," Wilson said. "I never had a brother, but he's the brother I never had. But he was much more than a brother to me. He was one of the kindest men I ever met."
Bogle and Wilson, who first met in Seattle in 1958, were doing masonry work together in 1959 when they formed their band.
The original members of the Ventures included Bogle on lead guitar, Wilson on rhythm guitar, Nokie Edwards on bass and Skip Moore, who was soon replaced by Howie Johnson on drums.
Renowned for their "big guitar sound," the Ventures first hit the Billboard singles chart in 1960 with "Walk — Don't Run," which peaked at No. 2.
"That song started a whole new movement in rock 'n' roll," said John Fogerty of Creedence Clearwater Revival while inducting the Ventures into the Rock and Roll Hall of Fame in 2008. "The sound of it became 'surf music' and the audacity of it empowered guitarists everywhere."
Said Wilson: "Any guitar player would tell you, Bob isthe most unique-sounding guitar player ever. The way he used to do the whammy bar -- that vibrato bar. He kept his little finger on it while he played it all the time. He'd make it sound, like at the end of a chord, Wow-wow. We were the first ones to ever get recognized for doing anything like that.
"When you heard him play, you knew it was him."
The Ventures returned to the top 10 in 1964 with a new version of "Walk -- Don't Run," "Walk -- Don't Run '64," with Bogle having earlier switched to bass and Edwards to lead guitar.
The Ventures' only other top 10 hit was the "Hawaii Five-O" theme, which peaked at No. 4 in 1969. But between 1960 and 1972, the Ventures charted 37 albums in the Billboard top 200.
"We got pegged as a surfing band because there was a scene then with the Beach Boys, the Chantays ['Pipeline'] and so on," Bogle told the Buffalo News in 1998. "But before we got to L.A., we'd never even heard the phrase 'surfing music.' We were doing weddings, house parties and night-job gigs for a year before we recorded. So we had a pretty broad base."
Guitar Player magazine once called the Ventures "the quintessential guitar combo of the pre-Beatles era, [who] influenced not only styles, but also a generation's choice of instruments."
"The Ventures, like the Beatles in a way, made an entire generation of people pick up guitars," Howard Kramer, curatorial director at the Rock and Roll Hall of Fame, told The Times on Tuesday. "But more to the point is they literally instructed you in how to play a guitar."
Indeed, the Ventures recorded a number of guitar instructional albums, each of which hit the top 100 charts.
"You could play along with them," Kramer said. "Not merely did these guys possess tremendous technical expertise, they made these appealing smash hit records that also inspired people to pick up instruments."
The Ventures continue to record two or three albums a year for Japan, where they've had 20 No. 1 hits, Wilson said. They leave for a three-month tour of Japan in July.
Bogle, who was born Jan. 16, 1934, in Wagoner, Okla., was working as a bricklayer in 1958 when he walked into a Seattle used car lot where Wilson was a salesman.
"I said, 'Can you get me a job?' " recalled Wilson. "I was working on commission, and I wasn't doing very well and wanted a weekly paying job."
Wilson quit the car lot to work as a hod carrier for Bogle. About a month after they started working together, the two discovered they had both once owned guitars and could play a few chords.
They bought two guitars at a Tacoma pawnshop and, while learning to play, began entering talent contests together. After four or five talent shows, they started winning.
Perseverance, more than anything, led to their success, Wilson said.
"You've got to want it," he said. "We really wanted it. We wanted to pick up nothing heavier than a guitar and make a living at it."
They kept their day jobs, however.
"Even when 'Walk -- Don't Run' was on the radio, we were still doing brick work," Wilson said.
Bogle toured with the band until about four years ago, although he continued to record until about two years ago.
He is survived by his wife, Yumi; his children, Gary, Mike, Paul, Kathy, Randy and Brandon; his brothers, Clarence, Dennis and Curtis; his sister, Sybil; his grandchildren and great-grandchildren.
A private funeral will be held Friday.
Must-read stories from the L.A. Times
Get the day's top news with our Today's Headlines newsletter, sent every weekday morning.
You may occasionally receive promotional content from the Los Angeles Times.