Ethel Bradley dies at 89; wife of Los Angeles Mayor Tom Bradley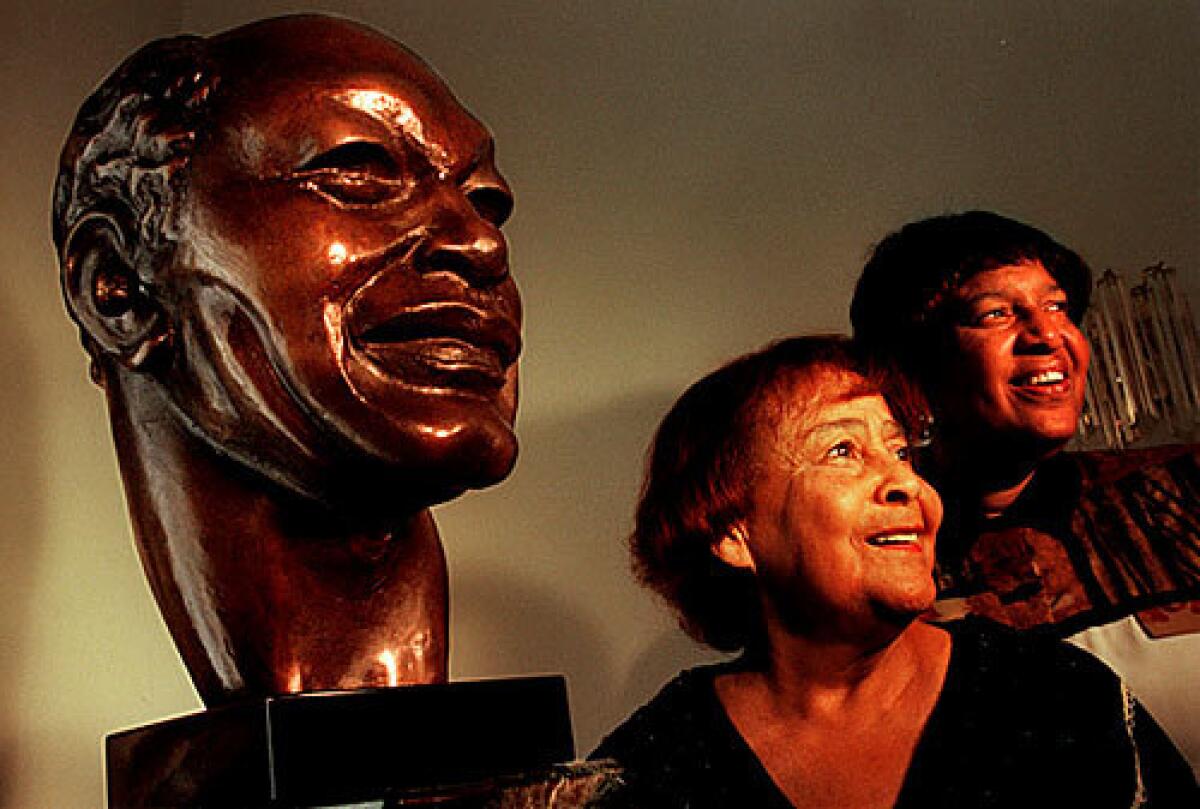 Ethel Bradley, who was the longest-reigning first lady of Los Angeles as the wife of the city's first black mayor, Tom Bradley, has died. She was 89.
Bradley, whose husband held office from 1973 to 1993, died Tuesday at Kaiser Permanente West Los Angeles Medical Center.
---
FOR THE RECORD:
Bradley obituary: The obituary on Ethel Bradley, widow of former Mayor Tom Bradley, in the Nov. 26 California section said she attended Los Angeles City College. When she was enrolled, the school was known as Los Angeles Junior College. —

---
The cause of death was pneumonia, said Bee Canterbury Lavery, who was Tom Bradley's protocol chief.
In a statement released Tuesday night, Mayor Antonio Villaraigosa called Ethel Bradley "a woman of grace" who served the city "with dignity and class."
While her husband oversaw Los Angeles, she avoided the political spotlight that made him thrive. She held teas, rooted for the Dodgers from her permanent seat behind home plate at Dodger Stadium and took pride in cultivating a garden showcase at the mayoral mansion in Windsor Square.
Asked by a Times reporter in 1992 about his wife's low profile, the mayor responded: "Her feeling is she has given her husband to public service. That doesn't mean that she now has to give herself."
Family and friends portrayed her as the reclusive, yet honest and direct, woman behind a man known for working 17-hour days.
"Without her stability and her willingness to shoulder the burden on the home front, Tom would not have been able to give as he has given," Melanie Lomax, the late former president of the Los Angeles Police Commission and the Bradleys' goddaughter, said in a 2000 Times article.
Lorraine Bradley, one of the couple's two daughters, told The Times in 1993: "How can a mayor do that much work and not have to worry about anything else unless he has someone like her behind him?"
The mayor acknowledged that political ambition left him little time to be home. He set aside three nights a year for his wife: "Her birthday, my birthday, the Academy Awards. Those are absolutely inviolate dates," he told The Times in 1988.
The couple had moved from their six-room house in Leimert Park to Getty House, a 6,000-square-foot mansion, at the beginning of Bradley's second term in 1977. Getty Oil had donated the home to the city in 1975 and it became the mayor's official residence.
From the day Ethel Bradley moved in, she took seriously a first lady's duty to keep the mansion in order -- even though there was no budget or staff -- and to throw a party that guests would talk about the next morning.
"Nobody could be a caretaker for this house like I've been, seven days a week, 24 hours a day," Ethel Bradley said just before moving out in 1993. "I think I did a beautiful job and left things better than when I first came."
There was plenty of room to house her collections: More than 100 hats (she rarely went out without one), racks of evening gowns, heirloom crystal and her prized possession -- a glass case filled with autographed baseballs. Yet the mansion's three floors and 19 rooms had always felt a bit like a prison to the 5-foot-2 1/2 -inch Bradley, and she could not wait to escape.
"It's been 30 years of my life I've given up. It's time for me to have a life of my own," she said.
In addition to his 20 years as mayor, Tom Bradley had spent another decade as a city councilman. From 1940 to 1961, he had served with the Los Angeles Police Department.
When her husband narrowly lost a bid for governor in 1982, Ethel Bradley saw an upside: She had planned to be in Los Angeles during baseball season anyway. She was 74 when they left Getty House for a 1940s two-story home in L.A.'s View Park area.
Away from the limelight, the Bradleys had five more years together. He suffered a stroke in 1996 that left him unable to speak clearly and died two years later.
In 2006, the Los Angeles County Board of Supervisors honored her upon the opening of the Ethel Bradley Early Education and Health Career Center in South Los Angeles. The idea for the center had originated with the Black Women's Forum, which Ethel Bradley co-founded in 1978 to help motivate black women to become community leaders.
Ethel Mae Arnold was born in Texas on Feb. 2, 1919, one of eight children of Benjamin and Lucille Arnold. The family moved to Los Angeles in 1930. At age 15, she graduated from Jefferson High School and attended Los Angeles City College for two years.
She worked as a part-time model and part-time singer, once dubbing a song for the hit movie "Vogues of 1938," which was released in 1937.
Her father was a painting contractor who introduced her to baseball and set her up as the owner of a beauty salon at 54th Street and Central Avenue. She catered to leading figures in black society in 1941, the year she gave up the shop to marry Bradley, The Times reported in 1983. He had first seen her when they were teenagers singing in the choir at New Hope Baptist Church. The newlyweds lived next door to her parents in Los Angeles and had two daughters by 1945.
The Bradleys needed a white intermediary in 1950 to sidestep racial covenants when they bought their first house on Welland Avenue in Leimert Park in the city's Crenshaw District. The couple also encountered other examples of the racism of the era and were refused entrance to hotels and restaurants, according to a 1998 Times article.
Nevertheless, it was an idyllic time for the family, her daughter Lorraine said in a 1983 Times interview: "We had a ball in those days. Daddy used to love being at home and mother loved to bake. Talk about your hostess extraordinaire! They'd have card parties once a week -- bridge, that kind of stuff."
Ethel Bradley concurred, telling The Times in 1988, "I didn't realize it, but I guess the best years of my life were the years we spent together before he was an elected official."
Years later, when her daughter Phyllis struggled with drug addiction as an adult during much of her father's time as mayor, he said, "It is hard to say what went wrong there," according to the 1986 biography "Tom Bradley: The Dream."
Over a 10-year period, Phyllis Bradley was arrested several times on shoplifting and drug charges and served a six-month sentence in county jail. After the incidents, the usually gregarious Ethel Bradley would become reclusive, blaming herself and her husband for Phyllis' problems, the biography recounted.
Just before leaving Getty House, Ethel Bradley said she talked to her daughters almost every day and was looking forward to being able to entertain friends "any day of the week."
She certainly had larger-than-life memories to share: She had traveled the world, met Pope John Paul II and hosted South Africa's Nelson Mandela and the king of Spain. The queen of England entertained her three times. She rode on the Dodgers' team jet. And at the ballpark, she was known as "Mrs. B."
Survivors include her daughters, Lorraine and Phyllis.
Services were pending.
Nelson is a Times staff writer.
Sign up for Essential California for the L.A. Times biggest news, features and recommendations in your inbox six days a week.
You may occasionally receive promotional content from the Los Angeles Times.