Burl Ives, Folk Singer, Oscar Winner, Dies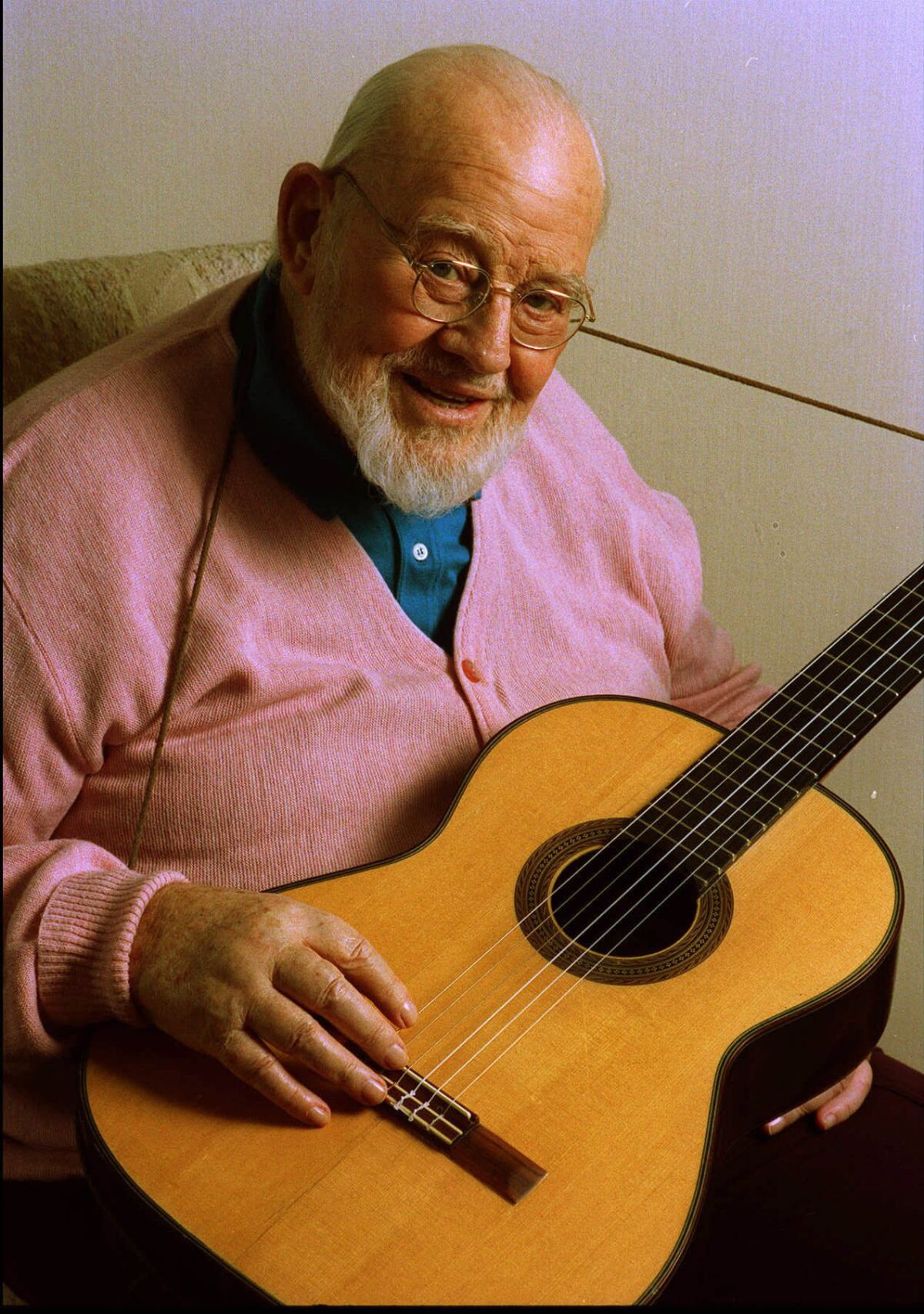 TIMES STAFF WRITER
Burl Ives, the beloved balladeer who sang so convincingly of being a wayfaring stranger that he instead became a longtime friend, died Friday.
The rotund folk singer, Academy Award-winning actor and concert hall artist, whom poet Carl Sandberg once called "the mightiest ballad singer of this or any other century," was 85 and had a history of circulatory problems and congestive heart failure.
Last summer, doctors discovered that he also was suffering from mouth cancer and he underwent "a number of little surgeries in the last few months," said Marjorie Schicktanz Ashley, his longtime agent.
He died at home, in Anacortes, Wash., "the way he wanted it," Ashley added.
Ives' wife, Dorothy, and three of their four children were with the troubadour who popularized "Big Rock Candy Mountain," "Foggy Foggy Dew" and "On Top of Old Smoky."
Although Ives disclaimed such accolades as Sandburg's, saying that a true folk singer was one born to the soil who remained in a rural environment all his life, Ives was the first of the country minstrels to span the gap between homespun song and polished ballad.
"I have a foot in both camps, don't you know," he told the Encyclopedia of Folk, Country and Western Music.
Ives actually had his feet in several camps, including Broadway and Hollywood, places where he came to epitomize such Southern patriarchs as Big Daddy in "Cat on a Hot Tin Roof," a role he dismissed as "definitely not to type."
He had yielded little to old age, maintaining his imposing girth, trademark goatee, sparkling eyes and commanding voice into his 80s. But he did restrict his audiences, appearing most recently as a designated envoy for the Kennedy Center's "Imagination Celebrations" festivals, aimed at acquainting children with the arts.
He also appeared at local benefits in the Fidalgo Island community of 11,000, halfway between Seattle and Vancouver, Canada, where he died. He and his wife had moved there from Santa Barbara in 1990 after visiting Ashley.
He said he fell in love with the sunrises over Mt. Baker and the soaring eagles that greeted that morning rite.
For decades he had appeared throughout the country singing "Blue Tail Fly," (with its beguiling chorus of "Jimmy Crack Corn and I don't care") and "A Little Bitty Tear" to children who generally were enthusiastic about the music but unaware of the performer.
Younger listeners did gain some insight after he became the voice of Sam the Snowman in the often-repeated 1962 animated Christmas TV special "Rudolph the Red-Nosed Reindeer," although many Baby Boomers continue to believe wrongly that he was another, more famous snowman, Frosty.
But to most who came of age after the folk revolution of the 1960s, Ives was just a name, and a rather unusual one at that.
He was born Burle Icle Ivanhoe Ives to English-Irish tenant farmers in Illinois. Frank and Dellie Ives often sang to their son, acquainting him with music that sometimes traced its roots to the 1600s, when the Ives clan first migrated to the New World seeking its fortune.
The boy mastered the banjo and began to appear publicly in school shows while still finding time to play fullback on his high school football team. He enrolled at Eastern Illinois Teachers College in 1928 as a physical education major, hoping to graduate and become a football coach.
Instead, he fell under the spell of wanderlust and spent much of the next few years traveling the United States, learning myriad folk songs that residents of isolated hamlets sang for him. He also had taught himself the guitar and mastered dozens of menial jobs which he performed for even more menial pay. With Woody Guthrie and Josh White, whose paths he often crossed, he fell in love with America.
"I don't remember when I started singing," he once said. "There wasn't any beginning."
He eventually settled down and enrolled at Indiana State Teachers College, singing on a local radio station to pay his tuition. But he again became bored, and by 1937 had migrated to New York City, where he took vocal lessons, attended Juilliard and landed small parts in Upstate New York summer stock.
Friends got him a part in Richard Rodgers and Lorenz Hart's "The Boys From Syracuse," and his regular appearances at the Village Vanguard in New York City (soon to become a birthplace of the American folk movement) resulted in his own radio show, on which he became identified with "Blue Tail Fly" and "Foggy Dew." Also on that program he first came to be associated with his solemn signature ballad, "The Wayfarin' Stranger."
After Army service in World War II he returned to New York, selling out Town Hall for a 1945 concert. The following year, he made the first of his successful pictures: "Smoky," a classic horse saga.
He recorded dozens of ballads for Decca and Columbia, which continued to reissue them decades later and wrote "Wayfaring Stranger," his autobiography. He also published several folk song collections and, in 1954, went back to Broadway for a revival of "Showboat" in which he was Cap'n Andy, skipper of that melodic Mississippi River paddle-wheeler.
Still another revival of that American classic is currently proving a Broadway success.
On March 24, 1955, Ives created the role of Big Daddy on Broadway, supposedly landing the part after director Elia Kazan watched him physically subdue a nightclub heckler who complained of Ives' "sissy songs." Kazan said he saw in Ives the commanding presence with an undertone of violence that the role required. He also starred with Elizabeth Taylor and Paul Newman in the 1958 film version of "Cat on a Hot Tin Roof."
But he disclaimed the autocratic character by saying that it went against type: "(I) don't talk overly much. Don't yell and holler at people. They (people) still do call me Big Daddy, but to me, inside, I'm no Big Daddy at all."
Miss Taylor remembered him Friday as a "great talent who possessed this wonderful, teddy-bear-like warmth.
"I felt so incredibly safe with him, especially after Mike Todd died," she said, recalling the death of her third husband. "I love him and I will miss him," she added in a statement.
In 1958, Ives won the Academy Award for best supporting actor for "The Big Country," a story of two families feuding over water rights, and began getting nominations for Grammy awards as his recordings climbed the charts: "A Little Bitty Tear" in 1961; "Funny Way of Laughin' " in 1962, "Chim Chim Cheree" in 1964 and the children's album "America Sings" in 1974.
A pioneer of folk songs and folk singing, he found himself at the crest of the popularizing of those songs, many of which began with the Revolutionary and Civil wars, within the labor movement or as hymns.
With the Weavers, the Kingston Trio, Peter Paul and Mary and others, he was seen regularly in concert or on national television. Like those other groups, he frequently crossed over into country and Western music.
He took some TV roles: as the most mature of three individualistic attorneys in the 1969 series "The Lawyers"; as the richest man in the world in "O.K. Crackerby," 1965-66; as a regular guest on the long-running "Perry Como Show," 1948-63, and as Justin in the classic "Roots."
As he aged, he was forced to curtail his career but did find time for visits to an old stone house he owned in ancestral Ireland, and for sailing, a favorite pastime throughout his life.
Ives' last regular performances were the "Imagination Celebrations" that he did for children in the United States and Central and South America. He sang "Big Rock Candy Mountain" and "Foggy Foggy Dew" in English. On the eve of an Orange County appearance in 1986, he told The Times that even though "(Latin Americans) don't understand the words, I believe there's a feeling you get--a spark, a real communication that's there. It's a music that's universal."
Times researcher Doug Connor contributed to this obituary from Seattle.
(BEGIN TEXT OF INFOBOX / INFOGRAPHIC)
Familiar Stranger
Highlights of Burl Ives' career:
SONGS
"Blue Tail Fly"
"Wayfarin' Stranger"
"Big Rock Candy Mountain"
"Goober Peas"
"My Gal Sal"
"Holly Jolly Christmas"
"Little White Duck"
"I Know an Old Lady (Who Swallowed a Fly)"
"A Little Bitty Tear"
"Foggy Foggy Dew"
THEATER
"The Boys From Syracuse" (1938)
"This Is the Army" (1942)
"Sing Out, Sweet Land" (1944)
"Showboat" (1954)
"Cat on a Hot Tin Roof" (1955)
MOVIES
"East of Eden" (1955)
"Cat on a Hot Tin Roof" (1958)
"Desire Under the Elms" (1958)
"The Big Country" (1958)
"Summer Magic" (1963)
"Ensign Pulver" (1964)
--Associated Press
Must-read stories from the L.A. Times
Get the day's top news with our Today's Headlines newsletter, sent every weekday morning.
You may occasionally receive promotional content from the Los Angeles Times.