From the Archives: TV Icon Carroll O'Connor Dies
Carroll O'Connor, the Emmy-winning actor best known for his iconic role as Archie Bunker in the groundbreaking 1970s television comedy "All in the Family," died Thursday afternoon after suffering a heart attack. He was 76.
The silver-haired, blue-eyed actor was rushed from the family home to Brotman Medical Center in Culver City after experiencing chest pains. His wife of 50 years, Nancy, was with him when he died about an hour after being admitted.
Widely considered to be among the greatest and most influential of television comedies, "All in the Family" and the character of Bunker—a lovable, conservative bigot loosely modeled after series creator Norman Lear's own father—established O'Connor as a major television star.
O'Connor played Bunker for 13 seasons, with "All in the Family" becoming "Archie Bunker's Place" a decade into that run, after the departure of the show's other major cast members.
Lear said he heard the news about 3:30 p.m. Thursday and last spoke with O'Connor a couple of months ago. Regarding the casting of O'Connor and co-stars Jean Stapleton, Rob Reiner and Sally Struthers, he said, "While I made the decisions, it was the gods at play, because nobody was responsible for them being in the business, around and available. . . .
"Carroll O'Connor walked into my office, we shook hands, we sat down at a table, took out a script and started reading Archie Bunker, and as the character was later wont to say, 'Case closed,' " he recalled. "I looked up to the heavens and said, 'Thank God, Archie has arrived.' "
Reiner—who played Archie's son-in-law Michael Stivic, whom he dubbed "Meathead"—said upon learning of O'Connor's death, "It was really shocking to me. It's terrible and I feel horrible. I loved Carroll and he's going to be missed. He created the most indelible character ever created in American TV."
Now a sought-after director, Reiner said that although the two didn't see much of each other over the years, "there was always incredible fond feelings." He cited the actor's integrity and commitment to quality as a key factor in the show's success.
Altering the TV Landscape
"We were all theatrically trained actors, [so] we viewed each show as a little two-act play," Reiner said. "There were times when we would tape the show in real time. We would do a show in 30 minutes and then we would be done. Everyone came there prepared. We didn't forget our lines."
Added Bud Yorkin, executive producer of "All in the Family": "Carroll was a man who took everything very seriously. He wouldn't accept everything. Some people might have found that difficult, but he was just trying to make it better. I thought he was a terrific performer. And I can't imagine anyone else doing that role."
Famously rejected by ABC despite the fact that the network shot two versions of a prototype episode, the series vaulted CBS atop the prime time ratings and gave rise to more spinoff shows than any in history—including such popular comedies as "Maude" and "The Jeffersons."
Moreover, the show forever altered a television landscape that had been largely filled with innocuous characters and that generally steered clear of sensitive topics, said Earle Marsh, coauthor of "The Complete Directory to Prime Time Network and Cable TV Shows."
"Everything in sitcoms had been, up until then, squeaky clean," Marsh said. "Couples never slept in the same bed. No one ever had sex. What happened with 'All in the Family,' it dealt with realistic issues in a realistic manner in a comedy."
Marsh, who was working in CBS' research department when the show debuted, acknowledged that no one at the network was sure whether the American public would buy it. Although not an instant success, the program took off in the ratings during its first year after moving to Saturday nights, where more than half the available audience tuned in each week.
"One of the unusual things about 'All in the Family' was that people saw the absurdity of his prejudice and all his bizarre attitudes," Marsh said. "[But] you couldn't hate him. He was a fool, but he had a good heart. O'Connor made Archie likable."
Lear, who began to break down in reminiscing about O'Connor, said CBS hired 80 additional telephone operators to take calls and put an advisory at the start of the show warning that it might disturb some viewers.
Yet despite criticism of both the show's liberal politics and Bunker's use of derisive terminology to describe various racial and ethnic groups, Lear said, "Carroll and I thought the show started people talking around the dinner table. When the show went off, they had something to talk about. That we could take credit for, but not for changing anything. America took it in stride. The Establishment didn't. There's nothing Archie said that [people] couldn't or didn't hear on the playground."
A self-described liberal, O'Connor said in a 1994 interview that the character of Archie "wasn't even close" to who he was as a person. Still, he conceded, "I'll never play a better part than Archie. He was the best character, the most fulfilling character, and I never thought it was going to develop that way. There's no role that can top that."
Peter Bonerz, a regular on "The Bob Newhart Show," directed O'Connor more than 20 years ago on "Archie Bunker's Place."
"Carroll was at the height of his power," Bonerz recalled. "TV actors don't ordinarily possess a lot of power. You can count on one hand the number of actors who did. Carroll did at that time. I always remarked at how he used his power. He didn't use his power to create an agenda for the show. He wanted to surround himself with actor friends of his, [with] whom he could share the success he had."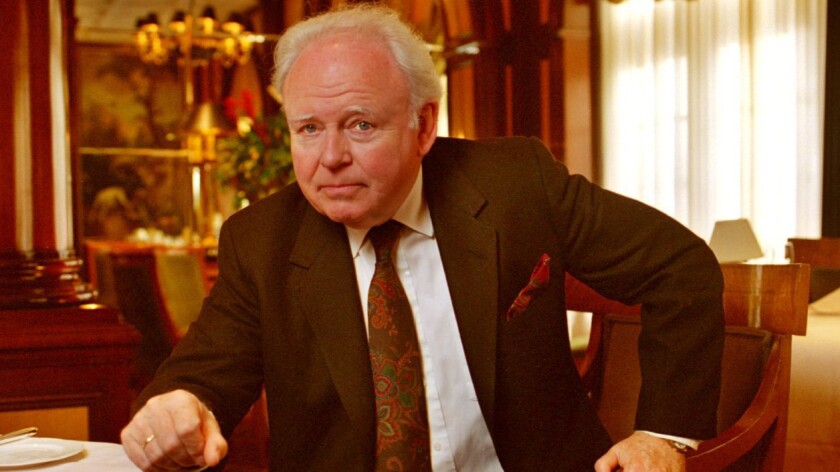 Despite his enduring recognition as Archie, O'Connor was among those rare television performers to star in another hit series. "In the Heat of the Night"—a drama that premiered in 1988, based on the 1967 Oscar-winning film—cast him as Bill Gillespie, the sheriff in Sparta, Miss.
In addition to starring, O'Connor served as executive producer and head writer for the series, which lasted six seasons, first on NBC before shifting to CBS. He directed several episodes and his adopted son, Hugh, co-starred as Det. Lonnie Jamison.
A four-time Emmy winner for "All in the Family," O'Connor won his fifth best actor statuette for the drama in 1989.
Actress Anne-Marie Johnson—who played Althea Tibbs, the wife of Chief of Detectives Virgil Tibbs (portrayed by Howard Rollins—said, "Carroll wanted to emphasize that we all look upon him as a father figure, call him 'Pops.' He was always very accessible, and created a family atmosphere. He always wanted to make you laugh."
She added that thanks to O'Connor, the series was more than just a crime drama. "What really made the show so popular, and what makes it even more popular today, was that Carroll really wanted to portray race relations and race relationships as honestly as possible. The integrity of the show has his thumbprint on it," she said.
'An Amazing Challenge'
"In the Heat of the Night" also contained a prime time rarity—a continuing romantic relationship between a white man and a black woman. Gillespie was in a passionate romance with a black city councilwoman, and the couple married in the series finale. The program was honored several times by the NAACP Image Awards.
Said Johnson: "While he was working on the show, he never mentioned Archie Bunker. Carroll was a character actor, and he looked upon this as an amazing challenge."
O'Connor had a special fondness for Gillespie that transcended even his feeling for Bunker. "I prefer this character [Gillespie]," he said as the show was coming to an end in 1994. "But I'm probably influenced in that by my augmented status with the show. I mean more to this show as executive producer, head writer, the star, the guy who even passes on the ladies' wigs. It involves me more than Archie did. So it's more fun."
Despite the success of the series, it was far from smooth sailing on the set. In the second season, O'Connor underwent sextuple heart bypass surgery. Rollins had repeated substance abuse problems while working on the show, and the network repeatedly tried to fire him.
"Carroll just would not allow that to happen," Johnson said. "He loved Howard, and he was responsible for him staying on the show. He fought tooth and nail for Howard when others didn't. He knew there wouldn't have been a show without Carroll O'Connor and Howard Rollins."
Rollins, who eventually was dropped from the series in 1993, died in 1996 of complications from lymphoma.
O'Connor also experienced a personal tragedy involving drugs when Hugh, who had struggled with cocaine addiction, committed suicide in 1995.
O'Connor began a crusade to see the man who sold Hugh the drugs, Harry Perzigian, charged with a crime, and Perzigian was convicted on two drug counts in 1996. A month later, Perzigian filed a defamation law suit against O'Connor, though a jury ultimately found in O'Connor's favor.
Advocate Against Drug Abuse
His son's death turned O'Connor into an advocate against drug abuse, and the actor said the highly publicized trial provided him a forum to spread the word on that issue.
Upon hearing of his son's death, he said during the trial, "The first thought that went through my head was, 'At last it's happened.' I think we all wonder if our kids will grow up," he said, noting that Hugh had battled addiction for 16 years. "I broke down and cried a lot. His mother cried a lot."
Before "All in the Family," the New York native had appeared in a string of films throughout the 1960s, among them the World War II epics "In Harm's Way" and "The Devil's Brigade."
His versatility also won him roles opposite Kirk Douglas in "Lonely Are the Brave" (1962) and the famous "Cleopatra," released the following year.
O'Connor was the eldest of three brothers, born to Irish Roman Catholic parents. His father was a lawyer, and O'Connor grew up in Forest Hills, Long Island, where he was mostly sheltered from the sting of the Depression.
After graduating high school in 1942 he became a seaman during World War II, sailing on more than a dozen ships in the North Atlantic before enrolling at the University of Montana, where he majored in English.
Both his brothers became doctors, but he fell in love with acting during college, launching his stage career in Europe after deciding to finish his studies at the National University of Ireland in Dublin. O'Connor and his wife married in Ireland in 1951, and after a variety of stage roles, he made his Broadway debut in 1958.
Among his various honors, O'Connor was inducted into the Academy of Television Arts & Sciences Hall of Fame in 1990.
Funeral arrangements were incomplete.
'Family' Style
The hit television show "All in the Family" provided some memorable quotes from Archie Bunker, as played by Carroll O'Connor, and from other members of the cast and guest stars. Here is a sampling:
Gloria: Do you know that 60% of all deaths in America are caused by guns?
Archie: Would it make you feel any better if dey was pushed out of windows?
***
Archie: Well, I'll tell you one thing about President Nixon. He keeps Pat home. Which was where Roosevelt should have kept Eleanor. Instead he let her run around loose until one day she discovered the colored. We never knew they were there. She told them they were gettin' the short end of the stick and we've been having trouble ever since.
***
Archie: If your spics and your spades want their rightful share of the American dream, let 'em get out there and hustle for it like I done.
Michael: So now you're going to tell me the black man has just as much chance as the white man to get a job?
Archie: Maybe he has more...I didn't have no million people marchin' and protestin' to get me my job.
Edith: No, his uncle got it for him.
***
Archie: When your mother-in-law and me was goin' around together, it was two years—we never—I never—I mean absolutely nothin', not till the wedding night.
Edith: Yeah, and even then...
***
Gloria: I'm sorry Mr. Davis, sometimes my father says the wrong things.
Sammy Davis Jr: Yeah, I've noticed that.
Lionel Jefferson: But he's not a bad guy, Mr. Davis. I mean, like, he'd never burn a cross on your lawn.
Sammy Davis Jr: No, but if he saw one burning, he's liable to toast a marshmallow on it.
***
Archie: Now, no prejudice intended, but I always check with the Bible on these here things. I think that, I mean if God had meant for us to be together, he'd have put us together. But look what he done. He put you over in Africa, and put the rest of us in all the white continents.
Sammy Davis Jr: Well, he must've told 'em where we were because somebody came and got us.
Sources: Internet, Movie Database, Associated Press
Times staff writers Greg Braxton, Dana Calvo and Susan King contributed to this story.
From the Archives: Paul Newman dies at 83; leading man of film and philanthropy
From the Archives: John Wayne Dies at 72 of Cancer
From the Archives: Jazz Great Duke Ellington Dies in New York Hospital at 75
From the Archives: Consummate Entertainer Sammy Davis Jr. Dies at 64
---
Must-read stories from the L.A. Times
Get all the day's most vital news with our Today's Headlines newsletter, sent every weekday morning.
You may occasionally receive promotional content from the Los Angeles Times.