Charles Durning dies at 89; Tony winner also got Oscar, Emmy nods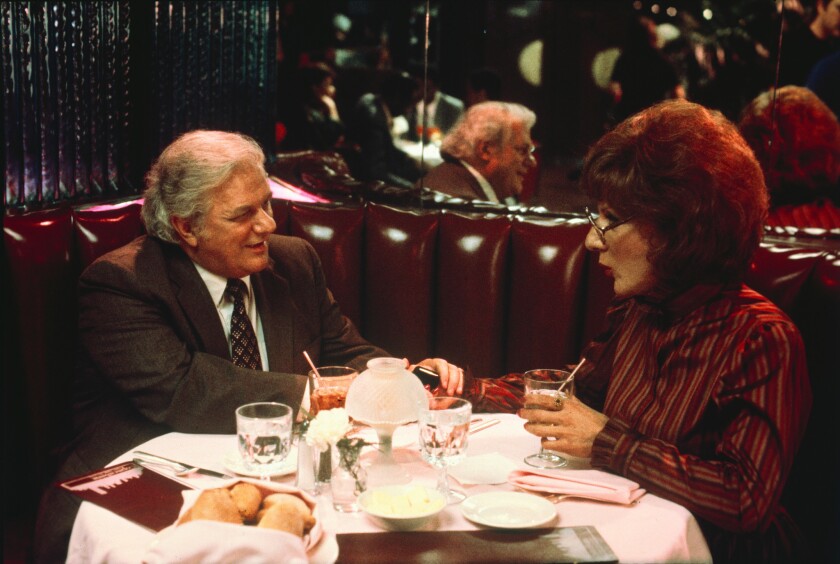 Charles Durning, a Tony Award-winning actor whose prolific work in films and television included supporting roles in the classic comedy "Tootsie" and the TV sitcom "Evening Shade," died Monday. He was 89.
Durning, a decorated veteran of World War II, died of natural causes at his home in Manhattan, according to his longtime agent Judith Moss.
A seasoned former member of Joseph Papp's New York Shakespeare Festival whom Papp once described as a "stocky, tough Irishman," Durning had a breakthrough role in the hit Papp-produced 1972 Broadway play "That Championship Season" when he was 49.
Durning's Drama Desk Award-winning performance as one of four former high school basketball players who reunite with their old coach led to his being cast as the corrupt police lieutenant in "The Sting," the Oscar-winning 1973 movie starring Paul Newman and Robert Redford.
Durning went on to appear in movies such as "The Hindenburg," "The Choirboys," "The Muppet Movie," "North Dallas Forty," "Starting Over," "True Confessions," "Sharkey's Machine," "Dick Tracy" and "O Brother, Where Art Thou?"
As a supporting actor, he was nominated for two Oscars: in 1983 as the governor in "The Best Little Whorehouse in Texas" and in 1984 as the Nazi colonel in "To Be or Not to Be."
His TV credits include "Queen of the Stardust Ballroom," the landmark 1975 made-for-television musical in which he played the mailman who reaches out to Maureen Stapleton's lonely widow on the dance floor.
As the small-town doctor on "Evening Shade," the 1990-94 series starring Burt Reynolds, Durning earned two Emmy nominations as a supporting actor.
More recently, Durning played the father of Denis Leary's New York firefighter in the TV series "Rescue Me" — a recurring role that earned him the last of the nine Emmy nominations he received since his first for "Queen of the Stardust Ballroom."
Durning's first love was the stage, which included his Tony Award-winning performance as Big Daddy in the 1990 Broadway revival of Tennessee Williams' "Cat on a Hot Tin Roof."
"If I had my druthers, I would do only stage work," he told the Asbury Park Press of New Jersey in 2000 during a break in rehearsals for "Glengarry Glen Ross" in Princeton and only two months after completing a tour of "The Gin Game" with Julie Harris, with whom he starred in the 1997 Broadway revival.
"You make the money in movies and TV so you can do theater," said Durning. "I do a play a year … somewhere."
Born Feb. 28, 1923, in Highland Falls, N.Y., Durning was one of 10 children. Five of his sisters died of smallpox and scarlet fever. His Irish immigrant father, who lost a leg in World War I, died from the effects of mustard gas exposure when Durning was 12.
With his mother struggling to support her children by working in the laundry at the United States Military Academy at nearby West Point, Durning dropped out of high school at 16 and got a maintenance job at a Pennsylvania munitions factory before working in slag heaps, selling coal.
He later worked as an usher in a burlesque theater in Buffalo, N.Y., where the laughs he generated when he filled in for a drunken comedian helped spur his desire to perform.
In the Army during World War II, Durning was in the first wave of soldiers to land on Omaha Beach during the D-Day Normandy invasion in 1944. He was taken prisoner during the Battle of the Bulge and reportedly was one of the few survivors of the massacre of American POWs at Malmedy, Belgium.
For his service, he was awarded three Purple Hearts and a Silver Star.
After the war, Durning underwent a long period of recovery from his physical and psychological wounds.
"I'd like to have a decade of my life back," he said in a 1994 interview with the Washington Post. "I dropped into a void for almost a decade. It's your mind that's hard to heal. There are many horrifying secrets in the depths of our souls that we don't want anyone to know about."
Decades later, Durning began participating in the National Memorial Day Concert in Washington, D.C. He also narrated the 1994 Discovery Channel documentary "Normandy: The Great Crusade."
"It was very emotional experience for me," Durning told the Associated Press at the time. "I had to stop a couple of times; I couldn't go on."
Durning, who completed high school after the war, once said that he always wanted to act.
"I became enamored of acting the first time I saw [the 1933 movie] 'King Kong,'" he told the Washington Post, adding that when he first saw James Cagney in a movie, "I just went crazy."
A postwar stint studying at the American Academy of Dramatic Arts in New York, however, did not bode well for his future as an actor.
"They told me, 'You're too short, too fat and have no talent,'" Durning said in a 1977 interview with The Times. "I was a dreadfully shy person then and this shook me to the foundations. I thought they knew what they were talking about."
To support himself, he worked a variety of jobs, including taxi driver, construction worker, plumber's helper, elevator operator and night watchman on the New York docks. He also taught ballroom dancing off and on for about five years.
In 1960 he made his professional acting debut as a member of the road company of "The Andersonville Trial."
In 2008, the same year Durning received a star on the Hollywood Walk of Fame, the Screen Actors Guild's honored him with its Lifetime Achievement Award.
Durning, who was married twice, is survived by three children: Michele, Douglas and Jeanine.
His family plans a private memorial service at Arlington National Cemetery.
McLellan is a former Times staff writer.
---
Must-read stories from the L.A. Times
Get all the day's most vital news with our Today's Headlines newsletter, sent every weekday morning.
You may occasionally receive promotional content from the Los Angeles Times.