Charles Huggins dies at 87; longtime head of See's Candies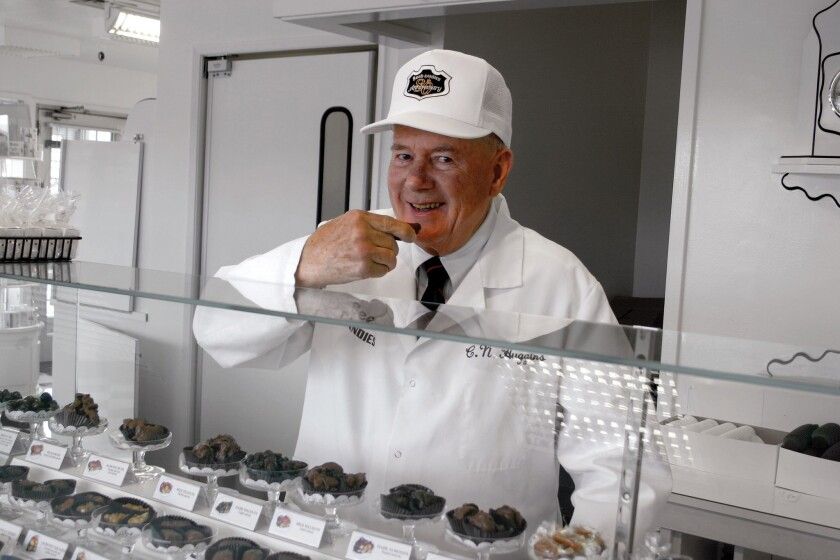 Before Charles N. Huggins began working at See's Candies in 1951 as a manager inthe company's packingdepartment in San Francisco, his favorite candies were black licorice and, thanks to his World War II service as a paratrooper, Hershey's chocolate.
But as Huggins' sweet tooth remained a constant during his rise up the ladder to become the candy company's president and chief executive in 1972, his taste clearly underwent a See's-influenced evolution.
And like a kid in a candy store, he had no trouble reciting his favorites in a 1998 San Diego Union-Tribune interview: "Butter Creams, Pecan Buds, Candied Ginger, Chocolate Truffles, Chocolate Lollypops, Chocolate Nut Fudge, Victoria Toffee and Polar Bear Paws."
Huggins, who retired as the longtime president and chief executive of See's Candies in 2006 after 55 years with the company, diedSunday at his home in Larkspur, Calif., after suffering a stroke a week earlier, said his wife, Donna Ewald-Huggins. He was 87.
See's Candies was founded in Los Angeles in 1921 by Canadian immigrants Charles See, his wife, Florence, and hismother, Mary, whose original candy recipes were the foundation of their confectionary business and whose grandmotherly visage continues to grace See's trademark black-and-white candy boxes.
The company, which maintains its longtime factory on South La Cienega Boulevardin Los Angeles, is headquartered in South San Francisco.
Huggins was instrumental in the See family's 1972 sale of the company to Berkshire Hathaway Inc., whose chairman, Warren Buffett, appointed Huggins president and chief executive. "It took me about 15 seconds to realize Chuck was the person for the job," Buffett reportedly said at the time.
During Huggins' tenure in those positions, he led the company's expansion to more than 200 stores throughout the western United States.
As president, Huggins tasted all of the new candies that were introduced each year and had the final say.
See's "chief taster," as he called himself, also presided over the "retirement" of certain candies. And he occasionally took the heat for doing so.
In the mid-1980s when he asked store managers which candies weren't selling, Maple Walnut Cream earned the most votes and then disappeared from store shelves.
But it quickly became clear a mistake had been made.
"I got two-page letters with violins telling me how Maple Walnut Creams were important to people's lives," Huggins told the Orange County Register in 1996. He apologized to the letter writers but was not swayed — until more letters and even threatening phone calls led the company to give in to customer demand.
After Huggins wrote letters to the complaining customers saying the company had made a mistake — and included gift certificates — more mail came in from customers, this time offering their thanks for bringing back Maple Walnut Creams.
Said Huggins: "It's easy to make customers for life."
For those who worked at See's, the gregarious Huggins was known as a people person who remembered employees' names and details about their families.
"He was a charming man and extremely thoughtful," Margaret Moos Pick, author of the 2005 book "See's Famous Old Time Candies: A Sweet Story," told The Times on Wednesday.
"He was one of those people who would approach everyone with the same respect and demeanor of care," said Pick. "Walking through See's Candies stores with him or through a factory with him, people just lit up when he came in because that level of personal touch and personal care was there. And it was absolutely genuine."
Huggins also was known for his corporate and personal philanthropy, including donating to the Family Service Agency of San Mateo County, Carson High School, the San Francisco Traditional Jazz Foundation, the San Francisco Jazz Festival and the restoration of the Palace of Fine Arts in San Francisco.
Charles Newel Huggins was born March 2, 1925, to American parents in Vancouver, British Columbia, and grew up in Portland, Ore.
After serving with the 17th Airborne Division's 513th Parachute Infantry Regiment in Europe during World War II, he majored in English literature at Kenyon College in Gambier, Ohio.
Huggins' wife of 48 years, Mime, died in 1995.
Besides Donna, his wife of 12 years, he is survived by his sons, Peter and Charles "Chip"; his daughters, Anne Huggins Walton and Shelley Huggins Dutton; his sister, Ruth Slack; and nine grandchildren.
Even in retirement, Huggins never lost his sweet tooth.
"I always had to keep candy in the house for him," his wife said Wednesday. "We have a See's store right near our house, and they were always slipping him samples of new candies."
---
Must-read stories from the L.A. Times
Get all the day's most vital news with our Today's Headlines newsletter, sent every weekday morning.
You may occasionally receive promotional content from the Los Angeles Times.