Clifford P. Hansen dies at 97; former Wyoming governor, two-term U.S. senator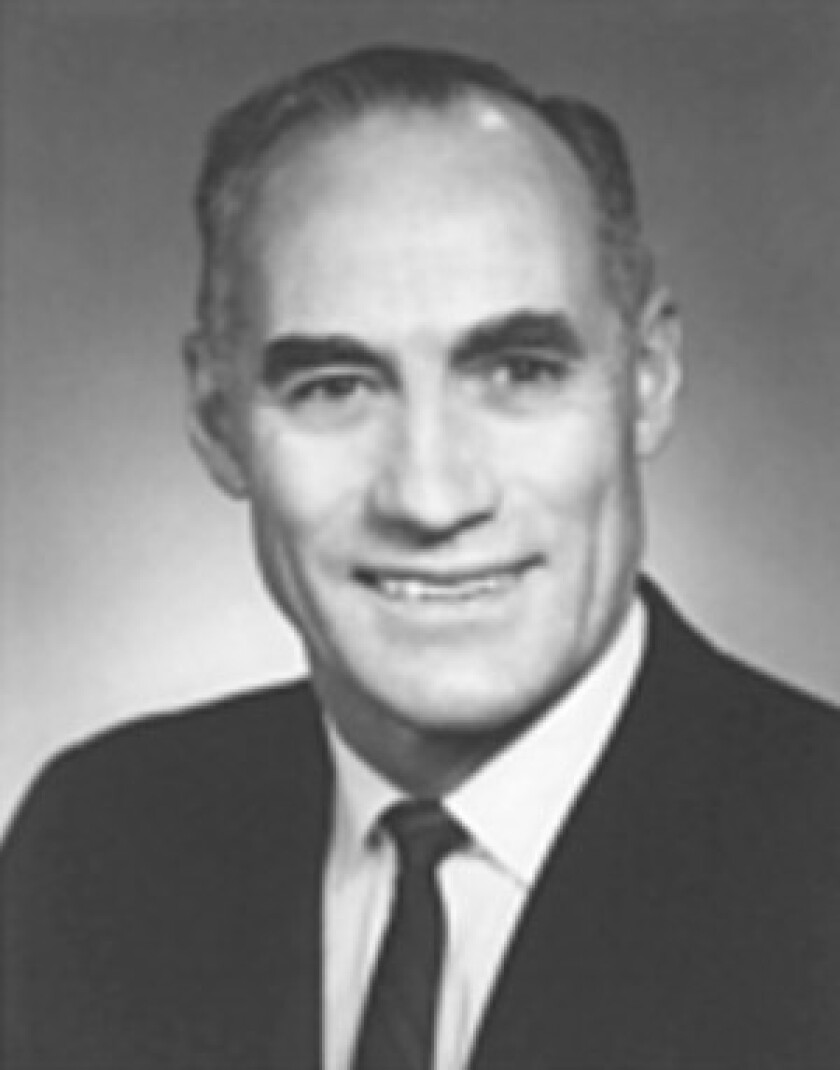 Clifford P. Hansen, a cattle rancher who became Wyoming's governor and then served two terms as a U.S. senator, has died. He was 97.
Hansen died at his home Tuesday after receiving hospital treatment for a broken pelvis.
A Republican, he served as governor from 1963 to 1967, when he went to Washington after defeating Teno Roncalio, Wyoming's only congressman and a Democrat, in a bid for the Senate.
Hansen sat on the Senate Finance and Veterans Affairs committees and was a ranking member of the Natural Resources Committee.
A cattleman whose livestock grazed in Grand Teton National Park and in surrounding national forest land, he opposed raising public-lands grazing fees and supported establishing reservoir projects in his home state.
Hansen was reelected to the Senate in 1972 and resigned Dec. 31, 1978.
In 1980, President Reagan floated Hansen's name as a top choice for Interior secretary. He declined, however, reportedly because of conflict-of-interest problems over his federal cattle-grazing permit. The job went to James Watt, then-president of the Mountain States Legal Foundation, a conservative nonprofit group based in Denver.
Clifford Peter Hansen was born Oct. 16, 1912, to homesteaders in Zenith, a community in the Jackson Hole valley. He grew up with a stutter, which he later credited with pitching him toward politics.
"One day, a hired hand, meaning no harm I'm sure, heard me stuttering, and he said, 'Don't worry, Cliff -- someday you'll be governor.' And I thought, 'By God, I will be governor,' " Hansen told a Denver newspaper in 1996. "When I was riding alone up on the range, I'd pontificate and make speeches to the cows."
Hansen graduated from the University of Wyoming in 1934, when he returned home to ranch and marry the former Martha Close.
In 1943, he and his fellow ranchers led a cattle drive protesting the Jackson Hole National Monument, which expanded protections on land around Grand Teton National Park and -- in the eyes of the protesters -- infringed on grazing rights and reduced county tax revenue.
"I'm glad I lost that fight," he said in "The National Parks," the recent Ken Burns documentary. "I have to appreciate, as everyone else does, the beauty and uniqueness of this area."
In addition to his wife, Hansen is survived by a son, Peter; five grandchildren; and 10 great-grandchildren. His daughter, Mary, also a rancher in Jackson Hole, died in 1996 when she was thrown from a horse while herding cattle.
Brown writes for the Washington Post.
---
Must-read stories from the L.A. Times
Get all the day's most vital news with our Today's Headlines newsletter, sent every weekday morning.
You may occasionally receive promotional content from the Los Angeles Times.