Conchita Cintron dies at 86; one of the world's first famous female matadors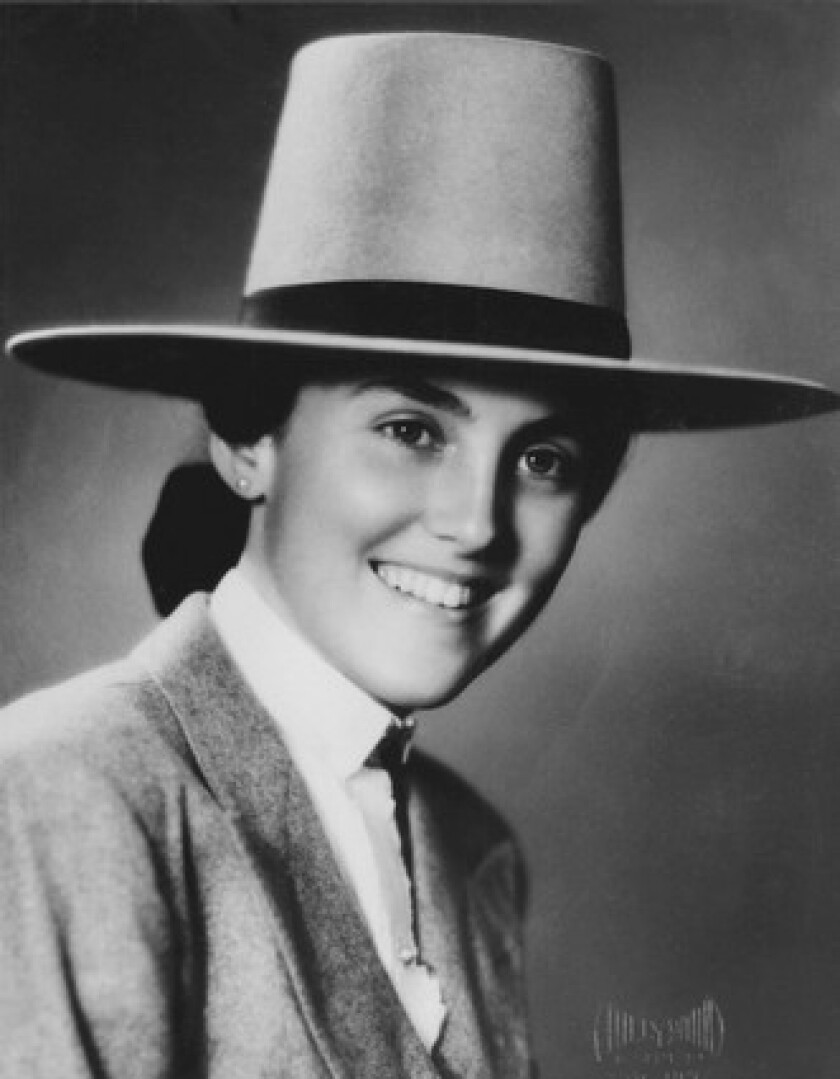 From The Associated Press
Conchita Cintron, who broke into the male-dominated sport of bullfighting at 13 and became one of the world's first famous female matadors, has died. She was 86.
---
FOR THE RECORD:
Conchita Cintron obituary: A headline on the obituary of bullfighter Conchita Cintron in Thursday's California section said she was Peruvian. Cintron was a Portuguese citizen. —

---
Cintron, who became known as "La Diosa Rubia," or "The Blond Goddess," died of a heart attack Tuesday in Lisbon, the Portuguese news agency Lusa said, quoting unidentified family members. She was buried Wednesday at a cemetery in Trajouce, near Lisbon, according to a funeral agency and local church.
Famous for her bullfighting skills on foot and horseback, Cintron reportedly killed more than 750 bulls during her career in Europe, Central America and South America.
"She made an indelible mark on a period of bullfighting history," Hugo Ferro of the Portuguese Bullfighters' Union said Wednesday. "She was probably the best-known woman bullfighter."
She was born Concepcion Cintron Verrill in 1922 in Antofagasta in northern Chile to a Puerto Rican father and an American mother.
Cintron learned bullfighting from Ruy Zarco da Camara, a Portuguese who ran a riding school in Lima. He taught her the Portuguese form of bullfighting on horseback.
She faced her first bull at 13 and made her debut in 1937 at the main arena in Lima, Peru.
After fighting in Spain, she debuted in Portugal in 1945. She fought in more than 400 events in Portugal, Spain and several South American countries before retiring in 1949.
During the 1940s, Cintron became one of the most famous women in bullfighting at a time when few females became matadors.
"She wasn't the first woman, but she kept going season after season and made a name for herself," Ferro said.
During a visit to Los Angeles in 1941, she defended her participation in bullfighting, a practice that most Americans found abhorrent.
---
FOR THE RECORD:
An earlier version of this article included a headline that referred to Conchita Cintron as Peruvian. She was a Portuguese citizen.

---
"Would a bull who will be killed in the slaughterhouse by a hammer not rather die gallantly?" she told a Los Angeles Times reporter. "Is it not better to give the bull a chance for his life, a sporting chance?"
Cintron was seriously injured in 1949 in Guadalajara, Mexico, when a bull gored her in the thigh.
Carried to the ring's infirmary, she pulled away from doctors, returned to the ring and killed the bull. She then fell unconscious and was rushed into emergency surgery.
That same year in Spain, where a law prohibited female bullfighters from dismounting their horse and fighting on foot, she simulated the kill by touching the bull on the shoulders -- where the sword would go -- as it passed her, drawing cheers from the crowd.
At 27, she retired and married a Portuguese, Francisco de Castelo Branco. She relocated to Lisbon, where she raised show dogs and eventually took on Portuguese citizenship.
Cintron is survived by a son.
---
Must-read stories from the L.A. Times
Get all the day's most vital news with our Today's Headlines newsletter, sent every weekday morning.
You may occasionally receive promotional content from the Los Angeles Times.