Corey Haim dies at 38; actor was a teen idol in the 1980s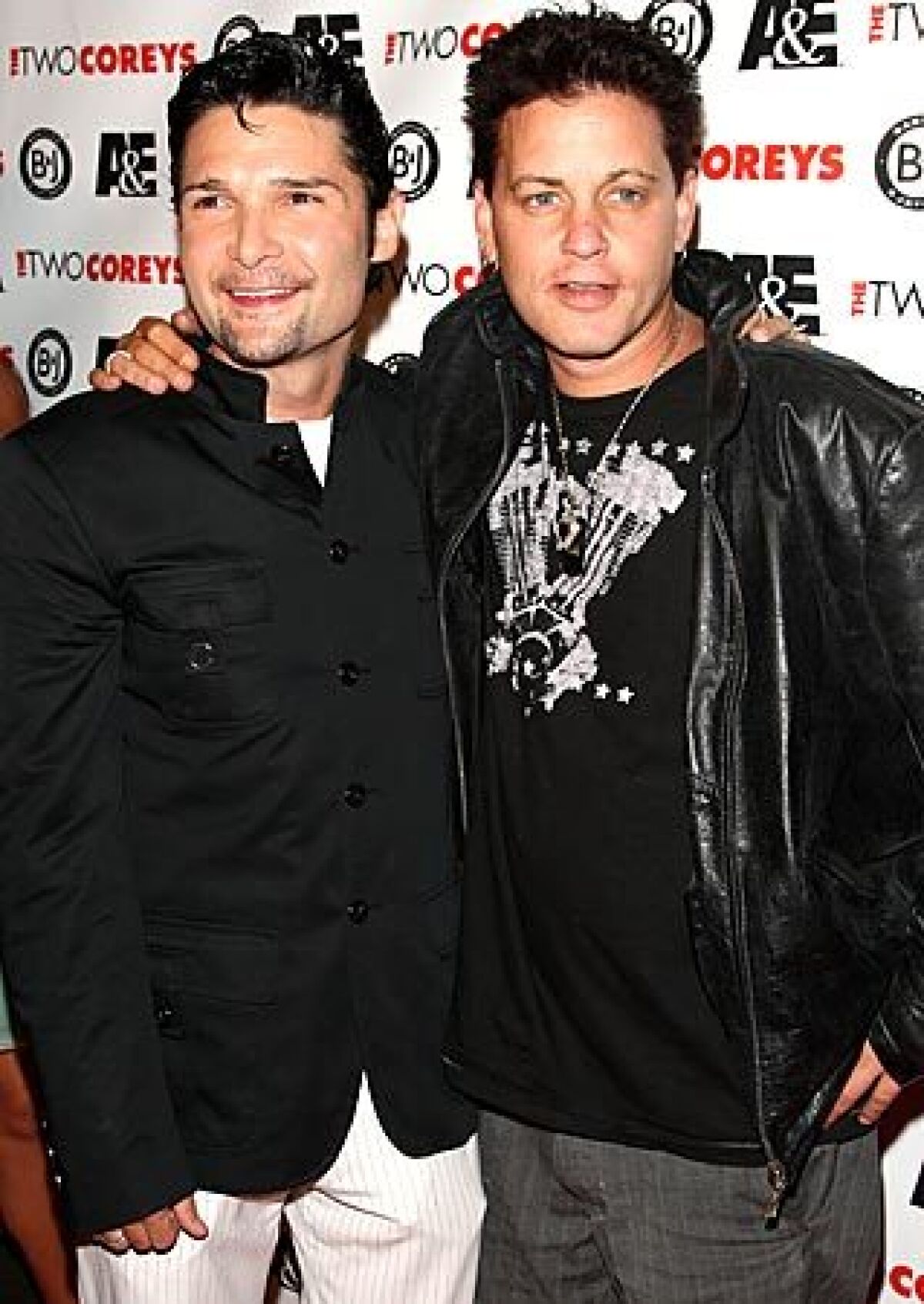 Corey Haim was in full teen-idol mode in 1988, swamped with letters from adoring young female fans and his face on the covers of teen magazines.
But it was acting that was foremost on the mind of the Canadian-born 16-year-old, whose growing list of credits included "Lucas" and the teenage vampire movie "The Lost Boys."
Haim, observed a visiting Times writer, "actually believes he is the next James Dean."
"I know I can do it," Haim said. "Dean made only three movies, and he's such a legend. People think he's so brilliant. He was so raw.
"I just want to be known like [Dean] was known. I just want people to think that I'm really, really good."
Haim, who struggled with drug addiction during a career that fell far short of legendary status despite early reviews that praised his acting ability, died Wednesday morning, according to a Los Angeles County coroner's spokeswoman. An autopsy will determine the cause of death.
Haim, who was taken to Providence St. Joseph Medical Center in Burbank after being found unresponsive in his home near Universal City, was 38.
"It was an apparent overdose," Sgt. Frank Albarren of the Los Angeles Police Department's North Hollywood Station told reporters. "Unknown what type of medication."
People familiar with the investigation, speaking on condition of anonymity because the case was ongoing, told The Times that detectives recovered prescription drugs in the home. It did not appear that foul play or illegal drugs were involved, the sources said.
"This is a tragic loss of a wonderful, beautiful, tormented soul, who will always be my brother, family and best friend," actor Corey Feldman said of Haim on his blog.
The two actors, who worked together on "The Lost Boys" and appeared in a number of other films together, most recently reunited on the "The Two Coreys," an A&E reality series in which Haim moved into a house with Feldman and his wife, Susie.
"This arrangement," Times TV critic Robert Lloyd wrote when the series debuted in 2007, "supposedly has something to do with helping Corey H. get his career/life back on track -- clearly we're to regard him, and with some cause, as the more troubled of the two."
Haim spoke often about his problems with drugs, which reportedly included a drug-induced stroke some years ago and numerous attempts at rehabilitation.
While working on "The Lost Boys," he said in a 2004 interview with Britain's the Sun, he smoked his first joint.
"I lived in L.A. in the '80s, which was not the best place to be," he said. "I did cocaine for about a year and a half, then it led to crack."
After a period in rehab, the paper reported, Haim was put on prescription drugs.
"I started on the down- ers, which were a hell of a lot better than the uppers because I was a nervous wreck," he said. "But one led to two, two led to four, four led to eight, until at the end it was about 85 a day . . . and that was just the Valium. I'm not talking about the other pills I went through."
Born Dec. 23, 1971, in Toronto, Haim began acting in commercials when he was 10.
He was a regular on the Canadian TV series "The Edison Twins" and made his film debut in the 1984 drama "Firstborn." He also played Sally Fields' son in "Murphy's Romance" and Liza Minnelli's dying son in the TV movie "A Time to Live."
A breakthrough starring role as a brilliant but awkward teenager in love with an older girl in the 1986 film "Lucas" earned the praise of critic Roger Ebert.
"He creates one of the most three-dimensional, complicated, interesting characters of any age in any recent movie," Ebert wrote. "If he can continue to act this well, he will never become a half-forgotten child star, but will continue to grow into an important actor. He is that good."
Haim was a regular in the short-lived 1987 sitcom "Roomies." Among his other film credits are "Silver Bullet," "License to Drive," "Watchers" and "Dream a Little Dream."
A list of surviving family members was not available.
dennis.mclellan @latimes.com
Times staff writer Andrew Blankstein contributed to this report.
---
Must-read stories from the L.A. Times
Get the day's top news with our Today's Headlines newsletter, sent every weekday morning.
You may occasionally receive promotional content from the Los Angeles Times.