David Nelson dies at 74; last surviving member of the TV sitcom family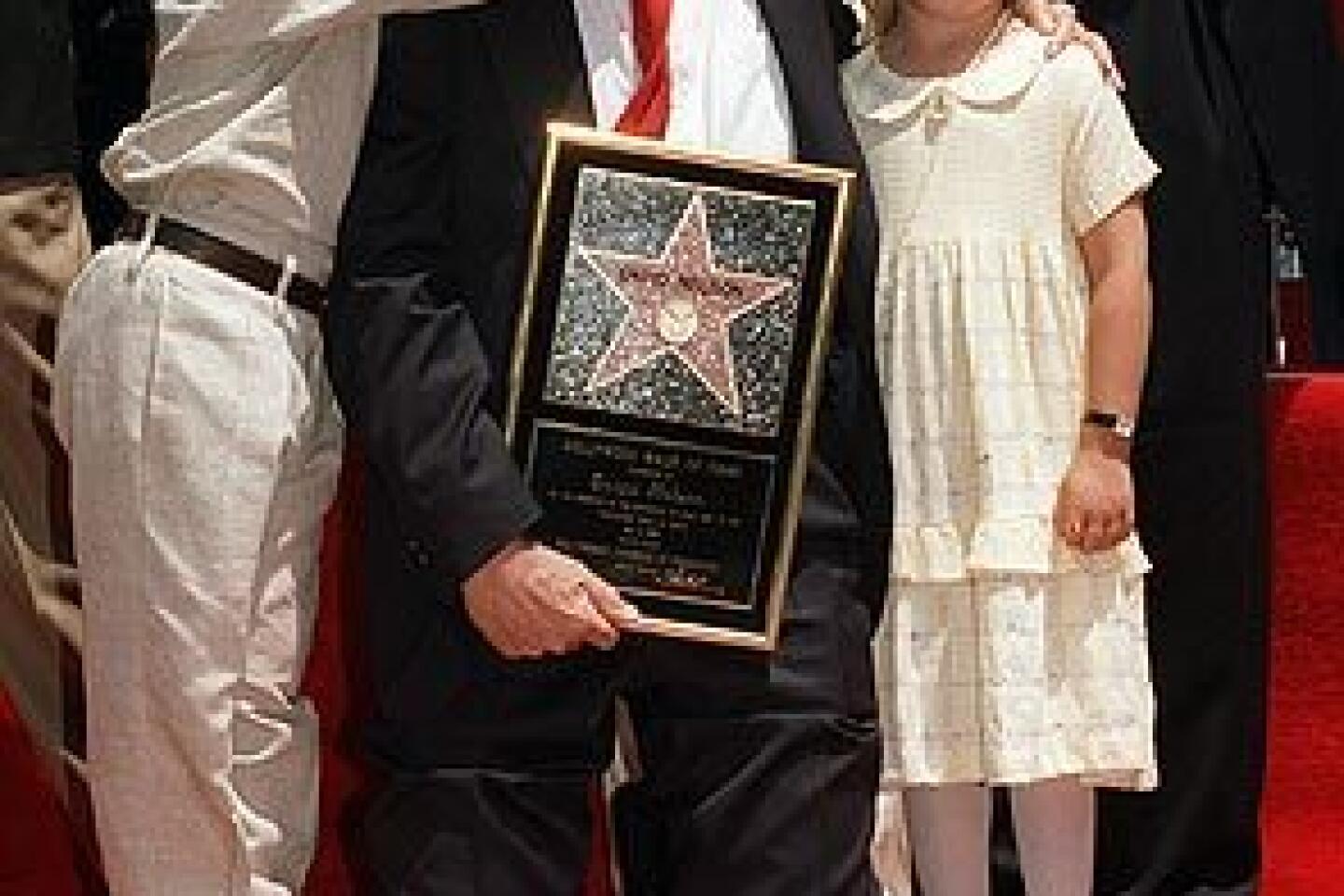 Actor David Nelson poses with his grandson, Michael Woolery, and family friend Ashley Holt as he is honored with the 2,065th star on the Hollywood Walk of Fame on May 9, 1996. Nelson, who starred on his parents' popular television show, "The Adventures of Ozzie and Harriet, " died in Los Angeles on Tuesday. He was 74.
See full story
(Nick Ut / Associated Press)
A 1990 file photo of
David Nelson
in his Casablanca Productions offices in
Los Angeles. Nelson was the elder son of Ozzie and Harriet Nelson and the last surviving member of the family that became an American institution in the 1950s and '60s as the stars of the classic TV sitcom "The Adventures of Ozzie and Harriet."
See full story
(Don Kelsen / Los Angeles Times)
Los Angeles Times
David Nelson, the elder son of Ozzie and Harriet Nelson and the last surviving member of the family that became an American institution in the 1950s and '60s as the stars of the classic TV sitcom "The Adventures of Ozzie and Harriet," died Tuesday. He was 74.
Nelson died at his Century City home of complications from colon cancer, said publicist Dale Olson.
"The Adventures of Ozzie and Harriet" began on radio in 1944, focusing on the home life of bandleader Ozzie Nelson and his vocalist wife, Harriet Hilliard.
In 1949, the popular show became a true family affair when 12-year-old David and 8-year-old Ricky replaced the child actors who had been portraying them on radio.
"The Adventures of Ozzie and Harriet" moved to television three years later, debuting on ABC in October 1952.
When the series ended in 1966 after 435 episodes, it had become the longest-running family situation comedy in TV history — as well as serving as the launch pad and showcase for teen idol Rick Nelson's singing career.
In the process of playing fictionalized versions of themselves on television each week for 14 years, David and Rick Nelson literally grew up in front of millions of Americans.
Indeed, after David and Rick were married in the early '60s, their wives — first David's wife, actress June Blair, and then Rick's wife, the former Kris Harmon — became their TV wives.
The blurring of what was real and what was not real caused confusion in some viewers' minds.
When David enrolled at USC and joined a fraternity after graduating from Hollywood High School in 1954, his TV character started college and joined a fraternity.
But unlike his TV character, who became a lawyer on the show, David did not go into law.
Instead, he launched his career as a director by taking the reins from his director-father for about a dozen episodes of the show in the early '60s. He spent the next several decades directing commercials and occasional TV series and movies.
"The Adventures of Ozzie and Harriet" has been criticized for presenting an idealized version of American family life that few could live up to.
That included the Nelsons, as David pointed out in a 1971 Esquire article headlined "The Happy, Happy, Happy Nelsons."
"We would keep up the front of this totally problemless, happy-go-lucky group," he said. "There might have been a tremendous battle in our home, but if someone from outside came in, it would be as if the director yelled, 'Roll 'em,' We'd fall right into our stage roles.
"It's an awfully big load to carry, to be everyone's fantasy family."
He was born Oct. 24, 1936, in New York City, when Ozzie and Harriet were in their big-band heyday.
Rick was born in 1940, the year before the Nelsons moved permanently to Hollywood.
After Ozzie and Harriet launched their radio show in 1944, David and Rick would accompany their parents to their live broadcasts.
They had no show business aspirations, but when they heard that their young friend Lindsay Crosby was going to make a guest appearance with his father, Bing, in an episode of the show in December 1948, David and Rick lobbied their parents to let them appear as well.
Ozzie and Harriet finally agreed to let them play David and Ricky in the preview show before a studio audience but not the actual broadcast.
As Harriet told The Times in 1981: "You're not anxious to put your career in the hands of kids."
The boys did not disappoint their parents.
"They just opened their mouths and you never heard such laughs," said Harriet. "Ricky sounded like a pipsqueak."
David and Ricky joined the cast of "The Adventures of Ozzie and Harriet" in February 1949. Within six months, Radio Life magazine dubbed them "The Crown Princes of Radio."
From the start, Ricky was given most of the funny lines and, as a result, he received most of the attention.
But there wasn't really any rivalry between himself and his younger brother, Nelson said in a 1987 Associated Press interview.
"We were 3 1/2 years apart," David Nelson said. "So when Rick was funny, I laughed with everyone else. And when he became a popular singer, I rooted for him."
David and Rick made their movie debuts in "Here Come the Nelsons," the 1952 comedy released about eight months before the family debuted on television.
During the '50s and early '60s, David Nelson also had roles in the movies "Peyton Place," "The Remarkable Mr. Pennypacker," "The Big Circus," "Day of the Outlaw," "30" and "The Big Show."
For "The Big Circus," he learned to be a catcher in a trapeze act and later appeared professionally as a catcher.
Nelson acted only sporadically after "Ozzie and Harriet" ended; his final acting credit was as the father of Wanda ( Traci Lords) in "Cry-Baby," writer-director John Waters' spoof of the '50s.
Ozzie Nelson died of liver cancer in 1975. Rick Nelson died with six others in a plane crash on New Year's Eve 1985. And in 1994, Harriet Nelson died of congestive heart failure.
Nelson is survived by his wife, Yvonne; sons John, Eric, James and Danny; daughter Teri; and seven grandchildren. Nelson's marriage to Blair ended in divorce in 1975.
Services and burial will be at noon on Thursday at Pierce Brothers Westwood Village Memorial Park and Mortuary.
Sign up for Essential California for the L.A. Times biggest news, features and recommendations in your inbox six days a week.
You may occasionally receive promotional content from the Los Angeles Times.