David Theno dies; scientist helped set safety standards after Jack in the Box's deadly outbreak in 1990s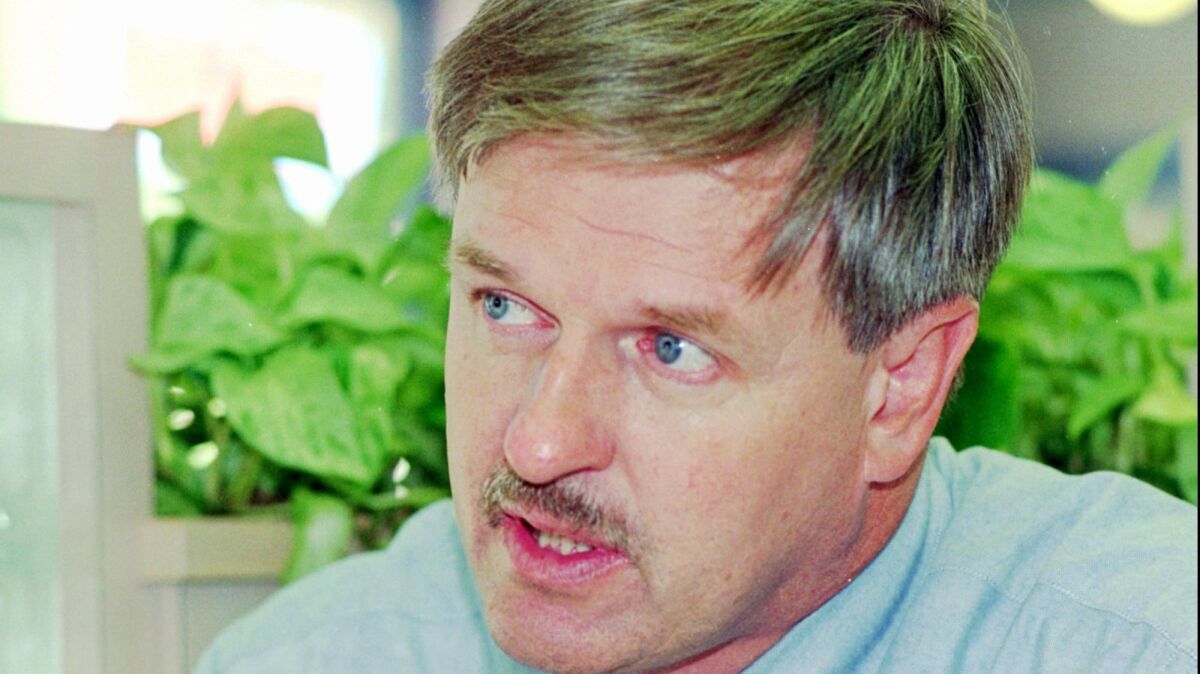 When David Theno was recruited by Jack in the Box nearly 25 years ago amid a deadly E. coli outbreak, he had more on his mind than rescuing his employer from a corporate crisis.
As he reviewed how the San Diego chain purchased, distributed and prepared its food, Theno came to know the mother of a 6-year-old girl, Lauren Rudolph, who had become sick after eating a hamburger at a Jack in the Box in Carlsbad and died. She was the first of four children who lost their lives in a multistate E. coli outbreak that ultimately sickened 700 others who had eaten contaminated meat in 1992 and 1993.
Theno, a vice president and chief safety officer for the company for nearly 16 years, was deeply affected by the little girl's death. Her mother gave him a photograph of Lauren, which he carried in his briefcase — a reminder, he would say, of who he was really working for.
"I have to help people make decisions a lot of times that are really crucial, and the way I think about it is, no matter who is paying me... I don't really work for them — I work for a 6-year-old that lives in my briefcase," he said on a podcast recently recorded by Food Safety Magazine. "My job is to...keep all other 6-year-olds safe that she represents.
"And if you can keep that in focus... then I think we'll do the right thing more often," he said.
Theno died June 19 after being hit by a large wave while swimming with his 14-year-old grandson off the island of Lana'i in Hawaii, where he had a second home. Theno, who also shared an Encinitas home with his wife, was 66.
Theno was a respected figure in the food safety industry who was credited with helping set new standards for leadership and management in food production and safety. He had been operating Gray Dog Partners, a Del Mar consultancy business specializing in food safety and restaurant operations, since 2008.
As recently as last year, Theno had been brought in to assist Chipotle Mexican Grill, which has been trying to bring back customers after a series of foodborne-illness outbreaks.
In a statement, Jack in the Box hailed Theno for the work he had done during his career.
"The world has lost a great man and a tremendous advocate for food safety," CEO Lenny Comma said.
Seattle attorney William Marler, who got to know Theno years ago when he deposed him in litigation against Jack in the Box, said he remained in touch ever since, joining him at food safety summits where they would be speakers.
"The loss to the food safety community and food production in the U.S. and around the world, I can't tell you how important Dave was," Marler said. "Dave was such an advocate of transparency and companies embracing food safety and leading by example."
Born in 1950 in Aurora, Ill., Theno earned a bachelor's degree in zoology and science journalism, and went on to earn his master's and doctorate degrees in food microbiology and animal sciences at the University of Illinois at Urbana-Champaign.
Theno managed food safety and quality programs at companies including Peter Eckrich & Sons, Inc., Armour Food Company, Kellogg's and Foster Farms. He also ran his own consulting company, Theno & Associates, for seven years until he was recruited by Jack in the Box in 1993.
While at the fast food chain, Theno adopted a food-handling program developed by NASA in the 1960s to ensure sterile food for astronauts. The system tracks food from the supplier to the restaurant by monitoring temperatures in delivery trucks and providing restaurant employees with precise checklists covering the handling of food.
Recognized over the years for his leadership and expertise, Theno had just received a Lifetime Achievement Award at the National Science Foundation Food Safety Summit in May. Years earlier, Nation's Restaurant News named him as one of the "Top 50 Players" for his leadership in defining a new standard for food service safety procedures.
Last week, he was recognized posthumously with the inaugural Dave Theno Food Safety Hero award, presented by the nonprofit Stop Foodborne Illness, at the International Assn. for Food Protection conference in Tampa, Fla.
The group also is starting a fellowship program honoring Theno. Recipients will spend a year with the nonprofit working on food safety projects. Marler donated the first $25,000 toward the fellowship.
Theno is survived by his wife, Jill; son David; sisters Meg Theno, Jan Shiff and Nancy Peth; stepchildren Britt and Morgan Ghan; and six grandchildren.
Weisberg writes for the San Diego Union-Tribune.
lori.weisberg@sduniontribune.com
---
Must-read stories from the L.A. Times
Get the day's top news with our Today's Headlines newsletter, sent every weekday morning.
You may occasionally receive promotional content from the Los Angeles Times.