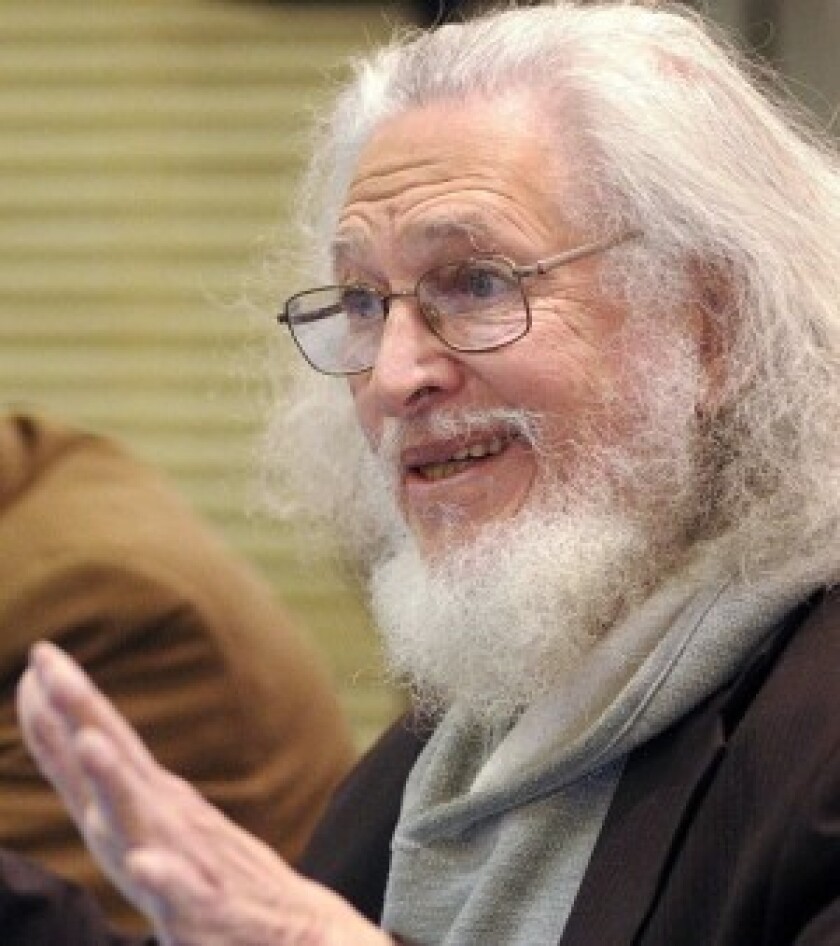 Associated Press
Dennis Brutus, the South African poet and former political prisoner who fought apartheid in words and deeds and remained an activist well after the fall of his country's racist system, has died. He was 85.
Brutus died in his sleep Saturday at his home in Cape Town, according to his publisher, Haymarket Books. He had been battling prostate cancer, according to Patrick Bond, who directs the Center for Civil Society at the University of KwaZulu-Natal in Durban, where Brutus was an honorary professor.
Brutus was an anti-apartheid activist imprisoned at Robben Island with Nelson Mandela in the mid-1960s. His activism led Olympic officials to ban South Africa from competition from 1964 until apartheid ended nearly 30 years later.
Born Nov. 28, 1924, in what was then Southern Rhodesia, now Zimbabwe, Brutus was the son of South Africans who moved back to their native country when he was still a boy. He majored in English at University of Fort Hare, which he attended on a full scholarship.
By his early 20s, he was politically involved and helped create the South African Sports Assn., formed in protest against the official white sports association.
Brutus was banned from South Africa in 1961, fled to Mozambique, but was deported back to South Africa and nearly died after he was shot trying to escape police custody and forced to wait for an ambulance that would accept blacks.
His books "Sirens, Knuckles and Boots" and "Letters to Martha and Other Poems From a South African Prison" were published while he was incarcerated.
He was confined but undefeated, writing in the poem "Somehow We Survive" that "All our land is scarred with terror / rendered unlovely and unlovable / sundered are we and all our passionate surrender / but somehow tenderness survives." In "Prayer," written after he left prison, he proclaims, "Uphold -- frustrate me if need be / so that I mould my energy / for that one swift inerrable soar."
Sometimes terse, other times dense and lyrical, his poems were political but also emotional and highly personal. Forced to leave the country in 1966, he longed for home in the 1975 poem "Sequence for South Africa," writing that the "secret is clamping down / holding the lid of awareness tight shut" until "some thoughtless questioner / pries the sealed lid loose."
Brutus immigrated to the United States in 1971 and taught literature and African studies at Northwestern University and the University of Pittsburgh. A distinctive figure in old age with his flowing white hair and beard, Brutus engaged in protests against world financial organizations and called for stronger action against global warming.
Over the years, he completed more than a dozen collections of poetry, including "A Simple Lust," "Stubborn Hope" and "Salutes and Censures." In 2006, Haymarket published a compilation of his work, "Poetry and Protest." His work was banned for years in South Africa; but one book, "Thoughts Abroad," slipped through, published in 1970 under the pseudonym John Bruin.
He received numerous honorary prizes, including a lifetime achievement award from South Africa's Department of Arts and Culture. But in 2007 he rejected induction into the South Africa Sports Hall of Fame, stating, "It is incompatible to have those who championed racist sport alongside its genuine victims. It's time -- indeed long past time -- for sports truth, apologies and reconciliation."
Brutus is survived by his wife and eight children.
---