Bo Diddley, 79; singer-songwriter's beat marked rock 'n' roll
Diddley holds his Grammy for lifetime achievement in 1998. His songs have been covered by the Rolling Stones, Eric Clapton, the Grateful Dead and the Doors, to name just a few.
(Richard Drew / Associated Press)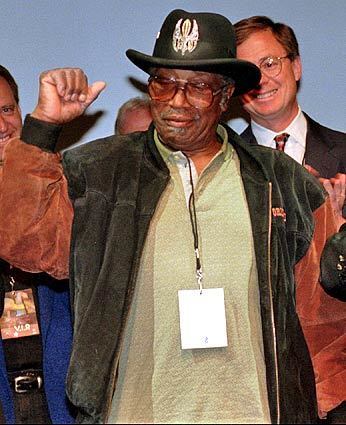 Diddley acknowledges the crowd at the Rock and Roll Hall of Fame and Museum in Cleveland in 1998. Diddley never enjoyed the financial success or critical recognition of his two chief contemporaries, Chuck Berry and Little Richard — artists who, unlike Diddley, made efforts to appeal to white audiences.
(Tony Dejak / Associated Press)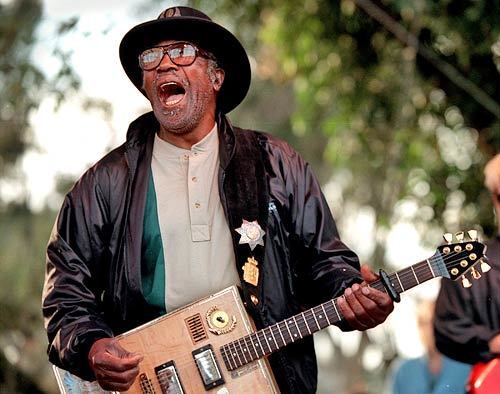 Diddley performs at a blues festival at Doheny State Beach in 1999. His swaggering stage presence influenced artists including
James Brown
,
Mick Jagger
and
Jimi Hendrix
.
(Karen Tapia-Andersen / Los Angeles Times)
Diddley is flanked by
Chuck Berry
, left, and
Little Richard
at the 2002 BMI Pop Awards in
Beverly Hills
. The men received the inaugural BMI Icon Award.
(Vince Bucci / Getty Images)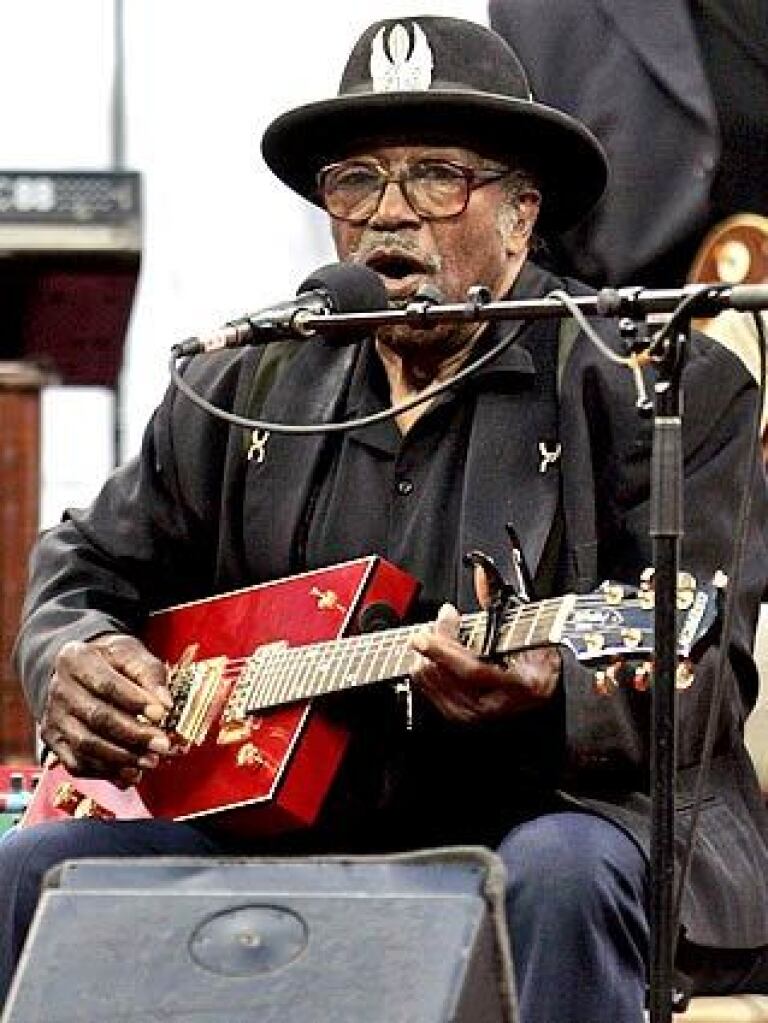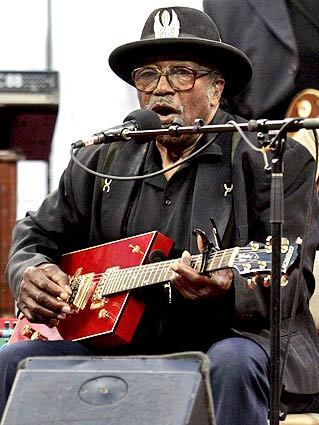 Diddley in 2005, playing his custom-made Gretsch guitar at opening-night ceremonies of the 2005 U.S. Open tennis tournament in Flushing Meadows, N.Y. He toured extensively until suffering a stroke on stage in May 2007.
(Andrew Gombert / EPA)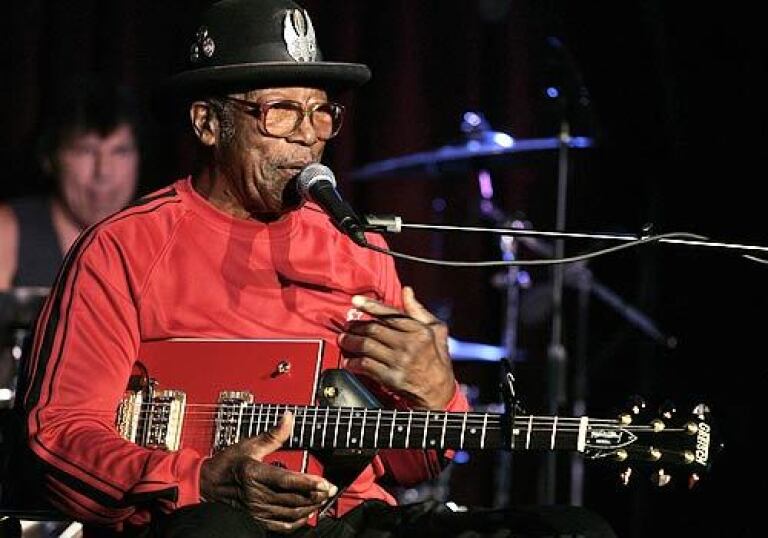 At a blues club in New York in August 2006. Diddley was embittered for many years — his ill will toward Elvis Presley in particular didn't diminish — over his musical legacy and what he saw as his exploitation by the music industry.
(Jeff Christensen-File / AP)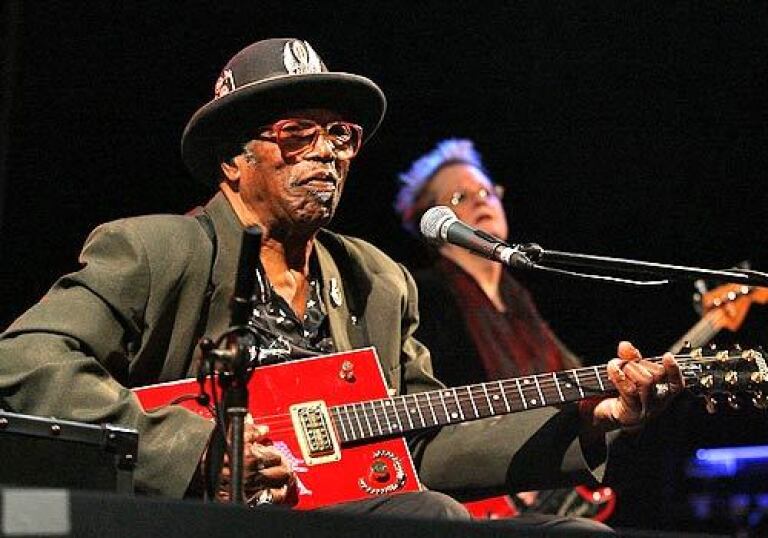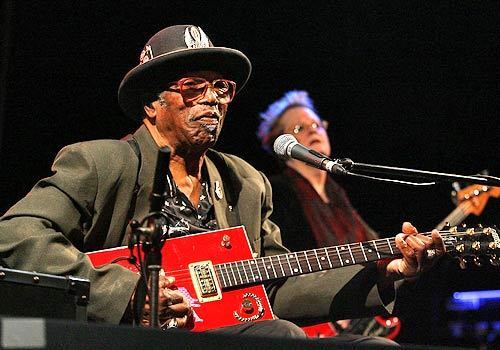 Diddley onstage in Perth, Australia, in April 2007. He suffered a stroke the following month while performing.
(Paul Kane / Getty Images)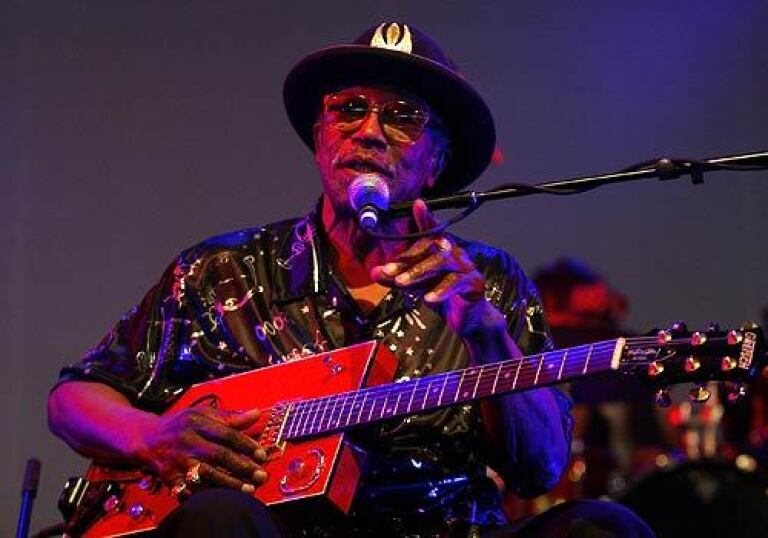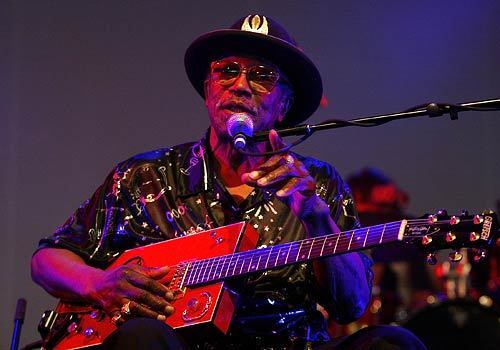 Diddley performing in Byron Bay, Australia, in April 2007. His distinctive beat has been a cornerstone of rock songs since the 1950s, including the Who's "Magic Bus," David Bowie's "Sound and Vision," Bruce Springsteen's "She's the One" and U2's "Desire." Diddley is also credited with being one of the earliest pioneers of rap music.
RELATED
(James Green / Getty Images)
Los Angeles Times Staff Writer
Primal rock and blues musician Bo Diddley, who helped cast the sonic template of rock more than 50 years ago with a signature syncopated rhythm that became universally recognized as "the Bo Diddley beat," died Monday. He was 79.
Diddley died of heart failure at his home in Archer, Fla., spokeswoman Susan Clary said.
The Rock and Roll Hall of Fame singer-songwriter, who often referred to himself as "the Originator" to emphasize his contribution to rock music, had long battled hypertension and diabetes, among other health problems, and was hospitalized for 11 days after suffering a stroke onstage in Iowa in May 2007.
In August, he had complained of dizziness and nausea during a routine medical checkup and was hospitalized with a heart attack.
Alongside Chuck Berry, Diddley is recognized as one of rock's most influential guitarists, expanding the instrument's vocabulary with a crunching, tremolo-laden sound. He played a rectangular "cigar box" guitar of his own design, an instantly recognizable visual counterpart to the distinctive chank-a-chank, a-chank, a-chank-chank rhythm that bore his name and provided the backbeat for his own songs, including "Bo Diddley," "Mona" and "Who Do You Love."
That beat -- fusing blues, R&B, Latin and African rhythms -- resurfaced over the decades in countless other rock and R&B songs, among them Buddy Holly's "Not Fade Away," Johnny Otis' "Willie and the Hand Jive," Bruce Springsteen's "She's the One," David Bowie's "Panic in Detroit," U2's "Desire" and George Michael's "Faith."
"Bo's one of the guys who invented rock 'n' roll," said Eric Burdon, lead singer of the Animals, the British Invasion band that recorded the tribute song "The Story of Bo Diddley" in 1964. "He took two cultures that existed in separate forms -- country and western and the kind of blues that used to be known as 'race music' -- and put them together. His beat was a jungle beat. That's what he called it."
Diddley's most famous songs -- "Who Do You Love," "Mona," "I'm a Man" and "Bo Diddley" -- are the foundation of a huge catalog of songs that have been covered by the Rolling Stones, Eric Clapton, the Grateful Dead and the Doors and even sampled by the rap group De La Soul.
In fact, Diddley is considered by some as a pioneer of rap with his 1959 Top 20 hit "Say Man." On that track, Diddley and maraca player Jerome Green trade jive-talking insults over a percolating beat, a precursor to rap performers' fondness for dissing one another. "That came out of the black neighborhood way back," Diddley told The Times in 1989. "We used to call it 'signifying.' "
He has also been cited as a progenitor of hard rock and heavy metal music for his distortion-drenched sound and near-brutal manner of attacking the fret board.
"He was a wonderful, original musician who was an enormous force in music and was a big influence on the Rolling Stones," the group's lead singer, Mick Jagger, said Monday. "He was very generous to us in our early years and we learned a lot from him. We will never see his likes again."
Bo Diddley was born Otha Ellas Bates in McComb, Miss., on Dec. 30, 1928. His father died shortly after his birth, and his 16-year-old mother was unable to support him. Diddley was later adopted by her first cousin, Gussie McDaniel. She legally changed his name to Ellas McDaniel and brought him north with her family to the South Side of Chicago.
There, he began studying violin at age 7 and taught himself to play guitar in the early 1940s. But it was in grammar school that the rambunctious young Ellas acquired the nickname that would provide his future marquee identity.
He circulated various explanations for the name over the years, but by most accounts, neighborhood kids started calling him "bow diddley" -- slang for "bully." The name also recalled the diddley bow, an African single-string guitar that was seminal to blues music.
After dropping out of Foster Vocational High School in Chicago at 15, he began playing his guitar on street corners for change and later joined a small-time group called the Langley Avenue Jive Cats. Around that time, Diddley held various day jobs -- truck driver, boxcar loader, construction worker -- and boxed as a light heavyweight. But he hung up his gloves at 19 because, as he put it, he "kept getting whupped."
By 1954 he was married and a fixture on the local music circuit when he decided to cut a two-song demo of his original songs "Uncle John" and "I'm a Man." Although he usually adhered to the restrained blues style of his hero, Muddy Waters, Diddley based his recordings on the exultant, frenetic music he had been exposed to in the Pentecostal church as a child.
In 1955, the demo landed him a deal with Chicago's Chess Records label, home to blues stalwarts Willie Dixon, Howlin' Wolf and the young Chuck Berry.
According to the biography "Spinning Into Gold: The Chess Brothers and the Legendary Chess Records," label head Leonard Chess was looking for a stage name catchier than Ellas McDaniel when a studio harmonica player blurted out, "Bo Diddley." The name stuck, and the title for "Uncle John" was changed to "Bo Diddley."
When the single was released that year, it shot to No. 1 on the national R&B chart. Diddley landed an appearance on "The Ed Sullivan Show" before hooking up with disc jockey Alan Freed's rock 'n' roll revue that toured the country.
Diddley's raw, distorted guitar sound connected with audiences from coast to coast. Almost immediately, the singer-songwriter began making an impression on other musicians. Upon seeing Elvis Presley perform in 1956, a reviewer for the Harlem, N.Y., newspaper the Amsterdam News said he had "copied Bo Diddley to the letter." In 1957, Buddy Holly commandeered the Bo Diddley beat for "Not Fade Away." Some have suggested that Holly's horn-rimmed glasses were a nod to Diddley as well.
By the 1960s, the British Invasion threw the spotlight to an onslaught of performers from the U.K. who had been inspired by American blues musicians. In 1973, after the success of Chess' album "The London Howlin' Wolf Sessions," Diddley was teamed with several key British rockers on "The London Bo Diddley Sessions" album in hopes of a career resurgence. But the album failed to duplicate the commercial success of Wolf's outing two years earlier.
Diddley's panache and swaggering stage presence influenced musicians on both sides of the Atlantic, among them Jagger, James Brown and Jimi Hendrix. Diddley's early use of amplified electric-guitar effects -- including reverb, echo and distortion -- also played an important part in the evolution of the sound of rock music when they were taken to further extremes by Hendrix, the Doors and others.
Dressed head to toe in black cowboy regalia or loud plaids, Diddley had a high-kicking, hip-wiggling stage repertoire that included playing the guitar behind his head and with his teeth.
Although Diddley maintained a 76-acre property in Florida, he was rarely home. Touring extensively until last year -- he performed in Australia just a month before his stroke -- Diddley cut a striking figure, sporting a black cowboy hat and thick-rimmed glasses, coaxing space-age, effects-heavy sounds out of his rectangular Gretsch guitar.
"Bo Diddley was a music pioneer and a legend with a unique style," blues legend B.B. King said in a statement to The Times. "We always had a good time when we played together, but his legacy will live on forever."
Blues singer-songwriter Duke Robillard, who covered "Who Do You Love" on an album he released last year, recalls being impressed when the two performed on a bill together 11 years ago. He noted Diddley's mad-scientist approach to tweaking his sound with a customized guitar.
"His guitar had effects and delay built into it so when he'd play a line it would repeat in time with the music," Robillard said last year. "That's pretty futuristic. You wouldn't think of Bo as a guy who could do that electronically. But he had more to him than his one beat."
Even though Diddley helped establish rock 'n' roll's rhythmic bedrock, he never enjoyed the financial success or critical recognition of his two chief contemporaries, Chuck Berry and Little Richard. "Diddley remained firmly rooted in the ghetto," author George R. White wrote in his biography "Bo Diddley: Living Legend." "Both his music and his image were too loud, too raunchy, too black to ever cross over."
Until the end, Diddley remained embittered about both his musical legacy and being exploited by the music industry -- he received no royalties from his classic songs until 1989 -- becoming a vocal champion of fair treatment for veteran blues and R&B musicians.
"Have I been recognized? No, no, no," Diddley told the New York Times in 2003. "Not like I should have been. Have I been ripped off? Have I seen royalty checks? You bet I've been ripped off."
When he was inducted in 1987 into the Rock and Roll Hall of Fame -- by the members of the Texas blues-rock trio ZZ Top -- he was part of the second group of rock pioneers granted entrance.
He also toured that year with Rolling Stones guitarist Ron Wood. And into Diddley's final decade, he never faded from the public consciousness, performing at President George H.W. Bush's inaugural gala in 1989 and the Democratic National Convention for Bill Clinton in 1992, collecting a lifetime achievement Grammy in 1998, opening for Tom Petty and the Heartbreakers on tour in 1999, performing at fundraisers for Hurricane Katrina and having his songs included on soundtracks for movies, including "Gone in Sixty Seconds," "Ghost Rider," "Joe Dirt" and "Wild Hogs."
As recently as a year ago, in a display of Diddley's determination to regain his health and return to his life on the road, his scheduled British tour was "postponed" rather than canceled.
Divorced from his fourth wife, Diddley is survived by four children, 15 grandchildren, 15 great-grandchildren, three great-great-grandchildren and a brother, the Rev. Kenneth Haynes.
A funeral is scheduled for Saturday in Gainesville, Fla., at the Showers of Blessing Harvest Center. A memorial service at the Martin Luther King Jr. Multi-Purpose Center, featuring members of Diddley's touring band and guest musicians, will follow.
---
Must-read stories from the L.A. Times
Get the day's top news with our Today's Headlines newsletter, sent every weekday morning.
You may occasionally receive promotional content from the Los Angeles Times.