Don Zimmer, wisecracking sage of baseball, dies at 83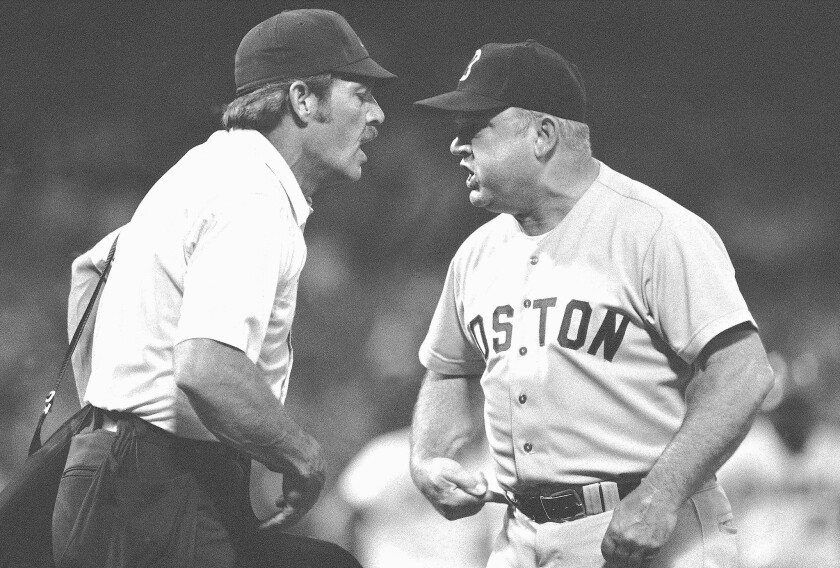 Don Zimmer, a wisecracking sage for some of the most iconic teams in baseball history whose association with the sport extended from Babe Ruth to Derek Jeter, died Wednesday in Dunedin, Fla. He was 83.
The Tampa Bay Rays, for whom he was a senior advisor, announced his death. Zimmer underwent heart surgery in April and had remained hospitalized since then, on a ventilator because of fluid on his lungs, according to the Tampa Bay Times.
"Don was the kind of person you could only find in the national pastime," Commissioner Bud Selig said in a statement.
Zimmer, nicknamed "Popeye" for the bulging biceps that belied his 5-foot-9 stature, teamed with baseball immortals on the 1955 Brooklyn Dodgers, the only World Series championship team for a long-suffering fan base. Zimmer played second base in Game 1 of that World Series, in a lineup with Hall of Famers Jackie Robinson, Pee Wee Reese, Roy Campanella and Duke Snider.
"He was, without a doubt, one of the most beloved players on the team," said Vin Scully, the Dodgers' broadcaster then and now.
Zimmer played for the last Brooklyn Dodgers team in 1957, the first Los Angeles Dodgers team in 1958, and the first New York Mets team in 1962. He managed four teams and several Hall of Famers, including Carl Yastrzemski, Jim Rice, Carlton Fisk and Dennis Eckersley with the Boston Red Sox. In 1989, after leading the Chicago Cubs to the National League East championship, Zimmer was selected as National League manager of the year.
He worked under Joe Torre with the New York Yankees from 1996-2003, helping Hall of Famers-to-be Jeter and Mariano Rivera as bench coach for a team that won the World Series four times.
Although Torre treasured his advice, Zimmer downplayed his contributions in an interview with Esquire in 2001.
"I sit next to Torre on the bench," Zimmer said. "When he plays hit-and-run that works, I say, 'Nice goin', Skipper,' and if it doesn't work, I go down to the other end of the bench, get a drink, and get out of his way."
Donald William Zimmer was born Jan. 17, 1931, in Cincinnati. He played youth baseball with the father of Pete Rose, baseball's all-time hit leader, and he and his American Legion teammates met Ruth after winning a national championship.
Zimmer devoted his life to baseball, and he nearly lost his life because of it. In 1951, he married his high school sweetheart, Soot, on the field in Elmira, N.Y., where he was playing minor league baseball. In 1953, playing for a Dodgers minor league team and in an era before players wore batting helmets, he was hit on the head by a pitch. His skull was fractured, and he was in a coma for 13 days.
The Dodgers appeared in the World Series that fall. Scully said the players asked if Zimmer could sit in the dugout.
"He couldn't speak," Scully said. "He had had his head locked with concrete bags. He couldn't move his head."
Zimmer recovered and spent the next six decades in baseball. To the younger generation, he might be best known for an incident in the 2003 American League playoffs. Zimmer, convinced that Red Sox pitcher Pedro Martinez had thrown at a Yankees hitter, charged Martinez during a bench-clearing brawl. Martinez intercepted a punch from the 72-year-old coach and shoved him to the ground.
The next day, Zimmer shuffled into a news conference, his nose bandaged and his arm around Torre, and could not complete a short statement without his voice cracking.
"I'm embarrassed about what happened," Zimmer said. "I'm embarrassed for the Yankees, the Red Sox, the fans, the umpires and my family. That's all I have to say. I'm sorry."
To those that knew him long and well, Scully said, Zimmer will be remembered with delight and pride.
"All I can tell you," Scully said, "when you say Don Zimmer, anybody who knew him will smile."
He is survived by his wife of 62 years, Jean (nicknamed "Soot"), his son Thomas, daughter Donna, and four grandchildren: Beau, Whitney, Ron and Lan, according to the Rays.
Times staff writer Dylan Hernandez contributed to this report.
---
Must-read stories from the L.A. Times
Get all the day's most vital news with our Today's Headlines newsletter, sent every weekday morning.
You may occasionally receive promotional content from the Los Angeles Times.