Dusty Rhodes dies at 82; pinch-hitting hero of 1954 World Series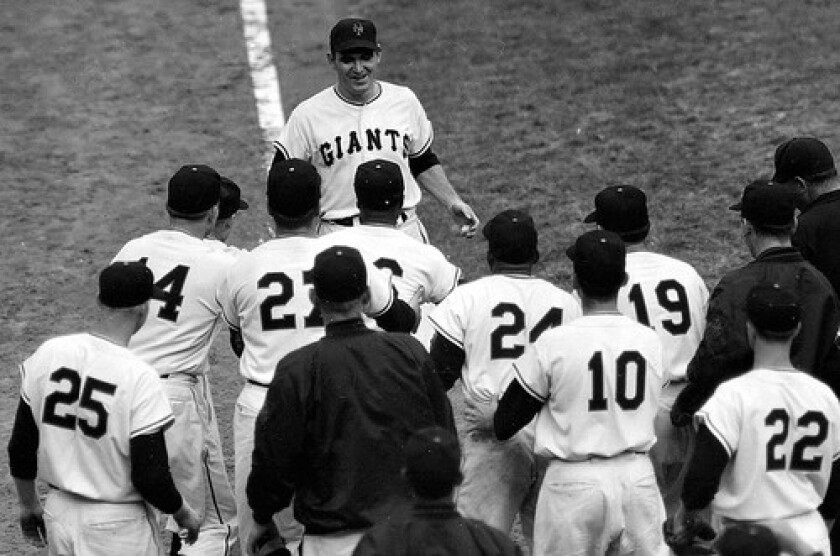 Dusty Rhodes, a light-hitting, hard-drinking outfielder who was at his best on baseball's biggest stage, died of cardiopulmonary arrest Wednesday at a Las Vegas hospital. He was 82.
Rhodes, whose left-handed swing was tailor-made for the short right-field porch at the New York Giants' home in the Polo Grounds, never batted more than 244 times in seven big-league seasons and had a career average of just .253.
But in his only World Series, in 1954, he delivered a game-winning pinch-hit home run in the 10th inning of Game 1, a game-tying pinch-hit single in Game 2 and a two-run pinch single in Game 3 to help the Giants win their last championship by sweeping the heavily favored Cleveland Indians.
Rhodes also hit a solo home run later in Game 2, remaining in the game after his pinch-hit single. His two home runs were the only ones hit by the Giants in the series.
Although that World Series is best remembered for "The Catch," Willie Mays' great running grab of a Vic Wertz drive in the opening game, it was Rhodes' bat that proved the difference. Yet, earlier that season, Giants manager Leo Durocher promised to quit unless the team traded Rhodes.
The Giants tried, but no other team wanted Rhodes.
"I decided Rhodes couldn't run or field a ball and I decided I didn't want him around," the late Durocher, a Hall of Fame manager who won his only title that year, said after the series. "Get rid of him. He can't do nothing. He convinced me now how wrong I was."
But the World Series wasn't Rhodes' only brush with baseball history. In both the 1953 and '54 seasons, he homered in three consecutive at-bats in the same game.
The '54 season was his best; he hit a career-high .341 with 15 home runs and 50 runs batted in in only 164 at-bats.
In his autobiography, "Nice Guys Finish Last," Durocher called the fun-loving Rhodes "the worst fielder who ever played in a big-league game." But he also wrote that Rhodes' personality kept the team "confident and happy."
"He was a lovable guy. He was a party guy. He was just a good old boy," Frank Turco, a cousin of Rhodes' wife, Gloria, said Thursday. "Did he live a hard life? Did he go out at night? Yes. But he was a good man. He was a Southern gentleman."
James Lamar Rhodes was born May 13, 1927, in Mathews, Ala., and grew up "dirt poor," according to Turco.
He joined the Navy shortly after his 17th birthday, seeing action on a warship in the Pacific theater during World War II, then signed his first baseball contract with the Chicago Cubs in 1947.
But he spent his entire big-league career with the Giants, following the team from New York to San Francisco, where he played his final season in 1959.
A product of the segregationist South who played his first professional game the year that Jackie Robinson became the first African American player in the major leagues, Rhodes was "color blind," former teammate Monte Irvin said.
"He was like a brother to all the black players," Irvin told the New York Daily News. "He sure did like the good life, though, which would drive Leo crazy."
After his baseball career ended, Rhodes returned to New York, where he worked on a tugboat in New York Harbor. Tugs there flew their flags at half mast in his memory Thursday, his family said.
Rhodes retired to Boca Raton, Fla., then to Henderson, Nev., with Gloria, his wife of 30 years.
"He loved baseball. He loved his kids. He loved his wife," Turco said. "I don't know in what order. But he was a funny guy. He would tell you a story and you'd fall on the floor."
Over the last two years, Rhodes battled heart problems, diabetes and emphysema, which resulted in frequent visits to hospital emergency rooms, Turco said.
He was on his way to a regular medical check-up when he went into cardiopulmonary arrest, dying a few hours later at Valley Hospital Medical Center in Las Vegas, according to a spokeswoman for the Clark County coroner's office.
In addition to his wife, Rhodes' survivors include three children from a previous marriage; a sister; and 11 grandchildren.
A memorial service will be held today at the Davis Funeral Home in Las Vegas, to be followed by a funeral and military burial Saturday.
---
Must-read stories from the L.A. Times
Get all the day's most vital news with our Today's Headlines newsletter, sent every weekday morning.
You may occasionally receive promotional content from the Los Angeles Times.