E.L. Woody, the self-proclaimed 'King of the Paparazzi', dies at 70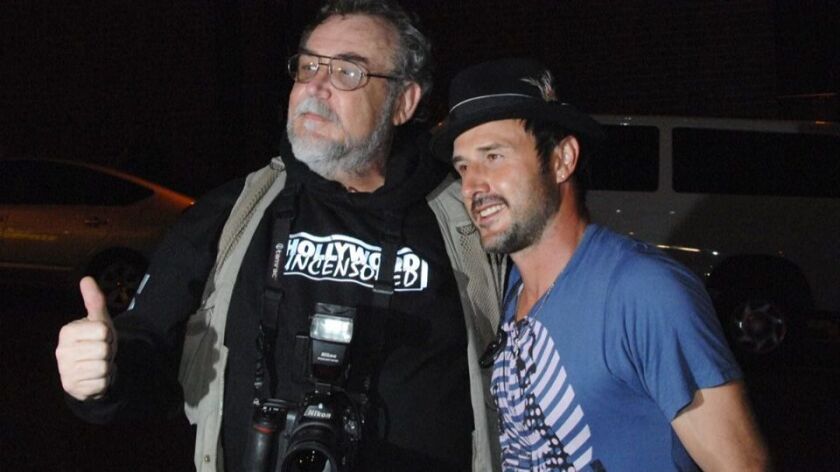 He didn't meet Sylvester Stallone on the best of nights, and it didn't go much better the time he bumped into Kiefer Sutherland. But Mark Wahlberg liked E.L. Woody, at least enough to cast him in HBO's hit series "Entourage."
Wahlberg's marching orders for Woody were clear enough — just play yourself.
So Woody strapped a camera around his neck and furiously stalked Vince Chase, the show's movie star character — doing on television what he did in real life: hunting a celebrity.
Woody, who died May 23 in Los Angeles at the age of 70 after a long fight with cancer, was the self-anointed "King of the Paparazzi" and an unofficial spokesman for those who tried to make a living taking photos — usually unwanted, and generally unappreciated — of movie stars and other celebrities.
For decades, Woody was a fixture in Hollywood, starting his workday in the early evening outside a movie premiere or star-mingling event and wrapping up during the predawn hours after the nightclubs closed up and their celebrity customers were swept into the open and at their most vulnerable.
Though often vilified, Woody saw the job of the paparazzi as being an honest profession that took skill, precision and patience and ultimately benefited both the tabloid readers and the stars themselves.
"They have to have the photogs. It feeds the ego. Every flash, every click feeds their careers," Woody told CNN in a 2011 interview. "It feeds the supernova of fame."
Born in the small town of Orange in East Texas, Edward Lee Woody fought in Vietnam from 1968-69 with the U.S. Army Special Forces and then worked on a highway crew and as a bail bondsman.
In the early 1980s, he tried his hand as a fashion photographer, but found more reliable work shooting photos for biker magazines. He got his first taste of the celebrity game while shooting pictures of some of the customers at a Malibu roadhouse where he worked as a doorman.
An imposing figure at 6-foot-3 but gentle enough to win over many of those he chased, Woody found it a smooth transition into the universe of the paparazzi.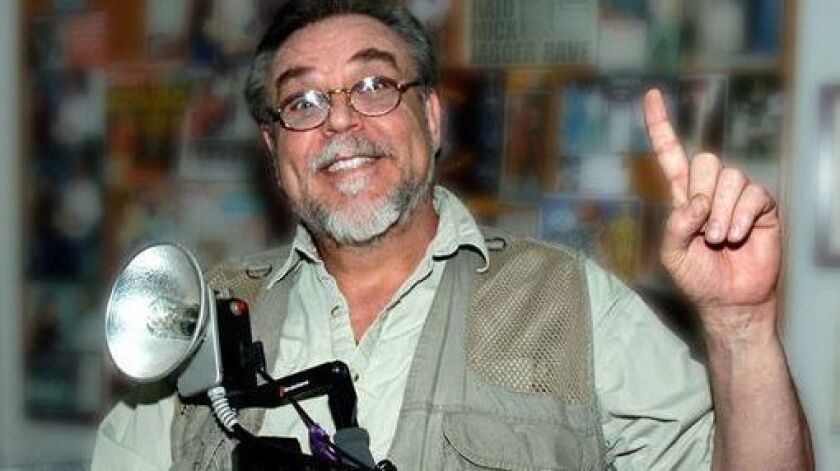 He shot Elizabeth Taylor's eighth and final wedding from a helicopter buzzing over Michael Jackson's Neverland Ranch, caught Kiefer Sutherland socializing with an exotic dancer, became pals with Jan-Michael Vincent and photographed Lindsay Lohan during some of her lesser moments.
In 1991, Woody told police that he was sitting in a rented Honda Civic (he frequently rented cars to throw off celebrities, he said) when Stallone pulled up in a Mercedes-Benz and rammed his rental several times before chasing him through Beverly Hills.
"It was insane," Woody later told police.
Stallone, however, said it was Woody who rammed his car as the actor was leaving a Sunset Boulevard nightspot around 2 a.m.
"It was like an excerpt out of the 'French Connection,'" Stallone said later.
Woody told The Times that he later tried to sell the story to a London tabloid, billing it as "Rocky vs. Woody."
In the 1990s, Woody set aside his camera and started shooting video, concluding that selling footage to shows like "Inside Edition," "Hard Copy" and "Extra!" made more business sense that wrangling with the tabloids.
But whatever competitive edge he held seemed to slip away as the networks and mainstream media began devoting more resources to chasing celebrity news.
"They are supposed to be doing real news," Woody said in the 2011 interview. "There's plenty of stuff out there that's important to the public, but they are filling up programs with Lindsay Lohan."
J.D. Ligier, a film director who spent years working with Woody, said the tipping point for celebrity photography likely came after the death of Princess Diana, who died in 1997 in a Paris car crash while being followed by paparazzi.
In response, tougher celebrity photography laws, especially in California, were enacted, making it a crime, for instance, for photographers to pursue someone in a car to get a photo.
Yet Princess Diana's violent death also seemed to whet the media's appetite for celebrity sensationalism, Ligier said.
Woody said his business once brought in $500,000 a year. But that revenue stream slowed to a trickle with competition and the bargain basement prices offered by Internet sites.
"I haven't had a $10,000 sale for a still since Shia LaBeouf's wreck three years ago," Woody lamented, referring to the night the actor rammed a neighbor's car in a fit of anger.
As he became a veteran in the "pap" business, as he called it, Woody also became an advocate and spokesman.
When a tabloid photographer was shot in the thigh outside Britney Spears' Malibu baby shower, and some neighbors reacted by suggesting the photographer got what he deserved, Woody was outraged, calling the incident an "assault on the press."
"Paparazzi is a world that's been vilified," he told The Times. "There is a lynch-mob mentality, and this is evidence of that lynch-mob mentality taking place."
Woody is survived by his mother, Dorothy; a sister, Linda; a brother, Richard; a daughter, Sabrina Levert; and a grandson, Noah.
---
Must-read stories from the L.A. Times
Get all the day's most vital news with our Today's Headlines newsletter, sent every weekday morning.
You may occasionally receive promotional content from the Los Angeles Times.