Ed McMahon dies at 86; Johnny Carson's sidekick on 'The Tonight Show' for 30 years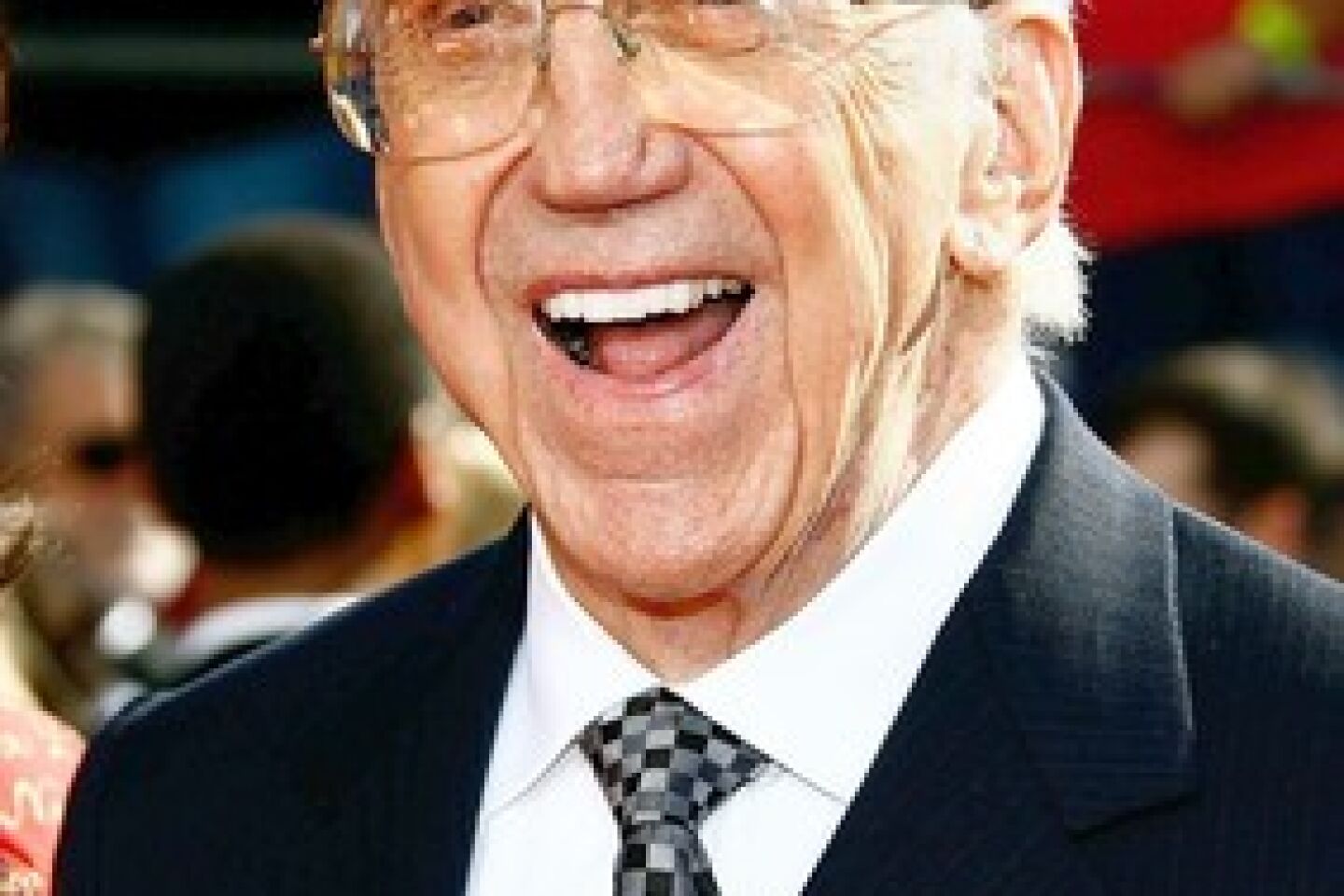 Ed McMahon, longtime costar on Johnny Carson's "Tonight Show," died Tuesday morning, June 23, 2009, at a Los Angeles hospital. He was 86.
(Frazer Harrison / Getty Images)
Jay Leno, who was sidekick-free during his "Tonight Show" run, chats with guest McMahon.
(Kevork Djansezian / Associated Press)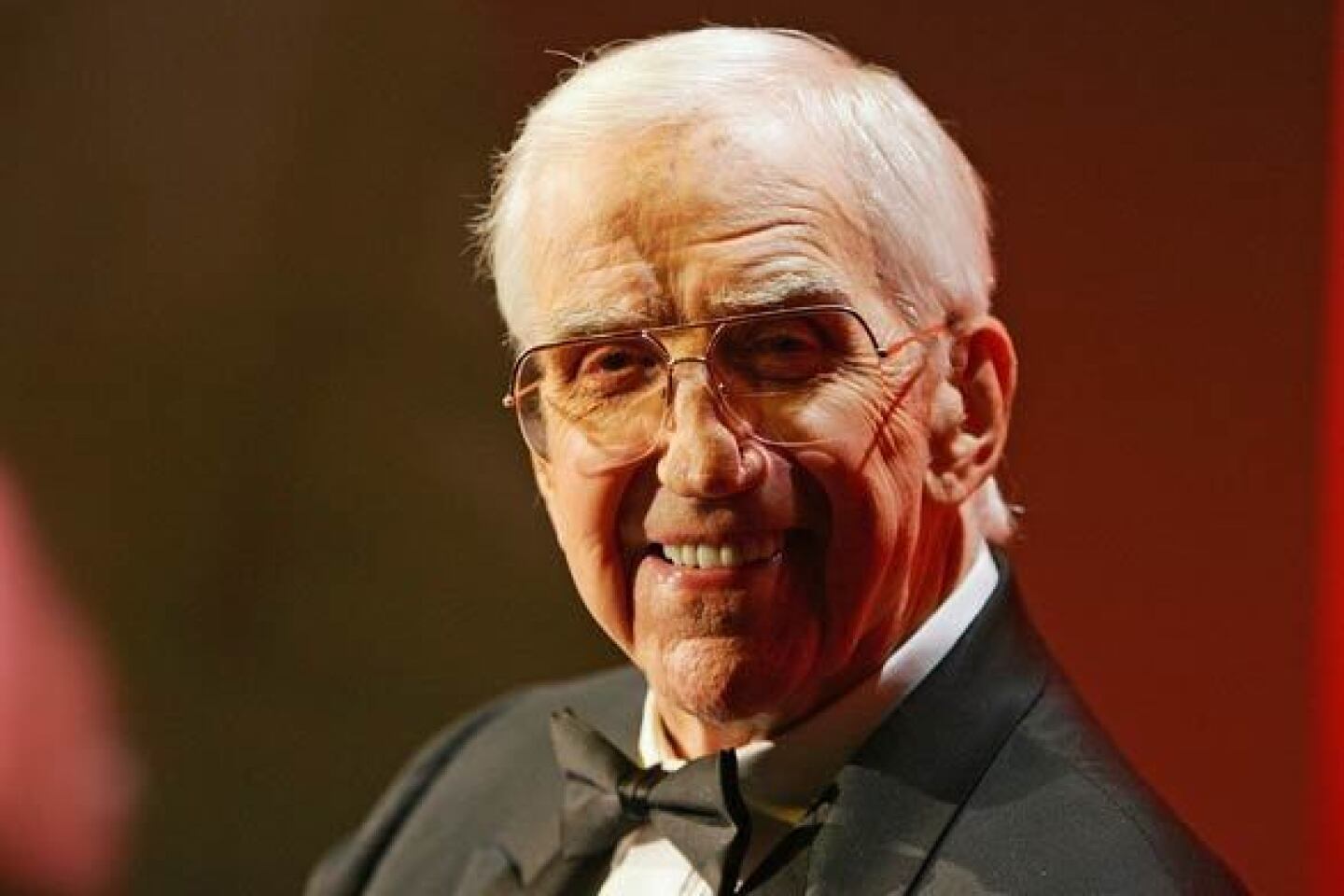 McMahon helped host the 41st annual
Jerry Lewis
Labor Day
Telethon to benefit the Muscular Dystrophy Assn. The event was held in Las Vegas.
(Ethan Miller / Getty Images)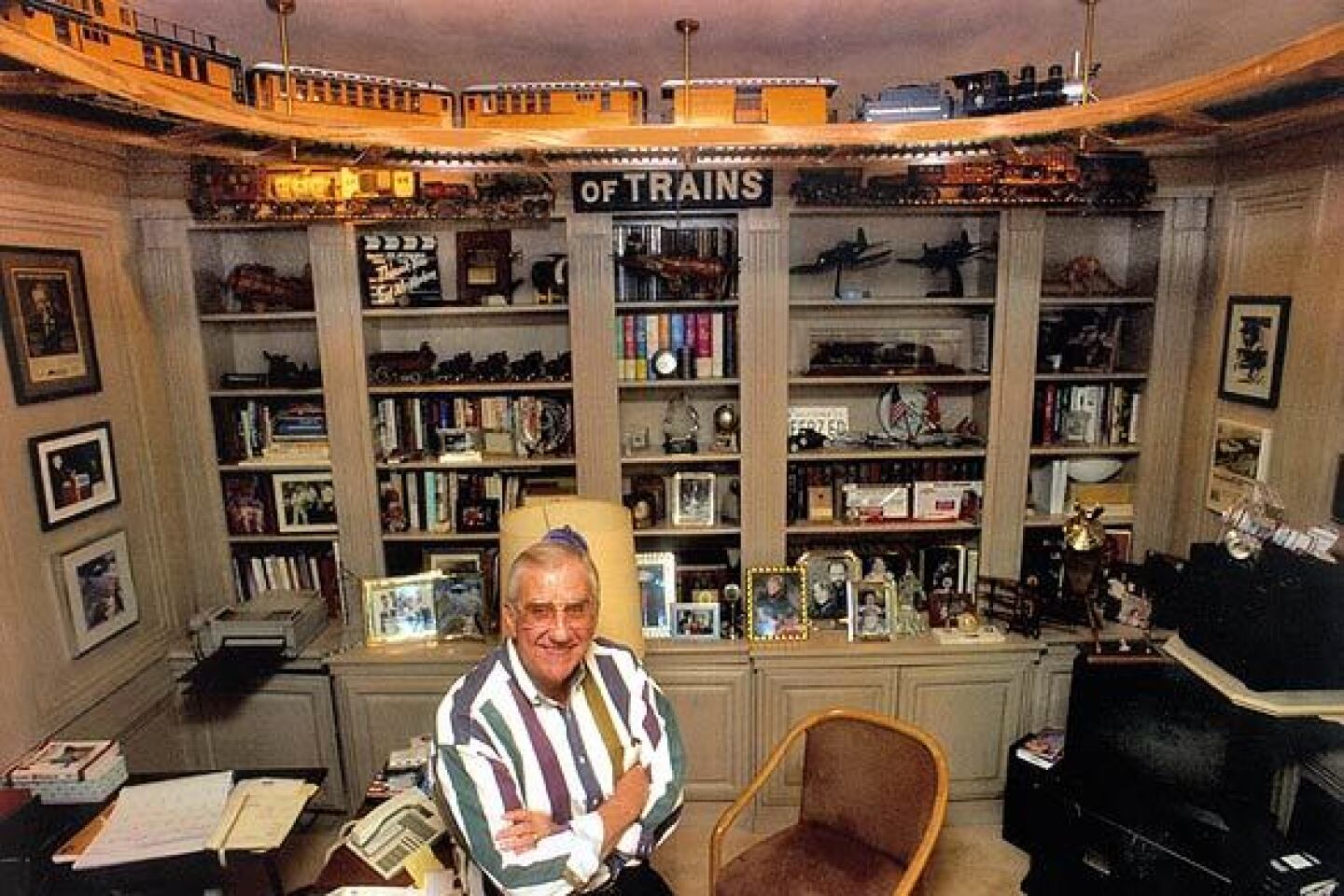 The TV personality in his home office in 1993.
(Lawrence K. Ho / Los Angeles Times)
McMahon served as a Marine in
World War II
and the Korean War, piloting fighter planes. He had attained the rank of colonel by the time he retired from the military in 1966.
(Pablo Martinez Monsivais / Associated Press)
McMahon broke his neck in a fall in 2007.
(David Livingston / Getty Images)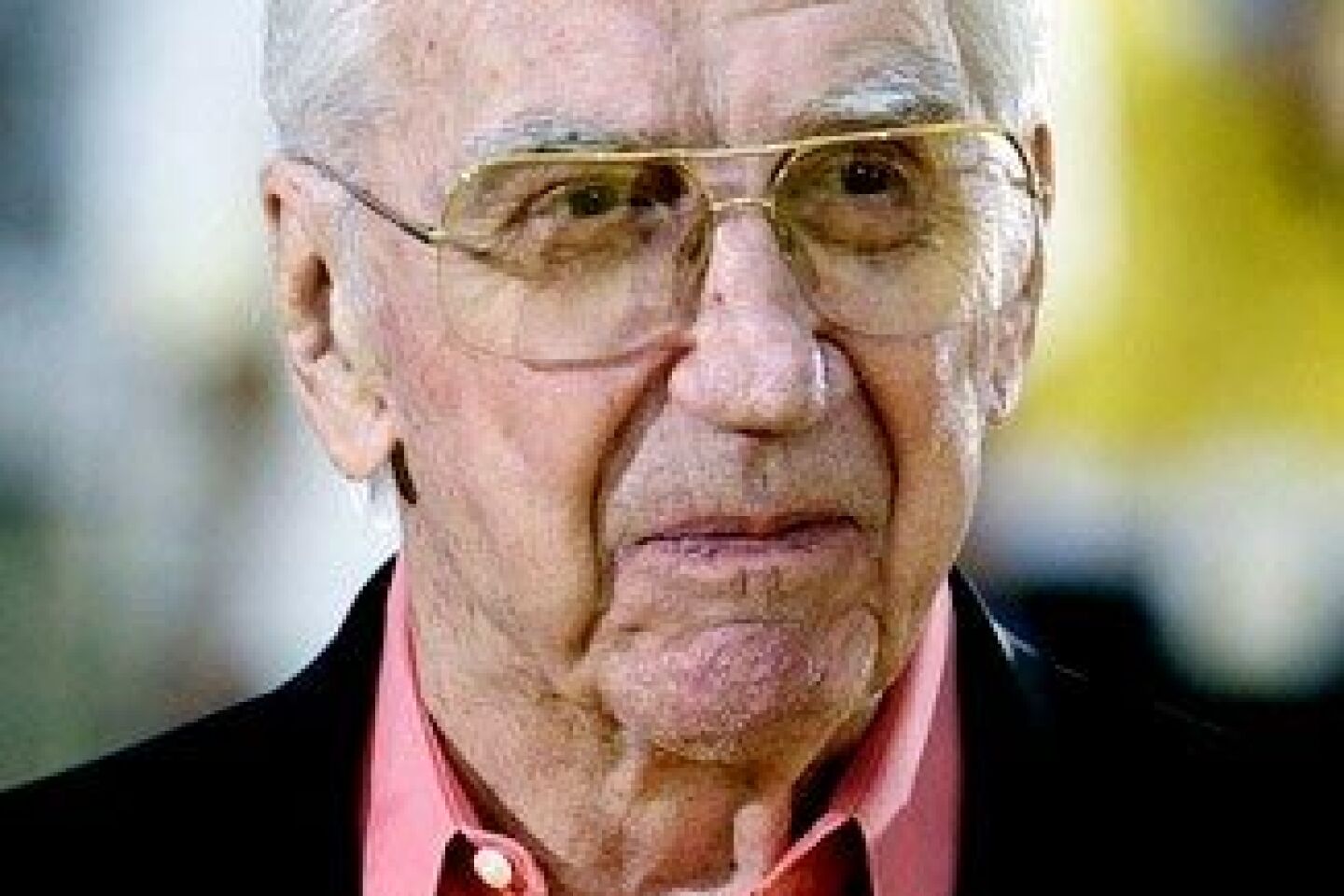 In early 2009, McMahon was admitted to a Los Angeles hospital to be treated for pneumonia and was listed in serious condition. In a statement, his publicist, Howard Bragman, assured fans that McMahon was dealing with his illness with "strength, courage and dignity."
(Matt Sayles / Associated Press)
Ed McMahon, a television pioneer who warmed "The Tonight Show" couch for nearly 30 years as Johnny Carson's jovial sidekick and announcer, died early Tuesday. He was 86.
McMahon died at Ronald Reagan UCLA Medical Center, according to his publicist, Howard Bragman. The cause of death was not announced, but McMahon had been in failing health for some time, with a number of issues that required his hospitalization.
Initially unable to work after breaking his neck in a fall in 2007, McMahon made news a year later when he defaulted on $4.8 million in mortgage loans and was facing the possible foreclosure of his multimillion-dollar Beverly Hills estate, which had been on the market for two years. An outside party purchased the mortgage and the McMahons were still living in the home.
"If you spend more money than you make, you know what happens. A couple of divorces thrown in, a few things like that," McMahon, in a neck brace, said in June 2008 on CNN's "Larry King Live," where he was accompanied by his wife, Pam.
In 2008, McMahon filed a lawsuit against Cedars-Sinai Medical Center in Los Angeles, two doctors and the owner of the home where he fell. The lawsuit was settled out of court last month, but the terms were not announced.
McMahon's health and financial woes marked an unexpected turn of events for the high-profile TV celebrity whose career began in 1949 and spanned more than half a century. During that time, he was rarely absent from the screen.
He was the host of the syndicated "Star Search" for 12 years and a co-host of "TV's Bloopers and Practical Jokes" with Dick Clark on NBC for nine years.
He also played a clown for eight years on the "Big Top" live circus show on CBS in the 1950s, and co-starred with Tom Arnold in a sitcom, "The Tom Show," on the WB network in the late 1990s.
And there were stints as host of the game shows "Missing Links," "Snap Judgment" and "Whodunnit?" in the 1960s and '70s.
In between, McMahon did commercials for Budweiser beer, Alpo dog food and hundreds of other products and services.
At one point in the early 1980s, he reportedly was the spokesman for no fewer than 37 banks around the country. And for years he served as the spokesman for American Family Publishers' national sweepstakes, famously informing Americans that "You may already have won $10 million!"
More recently, McMahon turned up in commercials for FreeCreditReport.com that poked fun at his financial woes. And he appeared with MC Hammer in a Cash4Gold commercial that aired during the 2009 Super Bowl.
But McMahon will be best remembered as the prototypal late-night talk-show announcer and second banana, who enthusiastically boomed out in his rolling baritone the familiar words, "And now, heeeeere's Johnny!"
As Carson's loyal, quick-to-laugh sidekick and comic foil, McMahon had so many catchphrases he could have done a medley of them in his nightclub act.
And as a sign of his effect on pop culture, McMahon was the inspiration for Jeffrey Tambor's late-night talk-show sidekick Hank ("Hey, now!") Kingsley on Garry Shandling's 1990s sitcom "The Larry Sanders Show."
When Carson died in 2005 at 79, McMahon described his longtime friend and colleague as being "like a brother to me."
This is "very sad for me," Doc Severinsen, the longtime bandleader of "The Tonight Show" during the Carson era, told The Times. "Ed was one of those guys who was bigger than life and full of joy. Always lots of laughs around him. We worked together for 30 years and went through a lot of layers of life together."
Edward Leo Peter McMahon Jr. was born in Detroit on March 6, 1923.
As a boy, he fell in love with radio. But it wasn't the stars of the shows he most identified with; it was the announcers -- men like Paul Douglas, Bill Goodwin, Harry von Zell and Don Wilson.
By age 10, having made up his mind that he wanted to be a radio announcer, McMahon would practice doing commercials and creating his own radio shows using a flashlight for a microphone.
At 15, he landed his first announcing job of sorts: manning the microphone in a sound truck to promote a small circus that had come to town. From the start, McMahon displayed a natural talent for creating his own sales patter, which would pay off handsomely after World War II.
By then he had married his first wife, Alyce, and served four years as a stateside fighter pilot instructor in the Marine Corps. After the war, he majored in drama at the Catholic University of America in Washington, D.C. He returned to the service during the Korean War as a pilot of spotter planes.
After graduating from Catholic University in 1949, McMahon was offered a $75-a-week job at WCAU, a new television station in Philadelphia. He was co-host of a live program called "The Take Ten Show," which quickly became his own show, "Take Ten," named after the station's channel number. The show's guests included singers and dancers, fire-eaters and even Girl Scouts on roller skates selling cookies.
Within two years, McMahon was Philadelphia's "Mr. Television," serving as host of 13 programs, including a cooking show, a quiz show, the "Million Dollar Movie" and a pioneer breakfast-hour show called "Strictly for the Girls."
In 1958, McMahon met the man who would forever alter his career and fortunes: Johnny Carson, a rising young comedian, who hired him to be his announcer on a half-hour afternoon comedy quiz show on ABC.
McMahon's job consisted of introducing the contestants, doing the commercials and occasionally talking briefly to Carson at the beginning of the show. From the start, Carson made McMahon his comedy foil, and in so doing established an on-air relationship that would continue for nearly 34 years.
McMahon quickly became "Big Ed," the good-time guy who ate and drank too much.
"Ed is the announcer on the show," Carson once told his viewers, "only because he never passed the bar. In fact, Ed has never passed any bar."
When Carson moved to NBC to be host of "The Tonight Show" in October 1962, he took McMahon with him.
McMahon did the audience warmups and commercials, and he performed in sketches. But his primary job, McMahon wrote in his 1998 autobiography, "For Laughing Out Loud," was to be Carson's straight man.
"I had to support him, I had to help him get to the punch line, but while doing it I had to make it look as if I wasn't doing anything at all. The better I did it, the less it appeared as if I was doing it," he wrote.
McMahon said, however, that his role on the show was never strictly defined: "I was there when he needed me, and when he didn't, I moved down the couch and kept quiet."
One night, however, he didn't keep quiet when he should have.
During the show, Carson was explaining to McMahon that scientists had just completed a multimillion-dollar study about mosquitoes and had discovered that for some reason, mosquitoes were particularly attracted to extremely "warm-blooded, passionate people."
Hearing that, McMahon instinctively slapped his wrist and said, "Whoops, there's another one."
As the audience roared, Carson glared icily at McMahon.
"Well, then," Carson said, picking up a comically oversized can of insect spray, "I guess I won't be needing this $500 prop then, will I?"
The audience laughed again, but McMahon knew he had ruined the bit by stepping outside his role as straight man and stealing Carson's laugh. It was, McMahon later wrote, the only time Carson was angry with him.
Carson was so upset, biographer Laurence Leamer wrote in "King of the Night: The Life of Johnny Carson," that he told his manager the next day to get rid of McMahon.
"Johnny was very angry," Mary Stark, the wife of "Tonight Show" producer Art Stark, told Leamer. "Art went to bat for Ed and said it would be absolute suicide to fire him. There would be no way to keep it quiet."
Despite the on-air misstep, Carson paid tribute to his sidekick on the duo's last "Tonight Show" broadcast on May 22, 1992.
"Ed has been a rock for 30 years, sitting over here next to me. . . . We have been friends for 34 years. A lot of people who work together on television don't necessarily like each other. This hasn't been true. . . . We're good friends; you can't fake that on television."
During his years on "The Tonight Show," McMahon did a nightclub act that he took to Las Vegas and appeared in plays and in several films, including the original "Fun With Dick and Jane," starring George Segal and Jane Fonda.
He also served as co-host of the United Negro College Fund's telethon with singer Lou Rawls for many years and as co-host of Jerry Lewis' annual Muscular Dystrophy Assn. telethon for more than three decades.
Down-to-earth and approachable, McMahon was known to respond freely to fans' questions -- as well as to the inevitable requests from fans such as the tourist in Florida who took his picture and then pleaded with him, "Say it for me."
"What's your name?" McMahon inquired.
After being told, he boomed, "Heeeeere's Debbie!"
McMahon's first two marriages ended in divorce.
In addition to his wife, McMahon's survivors include his children Jeffrey, Lex, Claudia, Katherine and Linda.
Memorial services are pending.
Must-read stories from the L.A. Times
Get the day's top news with our Today's Headlines newsletter, sent every weekday morning.
You may occasionally receive promotional content from the Los Angeles Times.