Eileen Brennan dies at 80; Oscar-nominated 'Private Benjamin' star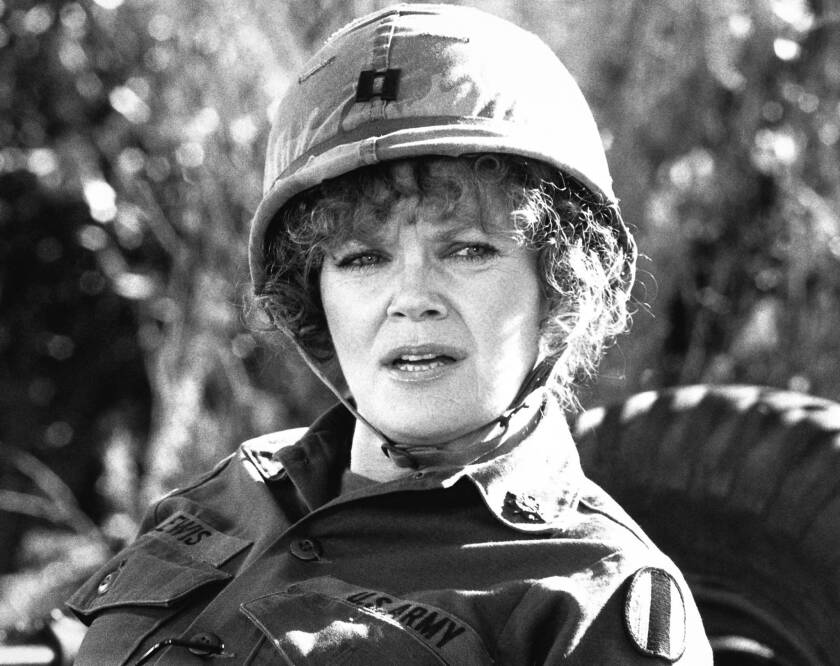 Eileen Brennan, a veteran actress best known for an Oscar-nominated turn in the 1980 comedy "Private Benjamin," one of her many tough-talking, soft-hearted roles, has died. She was 80.
Brennan died of bladder cancer Sunday at her home in Burbank, according to her manager, Jessica Moresco.
The actress was the epitome of the "gruff but lovable" type, often bringing comedic sparkle to workaday frustrations while playing figures worn weary by their lives but still able to laugh off the worst.
PHOTOS: Eileen Brennan: 1932-2013
It was in her role as the growling Capt. Doreen Lewis in "Private Benjamin," who oversaw the unlikely Army enlistee played by Goldie Hawn, that Brennan found her biggest success. The film was a box-office hit and earned three Oscar nominations, including one for Brennan as best supporting actress. She won an Emmy for her part in the television spin-off.
Brennan was nominated seven times for Emmy Awards, including for appearances on "Taxi," 'Thirtysomething," "Newhart" and "Will & Grace."
Verla Eileen Regina Brennan was born Sept. 3, 1932, in Los Angeles to Regina Menehan, a former silent film actress, and John Gerald Brennan, a doctor. By the end of the 1950s Brennan had made her way east, studying at Georgetown University and the American Academy of Dramatic Arts. Onstage, she played the title role in the 1959 off-Broadway production of "Little Mary Sunshine" and co-starred in the 1964 original Broadway production of "Hello, Dolly!"
She made her film debut in the 1967 comedy "Divorce American Style" starring Dick Van Dyke, Debbie Reynolds and Jason Robards. She also appeared regularly on the 1960s comedy television show "Rowan & Martin's Laugh-In," and co-starred in the 1980 off-Broadway hit "A Coupla White Chicks Sitting Around Talking." More recently, she was in the film "Miss Congeniality 2: Armed and Fabulous" and TV's "7th Heaven."
In Peter Bogdanovich's breakthrough 1971 film "The Last Picture Show," she played a waitress in a small Texas town diner. Brennan also appeared in Bogdanovich's 1974 adaptation of "Daisy Miller," his 1975 musical "At Long Last Love" and the 1990 "Picture Show" sequel "Texasville."
In 1973 she had supporting parts in "The Sting" with Robert Redford and Paul Newman and "Scarecrow" with Al Pacino and Gene Hackman.
She often excelled in roles as a wisecracking, hard-bitten sidekick, such as the madam in "The Sting" and her turns in the Neil Simon-scripted "Murder By Death" (1976) and "The Cheap Detective" (1978). She also appeared in the 1975 crime thriller "Hustle" starring Burt Reynolds and Catherine Deneuve and 1985's murder-mystery comedy "Clue."
In a 1979 interview with The Times, as she was launching the television comedy "13 Queens Boulevard," she noted how often she was cast as comedic characters on the fringe when she said, "I've just about exhausted the market for madams. I love to play them and I hope I have given each of the ladies a certain amount of individuality. But it's always a challenge to develop new types."
The unexpected strength she often showed on screen came through in her off-screen life as well. In October 1982 Brennan was hit by a car in Venice and was seriously injured. Her long recovery led to a drug addiction. After appearing in the short-lived 1984 sitcom "Off The Rack" co-starring Ed Asner, she checked into the Betty Ford Center for treatment.
She fell from the stage while appearing in a 1989 production of "Annie," breaking a leg. In 1990 she was treated for breast cancer.
Of her seemingly incredible will and survivor's strength, in a 1999 interview Brennan said, "I'm here, aren't I? What else can they do to me? The lesson is, you just take it day by day. That's what all of us have to do.
"Some of us just have to learn it the hard way."
Her marriage to British-born poet and photographer David Lampson ended in 1973. She is survived by two sons, Sam and Patrick; two grandchildren and a sister, Kathleen Howard.
---
Must-read stories from the L.A. Times
Get all the day's most vital news with our Today's Headlines newsletter, sent every weekday morning.
You may occasionally receive promotional content from the Los Angeles Times.