Esther Williams dies at 91; athletic star of aquatic musicals
Esther Williams, the swimming champion turned actress who starred in glittering and aquatic Technicolor musicals of the 1940s and '50s, has died.
(Bob Carey / Los Angeles Times)
Esther Williams died in her sleep, according to her longtime publicist, Harlan Boll. She was 91.
(Reed Sazon / Associated Press)
Esther Williams is shown in 2002 in the backyard of her Beverly Hills home. The words on the pillow she's holding, a gift from Barbara Walters, refers to her answer to the question she's often asked. She hears it so often, in fact, that she had business cards made up with that phrase.
(Ken Hively / Los Angeles Times)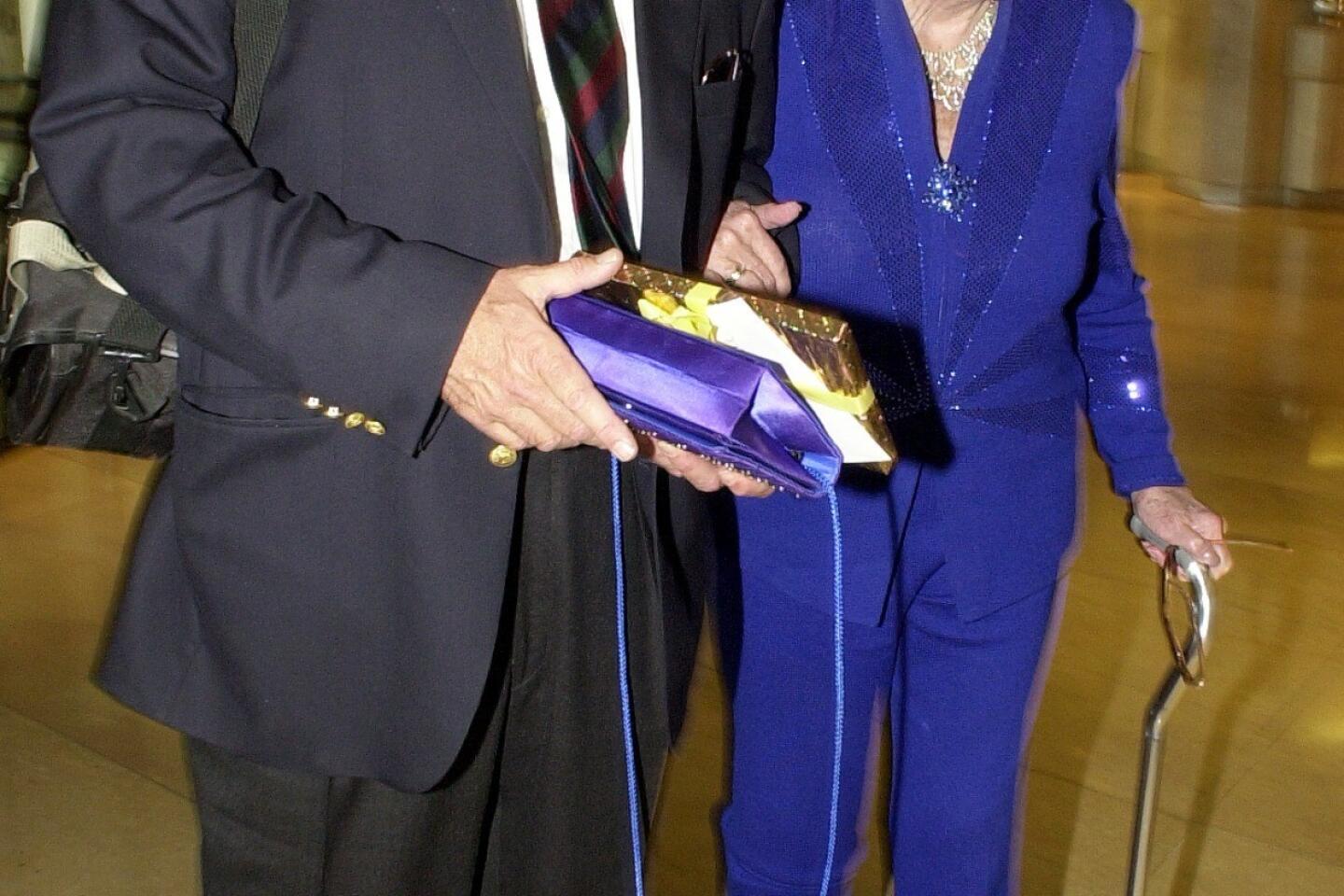 Esther Williams and her husband Ed Bell are shown during the 2002 Gypsy Awards reception.
(Ringo H.W. Chiu / For the Los Angeles Times)
Esther Williams, left, and June Allison arrive for the memorial service for Jimmy Stewart at Beverly Hills Presbyterian Church.
(Iris Schneider / Los Angeles Times)
Esther Williams and Jeff Chandler embrace during a scene from 1957's "Raw Wind in Eden."
(James Pringle / Associated Press)
Esther Williams, right, poses with a member of the New York City Ballet at the Dorothy Chandler Pavilion in Los Angeles.
(Stephen Shugerman / Getty Images)
Special to the Los Angeles Times
The water, Esther Williams once quipped, was her favorite costar.
With her beauty, sunny personality and background as a champion swimmer, Williams shot to stardom in the 1940s in the "aqua musical," an odd sub-genre of films that became an enormous hit with the moviegoing mainstream, fanned popular interest in synchronized swimming and turned Williams into Hollywood's Million Dollar Mermaid.
The MGM bathing beauty, whose underwater extravaganzas made her one of the most popular actresses of the era, an idol in competitive swimming and a fashion force, died in her sleep early Thursday in Beverly Hills, said her publicist, Harlan Boll. She was 91.
PHOTOS: Esther Williams | 1921-2013
Her movies — including "Bathing Beauty," "Jupiter's Darling" and "Million Dollar Mermaid" — were as light as sea foam, but she stuck with their mix of romance, comedy and underwater spectacle, concluding that she would "rather be a commercial success than an artistic flop."
Her legions of fans didn't seem to mind — for a time she was a top 10 box office draw.
As Los Angeles Times columnist Jim Murray wrote in 1984: "Esther Williams did more for a bathing suit than John Wayne ever did for a cowboy hat, Tom Mix for a horse, Errol Flynn for a sword, Ronald Colman for a pith helmet or Cary Grant for a tuxedo."
MGM's Louis B. Mayer had pursued Williams — a teenage swimming champion — to star in aquatic films as an answer to ice-skating star Sonja Henie, whose films were making money for 20th Century-Fox.
At the time, Williams, a Los Angeles native, was recovering from her disappointment at not having been able to compete in the 1940 Summer Olympics in Finland because of the war in Europe.
She was starring with Johnny Weismuller in Billy Rose's live Aquacade revue in San Francisco but had no experience in acting, singing or dancing. She intended to return to her job as a stock girl at I. Magnin in Los Angeles, hoping to become a buyer for the store.
But Mayer kept calling, and eventually wooed her with promises of stardom. Her screen test with Clark Gable resulted in a contract offer from MGM.
Aware of her shortcomings, Williams showed remarkable aplomb by insisting on a training period to learn about making movies. Meanwhile, MGM had launched a publicity campaign featuring her in various bathing suits, her face ablaze with a smile. She appeared on the cover of half a dozen movie magazines and became a favorite pinup of American soldiers.
Like so many other starlets of that time, Williams was first glimpsed on screen in an Andy Hardy movie — the 1942 "Andy Hardy's Double Life," starring Mickey Rooney. By the time she starred opposite Red Skelton two years later, studio executives had so much faith in her that the film, originally called "Mr. Coed," was released as "Bathing Beauty." It was a smash hit.
By then MGM had built a $250,000 swimming pool for Williams on Sound Stage 30 — 90 feet wide, 90 feet long and 25 feet deep. A "bucket camera" was devised to follow her underwater. The pool was filled with special-effects equipment to create underwater fountains, geysers and fireworks, and there was a central pedestal with a hydraulic lift that could raise Williams 50 feet out of the water.
"Like Venus on the half-shell," she said.
Technicolor was new then, and Williams was resplendent in her shocking pink one-piece bathing suit, swimming gracefully in the pale green water.
Williams first worked with genius choreographer Busby Berkeley in 1949 on "Take Me Out to the Ballgame," one of the rare films in which she doesn't have a water scene. When she saw how Berkeley created dancing scenes for herself, Gene Kelly and Frank Sinatra, she could "foresee my liberation" in swimming films, she once said.
"MGM made money off me, but they never understood the art form," she said years later. "Not until the fifth picture did I even get a choreographer."
Williams and Berkeley made two more films together: "Million Dollar Mermaid" (1952), which was one of her most popular, and "Easy to Love" (1953). The latter featured a finale in which Williams and 80 water-skiers carried big flapping flags while speeding over the water and, at another point, Williams dangled from a trapeze hanging from a helicopter.
Despite the spectacular feats, however, the allure of the aquatic film began to fade.
She made a few other films for MGM, ending with "Jupiter's Darling" in 1955, which she wryly called "a great hair picture" in which she was outfitted with "a parade of braids and chignons." But the picture lost money, and MGM was ready to toss her overboard. In all, Williams said she had swum more than a thousand miles through two dozen films.
Williams left MGM and, after a few non-swimming movies for other studios, exited the business altogether, pursuing a private life as the wife of Fernando Lamas, the handsome Argentine actor.
Although the marriage, her third, was not an easy one, the two remained together until his death from cancer at 67 in 1982.
In the 1980s, Williams' films enjoyed renewed popularity when Ted Turner purchased MGM's film library and began showing some of her most popular movies on cable television.
She also began work on her autobiography, "The Million Dollar Mermaid," written with Digby Diehl and released in 1999. Though Diehl said in an interview with The Times that Williams did not "tell all," she told enough about her own and her fellow Hollywood stars' racy carryings-on that the book created more than a few waves.
Her most sensational story involved heartthrob actor Jeff Chandler, whom she dated for a couple of years and considered marrying. That is, until he showed up one night at her bedroom door wearing "a red wig, a flowing chiffon dress, expensive high-heeled shoes and lots of makeup." She realized with horror that he was a cross-dresser.
Williams left the relationship with one parting bit of advice for Chandler: "Jeff, you are too big for polka dots."
"Million Dollar Mermaid" also shared the grit and danger behind the glossy films she made in her 20s and 30s.
Among other injuries, she broke three neck vertebrae in a dive; suffered several broken eardrums; nearly drowned when she couldn't detect the trapdoor designed to give her a way out; was almost mutilated when an outrigger went out of control on black coral; and was nearly overcome by waves created by a camera boat that came within inches of her water skis.
The latter scene was shot by Berkeley in Cypress Gardens, Fla., while Williams was pregnant with her third child.
"My life was of no importance to him at all," Williams said of Berkeley in an interview with the Washington Post in 1984. "The shot was the thing."
But never one to feel sorry for herself, Williams repeatedly returned to an axiom her no-nonsense mother taught her: "Esther, what part of the problem are you?" She realized she was the only one who could make sure she was safe.
The last of five children, Esther Jane Williams was born in Los Angeles on Aug. 8, 1921. It was no secret in the family that Esther's mother, Bula, a teacher who later became a psychologist, had tried "to get rid of me" while pregnant by going horseback riding and jumping off a chest of drawers.
Esther's oldest sister, Maurine, was more of a mother to her. Their brother, Stanton, was their parents' adored son who inspired the family to move from Salt Lake City to Los Angeles so that he could appear in films.
Hopes for his stardom were dashed when Stanton, at age 16, died of an intestinal disorder. Watching her parents' devastation, Esther decided that she was the only one who "could replace Stanton as the rock on which the family stood." She was 8.
"If my shoulders weren't strong enough as yet, then I would make them strong," she later wrote.
PHOTOS: Esther Williams | 1921-2013
Not long after, at her mother's urging and with Maurine as a coach, Esther began swimming, first in the ocean and then in a public swimming pool near the family's home. Her athletic talent eventually won her a spot on the prestigious Los Angeles Athletic Club swim team and then a chance to be on the U.S. swim team at the 1940 Summer Olympics in Helsinki, Finland, that were suspended because of the war.
After she left films, Williams helped launch synchronized swimming as a competitive sport and enjoyed a career in swimsuit design, swimming pools and fitness.
Yet she still left behind an Olympic legacy. Synchronized swimming made its debut at the 1984 Summer Games in her hometown, and Williams the movie star had helped pave the way.
Williams' fourth husband, Edward Bell, survives her as do her children Benjamin Gage and Susan Beardslee; stepchildren Lorenzo Lamas, Tima Alexander Bell and Anthony Bell; three grandchildren; and eight step-grandchildren. Her son, Kim Gage, died in 2008.
Luther is a former Times staff writer.
Sign up for Essential California for the L.A. Times biggest news, features and recommendations in your inbox six days a week.
You may occasionally receive promotional content from the Los Angeles Times.