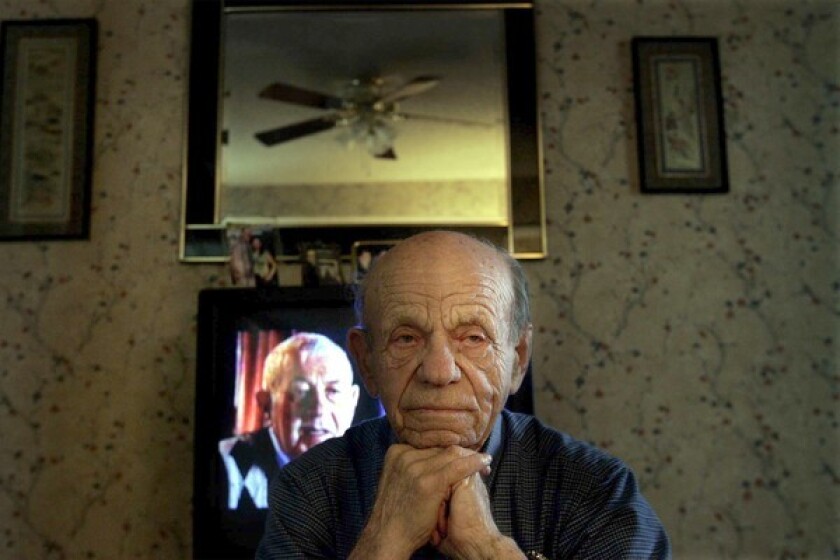 Eugene Zinn, who spent three years in Nazi death camps and regularly lectured about the horror of the Holocaust after The Times profiled him in a 2005 front-page story, died of pneumonia Sunday at Northridge Hospital Medical Center, his family said. He was 85.
---
FOR THE RECORD:
Eugene Zinn obituary: The obituary in Wednesday's Section A on Eugene Zinn, who survived three years in Nazi death camps, said that his parents and two younger sisters had been sent to a Polish death camp. The camp was run by Nazis in occupied Poland during World War II. —

---
Born in 1924 in the Czechoslovakian village of Huncovce, he was one of four children of Heinrich and Helen Zinn.
Sent to Auschwitz with four male cousins in 1942, Eugene was the only one to survive.
He soon learned that his parents and two younger sisters had been sent to the gas chamber upon arriving at a Polish death camp, and his older brother had been beaten to death. More than 80 of his close relatives would be killed by the Nazis.
"What I keep asking myself," Zinn told The Times in 2005, "is how come I'm the only one who survived?"
While at Auschwitz, Zinn laid brick to build crematoriums and worked in the stables. "Through luck and cunning," his family said, he dodged three sentences to the gas chamber.
In early 1945, he escaped from the Nazis by jumping from a train that was transporting prisoners. He then served in the Czech army and moved to Israel, where he fought for the new state.
One cousin, Ernest, had managed to survive, and Zinn eventually followed him to Los Angeles.
He worked as a cabinetmaker and attended Los Angeles City College at night. Over 34 years, he worked his way from junior draftsman to manager of engineering at Everest and Jennings, a wheelchair manufacturer.
Through his cousin, Zinn met his future wife, Sarah Haim, a Greek Jew who survived the Holocaust by hiding in Athens. For decades, they lived in what is now West Hills. She died two months ago at 80.
In 1992, Zinn took his wife and two children to visit his birthplace and the remains of Auschwitz. After he videotaped his recollections of the Holocaust for the USC Shoah Foundation Institute archives, Zinn was moved to search for his Auschwitz comrades.
While viewing a PBS Holocaust documentary, he saw Otto Pressburger, his "Soul Mate in Years of Horror," according to the headline on the 2005 Times article.
The article led Zinn to connect and reconnect with Holocaust survivors around the world. After decades of near-silence, he also began speaking in classrooms about the Nazi atrocities that he had witnessed.
Zinn is survived by his son, Harry; and daughter, Helene.
Services will be held at 11 a.m. today at Mount Sinai Memorial Park, 5950 Forest Lawn Drive, Los Angeles.
---