Eunice W. Johnson dies at 93; gave Ebony magazine its name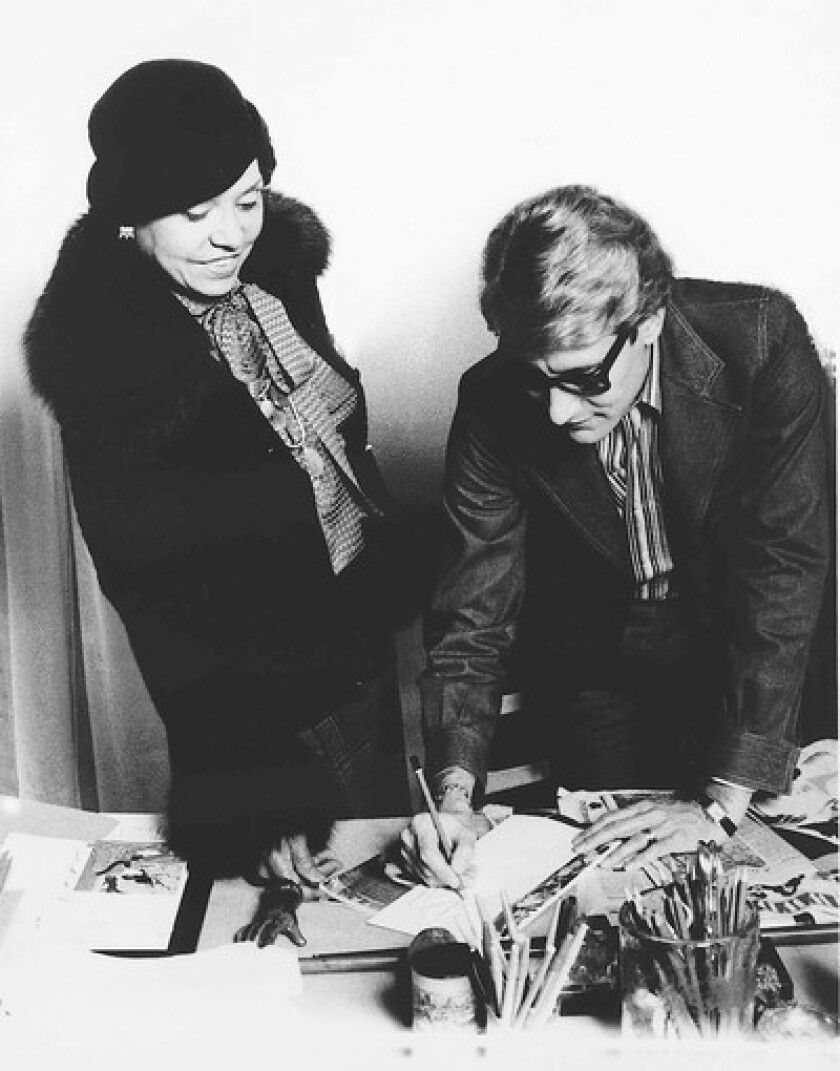 Eunice W. Johnson, who gave Ebony magazine its name and for almost 50 years produced an influential traveling fashion show that brought haute couture to African Americans while raising millions of dollars for charity, has died. She was 93.
Johnson, the widow of Johnson Publishing Co. founder John H. Johnson, died of renal failure on Sunday at her Chicago home, according to a company spokeswoman.
A close business partner of her husband's since the beginning of Johnson Publishing in 1942, she remained the company's secretary-treasurer at the time of her death and for years wrote a monthly fashion feature for Ebony magazine.
Johnson Publishing's flagship, conceived as an African American version of Life and published since 1945, was named by Eunice Johnson to reflect fine black ebony wood, as well as the mystique surrounding the tree and color, said Wendy E. Parks of Johnson Publishing.
But her greatest legacy may be her role as producer and director of the Ebony Fashion Fair, an influential event that for decades has been a showcase for the world's top designers.
The fair was started in the 1950s as a fundraiser for a hospital in New Orleans at the suggestion of Jessie Covington Dent, wife of a former president of Dillard University.
It was a success, and Johnson and her husband decided to take the concept on the road. Produced annually since 1958, the fair became a traveling fashion extravaganza that now makes nearly 180 stops a year in the U.S. and abroad to largely black audiences from a wide economic strata.
"It brought to the lower-middle-class black people a sense of what fashion really was. She gave the local community a chance to see these clothes," said Andre Leon Talley, editor at large for Vogue magazine.
The fair was both "an aspirational as well as an inspirational experience," Talley said. It became a showcase for a new generation of black designers as well as early African American models like Pat Cleveland.
The show's director and producer since 1961, Johnson initially was a curiosity as she toured French and Italian boutiques and fashion houses. But her sense of elegance, along with a deep pocketbook, quickly made her a respected figure in the world of high fashion.
"When they found out how much money I was going to spend, word got around," she told the Chicago Tribune in 1997.
She stayed at the best hotels, dined at the finest restaurants and dressed impeccably.
"She always had on the last word [in fashion,] but it was always very elegant," Talley said.
Since its founding, the Ebony Fashion Fair has produced more than 4,000 shows in the U.S., England and the Caribbean and raised more than $55 million for charity, according to Johnson Publishing.
An outgrowth of the fair was Johnson Publishing's Fashion Fair line of cosmetics, conceived specifically for black women.
Johnson was born Eunice Walker on April 4, 1916, and grew up in Selma, Ala. Her father was a doctor and her mother was principal of a local high school and a teacher at Selma University, which had been co-founded by Johnson's maternal grandfather.
At Talladega University in Alabama, she received a bachelor's degree in sociology with a minor in art. She later studied journalism at Northwestern University and interior design at the former Ray-Vogue School of Design.
She met John H. Johnson in 1940 at a Chicago dance hall. The couple were married in Selma on June 21, 1941, and returned to Chicago, where she worked by his side as he started a publishing company with $500 borrowed against his mother's furniture.
John Johnson died in 2005. Johnson Publishing is now run by the Johnsons' daughter, Linda Johnson Rice.
Johnson is also survived by a granddaughter. Services will be private.
Jensen writes for the Chicago Tribune.
---
Must-read stories from the L.A. Times
Get all the day's most vital news with our Today's Headlines newsletter, sent every weekday morning.
You may occasionally receive promotional content from the Los Angeles Times.