19 Images
Farrah Fawcett | 1947-2009
Farrah Fawcett
became a generation's favorite pinup girl with this poster, one of the most enduring images of '70s pop culture.
()
Farrah Fawcett in a scene from "Someone Killed Her Husband" in 1978.
()
As Jill Munroe in "Charlie's Angel's," with Jaclyn Smith, left, and Kate Jackson, the actress became a household name. She quit the show after one season, claiming that producers weren't letting her grow as an actress.
(ABC)
Farrah Fawcett
-Majors, left, husband
Lee Majors
and
Sophia Loren
were among those attending a gala for the Prince of Wales in
Beverly Hills
in 1977.
(Lennox McLendon / Associated Press)
Fawcett
arrives at London's
Heathrow
Airport from Los Angeles in April 1978 to appear in the "Supernight" at the London Palladium.
(Associated Press)
Britain's
Prince Charles
, the Prince of Wales, chats with Fawcett after the charity performance at the Palladium. Fawcett hosted the show.
(Bob Dear / Associated Press)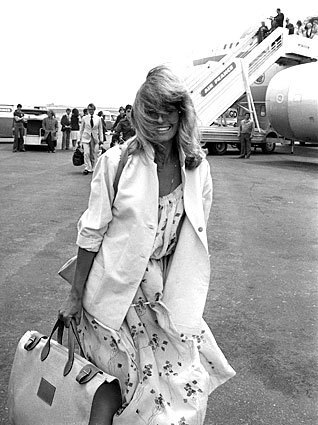 In the summer of 1978, she jetted to France to attend the Cannes film festival.
(Jean Jacques Levy / Associated Press)
Fawcett went on location in Acapulco, Mexico, in December 1978 for the movie "Sunburn," which also starred Art Carney and Joan Collins.
(Jean Jacques Levy / Associated Press)
The actress arrives at the St. James Theatre in New York to see the musical "On the Twentieth Century" in 1978. At the time, she was Fawcett-Majors. Her marriage to actor Lee Majors ended the following year.
(Associated Press)
On NBC's "Today" show in the summer of 1979.
(Dave Pickoff / Associated Press)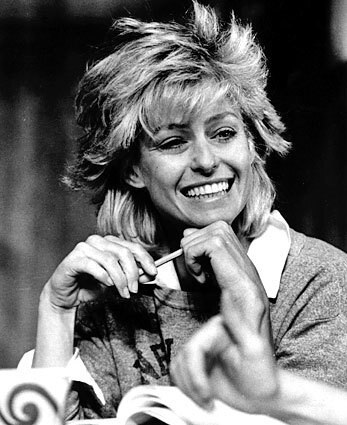 The actress rehearses the off-Broadway show "Extremities" at the Westside Arts Center in New York City.
(Marty Lederhandler / Associated Press)
Critics praised Fawcett's intense portrayal of an abused wife in the 1984 TV movie "The Burning Bed." The phrase "burning bed" went on to become shorthand in Hollywood for any actress looking for a role that would help her to be taken seriously.
(NBC)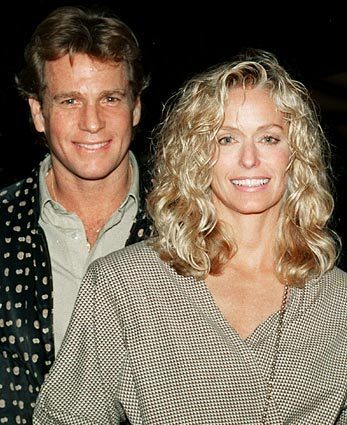 Ryan O'Neal and Farrah Fawcett, shown in 1987, had a tempestuous 17-year relationship. In 2001, she helped nurse him back to health after he was diagnosed with leukemia, and he came to her side soon after she was diagnosed with anal cancer.
(Associated Press)
Fawcett appeared in Playboy's 1995 Christmas issue.
(Davis Factor / Playboy magazine)
Fawcett starred in the 1989 family drama "See You in the Morning," with Jeff Bridges, Macaulay Culkin and Heather Lilly.
(Warner Bros.)
In a 1999 episode of "Late Show with David Letterman," the late-night host ribbed the actress about her infamous first appearance in 1997 in which she seemed so unsteady that critics questioned her mental state. She later said she was putting on an act.
(CBS / Associated Press)
Fawcett made a name for herself in various television dramas, including 2000's "Baby" on TNT, with Alison Pill and Kassandra and Coreena Collins, who shared the toddler role.
(Chris Reardon)
Cameras greet the photogenic star upon her arrival at the Toronto International Film Festival in 2000 for a screening of "Dr. T and the Women" in which she plays Richard Gere's fragile wife.
(Aaron Harris / Agence France-Presse)
In the 2001 period piece "Jewel" on CBS, Fawcett starred as a woman raising a child with Down syndrome in rural Mississippi.
(Brooke Palmer / CBS)