From the Archives: Fess Parker dies at 85; actor played Davy Crockett and Daniel Boone on TV
The 6-foot-6 Parker leans on the hood of a vintage car outdoors in a field, wearing a tan leather jacket with a white kerchief around his neck and a cowboy hat in his hand.
(Hulton Archive / Getty Images)
Parker, seen in 2002, walks in one of his vineyards in Los Olivos, Calif. In 1987, he bought a 714-acre ranch in Los Olivos, in Santa Barbara County's Santa Ynez Valley. Although he had planned to live there and run cattle on the land, the climate and the soil were ideal for a vineyard.
(Ricardo DeAratanha / Los Angeles Times)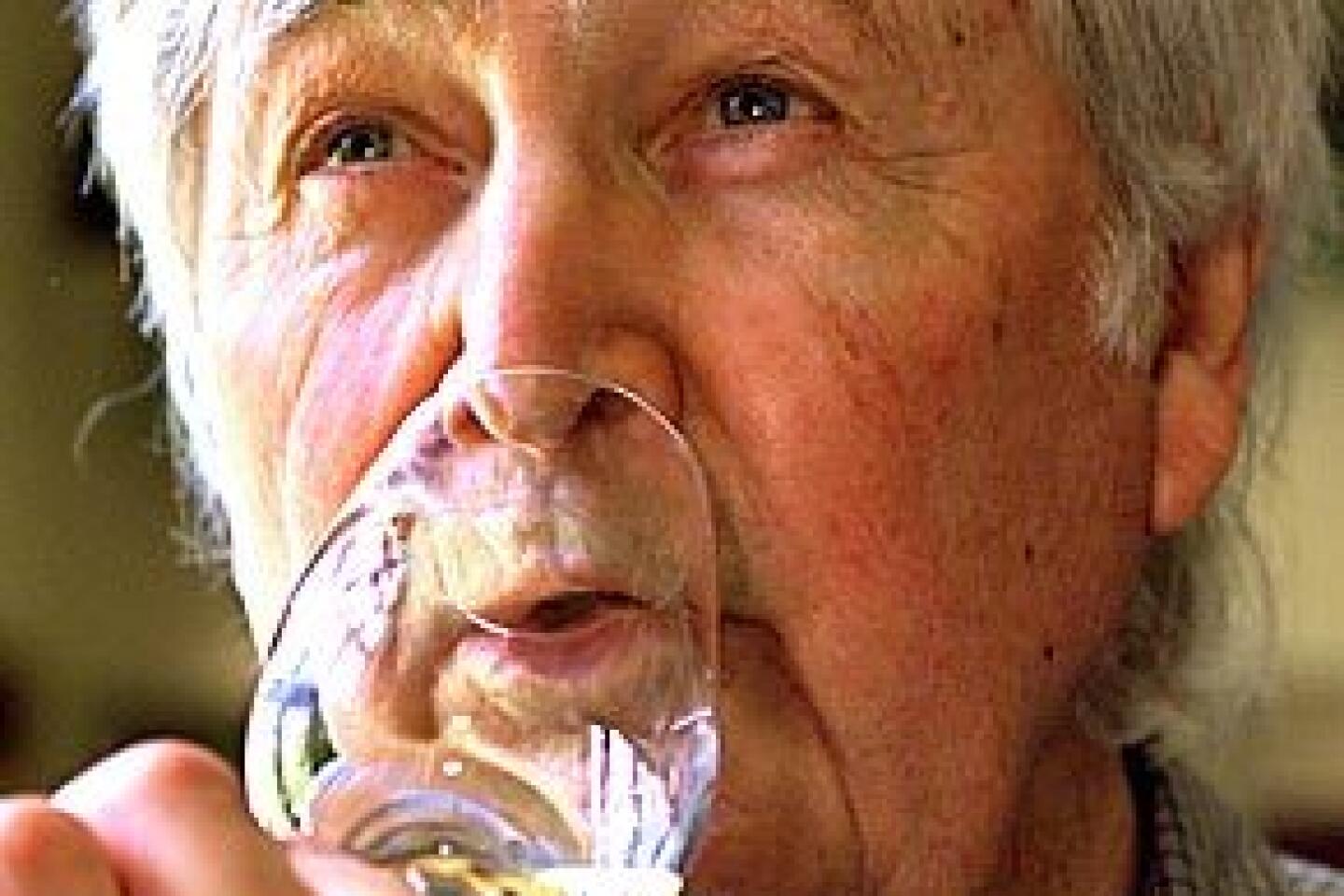 Parker, seen in 2002, tastes one of his wines. The Fess Parker Winery & Vineyards had its inaugural harvest in 1989. By 2001, wines from Parker, whose label included a tiny, gold coonskin cap, had won more than 30 medals.
(Ricardo DeAratanha / Los Angeles Times)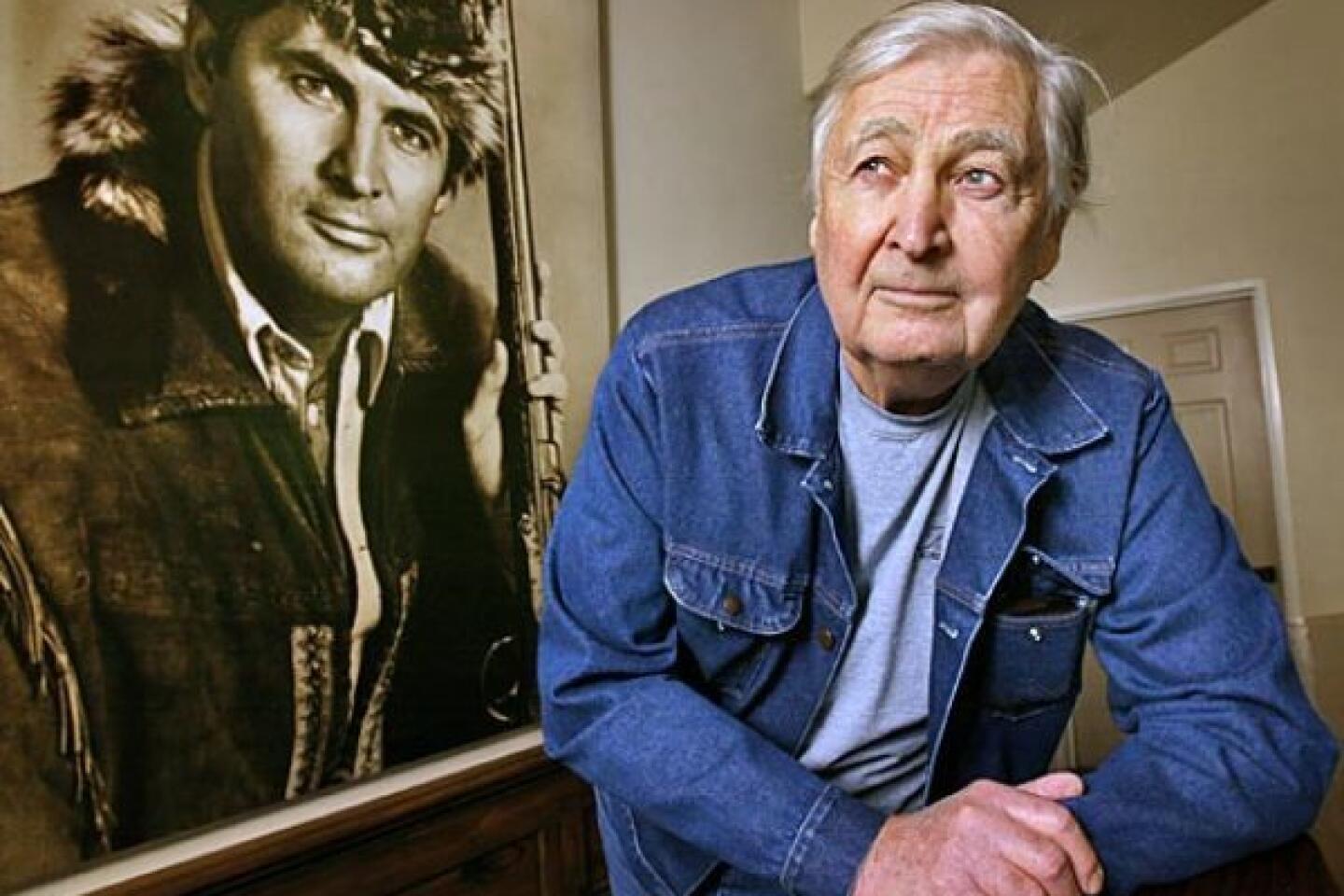 Parker poses next to a photograph at his Fess Parker Winery & Vineyards in Los Olivos, Calif., showing himself in a coonskin cap portraying his "Daniel Boone" TV series character.
(Al Seib / Los Angeles Times)
Fess Parker, whose star-making portrayal of frontiersman Davy Crockett on television in the mid-1950s made him a hero to millions of young baby boomers and spurred a nationwide run on coonskin caps, died Thursday (March 18, 2010). He was 85.
Parker, who played another pioneer American hero on television's "Daniel Boone" in the 1960s before becoming a successful Santa Barbara hotel developer and Santa Ynez Valley winery owner, died of complications from old age at his home near the winery, said family spokeswoman Sao Anash.
A longtime presence -- and sometimes controversial figure -- in Santa Barbara County, Parker had numerous real estate holdings in the area, including Fess Parker's Doubletree Resort in Santa Barbara and the Fess Parker Winery & Vineyards and Fess Parker Wine Country Inn & Spa, both in Los Olivos.
Building of an as-yet-unnamed new beachfront hotel in Santa Barbara is also underway.
Parker was a struggling 29-year-old actor, with rugged, boyish good looks and a soft Texas drawl, when Walt Disney was looking for someone to play the lead in a three-part saga about Crockett in 1954. The three hourlong shows were scheduled to air during the premiere season of Disney's weekly "Disneyland" TV show, which began on ABC that fall.
James Arness was one of the many actors considered for the role. But although Disney watched Arness during a screening of the science-fiction thriller "Them!" another young actor in a small part caught his eye: the 6-foot-6 Parker.
"Davy Crockett, Indian Fighter," the first of the initial three Crockett adventures, aired on "Disneyland" on Dec. 15, 1954, and unexpectedly turned Parker into an overnight sensation.
TV's "King of the Wild Frontier" also touched off a merchandising frenzy: 10 million coonskin caps reportedly were sold, along with toy "Old Betsy" rifles, buckskin shirts, T-shirts, coloring books, guitars, bath towels, bedspreads, wallets -- anything with the Crockett name attached.
Viewers also fell in love with the show's catchy theme song. Bill Hayes' version of "The Ballad of Davy Crockett" soared to No. 1 on the hit parade and remained there for 13 weeks. And there were a couple of dozen other recordings of the song, including one by Parker himself.
"It was an explosion beyond anyone's comprehension," Parker told a reporter for the Cleveland Plain Dealer in 1994. "The power of television, which was still new, was demonstrated for the first time."
Even Disney was taken by surprise.
"We had no idea what was going to happen to 'Crockett,' " he later said. "Why, by the time the first show finally got on the air, we were already shooting the third one and calmly killing Davy off at the Alamo. It became one of the biggest overnight hits in TV history, and there we were with just three films and a dead hero."
The studio quickly rebounded, rushing two Crockett "prequel" adventures into production for the second season of "Disneyland" and editing the first three episodes into a feature film, "Davy Crockett, King of the Wild Frontier," which was released in May 1955. The two later TV segments, again featuring Buddy Ebsen as Crockett's sidekick George Russel, were turned into a 1956 feature film, "Davy Crockett and the River Pirates."
During a cross-country personal appearance tour in the summer of 1955, as many as 20,000 fans reportedly showed up to greet the actor when he landed at each city's airport.
Hopalong Cassidy, Roy Rogers and the Lone Ranger already had captivated television's first generation of young viewers when the first Crockett adventure aired, but nothing before had equaled the effect of the buck-skinned hero.
"Those Davy Crockett episodes really brought American history -- indeed, a Disney version of American history -- to the playground as well as to the American living room," Robert Thompson, director of the Center for the Study of Popular Television at Syracuse University, told The Times some years ago.
"You not only could watch these programs, but you could play them, dress up like them, make the Davy Crockett aesthetic infiltrate every part of your life," he said. "And, of course, those coonskin caps: No self-respecting kid under the age of 12 could go through American life without one."
But although "you can merchandise and market and promo something like crazy," Thompson said, "I think, in the end, for something like this to succeed, you've got to have an actor who can pull it off, and Fess Parker made a great Davy Crockett."
Moves to Hollywood
Born in Fort Worth on Aug. 16, 1924, Parker served in the Navy during World War II. He graduated with a degree in history from the University of Texas on the GI Bill in 1950, but by then he had developed a new interest: acting.
Parker moved to Hollywood in the summer of 1950. With a year left on his GI Bill, he enrolled at USC with the goal of getting a master's degree in theater history. But small acting jobs soon got in the way of that goal.
While under contract at Disney, the post-Crockett Parker starred in "Old Yeller," "The Great Locomotive Chase," "The Light in the Forest" and "Westward Ho the Wagons!"
But as far as Parker was concerned, Walt Disney did his burgeoning film career no favors.
One day, Parker recalled in a 1998 interview with the Dallas Morning News, Disney offhandedly told Parker that director John Ford had wanted him for the role played by Jeffrey Hunter in "The Searchers" opposite John Wayne. Disney told Parker he had turned down the role on his behalf. Ford "never forgave me for that," Parker said. "He thought it was my decision."
Parker said he also turned down a role opposite Marilyn Monroe in "Bus Stop" based on Disney's advice that "I don't think this is something you should do."
But Parker was determined to play modern roles, preferably in romantic comedies. "While I regard Mr. Disney as a good friend and a genius, he's set in his ideas," Parker said in a 1958 interview. "We don't exactly see eye to eye on my new ambition to spread out." In the end, the studio agreed to let the disgruntled actor walk away.
Although he was under contract at Disney, Parker later told The Times, "the studio had no experience dealing with live human beings as performers. They were really all animation.
"I simply don't believe they understood the value of an actor they had placed in a prominent position in the marketplace."
After leaving Disney in 1958, Parker spent four years at Paramount, but he didn't fare much better in landing movie roles.
In 1962, he starred as a junior congressman in the ABC series "Mr. Smith Goes to Washington," which was based on the Frank Capra screen classic. But the series was canceled after 26 weeks.
In the fall of 1963, Parker suddenly found himself being bombarded by an unusually high number of requests for autographs. Disney, it turned out, had re-broadcast the three original Crockett episodes on his weekly TV series and the King of the Wild Frontier was again a hit with a new crop of young viewers.
Thinking he could capitalize on his celebrity status, Parker interested producer Aaron Rosenberg in doing a weekly TV series with him starring as the frontiersman. But when Parker asked Disney to release the Davy Crockett name to him, Disney refused.
"We were going to do it anyway because Crockett is in public domain, but neither Lloyds of London nor Fireman's Fund would insure us against lawsuits from Disney if I played the part," Parker told The Times in 1964.
Instead, Parker and Rosenberg decided to do a TV series about another famous frontiersman. "Daniel Boone" had a successful run on NBC from 1964 to 1970, with Parker owning 30% of the series.
By the mid-1970s, Parker had a partnership in a large mobile-home park in Santa Barbara, where he was a longtime homeowner, as well as other real estate holdings, and he decided to turn his attention full time to his business interests.
He bought 32 1/2 prime waterfront acres previously owned by the Southern Pacific Railroad and, in 1986, opened Fess Parker's Red Lion Resort. Since renamed Fess Parker's Doubletree Resort, the hotel and conference center not only enhanced the city's waterfront but also have been a boon to the city's economy.
"We didn't have a big convention facility in the city before the Doubletree was built," Janice Hubbell, project planner for the city of Santa Barbara, told The Times in 2001.
But because Parker initially pushed for a much larger hotel and convention center complex, she said, "a lot of people have mixed emotions about him. In many respects, he's done good things for the community, but on the other hand there are people who feel he's pushed too hard and pushed for more than is appropriate."
Buys 714-acre ranch
In 1987, Parker bought a 714-acre ranch in Los Olivos, in Santa Barbara County's Santa Ynez Valley. Although he had planned to live there and run cattle on the land, the climate and the soil were ideal for a vineyard.
The Fess Parker Winery & Vineyards had its inaugural harvest in 1989. Parker's wines, whose label includes a tiny, sepia-toned coonskin cap, never quite achieved cult status. But by 2001, they had won more than 30 medals.
The winery was a family affair. Parker's son, Eli (Fess III), became president and director of winemaking and vineyard operations, and Parker's daughter, Ashley, became vice president of marketing and sales. Parker's wife, Marcella, whom Parker married in 1960, reportedly was largely responsible for the landscaping and interior decor.
In 1998, the Parkers bought the landmark Grand Hotel in Los Olivos, which they turned into Fess Parker's Wine Country Inn & Spa.
For many of his rural Santa Ynez Valley neighbors, Parker's good-guy TV image was shattered in 2004 after he announced his intention to sell 745 acres of Santa Ynez Valley ranchland to the local Chumash Indians in a joint venture calling for building up to 500 luxury homes, a resort hotel, two championship golf courses and an equestrian center.
Because the land would be annexed by the tribe on sovereign land, The Times reported, the development would not have to adhere to county zoning laws and land-use regulations.
In protest, many residents boycotted businesses that served Parker's wines and placed "Fess" stickers on stop signs. Others, including some of Parker's friends, even shunned the actor-turned-businessman.
"I just can't find anything in this whole thing to regret," Parker told The Times. "It does give me great pleasure to do this for the Indians. If they don't deserve to live in the most beautiful portion of this valley, who does?"
In October 2005, however, Chumash leaders and Parker abandoned their development plans after they failed to agree on the size of the hotel, the value of the land and other details.
Although he had severely strained his relations with many in the valley, he remained popular with tourists. Parker, who for many years divided his time between homes in Montecito and the Santa Ynez Valley, often greeted visitors to his winery, many of them aging baby boomers who would reach out to shake the hand of the gray-haired man who had once portrayed Davy Crockett or have their picture taken with him.
"I think I'm the luckiest guy in the world," Parker told the Cleveland Plain Dealer in 1994. "I've lived long enough and observed enough to make myself very comfortable with the realization that the Disney films and particularly Davy Crockett gave me an image that is unbelievably durable. It's been 40 years and people are still talking about it."
In addition to his wife of 50 years, Marcella, and his children, Parker is survived by 11 grandchildren and a great-grandchild.
Services are pending.
ALSO
Chuck Berry dies at 90, a founding father of rock 'n' roll
Jack Harris, who produced '50s horror movie 'The Blob', dies at 98
Billionaire philanthropist David Rockefeller dies at age 101
Sign up for Essential California for the L.A. Times biggest news, features and recommendations in your inbox six days a week.
You may occasionally receive promotional content from the Los Angeles Times.