Georgia Frontiere, who moved Rams to St. Louis, dies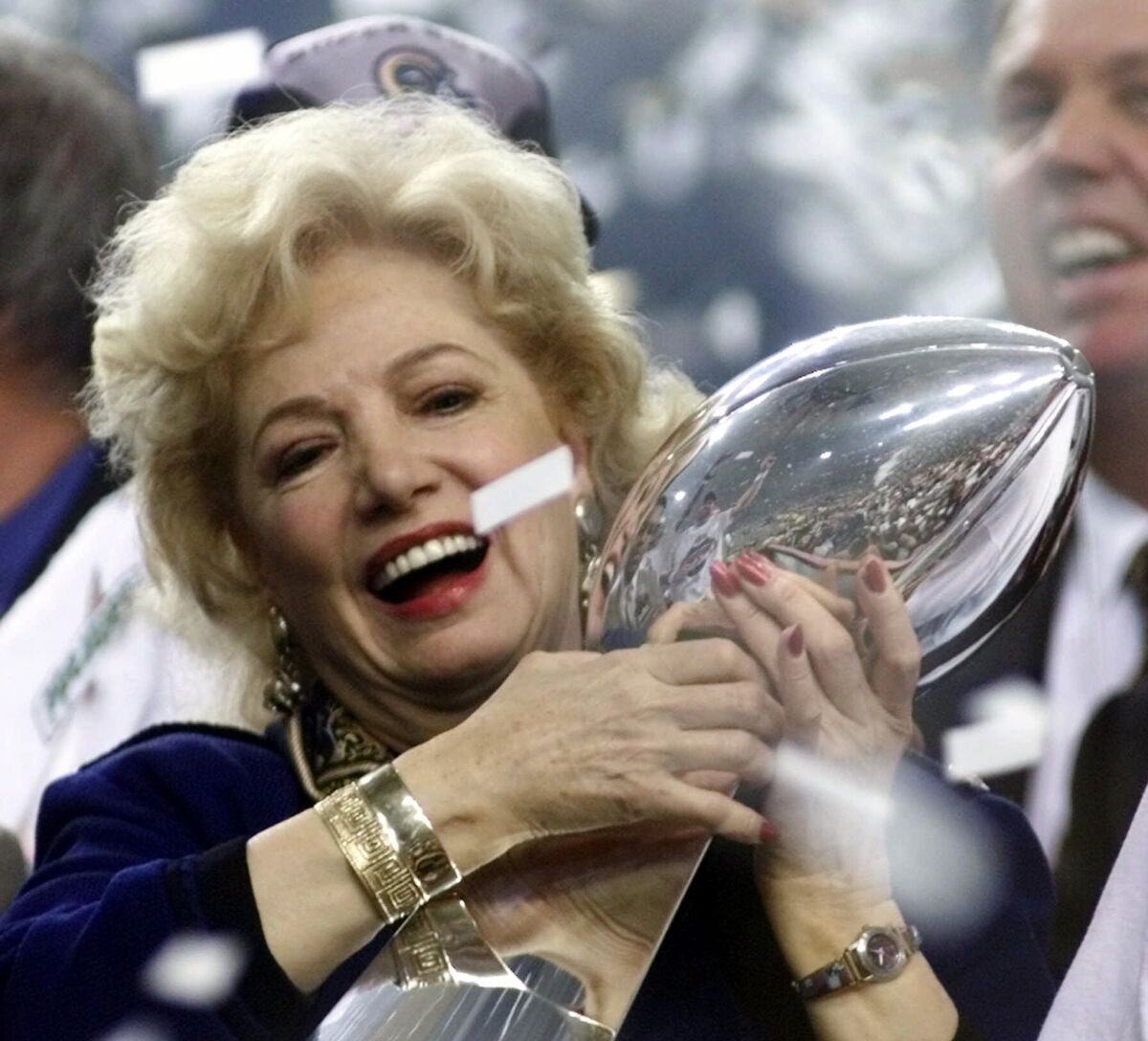 Los Angeles Times Staff Writer
Georgia Frontiere, a former entertainer and socialite who inherited the Los Angeles Rams pro football team and then infuriated many Southern Californians when she moved the club to Anaheim in 1980 and then to St. Louis in 1995, died Friday. She was 80.
Frontiere, who remained the Rams' majority owner and chairwoman for 28 years, died at UCLA Medical Center, where she had been hospitalized for several months with breast cancer, the team announced.
Her family said there were no immediate plans to change ownership of the Rams, with her son and daughter still holding a 60% stake and billionaire Stan Kroenke the remaining 40%.
In a list of NFL team valuations compiled by Forbes magazine last September, the Rams were worth $908 million, ranking them 22nd among the league's 32 teams.
Few owners in sports have been as colorful and controversial as Frontiere, a vivacious, eccentric St. Louis native who married seven times, fired her stepson from the Rams' front office, loved music, embraced astrology, wrote poetry and withstood years of criticism that she was unfit to run a pro football team.
Yet "Madame Ram," as some called her, stood apart for nearly three decades as a rare female in the testosterone-charged National Football League. Her teams played in the Super Bowl three times, winning once, after the 1999 season.
Frontiere inherited control of the Rams when her sixth husband, longtime NFL owner Carroll Rosenbloom, drowned at age 72 while swimming off Florida in April 1979.
That Rosenbloom's will left the team to Frontiere surprised many in the sports world, but not Frontiere.
"I know what Carroll wanted," she said at the time. "Carroll knew he'd live through me. I was ready for [being the owner], but apparently a lot of other people weren't."
Frontiere was at times whimsical and theatrical but also could be forceful and resolute, especially when it came to managing the Rams.
In her early years as owner, Frontiere gave her players victory pecks on the cheek, introduced them to yoga and once handed out Cabbage Patch dolls for them to give to their children for Christmas.
She also made some unpopular front-office moves. Shortly after inheriting the franchise, she fired her well-respected stepson, Steve Rosenbloom, the Rams' operations manager, who had been groomed since childhood to run the team.
Each move raised eyebrows -- initially "she didn't know how to be an owner," former Rams quarterback Pat Haden once said -- and resurrected questions about her abilities as an NFL leader.
Even her last marriage, to composer Dominic Frontiere, brought controversy when he went to prison for a ticket-scalping scandal involving the Rams in the 1980 Super Bowl.
The pair divorced in 1988, but she kept his last name. She had spent the last 19 years with her companion, Earle Weatherwax, and maintained homes in Malibu, St. Louis and Sedona, Ariz.
By the early 1990s, negative media coverage prompted Frontiere, who initially enjoyed the spotlight as the Rams' boss, to turn publicity-shy and decline most interview requests. That's when criticism reached a fever pitch because she had moved the team to her hometown.
Frontiere felt she had little choice but to move the club from Anaheim, where it had played after leaving the Los Angeles Coliseum in 1980. The franchise no longer was self-supporting financially, it was struggling on the field, fan support was waning and, she believed, government officials had little interest in helping build a new stadium or take other steps that would boost revenue.
She could have sold the Rams to a local owner to keep the team in Southern California but opted to retain control and relocate to St. Louis, which had offered lucrative incentives to bring the team east, including $20 million in annual profits from guaranteed season-ticket sales and personal seat licenses as well as a favorable lease at a $280-million domed stadium.
"My grandmother had a saying: 'Go little where wanted, go not at all where little wanted,' " Frontiere said after NFL owners approved her move from Anaheim, where her late husband had decided to move in 1978 in search of luxury suites that the Coliseum lacked.
"If [the fans] really care about the team and winning, then they should be there not giving up," she told The Times in 1993. "I hate it when they give up."
By then the Rams' average attendance in Anaheim had fallen under 50,000 a game from a peak of just over 62,000 the first year they played in Orange County.
Frontiere later said moving the team to St. Louis also "was a dream come true for me. St. Louis is my home, and I brought my team here to start a new dynasty."
The move to St. Louis came the same year that Al Davis moved his NFL team, the Raiders, back to Oakland from Los Angeles. Pro football has been absent from the Los Angeles area ever since.
Frontiere's critics said that moving the Rams was simply a way to further enrich herself after she had steadily dismantled the Rams' once-strong roster in the preceding years.
They asserted that she stubbornly refused calls to sell the team to an owner who would keep it in Southern California and in the process erased a football legacy.
"She took one of the great organizations in sports, turned it into a national joke, then packed up her circus tent and hit the road," Mike Downey, then a Times columnist, wrote in 1995.
But she wasn't alone -- other owners besides Davis had moved NFL teams as well -- and Frontiere had her defenders.
"Did Frontiere increase her wealth by taking the Rams out of Southern California and relocating them to St. Louis? Well, sure," Bernie Miklasz of the St. Louis Post-Dispatch wrote late last year. "Just as Walter O'Malley profited immensely by transporting baseball's Brooklyn Dodgers to Los Angeles."
She also paid an unfair price for publicly displaying her femininity in the male-dominated world of pro football, some observers said.
"When she picks up the paper and reads about herself, it's normally not positive," the late Jack Snow, a former Rams player and broadcaster, once told The Times. "She's down on the sidelines patting players on the butt and hugging them. But because she's a woman, people criticize her."
On the field, the Rams compiled a mixed record under Frontiere.
Shortly after she gained control, the team played in the Super Bowl in 1980 but lost to the Pittsburgh Steelers, 31-19. After star running back Eric Dickerson was traded to the Indianapolis Colts in 1987 for six draft choices, the Rams struggled, failing to make the playoffs from 1990 to 1999.
The Rams rebounded to win the Super Bowl in 2000, beating the Tennessee Titans, 23-16, and reached the big game again after the 2001 season, losing to New England, 20-17.
But the team hasn't had a winning season since 2003 and was 3-13 in 2007, last in the league's NFC West Division. Frontiere, her health declining, did not attend any of last season's games.
Football was not an integral part of Frontiere's life until she met Rosenbloom.
She was born Georgia Irwin on Nov. 21, 1927, although the blond Frontiere, whom many considered younger-looking than her years, usually declined to discuss her age.
Frontiere was the daughter of businessman Reginald Irwin and his wife, musician Lucia Pamela Beck, a former Miss St. Louis. By age 10, Frontiere and her younger brother, Ken, were part of their mother's singing group, the Pamela Trio, performing at ballrooms and fairgrounds.
When she was 15, her parents divorced and Frontiere married her first husband, a young military man. The marriage was quickly annulled.
A few years later, Frontiere, her mother and brother had moved to Fresno, and Frontiere and her mother performed as the Pamela Sisters at dinner theaters, including a now-closed club at a Whittier bowling alley.
Around this time, Frontiere married her second husband. Shortly after they wed, he was killed in an auto accident in San Francisco.
During the late 1940s and 1950s, Frontiere married three more times: to a fellow actor at the Garrick Little Theater in Fresno, to a stage manager at the Sacramento Music Circus and to a Miami television personality.
Frontiere also was a TV personality and lounge singer in Miami, and in 1957 -- at a party in Palm Beach, Fla., hosted by Kennedy patriarch Joseph P. Kennedy, father of President Kennedy -- she met Rosenbloom.
Rosenbloom then was the owner of the NFL's Baltimore Colts, and soon she became a fixture at the Colts' training camp and games. She married Rosenbloom in 1966, a month after he divorced his wife of 25 years.
The Rams had been a fixture in Los Angeles since 1946 when owner Dan Reeves moved them west from Cleveland. Robert Irsay bought the team from Reeves' estate after his death in 1972 and later that year traded ownership of the Rams for Rosenbloom's Colts.
Rosenbloom and Frontiere moved to a Bel-Air estate, and when the Rams played at the Coliseum, she would entertain actors, singers and other guests in a section near the owner's box dubbed Georgia's Grandstand.
But the team was Georgia's after Rosenbloom died, a situation that never sat right with many Southern California fans.
As she prepared to pack up the team in 1995, Frontiere said she understood the fans' bitterness -- even as she continued to point a finger at them.
"You're taking something away from somebody, and they're not going to be happy," she told The Times. "I don't think anyone will ever know how much I fought not to have this happen.
"Maybe if [the fans] had reacted sooner, and with some passion, and tried to find a way, but it wasn't like that," she said. "I can't stand the thought that people are thinking I just ran after the money. I mean, what did I do wrong here?"
Once in St. Louis, the soprano-voiced Frontiere served on several arts-related boards, kept her hand in music and was involved in numerous charities. Her Rams Foundation has donated more than $5 million to charities in the St. Louis area. She also was among the producers of the August Wilson play "Radio Golf," nominated last year for a Tony Award.
In addition to Weatherwax, Frontiere is survived by her son Dale "Chip" Rosenbloom of Los Angeles, daughter Lucia Rodriguez of Los Angeles, six grandchildren and her brother, Ken Irwin of Palm Springs.
Services are pending. Instead of flowers, her family suggests that donations be made to the Georgia Frontiere Memorial Fund (Fund No. 618210). Checks, payable to the UCLA Foundation, can be sent to UCLA Division of Digestive Diseases, 100 Medical Plaza, Suite 265, Los Angeles, CA 90095. Donations may also be made online at www.giving.ucla.edu/ GeorgiaFrontiereMemorialFund. For assistance, call Patricia Roderick, director of development, at (310) 825-7501.
Must-read stories from the L.A. Times
Get the day's top news with our Today's Headlines newsletter, sent every weekday morning.
You may occasionally receive promotional content from the Los Angeles Times.