Ben Gazzara dies at 81; veteran actor of stage and screen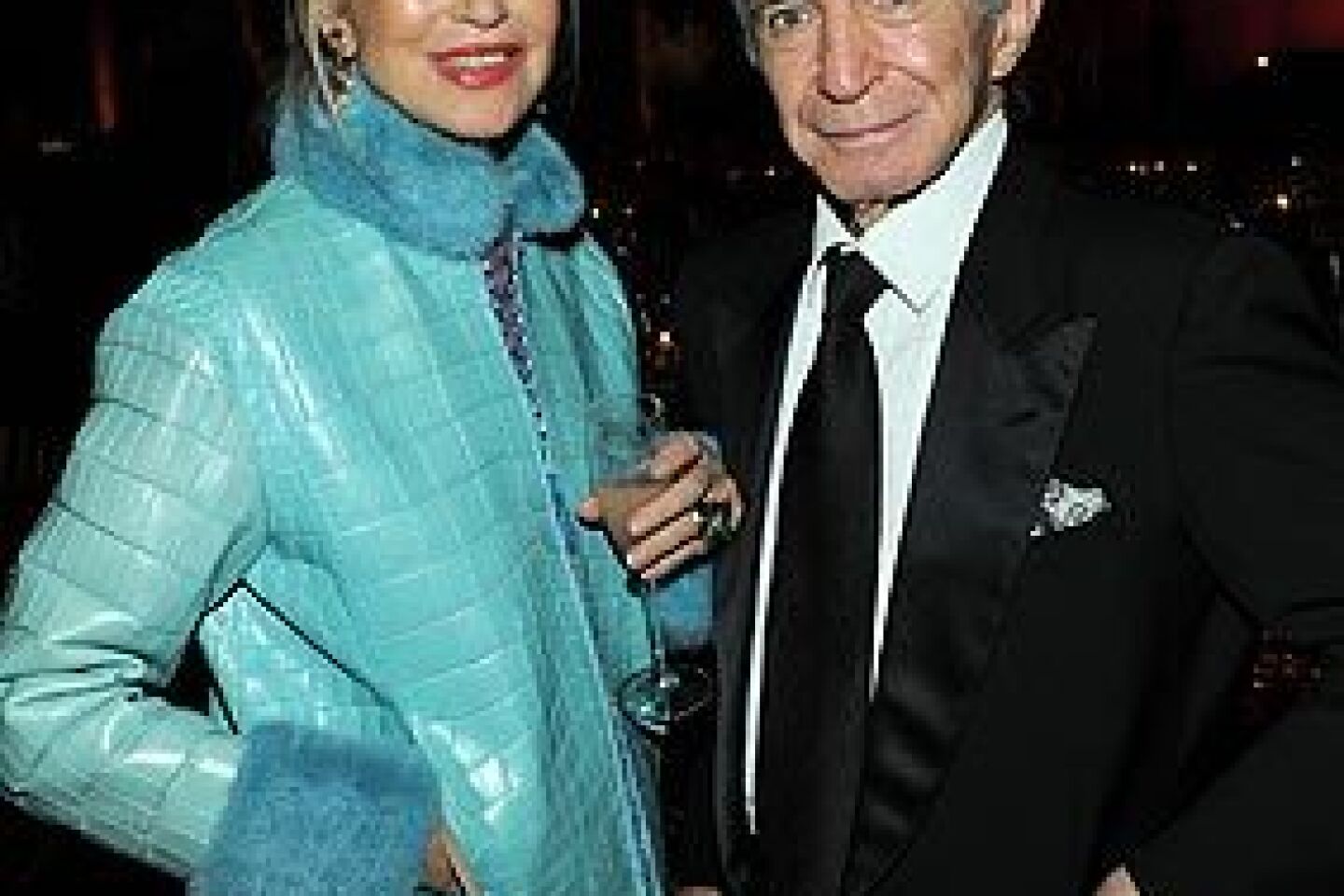 Ben Gazzara with his wife Elke in 2011. Elke, his third wife, saved his life, Gazzara had said.
See obituary
(Larry Busacca / Getty Images)
Ben Gazzara in 2011. His prolific acting career spanned 60 years and encompassed stage and screen.
See obituary
(Stephen Lovekin/Getty Images)
A New York native of Sicilian heritage, Ben Gazzara was a strongly masculine, subtly menacing screen presence with a gravelly voice that one writer described as "saloon-cured" and another said could strip paint at 50 paces.
The veteran actor, who died Friday in New York City, found fame on Broadway in the 1950s, starred in the TV series "Run for Your Life" in the 1960s and was closely identified on the big screen with independent filmmaker John Cassavetes.
The cause of death was pancreatic cancer, said his attorney Jay I. Julien. He was 81.
---
FOR THE RECORD:
Ben Gazzara obituary: An obituary of actor Ben Gazzara in the Feb. 4 LATExtra section omitted the name of Danja Gazzara, his daughter, from the list of surviving family members. —

---
During his 60-year acting career, Gazzara appeared in more than 100 films and TV movies, including the indie films he made with writer-director Cassavetes: "Husbands," "The Killing of a Chinese Bookie" and "Opening Night."
Late in life, Gazzara won an Emmy Award for his supporting role as the love interest of an aging waitress played by Gena Rowlands in the 2002 HBO drama "Hysterical Blindness."
He also received an Emmy nomination for the 1985 TV movie "An Early Frost," in which he and Rowlands played a middle-aged couple coping with the revelations that their son is gay and dying of AIDs.
Peter Bogdanovich, who directed Gazzara in two films — "Saint Jack" in 1979 and "They All Laughed" in 1981 — once described his working relationship with Gazzara as the best he'd ever had with an actor.
"Benny has the conscience of an artist, which is a rare thing," Bogdanovich told The Times in 1998.
An alumnus of the Actors Studio, Gazzara first gained notice in 1953 playing a sadistic bullying cadet at a military academy in an off-Broadway production of Calder Willingham's "End as a Man" that eventually moved to Broadway, marking Gazzara's debut there.
On Broadway in 1955, Gazzara also originated the role of Brick, the troubled, alcoholic son and husband in Tennessee Williams' "Cat on a Hot Tin Roof," directed by Elia Kazan. Later that year, he returned to Broadway to play junkie Johnny Pope in Michael V. Gazzo's drama "A Hatful of Rain," which garnered Gazzara a Tony Award nomination.
After making his movie debut starring in "The Strange One," the 1957 film version of "End as a Man," Gazzara resurfaced on the big screen two years later as Lee Remick's Army lieutenant husband, accused of murdering her alleged rapist, in director Otto Preminger's "Anatomy of a Murder."
On television in the 1960s, Gazzara played a police detective opposite Chuck Connors' attorney in the ABC series "Arrest and Trial." And from 1965 to 1968, Gazzara starred in "Run for Your Life," an NBC adventure series about a successful lawyer diagnosed with a terminal illness who decides to live life to the fullest in the time he has left.
"I hated it," Gazzara, who received two Emmy Award nominations for his work on the series, told the New York Daily News in 1999. "So predictable I could almost do the next show without reading the script."
The day he finished the last episode of "Run for Your Life," he ran into Cassavetes on the Universal lot. He had a passing acquaintance with the filmmaker from their days as struggling actors in New York, and Cassavetes told him that they would do a film together.
The picture was "Husbands," the 1970 drama about three suburban New York City commuters — Gazzara, Cassavetes and Peter Falk — whose lives are affected by the death of a middle-aged friend. The film received mixed reviews but led to an enduring friendship among the three actors.
Gazzara went on to star in Cassavetes' "The Killing of a Chinese Bookie" in 1976 and "Opening Night" in 1977.
"John created a climate where you could do no wrong," Gazzara said in 2005 in the Times Union of Albany, N.Y. "He allowed you to surprise yourself while he talked around the characters and the action."
Rowlands, who was married to Cassavetes, recalled in 1998 in The Times: "John and Benny had a great artistic understanding, and I think Benny was relieved to find someone like John, who took things as seriously as he did."
"It breaks my heart to have this era come to an end," Rowlands said in a statement that referred to the deaths of Cassavetes in 1989, Falk last year and now Gazzara. "Ben meant so much to all of us. To our families. To John. To Peter. To have them gone now is devastating to me."
Cassavetes' death had thrown Gazzara into a deep depression.
At the time, he and his third wife, Elke, were living in Italy, where Gazzara made a number of films and where, as he once explained, "I fell in love with the lifestyle." His first two marriages — to actresses Louise Erickson and Janice Rule — ended in divorce.
In his 2004 book "In the Moment: My Life as an Actor," Gazzara described his constant womanizing and several affairs, including one with Audrey Hepburn, with whom he co-starred in "Bloodline" and "They All Laughed."
He had met the German-born Elke in South Korea in 1979 while he was filming the Korean War film "Inchon." She was producing a behind-the-scenes documentary.
"Elke saved my life," Gazzara said in 1999 in the New York Daily News. "When I met her, I was drinking too much, fooling around too much, killing myself. She put romance and hope back in my life."
In the late 1990s, Gazzara had a career renaissance and appeared in a string of films, including playing a corporate criminal in writer-director David Mamet's "The Spanish Prisoner," a wealthy pornographer in Joel and Ethan Coen's "The Big Lebowski," and a Bronx mob boss in Spike Lee's "Summer of Sam."
Gazzara credited his discovery by a young generation of independent film directors to the video release of the movies he'd made with Cassavetes.
As an actor, Gazzara told Backstage in 2006, "Nobody ever knew what to do with me because I wasn't easily pigeonholed." But he was never bitter when a coveted role went to someone else, he once told the San Francisco Chronicle.
"I don't know why," he said. "Maybe my ego, my Sicilian pride. And I was never jealous of another actor, 'cause … I knew I had the goods."
The son of Sicilian immigrants, Gazzara was born Aug. 28, 1930, in New York City into a family that struggled during the Depression.
At 13, he appeared in a play staged at the nearby Boys Club, "heard the applause and could never turn back," he later said.
After graduating from high school, he entered Manhattan's Dramatic Workshop on a scholarship and in 1951 was accepted into the prestigious Actors Studio.
Throughout his career, Gazzara periodically returned to the stage. He received a Tony nomination in 1975 for "Hughie/Duet" and another nomination in 1977 for a revival of "Who's Afraid of Virginia Woolf?"
Gazzara is survived by Elke, his wife of 30 years; a daughter, Elizabeth; and a brother, Anthony.
Must-read stories from the L.A. Times
Get the day's top news with our Today's Headlines newsletter, sent every weekday morning.
You may occasionally receive promotional content from the Los Angeles Times.