From the Archives: Gene Raymond, 89; Actor Wed Jeanette MacDonald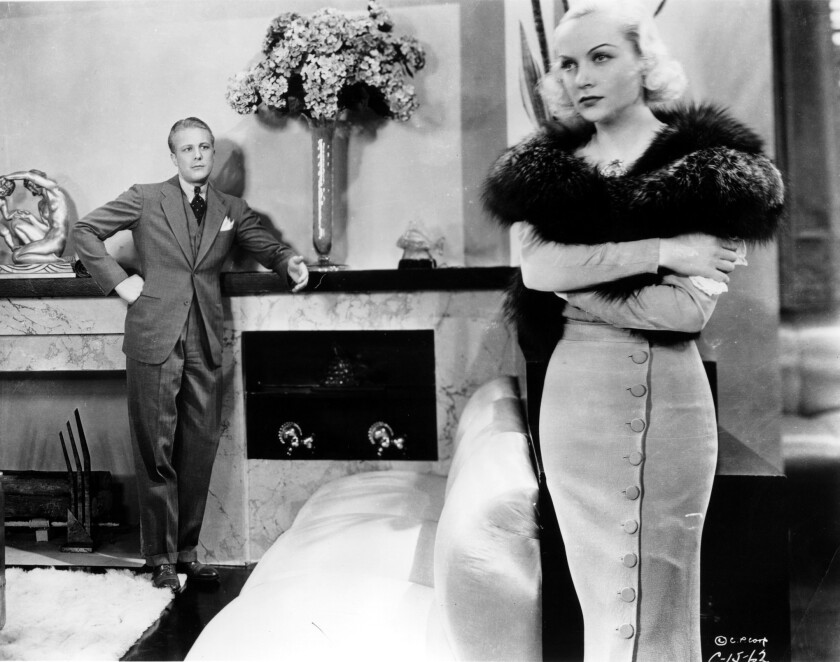 Gene Raymond, the suave, good-looking blond actor who ranged from Broadway to Hollywood to radio and television but was perhaps best known for his storybook marriage to singing star Jeanette MacDonald, has died. He was 89.
Raymond, romantic leading man in several films of the 1930s and 1940s, died Sunday night at Cedars-Sinai Medical Center in Los Angeles of pneumonia, his publicist said.
Among the actor's more memorable films were "Flying Down to Rio" opposite Dolores Del Rio in 1933, which first paired Fred Astaire and Ginger Rogers; "Red Dust" with Clark Gable and Jean Harlow in 1932; "Ex-Lady" with Bette Davis and "Zoo in Budapest" with Loretta Young in 1933; and "Sadie McKee" with Joan Crawford in 1934. His last two films were "The Best Man" and "I'd Rather Be Rich" in 1964.
In 1937, when Raymond married MacDonald, known for her duets with Nelson Eddy in such films as "Rose Marie," 5,000 fans clogged Wilshire Boulevard outside the church. At their fans' urging, the couple appeared in one film together, "Smilin' Through," in 1941.
Their marriage, a first for both, was considered idyllic in Hollywood, where two-career couples rarely stayed together. It lasted 28 years, until MacDonald died of cardiac failure in 1965 at age 57.
Hollywood columnist Hedda Hopper, labeling Raymond and MacDonald a "refreshing exception" to divorce statistics, wrote in 1948: "A quieter, more retiring couple would be hard to find. There just is no scandal in their lives. They are almost notoriously congenial. Each of them has a proper respect for the other's talents and achievements."
Born Raymond Guion in New York City, the actor went on stage when he was 5, appearing in such shows as "Rip Van Winkle" and "Mrs. Wiggs of the Cabbage Patch."
Educated at the Professional Children's School in New York, Raymond was cast at 17 as Oscar in "Cradle Snatchers." The show, starring Edna May Oliver and Humphrey Bogart, ran for two years on Broadway.
It was the "talkies" that brought Raymond to Hollywood and prompted his name change. He made his screen debut as Dick Gary in "Personal Maid" in 1931.
Raymond, a civilian pilot, served in the Army Air Corps during World War II. He was later elected president of the Los Angeles chapter of the Air Force Assn. and was a trustee of the Falcon Foundation of the Air Force Academy.
Although his film career waned after the war, Raymond worked fairly steadily in television and later formed his own production company. On the small screen, he hosted and occasionally acted in "Fireside Theatre," "Hollywood Summer Theatre" and "TV's Reader's Digest" in the 1950s. He was a series regular on "Paris 7000" on ABC in 1970 and had guest roles in such popular series as "The Outer Limits," "Robert Montgomery Presents," "Playhouse 90," "The Man from U.N.C.L.E.," "Ironside," "The Defenders," "Mannix," "The Name of the Game," "Lux Video Theatre," "Kraft Television Theatre" and "U.S. Steel Hour."
He wrote and directed the 1949 film "Million Dollar Weekend," wrote the television play "Prima Donna," and wrote such songs as "Will You?" and "Let Me Always Sing."
Raymond served as a president of the Motion Picture and Television Fund and a vice president of the Arthritis Foundation of Southern California. He also made regular appearances at conventions of the Jeanette MacDonald Fan Club.
A memorial service is scheduled at 1 p.m. Thursday in Little Church of the Flowers at Forest Lawn Memorial-Park in Glendale.
From the Archives: Movie Great Ginger Rogers Dies at 83
From the Archives: The Master of the One-Liner
From the Archives: Bette Davis Dies in Paris at 81
From the Archives: Gloria Swanson, Queen of Movies' Golden Years, Dies
From the Archives: James Cagney, Legend of Movies, Dies at 86
---
Must-read stories from the L.A. Times
Get all the day's most vital news with our Today's Headlines newsletter, sent every weekday morning.
You may occasionally receive promotional content from the Los Angeles Times.