Hans Hollein dies at 80; Austrian architect helped lead post-modernism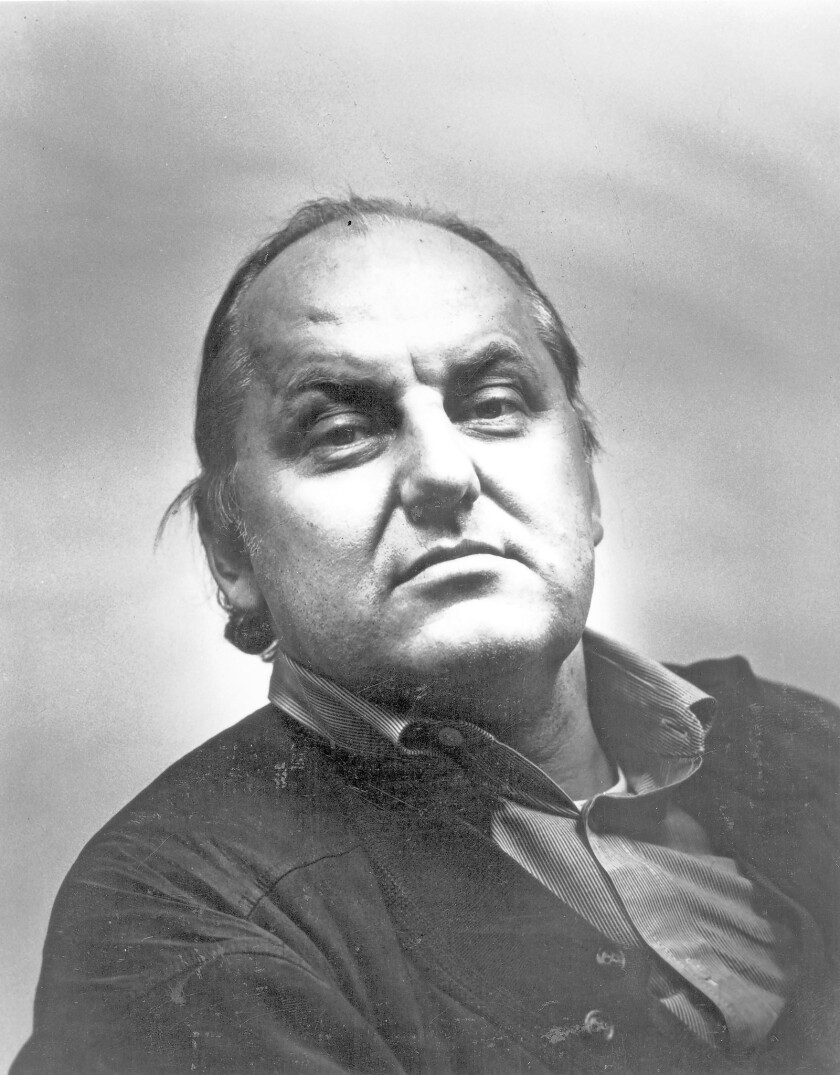 Los Angeles Times Architecture Critic
In the 1970s, architecture faced an identity crisis.
A lacerating critique of modern architecture's overreach, especially in remaking wide swaths of cities, had left the profession's 20th-century heroes — Le Corbusier, Mies Van der Rohe, even Frank Lloyd Wright — without many prominent defenders.
But what would take modernism's place? What could architecture do with the rubble of that once dominant movement?
Hans Hollein, the Austrian architect who died Thursday in Vienna at 80, according to a family spokeswoman cited by the Associated Press, was among those who provided convincing early answers to those questions. In the process he joined Robert Venturi, Denise Scott Brown, Charles Moore and a small number of others in setting a loose framework for what became post-modern architecture, with its focus on humor, irony, eclecticism and freewheeling historical quotation.
A couple of wry, quirky storefronts in Vienna, his hometown, had earned him notice by the late 1960s. In 1976 Hollein designed another local project that would dramatically raise his profile: a whimsical branch of the Austrian Travel Bureau, which the architect filled with brass palm trees and the faux ruins of Greek columns.
Hollein, as the critic Charles Jencks put it, had used the clichés of travel "with a wit and care unusual in mass culture;" the result was "a Mozartian pastiche."
The project helped Hollein gain both bigger projects and international notice. In 1985 he was named the seventh winner of the Pritzker Prize , the highest honor in architecture.
On accepting the award, Hollein described his work as "the creation of something new, the artificial in a dialectic with nature. I have always considered architecture as an art. To me architecture is not primarily the solution of a problem, but the making of a statement."
The Pritzker jury praised Hollein as an architect "who with wit and eclectic gusto draws upon the traditions of the New World as readily as upon those of the Old" and "never fears to bring together the richest of ancient marbles and the latest in plastics."
Three years later he joined Frank Gehry, James Stirling and Gottfried Bohm as finalists in a design competition for Walt Disney Concert Hall in Los Angeles. Leon Whiteson, writing in The Times in 1988, called Hollein's proposal "a Post-Modern tiara spiked with upthrusting green glass shafts, purplish metallic cylinders and red sandstone."
Though he lost that commission to Gehry and never built anything in the city, making the shortlist for the concert hall was for Hollein the culmination of a decades-long interest in California — and in the rich architectural relationship between Vienna and Los Angeles specifically.
Born in Vienna on March 30, 1934, Hollein showed an early talent for drawing and earned a degree from the school of architecture at Vienna's Academy of Fine Arts in 1956. A traveling fellowship took him to the United States soon after.
He studied in Chicago before heading to California, where he earned a master's degree at UC Berkeley in 1960 and met Richard Neutra ,a fellow Viennese who had moved to Los Angeles three decades earlier. Hollein made a careful study of the work of R. M. Schindler, another Austrian transplant to Southern California, who had died in 1953.
Hollein would later describe California as "a fascinating phenomenon, a realization of a new approach, of a new spirit. Of course it also has close invisible ties to Vienna, and one of the reasons to come here in the first place had to do with these ties."
He also spent time exploring the United States by car.
"It is characteristic of his curiosity and humor," read the biography prepared by the Pritzker staff, "that when he learned there are seven towns or cities in the United States … bearing the name 'Vienna,' he took the time to visit all of them. This was while touring the country in a second-hand Chevrolet."
After working for firms in the United States and Sweden, Hollein opened a small office in Vienna in 1964. The first project to bring him notice was the Retti candle shop on an upscale shopping street in Vienna; Hollein draped the facade and much of the interior in thin sheets of aluminum.
During the 1960s Hollein also created a series of influential photomontages that showed monumental architectural and industrial forms marching across barren or rural landscapes. Several of the most famous of the artworks, which Hollein called "Transformations," pictured giant aircraft carriers atop rolling fields.
For Hollein the massive structures at the center of these pictures suggested the new power and muscle of architecture in the post-war era.
"Form does not follow function," he wrote in 1963. "Today for the first time in the history of mankind, at this moment when immensely developed science and perfected technology offer the means, we are building what we want, making an architecture that … uses technique — pure, absolute architecture. Today, man is master over infinite space."
This fervent belief in architectural technique and unfettered form-making not only shaped Hollein's career but also paved the way for the virtuosic, highly sculptural architecture of younger figures like Zaha Hadid.
Hollein's Municipal Museum Abteiberg near Dusseldorf, Germany, opened in 1982. Hollein also designed museums in Frankfurt and Tehran and a pair of small projects in New York.
In 1990 he completed a controversial eight-story tower of shops and offices, the Haas Haus, in the heart of Vienna. Its facade of scored green granite and mirrored glass was an aggressive challenge to the city's older architecture.
Hollein was also known for designing glassware, furniture and museum exhibitions. In 1996 he curated the Venice Architecture Biennale.
Even as Hollein's fame grew, his work, quixotic and not easily characterized, especially as he moved past his 1980s interest in lighthearted post-modernism, faced vigorous opposition or fell from favor.
In 1999 he was hired by Harvard to design a small office building that was ultimately rejected by the Cambridge Historical Commission as insufficiently respectful of the surrounding architecture; he was replaced in 2002 by another architect.
Even his most influential early project wasn't immune. The Austrian Travel Bureau and its brass palm trees lasted fewer than 15 years. The office, the Washington Post reported in 1990, was "furtively destroyed by the bureau last winter when it handed the premises over to a delicatessen."
Survivors include a son, Max, and a daughter, Lilli.
---
Must-read stories from the L.A. Times
Get all the day's most vital news with our Today's Headlines newsletter, sent every weekday morning.
You may occasionally receive promotional content from the Los Angeles Times.