Harlan Ellison dies at 84; acclaimed science fiction writer was known for combative style
Harlan Ellison, who emerged as a major figure in the New Wave of science fiction writers in the 1960s and became a legend in science fiction and fantasy circles for his award-winning stories and notoriously outspoken and combative persona, died Wednesday night in Los Angeles. He was 84.
Ellison died at home in Sherman Oaks in his sleep, according to Susan Shapiro, his Hollywood agent. His death was unexpected.
"Ellison was immensely talented, immensely argumentative and immensely controversial, all in equal measure," said author John Scalzi, one of The Times' Critics at Large. "Loved or loathed, he was undeniably one of the great figures in science fiction."
Since selling his first short story in 1955, the prolific Ellison won multiple awards from the Science Fiction and Fantasy Writers of America, the Mystery Writers of America and the Horror Writers Assn.
The third most anthologized science fiction writer behind Ray Bradbury and Isaac Asimov, Ellison also won four Writers Guild of America Awards, including those for memorable 1960s episodes of the TV series "The Outer Limits" ("Demon with a Glass Hand") and "Star Trek" ("The City on the Edge of Forever").
His best-known short fiction includes the collections "Repent Harlequin! Said the Ticktockman" and "I Have No Mouth, and I Must Scream."
In 2006, Ellison received the Grand Master Award for lifetime achievement from the Science Fiction and Fantasy Writers of America.
"He's one of the major post-World War II American writers of science fiction," said Rob Latham, a professor of English and a specialist in science fiction at UC Riverside, which awarded Ellison the university's Eaton Award for Lifetime Achievement in Science Fiction in 2011.
That same year Ellison was inducted into the Science Fiction Hall of Fame.
"He was very influential in changing the field, making it more open to social issues, to explorations of characters," Latham, a senior editor of the journal Science Fiction Studies, told The Times. "He's had an enormous influence on science fiction with his writing, and he's also been an influential editor."
That included serving as the editor of "Dangerous Visions: 33 Original Stories," a 1967 book that Latham said "is probably the most important anthology published in the field in the last 50 years and set an agenda for a new kind of science fiction writing that would be more socially engaged and responsive to the times."
Ellison hated to be labeled a science fiction writer. ("I don't write about bug-eyed ants or Godzilla!" he once said.) Instead, he preferred terms such as "imaginative fiction" and "contemporary fantasies."
In a 1978 review for the Washington Post of Ellison's short story collection "Strange Wine," Joseph McLellan wrote that the "categories are too small—even the catch-all category of science fiction—to describe Harlan Ellison.
"Lyric poet, satirist, explorer of odd psychological corners, moralist, one-line comedian, purveyor of pure horror and of black comedy; he is all these and more," McLellan wrote.
As an emerging author in the 1960s, Ellison became known not just for his fiction. He marched with the Rev. Martin Luther King Jr. from Selma to Montgomery, Ala., in 1965, wrote political essays and lectured frequently on college campuses.
"He's one of the most dynamic speakers I've ever seen, and he tends to speak out of a sense of outrage," said Latham. "He was always fighting for a cause. That was something that was clear from his writing and from his persona. He was a battler."
Ellison even stood up to a belligerent Frank Sinatra in a verbal exchange over the boots Ellison was wearing in the pool room of the Daisy discotheque in Beverly Hills—an incident captured in Gay Talese's famous 1966 Esquire magazine story "Frank Sinatra Has a Cold."
His combativeness occasionally led to legal battles. Among his victories: Reaching an out-of-court agreement in which future video versions and cable showings of the 1984 movie "The Terminator" would carry the credit line "Acknowledgment to the works of Harlan Ellison" after he claimed the film drew material from two of his scripts for "The Outer Limits."
Another legal fight ended in 2004 when Ellison and America Online Inc. settled a copyright infringement lawsuit involving examples of his stories posted on the internet without his consent.
"He always said, 'Pay the writer,'" his longtime literary agent Richard Curtis told The Times. "That was his motto."
Ellison was particularly well known for his sometimes colorful dealings and encounters with book editors and TV producers who incurred his ire.
He readily acknowledged that he once mailed a dead gopher to a publishing house, and gleefully recounted assaulting his publisher in 1982.
"I put him in a hold that I had learned from Bruce Lee. I took him to his knees. Then I duck-walked him back to his door," Ellison told The Times' Carolyn Kellogg in 2013. "I picked up a chair and threw it…. It bounced around the room." The publisher had scrambled behind his desk and was dialing the phone. "I jumped on the desk and ripped the phone out of the wall." Then he came to his senses and left for a TV appearance.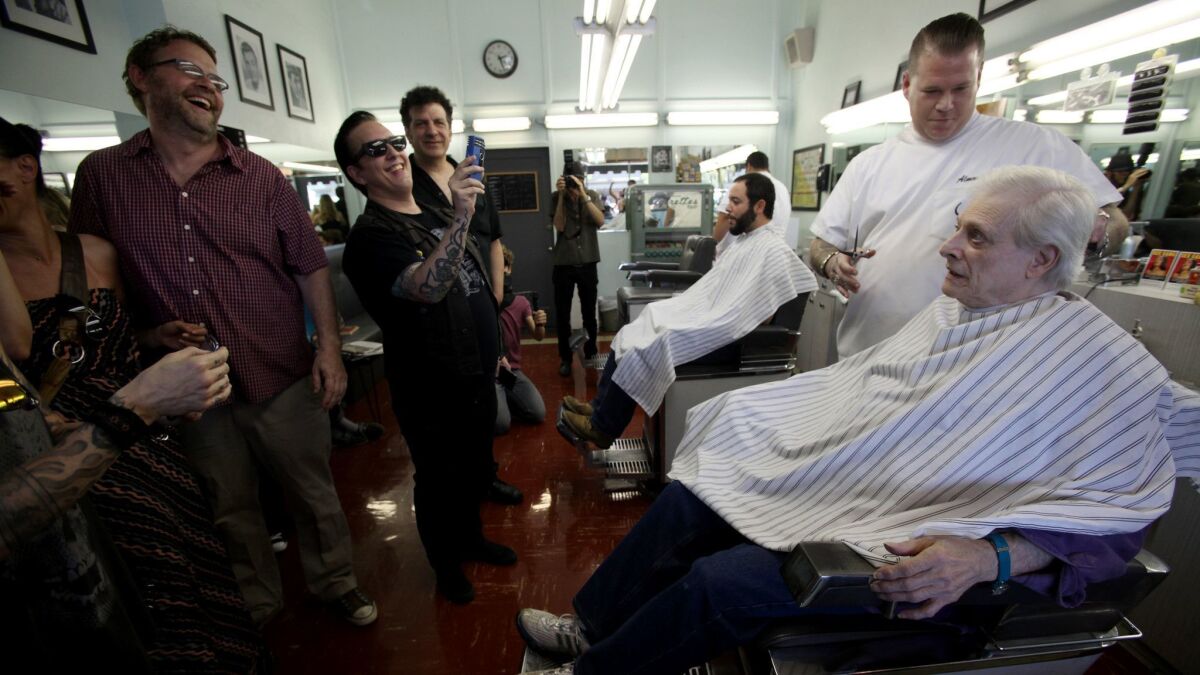 While writing for the 1960s TV series "Voyage to the Bottom of the Sea," he later recalled, he went after an ABC executive by climbing onto the conference table in producer Irwin Allen's office. He then slipped on the table's highly polished surface and caught the executive in the throat with his fist.
He was accused of grabbing writer Connie Willis' breasts during the Hugo Awards in 2006, angering many women in the science fiction community. Ellison disputed the charge (but it seemed to be captured on video).
Ellison also was known to show up at TV story conferences carrying a baseball bat. And he once brought a chamois bag containing a pistol to a story conference, during which he casually went about cleaning the gun. (It was, he later said, unloaded.)
Over the years, Ellison has been described as fiercely independent, vengeful, sardonic, opinionated, confrontational, foul-mouthed, petulant, infuriating, defiant and a general all-around nuisance—as well as engaging, gregarious, funny, fastidiously organized and generous to his friends.
By his own measure, he was "a hard pill to swallow."
In the 2008 documentary "Harlan Ellison: Dreams with Sharp Teeth," comedian Robin Williams said of his friend, "He's got the combination of Borscht [Belt] and Berkeley."
"There's a real power to the way he uses the language and how he draws pictures in your mind," said Ron Moore, an executive producer of the 2004-09 TV series "Battlestar Galactica."
And author Neil Gaiman observed: "The words—there is an attention to the words. There is an attention to the sound of the words. You're reading them in your head, and they sing."
A two-fingered typist who favored manual Olympia typewriters, Ellison did his writing in the large, book- and memorabilia-crammed office in his longtime home in the hills of Sherman Oaks.
He shared the labyrinthine house, which he dubbed The Lost Aztec Temple of Mars, with his fifth wife, Susan, whom he married in 1986.
"At long last, after four bad marriages, I've found someone who can stand me for more than 20 minutes and doesn't go shrieking into the night," he told the Cleveland Plain Dealer in 2003.
The son of a dentist, Ellison was born May 27, 1934, in Cleveland, a town he described as being "very anti-Semitic." While growing up, he was regularly beaten up by his classmates. And, he observed in the documentary, "When you've been made an outsider, you are always angry."
At 13, he ran away from home and joined a carnival. Although he was found in Kansas City, Mo., three months later and returned home, he ran away again several months later to Canada, where he worked in a lumber camp. As a teenager, he also worked on tuna boats out of Galveston, Texas, and driving a truck carrying nitroglycerin on a construction job in North Carolina.
"And all that time, if I wasn't writing, I was thinking about, 'Gee, I could write that down like this…,' " he said in the documentary. "I picked up the writer's true education on the road."
Thrown out of Ohio State University for telling off a writing professor who said he had no talent, Ellison moved to New York City in 1955 and soon began selling short stories for a penny a word.
He served two years in the Army in the late '50s then moved to Los Angeles in 1962.
While continuing to write stories for science fiction, western, detective and men's magazines, Ellison broke into Hollywood writing scripts for TV series such as "Burke's Law," "The Alfred Hitchcock Hour" and "The Man From U.N.C.L.E." He also co-wrote "The Oscar," a 1966 movie about Hollywood for which he frequently apologized.
Ellison's prolific writing career included reviews, articles and essays. Collections of his columns on television for the Los Angeles Free Press, "The Glass Teat" (1970) and "The Other Glass Teat" (1975), are still used in college and university media courses around the country.
His later television credits include serving as creative consultant on the new version of "The Twilight Zone" in the 1980s and working as conceptual consultant on the 1990s series "Babylon 5."
In his 1990 interview with The Times, Ellison said that he continued to write "because all writers in some insane place believe that to write is a holy chore—that what one wishes to do is speak to one's time, to make a difference, to say: 'I was here. I was a force for good in some way.'"
McLellan is a former Times staff writer.
news.obits@latimes.com
---
Must-read stories from the L.A. Times
Get the day's top news with our Today's Headlines newsletter, sent every weekday morning.
You may occasionally receive promotional content from the Los Angeles Times.