Harry Morgan dies at 96; star of TV's 'MASH'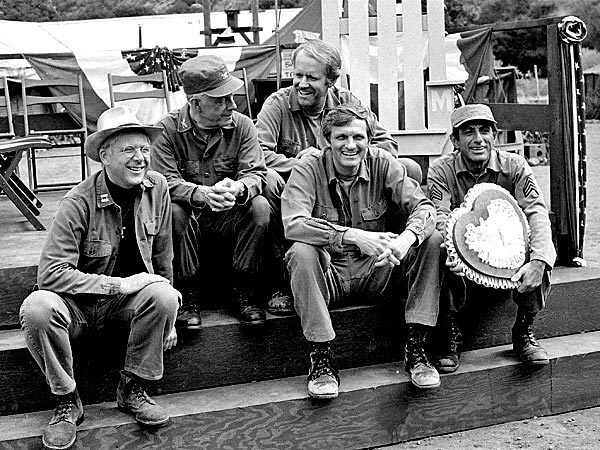 Cast members of the television series "MASH" take a break. From left,
William Christopher
,
Harry Morgan
,
Mike Farrell
,
Alan Alda
, and
Jamie Farr
.
(Wally Fong / Associated Press)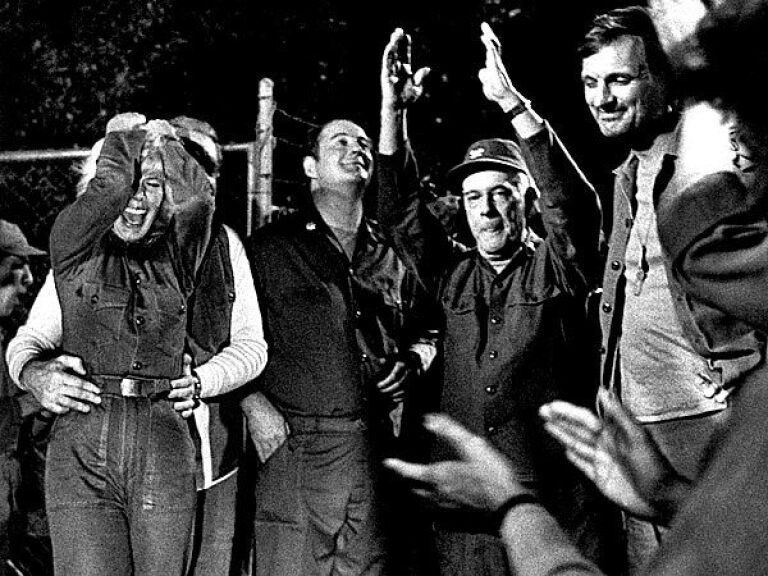 Cast members react to executive producer Burt Metcalfe's final wrap call. From left,
Loretta Swit
,
Mike Farrell
,David Ogden Stiers, Harry Morgan and Alan Alda.
(Lennox McLendon / Associated Press)
Harry Morgan arrives for a "MASH" reunion party.
(Lennox McLendon / Associated Press)
Emmy Award-winning actor Harry Morgan, who played the crusty yet sympathetic Col. Sherman T. Potter in the sitcom "MASH" and the hard-nosed LAPD Officer Bill Gannon in the television drama "Dragnet," died Wednesday. He was 96.
Morgan died at his home in Brentwood after a bout with pneumonia, his daughter-in-law, Beth Morgan, told the Associated Press.
Morgan's eight-year run on "MASH," the pinnacle of his seven-decade acting career, began when he was 60 and had already appeared on the Broadway stage, in dozens of television shows and more than 50 films.
Photos: Harry Morgan | 1915 - 2011
Three years after it debuted, he joined the show in 1975 as commanding officer of the unorthodox 4077th Mobile Army Surgical Hospital, which patched together the wounded during the Korean War.
When the 2 1/2-hour "MASH" finale aired in 1983, 77% of the people watching television were tuned in, making it the most widely watched show in history.
Shortly before the final episode was broadcast, Morgan told The Times, "There'll never be another 'MASH.' There's nothing in the way of doing your best work on this set, absolutely nothing."
Although he set out to be a lawyer, Morgan fell into acting and stayed. The son of an auto mechanic, he was born Harry Bratsberg in Detroit on April 10, 1915. He grew up in Muskegon, Mich., played high school football despite his small stature and was a member of the school's champion debate team.
Morgan attended the University of Chicago but left in the 1930s to sell office equipment in Washington, D.C. As a salesman during the Depression he had free time, so he joined a theater group. Performing on a hotel stage he experienced success in "The Front Page" and "The Petrified Forest."
He left his office equipment job to appear in summer stock. In the fall of 1937 he went to New York City and appeared in several Broadway productions, using the name Harry Bratsburg.
"In my ignorance, I thought to myself, 'Hey, this acting business is a great life!' Little did I know! Things got rougher from then on. If I had had to struggle at the beginning like most actors … I'd never have stuck it out. But having such complete success at the beginning, I was stuck with being an actor for life," Morgan said in the 1983 book " 'MASH': The Exclusive, Inside Story of TV's Most Popular Show."
In 1941 he and his actress wife, Eileen, headed for Hollywood, and Morgan did hit a rocky patch of sorts – he didn't work for five months.
After appearing in a one-act play in Santa Barbara titled "Hello Out There," he was offered a contract with 20th Century Fox and, going by Henry Morgan, promptly made six movies, starting with "To the Shores of Tripoli."
Morgan went on to appear in such films as "High Noon" (1953), "The Glenn Miller Story" (1954), "Inherit the Wind" (1960), "Support Your Local Sheriff!" (1969) and his personal favorite, 1943's "The Ox-Bow Incident."
One of his early TV credits was "December Bride," in which he played Pete Porter, the wry-humored, henpecked neighbor who cracked jokes about his wife, the never-seen Gladys. At this time Morgan started using Harry as his first name to avoid being confused with television comic Henry Morgan.
After seven years on "December Bride," Morgan appeared opposite Cara Williams in an early 1960s spinoff, "Pete and Gladys." His TV career continued with the anthology series "The Richard Boone Show" and with "Kentucky Jones," in which Morgan played a ranch handyman who works for the title character, portrayed by Dennis Weaver.
Until "MASH" Morgan was best known for his role as Officer Bill Gannon in "Dragnet", a show that he had first appeared on in the 1940s on the radio. In 1967, Morgan replaced Ben Alexander as the partner of Jack Webb's Sgt. Joe Friday in the show that lionized the Los Angeles Police Department. He remained a fixture for four seasons.
The intense two-day shooting schedule challenged Morgan, as did Webb's insistence that they speak in a flat monotone so they wouldn't appear to be emotionally involved with the other characters. (Morgan later had a cameo in the 1987 Dan Aykroyd-Tom Hanks "Dragnet" spoof and provided the voice of Gannon for a 1995 episode of "The Simpsons.")
In the early 1970s Morgan worked on another Webb creation, the courtroom drama "The D.A.," and appeared opposite Richard Boone in "Hec Ramsey," a western that was part of "NBC's Sunday Mystery Movie" series.
The role of Col. Potter in "MASH" came along when the fictional surgical unit needed a new commanding officer after McLean Stevenson left the show in 1975. It was not Morgan's first appearance on the program — his portrayal of a demented general on the show earned him an Emmy nomination the same year he joined the series.
The antiwar comedy, based on the 1970 film starring Donald Sutherland and Elliott Gould, debuted in 1972. The TV series, starring Alan Alda, had already won an Emmy for outstanding comedy series and had long been declared a "smash" by The Times.
Even so, Morgan was nervous about replacing Stevenson's Lt. Col. Henry Blake, who was "one of the boys." Morgan's Col. Potter was much more spit and polish, yet had a sentimental side that was evident in his oil paintings and interactions with others at the base outside Seoul at the height of the Korean War.
He received eight Emmy nominations for the role and won once, in 1980, the same year he was nominated for directing an episode of "MASH."
Morgan also costarred in a spinoff sitcom, "AfterMASH," which was set in a stateside veterans hospital and aired from 1983 to 1984.
After that he appeared in about 20 more TV productions, including a few episodes of "3rd Rock from the Sun" in the late 1990s.
Photos: Harry Morgan | 1915 - 2011
When "MASH" was ending in 1983 he told The Times: "The sadness will fade after a while. The cup is so damn full that you can't really be sad that you don't have any more. We've all gotten so much more than we ever would have doing anything else. That will last a long, long time."
With his first wife, Eileen, Morgan had four sons. She died in 1985 after 45 years of marriage. A son, Daniel, died in 1989.
Survivors include his second wife, Barbara; his sons Christopher, Charles and Paul; eight grandchildren and seven great-grandchildren.
Stassel is a former Times staff writer.
---
Must-read stories from the L.A. Times
Get the day's top news with our Today's Headlines newsletter, sent every weekday morning.
You may occasionally receive promotional content from the Los Angeles Times.