Herman Leonard dies at 87; photographer chronicled mid-century jazz scene
"My true love in photography isn't jazz, it's the world," says Herman Leonard. But music is the subject for which the 86-year-old is best known, through vivid black-and-white portraits of many jazz world legends.
(Luis Sinco / Los Angeles Times)
Dexter Gordon, 1948
(Herman Leonard / Fahey/Klein Gallery)
Ella's Birthday, Downbeat, 1948
(Herman Leonard / Fahey/Klein Gallery)
Kenny Clarke, 1948
(Herman Leonard / Fahey/Klein Gallery)
Sarah Vaughn, Birdland, 1949.
(Herman Leonard / Fahey/Klein Gallery)
Thelonious Monk, New York, 1949
(Herman Leonard / Fahey/Klein Gallery)
Tony Bennett, 1950
(Herman Leonard / Fahey/Klein Gallery)
**RESTRICTED. DO NOT USE OR PUBLISH WITHOUT PERMISSION***** Billie Holiday, New York, 1955.
(Herman Leonard / Fahey/Klein Gallery)
Chet Baker, 1955
(Herman Leonard / Fahey/Klein Gallery)
Charlie Parker, New York, 1949
(Herman Leonard / Fahey/Klein Gallery)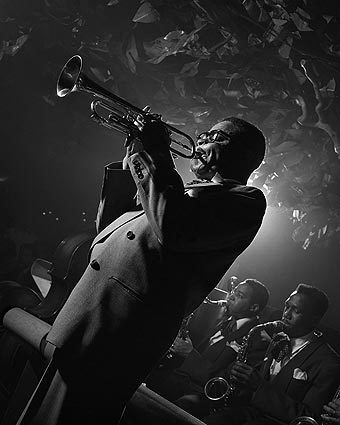 Dizzie Gillespie, New York, 1948
(Herman Leonard / Fahey/Klein Gallery)
Duke Ellington, Olympia Theatre, Paris, France, 1960
(Herman Leonard / Fahey/Klein Gallery)
Billy Eckstine, New York, 1948
(Herman Leonard / Fahey/Klein Gallery)
Herman Leonard, a photographer best known for his iconic images of such jazz greats as Billie Holiday, Duke Ellington and Miles Davis, has died. He was 87.
Leonard died Saturday at Cedars-Sinai Medical Center in Los Angeles, a family spokeswoman said. No cause was given. He had been living in Los Angeles since Hurricane Katrina struck New Orleans in 2005, flooding his home and destroying thousands of prints.
Leonard became famous for the smoky, backlighted black-and-white photos he took in dark jazz clubs beginning in the late 1940s.
"I took advantage of being a photographer to get myself into the clubs so I could sit in front of Charlie Parker," he told The Times in March before the opening of an exhibit on jazz photography at the Fahey/Klein Gallery in Los Angeles. "I got to listen to music in person. That enriched me. The money didn't. And I tried to make images that would satisfy me."
The images did much more than that. They documented a musical era and cemented Leonard's status.
"He knows how to capture, and to make, the natural beauty, artistry and individuality of musicians shine through — shine through the paper and the chemicals and the book and the gallery and the years," John Edward Hasse, of the Smithsonian Institution's National Museum of American History, told the Morning Call in Allentown, Pa., in 1999. "He's an artist."
He was born in Allentown in 1923 and became interested in photography early on thanks to his older brother. He attended Ohio University to study photography but that was interrupted by a stint in the Army from 1943 to 1945. Leonard returned to college and graduated with a bachelor's degree in 1947.
After working as an apprentice for famed portrait photographer Yousuf Karsh, Leonard moved to New York in 1948 and started becoming immersed in the jazz scene. Using a 4-by-5 Speed Graphic camera, he shot Art Tatum, Dizzy Gillespie, Sarah Vaughan and countless other jazz greats.
Ellington watching Ella Fitzgerald sing in 1948. Dexter Gordon sitting, holding a cigarette and balancing his saxophone on a knee. There was music, amazing access and plenty of smoke.
"The smoke was part of the atmosphere of those days and dramatized the photographs a lot, maybe over-stylized them a bit," he told The Times in 1990.
He spent 1956 as a personal photographer for actor Marlon Brando on a trip to the Far East. Then he moved to Paris and did commercial work, including for Playboy magazine, and kept shooting jazz.
"Ninety-nine percent of everything I shot was off the cuff," he said in 2001. "I wanted to capture what was really there untainted by anything I would do. My whole principle was to capture the mood and atmosphere of the moment."
The negatives of his jazz photos had been put away when he left the United States; but beginning in the 1980s he rediscovered them, and his first book, "The Eye of Jazz," was published in 1985. The first exhibition of Leonard's jazz photos was held in London in 1988.
More exhibitions and praise followed.
Leonard's work showed an intimacy that "comes from a true insider whose genuine friendship with the musicians allowed him to capture moments that are personal and insightful," David Houston, chief curator of the Ogden Museum of Southern Art in New Orleans, told the Morning Call in 2005. "You could teach the personal and musical evolution of jazz in the '50s through his work."
Leonard moved to New Orleans in 1992. His home was flooded by Hurricane Katrina and he lost thousands of prints. But his 60,000 negatives were safe, having been sent before the hurricane to the Ogden Museum. His return to New Orleans was chronicled in the 2006 documentary "Saving Jazz."
"When I was photographing Miles or Dizzy in the early days, I knew these were good and important musicians, but not as important as they turned out to be," he told the Chicago Tribune in 1999. "I had no idea. If I had any inkling, I would have shot 10 times as many pictures."
Leonard is survived by children Valerie, Shana, Michael and David; and six grandchildren.
keith.thursby@latimes.com
---
Must-read stories from the L.A. Times
Get all the day's most vital news with our Today's Headlines newsletter, sent every weekday morning.
You may occasionally receive promotional content from the Los Angeles Times.