Hiroshi Yamauchi dies at 85; chief of Nintendo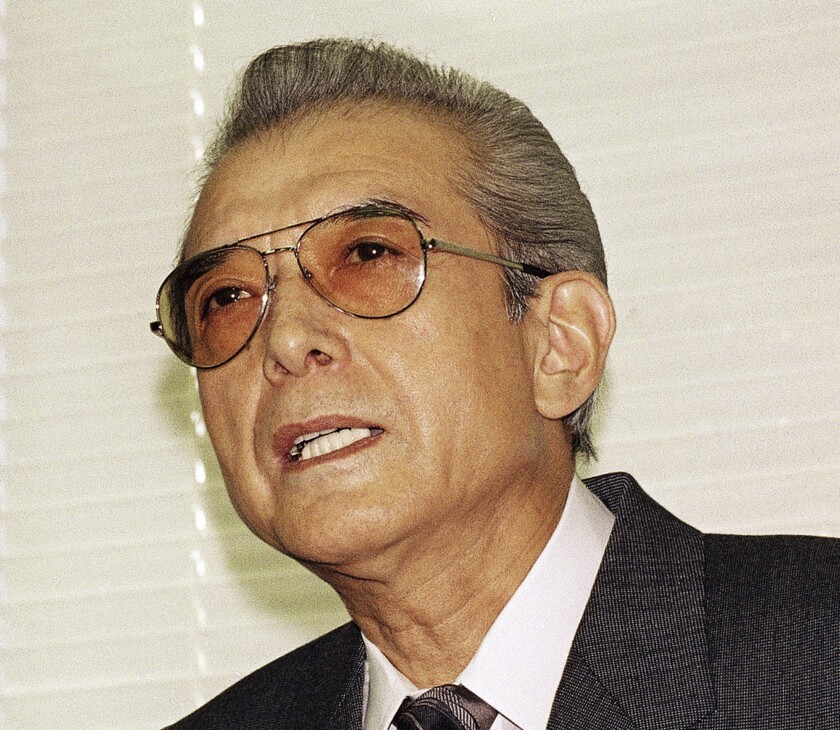 Donkey Kong, Super Mario Brothers, Legend of Zelda: For Hiroshi Yamauchi, the hits kept coming — but he enjoyed none of them.
"I have better things to do" than play video games, he told interviewers.
Yamauchi, a gruff and uncompromising businessman who autocratically transformed Nintendo from a purveyor of playing cards to a gaming gargantuan, died in Japan on Thursday of pneumonia, his company said. He was 85.
He ran the company for 52 years, until his retirement in 2002.
Yamauchi also was an owner of the Seattle Mariners, a baseball team that was on the verge of leaving for Florida when he offered $75 million for a majority share in 1992.
He never saw his team play.
"Let me put it this way," he told the New York Times after his purchase. "Baseball, well, baseball has never really interested me."
Intense yet detached, Yamauchi built Nintendo into a company that at one time took in more revenue than any other in Japan. In the U.S., at least one in three homes had a Nintendo device. In 1990, the Q scores used by marketers indicated that more American children recognized Super Mario than Mickey Mouse.
"His contributions were inestimable," Scott Steinberg, an expert on the industry, told The Times on Thursday. "He impacted millions of individuals — entire generations who grew up with joysticks, controllers and gamepads in hand."
Steinberg called him "fiercely practical" but Yamauchi's critics called him unethical. In 1991, Nintendo settled a price-fixing case brought by U.S. agencies. In 2002, the European Commission levied a $147-million fine for the same kind of anti-competitive behavior.
At Nintendo's Kyoto headquarters, Yamauchi pitted employees against one another and was said to be merciless with the losers.
"Months of work were disposed of with a scowl," a designer told David Sheff, author of a 1994 Nintendo history called "Game Over."
Since Yamauchi's retirement, the company has struggled. Over the last four years, sales dropped by 64%. Early results from its new Wii U console have not been encouraging, company officials have acknowledged.
Born on Nov.7, 1927, in Kyoto, Yamauchi grew up in a privileged but unhappy household. His father abandoned the family when Yamauchi was 4. When he returned years later, ill and eager to reconcile, Yamauchi would not see him.
"The man had brought shame and dishonor to the family and was to be avoided," Sheff wrote.
When Yamauchi's dying grandfather asked him to take over the family company, he did. But first he demanded that his cousin be fired. Later, he fired all the managers who had worked for his grandfather over the years.
When the playing card market sagged, Yamauchi poured himself into out-of-the-box enterprises: Selling instant rice, opening "love hotels" where rooms rented by the hour, even marketing the Love Tester — a gizmo purporting to measure electric current generated by a couple holding hands.
He broke into the video game business as other companies headed for the exits. Although he said he didn't understand the games, he had a feel for what millions of customers would want, down to the fine points of game systems like the console that came to be known as Famicom, or the Nintendo Entertainment System.
"Steve Jobs' obsession to design the perfect mouse for the original Macintosh was no greater than Yamauchi's attention to the details of the controllers," Sheff wrote. "Should there be one or two or more buttons? Should the system's casing have round or square edges?"
In the U.S., Yamauchi had his son-in-law run the company's Seattle headquarters. When the Mariners foundered, Yamauchi saw a public relations opportunity in a country that spent more than $17 billion on Nintendo products.
Former Sen. Slade Gorton (R-Wash.), recruited him. In a statement to the Associated Press on Thursday, Gorton credited Yamauchi with keeping the team in Seattle, calling the purchase "simply a civic gesture."
It was initially opposed by Major League Baseball, which was skittish about foreign ownership.
In Japan, Yamauchi did not engage in civic activities.
"I think I'm involved in community service sufficiently," he told the New York Times in 1992. "I'm the biggest individual taxpayer in Kyoto and Nintendo is the largest taxpayer overall."
Yamauchi is survived by two daughters and a son. His wife, Michiko, died last year.
---
Must-read stories from the L.A. Times
Get all the day's most vital news with our Today's Headlines newsletter, sent every weekday morning.
You may occasionally receive promotional content from the Los Angeles Times.