James Arness dies at 88; TV's Marshal Dillon on landmark 'Gunsmoke' series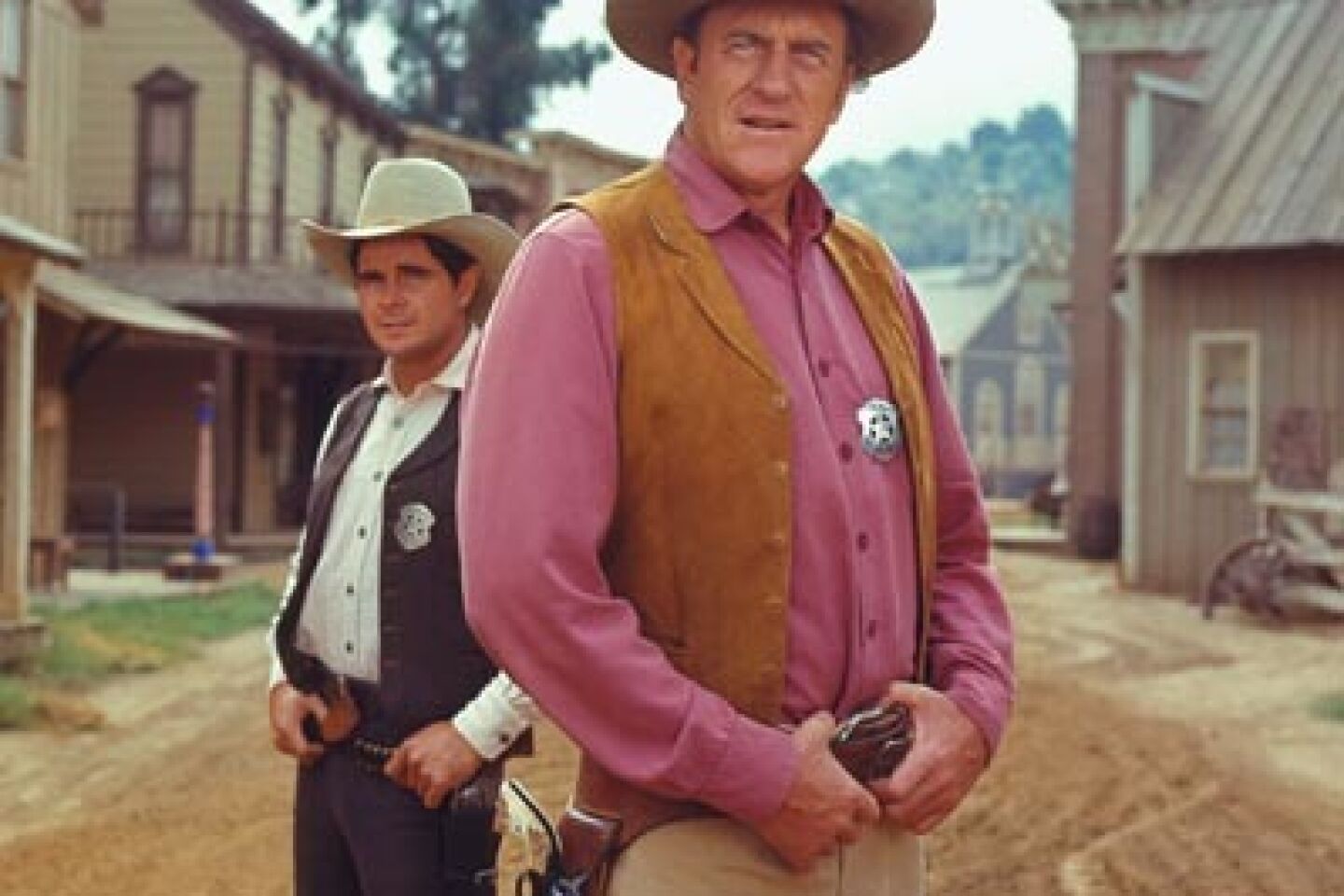 Actors Arness, as Marshal Matt Dillon in foreground, and Buck Taylor as Newly O'Brien from the television series "Gunsmoke" in 1970.
See obituary
(CBS Photo Archive / Getty Images)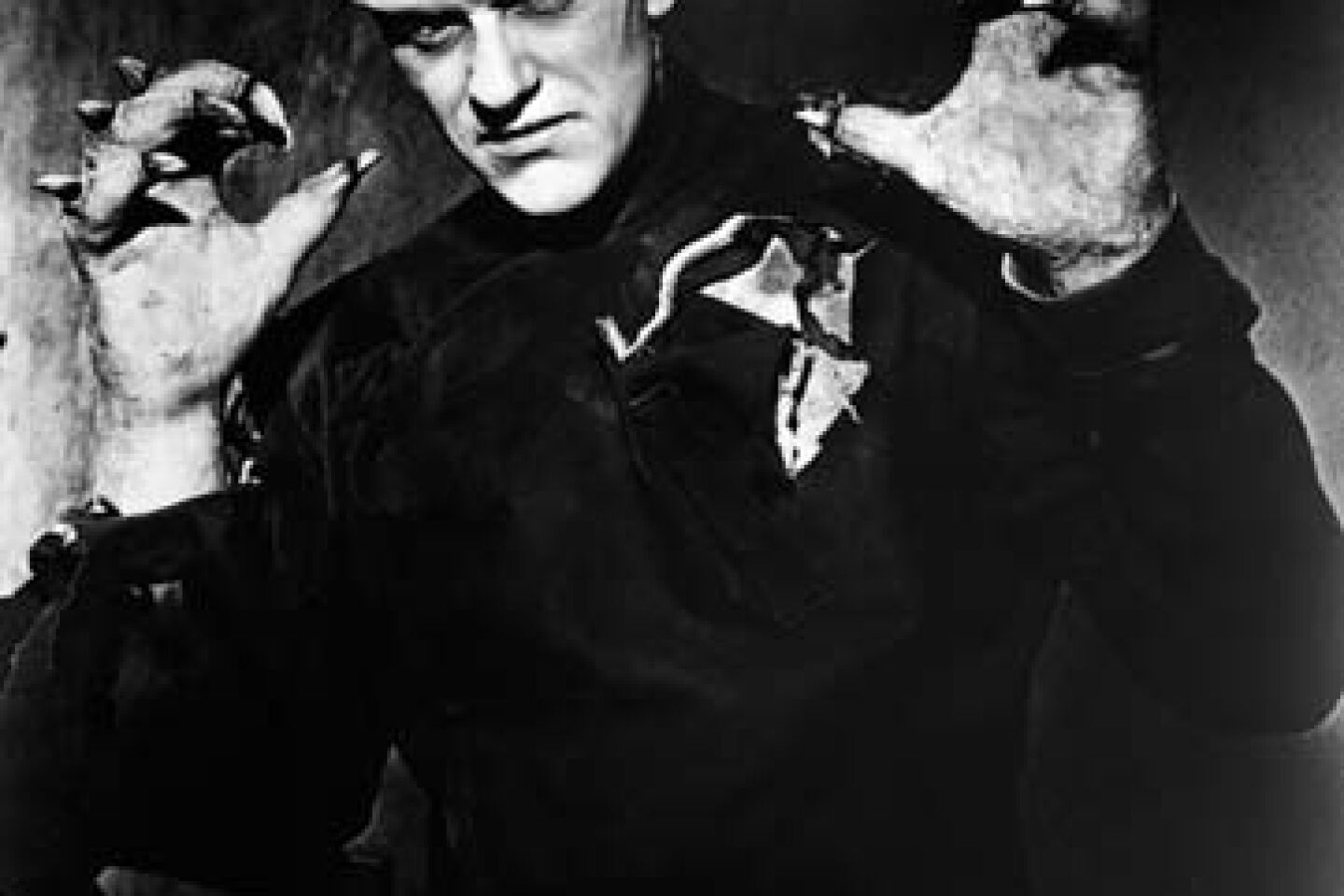 Arness holds up his claw-like hands in a publicity still from the 1951 horror film 'The Thing From Another World.'
See obituary
(Hulton Archive / Getty Images)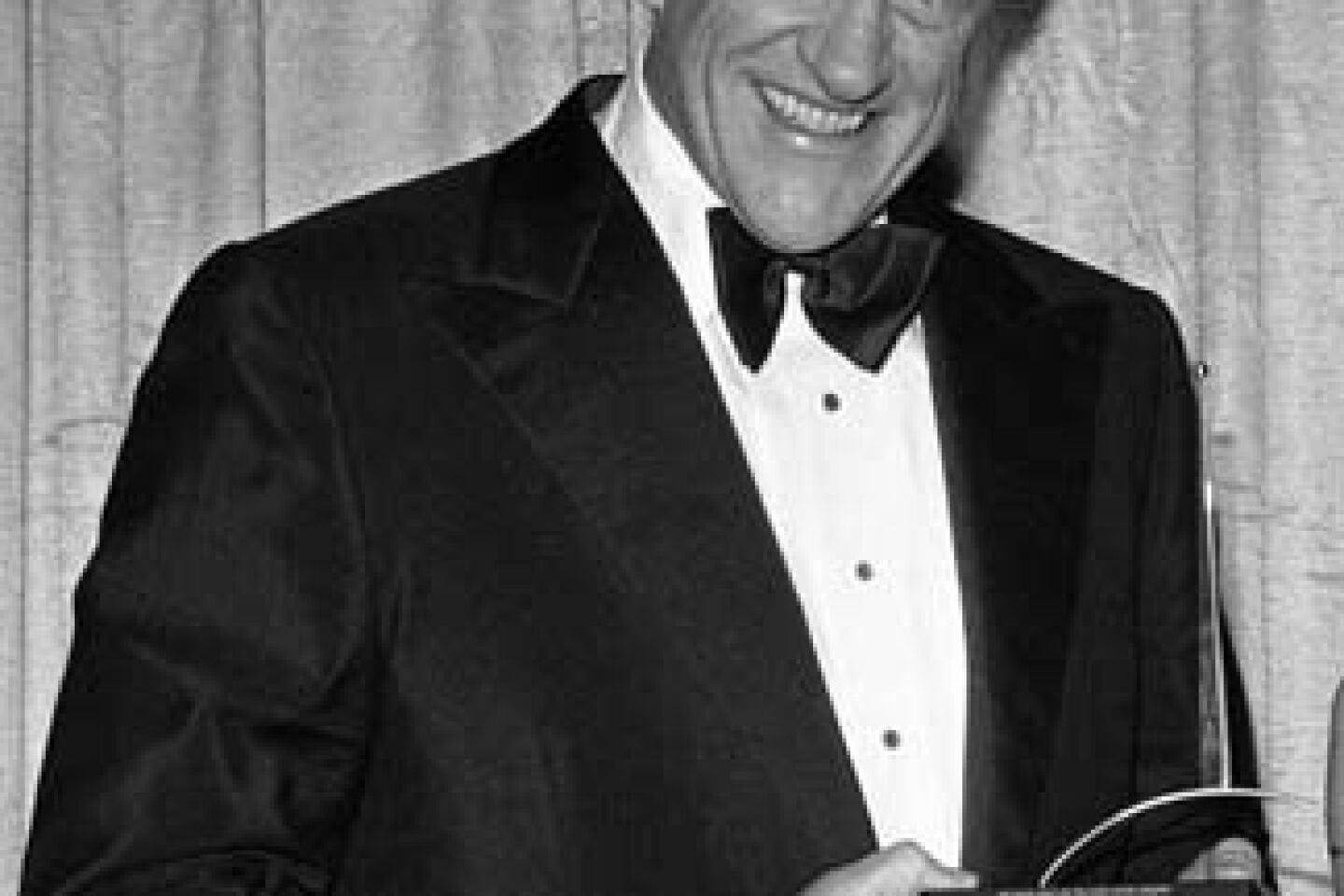 Arness holds the "Man of the Year" award in broadcasting from the Hollywood Radio and Television Society in Los Angeles.
See obituary
(Wally Fong / Associated Press)
Los Angeles Times
James Arness, the towering actor best known for portraying Marshal Matt Dillon, the strong and commanding symbol of frontier justice on the landmark TV western series "Gunsmoke," died Friday. He was 88.
Arness died of natural causes at his home in Brentwood, said family spokeswoman Ginny Fazer.
"Gunsmoke" debuted Sept. 10, 1955, on CBS and, with the start of "The Life and Legend of Wyatt Earp" on ABC four days earlier, a new era in television horse operas was launched: the adult western.
But whereas "Wyatt Earp," starring Hugh O'Brian, ended its run in 1961, "Gunsmoke" ran until 1975, far outdistancing its many competitors and becoming one of the longest-running prime-time series in network TV history.
In the process, Arness became one of television's most enduring stars returning as Dillon in a handful of "Gunsmoke" TV movies in the late '80s and early '90s.
At 6 feet 7, Arness was a bigger-than-life actor who amply filled the boots of the mythic Dodge City lawman in the series, which earned praise for breaking TV western-genre conventions with its strong dramatic stories and psychologically complex characters.
"Matt," Arness once said, "is very human and has all the failings and drives common to anyone who is trying to do a difficult job the best he knows how."
Arness was nominated for Emmys three times during the show's early years. Like John Wayne on the big screen, Arness was an imposing presence on the small screen.
"I absolutely believe any pantheon of enduring, well-crafted and memorable television characters would have to include James Arness," David Bushman, then the television curator at what is now the Paley Center for Media in New York, told The Times some years ago. "He became part of the national psyche."
"Gunsmoke" had been a groundbreaking hit radio show, with William Conrad providing the authoritative voice of Matt Dillon, for three years when CBS began looking for an actor to star in the TV version.
At the time, Arness, a Minnesota native and World War II Army combat veteran, had amassed a string of film credits, including playing the alien monster in the 1951 science-fiction classic "The Thing From Another World." He also co-starred in the 1954 sci-fi thriller "Them!"
Then under contract to John Wayne's production company, Arness also appeared in four pictures starring Wayne: "Big Jim McLain," "Island in the Sky," "Hondo" and "The Sea Chase."
Fearful that starring in a television series would damage his fledgling movie career, Arness agreed only reluctantly to test for the part of Dillon; he was the last of a sizable number of actors who were auditioned for the role.
When CBS offered him the part, Arness hesitated in signing the contract. But Wayne urged him to take the role, saying it was a tremendous break.
To give Arness and "Gunsmoke" a publicity boost when it debuted, Wayne provided an on-camera introduction in which he praised the new TV western series for being honest, adult and realistic.
"I knew there was only one man to play in it, James Arness," Wayne told viewers. "He's a young fella and may be new to some of you. But I've worked with him, and I predict he'll be a big star. So you might as well get used to him, like you've had to get used to me."
Arness became a welcome visitor in the homes of millions of viewers — as did the show's supporting cast members: Dennis Weaver as Dillon's stiff-legged deputy, Chester Goode; Amanda Blake as Kitty Russell, the proprietress of the Long Branch Saloon; and Milburn Stone as the weathered and wise Doc Adams.
Boyd Magers, editor and publisher of Western Clippings, a western film publication, attributed the show's enduring popularity to the strong writing, direction and ensemble cast. Indeed, the focus would often be on the show's various regular characters and guest stars.
"Arness, in particular, said, 'Let's move it off of me,' " Magers told The Times some years ago. "He didn't have this star complex. He let the other people have an episode to themselves. So you didn't get tired of one character, and they were all good, well-rounded characters because of this strong writing."
Considered a reticent interview subject by the press, Arness had an innate shyness, a trait he believed was shaped by his self-consciousness about his height while growing up.
"I was the tallest guy in the school," he once recalled, "and I was very conscious of being larger than anybody — classmates and teachers."
Of Norwegian descent, Arness was born James Aurness in Minneapolis on May 26, 1923. His brother, future actor Peter Graves, was born three years later.
After being drafted into the Army during his freshman year at Beloit College in Wisconsin, in early 1943, Arness was assigned to the 3rd Infantry Division and took part in the landing at Anzio, Italy, in 1944. (Because of his height, he was chosen to be the first off his landing craft to test the depth of the water.)
Later, while walking point on a night patrol through a vineyard, Arness walked into a German machine-gun nest, and rounds severely splintered the bones in his lower right leg. The wound resulted in his leg being shortened by about 5/8 of an inch, and he thereafter wore a lift in his shoe.
After undergoing months of rehabilitation in a stateside hospital, Arness was honorably discharged from the Army in January 1945 with a $56-a-month disability pension.
At the suggestion of his brother, Arness enrolled in a radio announcing school in Minneapolis. He quickly found work as a disc jockey at a local station.
But after several months, he quit to join a friend on a trip to Los Angeles. He figured he'd spend a few weeks out West and then return home.
Instead, after making a few show business contacts, he decided to stay in L.A. and try his hand at acting.
Using the GI Bill, he joined the acting program at the Bliss-Hayden Theater, an established little theater school in Beverly Hills, where he was discovered by an agent.
That led to his being introduced to producer Dore Schary. The result: Arness' 1947 screen debut playing a small part as one of Loretta Young's three Scandinavian brothers in "The Farmer's Daughter." Small roles in William Wellman's "Battleground," John Ford's "Wagon Master" and other films followed.
On the "Gunsmoke" set, Arness was known for his sense of humor. He enjoyed practical jokes and was prone to uncontrollable fits of laughter.
Off the set, he was known to avoid journalists and the Hollywood scene, preferring instead the company of stagehands and fellow pilots.
A surfer since he arrived in California, he learned to fly in the late 1960s so he could easily get to remote surf breaks in Baja California. Arness, who also skied and sailed, flew his own plane to "Gunsmoke" locations; his buzzing of the sets became legendary.
After "Gunsmoke" ended in 1975, Arness starred as a mountain man in the 1976 TV movie "The Macahans." His Zeb Macahan character reappeared in a miniseries, "How the West Was Won," in 1977; and in a TV series in 1978-79.
Arness also starred as a contemporary lawman in the 1981-82 series "McClain's Law."
In 1987, he returned to his old Matt Dillon role in "Gunsmoke: Return to Dodge," the first of five "Gunsmoke" TV movies that continued into the mid-'90s.
Arness' 1948 marriage to actress Virginia Chapman ended in divorce in 1958. They had three children: Rolf Aurness, winner of the 1970 World Surfing Championship; Craig Aurness, a photographer, who died in 2004; and Jennie Aurness, who died in 1975.
He is survived by his wife, Janet; two sons, Rolf and Jimmy; and six grandchildren. His brother Peter died in March 2010.
Must-read stories from the L.A. Times
Get the day's top news with our Today's Headlines newsletter, sent every weekday morning.
You may occasionally receive promotional content from the Los Angeles Times.