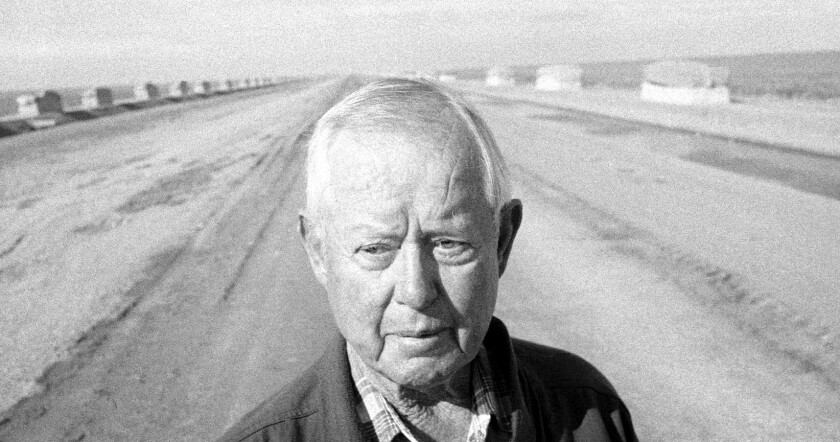 James G. Boswell II, the intensely private businessman who transformed his family's cotton holdings into California's first giant agribusiness and one of the nation's great farming empires, has died. He was 86.
Boswell died of natural causes Friday at his home in Indian Wells, Calif., according to a statement from the family.
As head of the family-owned J.G. Boswell Co., Boswell ran a company that has dominated California cotton growing for generations and has used its clout to influence land- and water-resource policy throughout much of the state.
He was just 29 when he inherited the company following the death of his uncle J.G. Boswell, the family patriarch. Over the next half-century, he transformed the business and more than tripled the size of the family farm, which peaked about 200,000 acres and now spans 150,000 in the San Joaquin Valley town of Corcoran. Boswell's labs created new, more productive seeds. Technological improvements to his gins boosted their capacity to 400 bales of cotton a day -- enough to produce 840,000 pairs of boxer shorts, according to a 2003 Times article.
Historians and agriculture economists credit Boswell with creating the template for large agribusiness concerns.
The Boswell business remains one of the world's top sellers of "the extra-long staple cotton that goes into fabric blends and both soft and high-end apparel," said Don Villarejo, director emeritus of the California Institute for Rural Studies in Davis.
"His legacy is quite impressive," said Villarejo. "He was a brilliant business leader beloved by many of his employees. At the same time, his company was able to be ahead of and often acquire his chief farming competitors."
Boswell also was legendary for using a combination of political clout and legal strategy "to outwit many of the environmental groups that have tried to restrict water deliveries to California agriculture," Villarejo said.
He was an innovative water user, one of the first to employ lasers to level fields so that water flowed evenly and efficiently, said Richard Howitt, an agriculture economist at UC Davis.
Careful water management, including employing agronomists to determine when and how to water, allowed Boswell's farms to produce more cotton with less water than competitors, Howitt said. Many of his techniques were later adopted by other farms.
But even during this period of growth and success for the enterprise, which included diversification into tomatoes and other crops, real estate development and farming in distant Australia, Boswell remained an intensely private man at the head of an intensely private family business.
A rare 1999 interview with two now-former Los Angeles Times writers gave outsiders a sense of Boswell's character.
For years staff writer Mark Arax and business editor Rick Wartzman had attempted to meet the cotton patriarch. But each letter and call was rejected. The two were writing "The King of California: J.G. Boswell and the Making of a Secret American Empire," a book about the family's cotton business, and they needed to talk to him. Finally he agreed.
J.G., as Boswell liked to be called, wanted to meet them on his land rather than in some sterile office. His intent was to show them that the business was only as good as its earth.
Boswell, the pair wrote, "wore a Cal Poly Ag hat tucked low, frayed khaki pants, a flannel shirt and Rockport shoes."
"It was all part of an image that Boswell loved to play up. He had earned an economics degree at Stanford and sat on the board of General Electric and other big corporations, but he fancied himself a cowboy," they wrote in a 2003 Times article.
Boswell attended the Thacher School, an exclusive private boarding school in Ojai, graduating in 1941.
He served in the Army during World War II in the South Pacific before graduating from Stanford in 1946. That's where he met his first wife, Rosalind Murray. They raised their three children in Pasadena, far from the farm. She died in 2000.
The company remains headquartered in Pasadena.
Fancying himself a cowboy and living like a city boy, J.G. proved to be a complex figure. When he reached out to shake the writers' hands, they noticed the missing fingers on his right hand, the result of a cattle-roping accident.
They jumped into an aged Chevy truck for a tour of his holdings. The writers said they traveled half a day and 150 miles but never left the farm. When they asked Boswell how much land he really owned, he responded, "What are you, a tax collector?"
"I'm the bad guy in agriculture because I'm big," he said later. "I'm not going to try to fight it. I can't change an image and say, 'Well, I'm righteous and good and all that.' But I'm telling you . . . I'm not going to apologize for our size."
Wartzman, now director of the Drucker Institute at Claremont Graduate University, said he was sad to learn of Boswell's death.
"He was an immensely complicated guy, someone who knew every inch of his land but whose company did some pretty awful things to the land," Wartzman said. "It is just hard to farm in an environmentally sound manner at that scale."
The company used its political clout to encourage the building of the Pine Flat Dam to shut the flow of water to Tulare Lake, which at one point was the largest freshwater lake west of the Mississippi River. The drained lake bed is now farmland, located at the heart of Boswell's sprawling enterprise.
Boswell was born March 10, 1923, in Greensboro, Ga., the son of William Whittier Boswell Sr. and Kate Hall Boswell, and moved west with his parents and his uncles.
He was named after his uncle J.G. Boswell, who married Ruth Chandler, the daughter of Los Angeles Times Publisher and real estate baron Harry Chandler.
With no children of his own, J.G. Boswell picked his nephew to take control of the company he had founded in 1921 with the help of his brothers.
In the early 1980s, Boswell and the company would spend $1 million to defeat the Peripheral Canal, a system proposed to move water to Southern California. He thought it would hurt farming interests.
During the same period, Boswell helped farmers outflank state and game regulators and pump water from excessive snowmelt into the north fork of the Kings River. The move prevented farmland from flooding but also introduced the nonnative predatory white bass into the Sacramento-San Joaquin River Delta.
At times profane, Boswell liked to be in control. For many years his company extended its influence throughout the San Joaquin Valley by lending money to other growers.
He served as chairman, president and chief executive of the company from 1952 until his retirement in 1984. He remained on the company's board of directors until his death. His son James W. Boswell now runs the business.
In addition to his son, he is survived by his wife, Barbara Wallace Boswell; daughters Jody Hall and Lorraine Wilcox; and five grandchildren.
A memorial service is planned for April 22 at 1 p.m. at the Corcoran High School Memorial Stadium.
---