James Garner dies at 86; TV antihero of 'Maverick,' 'Rockford Files'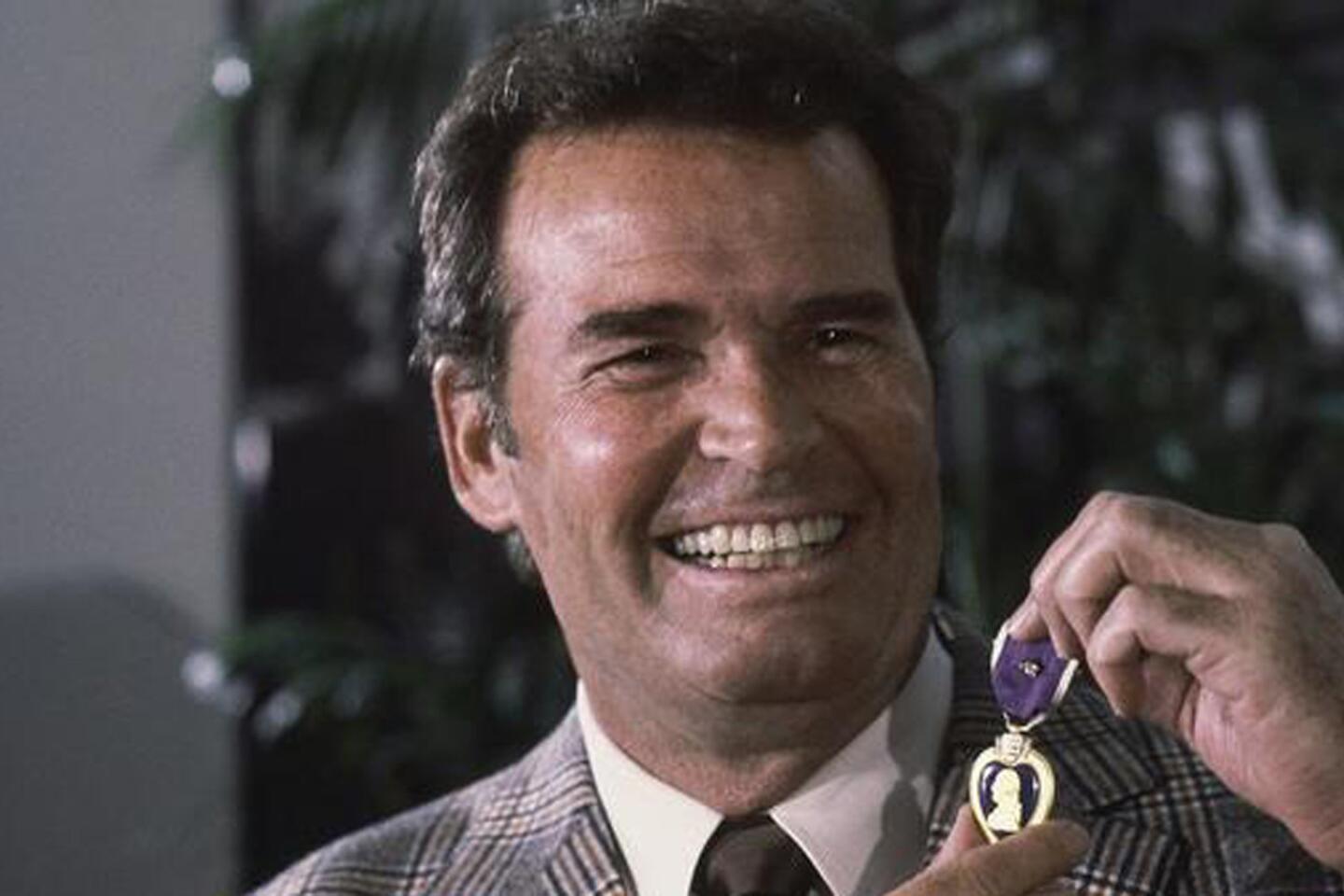 James Garner (1928-2014) -- An Emmy Award-winning actor who rose to fame playing the wisecracking Bret Maverick in TV's "Maverick."
(Lennox McLendon / Associated Press)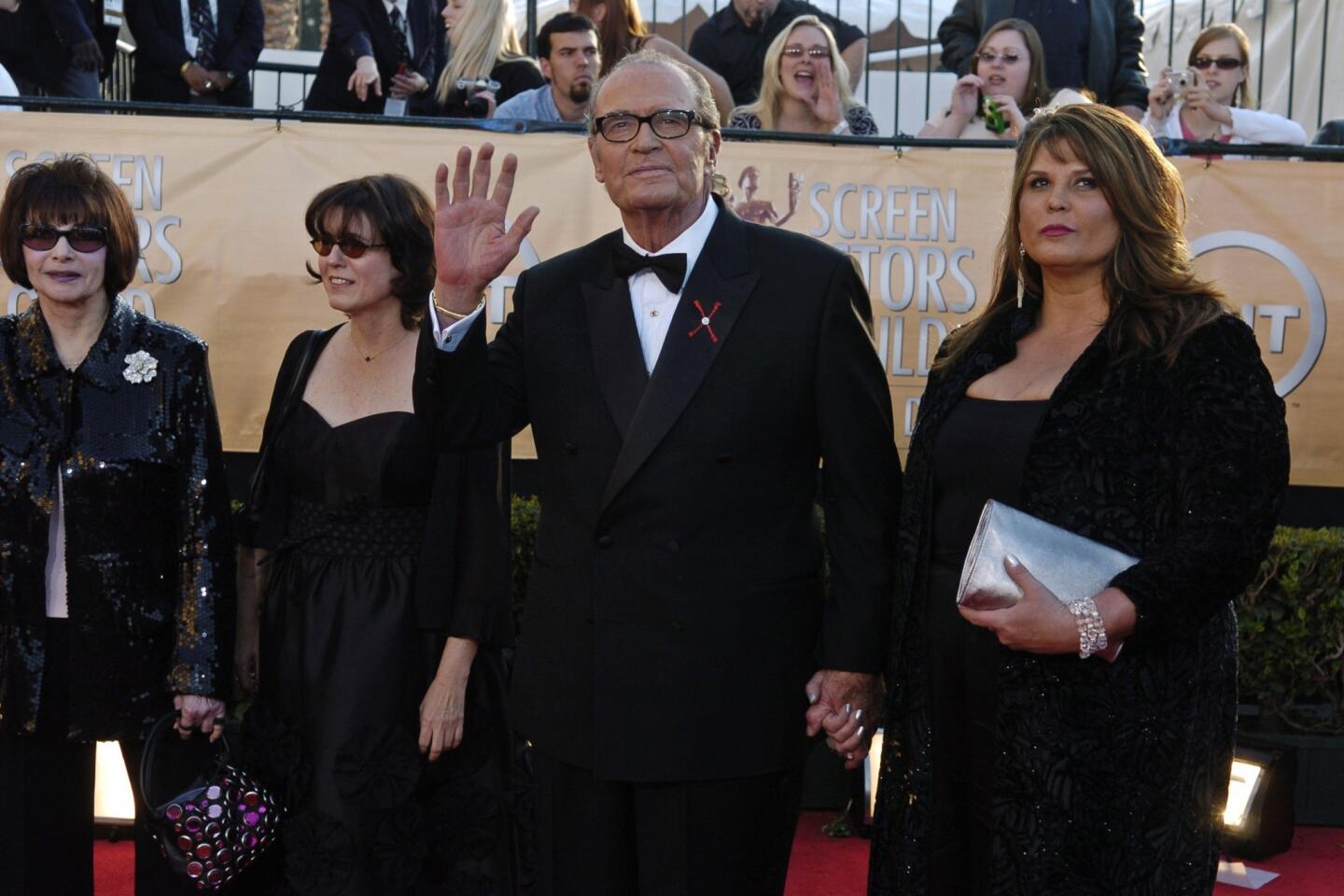 James Garner arrives with his family including his wife, Lois Clarke, far left, at the Screen Actors Guild Awards in February 2005. Garner received a life achievement award.
(Chris Pizzello / Associated Press)
If Sam Spade was a tough guy, Jim Rockford was … well, he could throw a punch, but he didn't like to because it hurt his hand.
Rockford's idea of a good time was eating Oreos and fishing with his dad, not spending a lost weekend with some smoky blonde. And tough talk just wasn't his thing; when some hood was beating the tar out of him, Rockford sputtered, "Does your mother have any idea what you do for a living?"
Still, the perennially broke investigator always managed to set things right, and by the end of every episode of "The Rockford Files," Rockford — a.k.a. actor James Garner — also gave viewers something they weren't getting from other tough guy heroes: laughs.
Garner, a master of light comedy who won an Emmy as Rockford and earlier had shot to fame as a charming and dry-witted gambler on the hit TV western "Maverick," died Saturday at his Los Angeles home. He was 86.
Garner's death was confirmed by his publicist, Jennifer Allen. He underwent quintuple bypass surgery in 1988 and suffered a stroke in 2008, but the cause of his death was not immediately known.
As both Maverick and Rockford, Garner "embodied the crusty, sardonic and self-effacing strain of American masculinity," Washington Post TV critic Tom Shales once wrote.
He also was stubborn.
Garner resisted when a studio executive, nervous about ratings, ordered him to dial back Rockford's humor.
"Humor is what I do best," he told the honcho. "That's what people hire me for.... I'm not going to change at the whim of somebody with no experience and no judgment, so either fire me or don't mess with it."
"I might have raised my voice a little," Garner recalled in his 2011 book, "The Garner Files: A Memoir." "I may have even broken one or two small pieces of furniture."
The Oklahoma-born Garner amassed more than 80 film and TV-movie credits during his half-century career.
An off-screen Hollywood maverick who successfully battled two studios in court, he easily moved between small screen and big screen in roles ranging from light comedy to drama.
"I have long thought that Jim Garner was one of the best actors around," filmmaker Robert Altman, who directed him in the 1980 comedy "Health," told Esquire magazine in 1979.
"He is often overlooked because he makes it look so easy," Altman said, "and that is not easy to do."
Garner was nominated for an Academy Award for his role as a widowed small-town pharmacist opposite Sally Field's much younger single mother in the 1985 romantic comedy "Murphy's Romance."
His films include "The Children's Hour," "The Great Escape," "The Americanization of Emily," "The Thrill of It All," "Move Over, Darling," "Grand Prix," "Support Your Local Sheriff," "Marlowe," "Victor/Victoria," "Space Cowboys" and "The Notebook."
But it was television — including stints as a celebrity pitchman for the Beef Industry Council and, most famously, Polaroid cameras — that made Garner a household name.
Garner's seemingly effortless flair for delivering humorous dialogue — and delivering straight dialogue humorously — made him one of television's biggest stars.
"Television is a close-up, intimate medium: The audience falls in love with Jim as a friend," Brandon Stoddard, then a senior vice president of ABC, told Esquire magazine in 1979.
Actress Julie Andrews, with whom Garner starred in "The Americanization of Emily" (1964) and "Victor/Victoria" (1982), agreed.
In her introduction to his book, she called Garner "a man's man, a ladies' man, a good ol' boy in the best sense of the word, a curmudgeon (he'll be the first to tell you)…and a sweetheart. I don't know a lady who isn't a little bit in love with him."
Signed as a contract player at Warner Bros. in the mid-1950s, Garner — a handsome, 6-foot-3, black-haired Korean War veteran — launched his Hollywood career with guest shots on TV shows such as "Cheyenne" and small parts in a few films.
In September 1957, "Maverick" made its debut on ABC. When its writers began injecting humor into the scripts, Garner handled it with aplomb.
As Bret Maverick, the dapper roving gambler, Garner was anything but a traditional western hero: He was, as Garner later put it, a reluctant hero.
The upstart series' tongue-in-cheek formula worked: Within two months of its premiere, it had passed the rival Ed Sullivan and Steve Allen shows in the Sunday-night ratings.
"Maverick" brought Garner an Emmy nomination for best actor in 1959, the same year the show won an Emmy for best western series. "Maverick" ran until 1962, but Garner left it in 1960.
He had been unhappy with Warner Bros. over his relatively low salary and the studio's control over his career. When he was suspended without pay during a writers strike, he successfully sued and got out of his contract.
Turning his attention to movies, Garner formed his own company, Cherokee Productions.
Garner blazed a trail, said Clint Eastwood, who played a heavy in a "Maverick" episode before landing his own TV series, "Rawhide," in 1959.
"Nowadays, television actors become movie stars all the time, but back then, in the late '50s, it wasn't easy," Eastwood said in a 2001 tribute to Garner on Turner Classic Movies. "There was a sort of prejudice ... the theory being that if you saw him every week on television for free, why pay to see him in a movie?"
Garner starred in 21 films from 1961 through 1971, when he returned to television in the short-lived "Nichols," an NBC western set in 1914 Arizona.
But then came "The Rockford Files," which ran on NBC from 1974 to 1980 and starred Garner as private eye Jim Rockford.
The action-drama was devoid of private-eye cliches. Instead of a secretary, Rockford had an answering machine, and instead of an office, he worked out of his home — a battered trailer by the beach.
"If you look at it, he's not a hell of a lot different from Maverick," Garner told Daily Variety in 2005. "They're antiheroes, both of them, and, for an actor, that's probably the most fun kind of leading man to play."
The series earned Garner an Emmy in 1977.
But the show abruptly ended in 1980. Under doctors' orders to take time off because of a bleeding ulcer, Garner could not continue working.
In 1983, Garner sued Universal for $22.5 million, alleging that the studio had cheated him out of his profits from "The Rockford Files" syndication and foreign sales.
The case was settled in 1989.
Garner did not reveal the amount of the settlement. In his memoir, however, he noted that his wife had to keep telling him to wipe the grin off his face.
After leaving "Rockford," Garner devoted most of his professional life to TV movies.
He received Emmy nominations for "Heartsounds," "Promise" (a special for which he shared an Emmy for producing), "My Name Is Bill W.," "Decoration Day," "Barbarians at the Gate" and "Breathing Lessons."
He also returned to his role as Rockford in eight "Rockford Files" TV movies in the '90s and also co-starred with Mel Gibson in the 1994 film "Maverick."
In 2005, Garner received a life achievement award from the Screen Actors Guild.
The youngest of three sons, he was born James Scott Bumgarner on April 7, 1928, in Norman, Okla. His mother died when he was 4 and his father, who ran a country store, later remarried.
It was not a happy home for Garner and his brothers, Charles and Jack. Their stepmother, Garner later recalled, regularly beat them "with anything she could get hold of."
Near the end of World War II, the 16-year-old Garner dropped out of high school and joined the merchant marine. A victim of chronic seasickness, he soon quit and moved to Los Angeles, where his father lived.
While briefly attending Hollywood High, Garner was recommended by his football coach for a $20-an-hour job modeling Jantzen swimsuits for magazine ads.
After working in oil fields in Oklahoma and Texas, Garner was drafted 1950. He served in the Army and was wounded twice.
After his discharge, he briefly attended the University of Oklahoma, then returned to California and worked with his father as a carpet layer.
At a loss for what to do with his life, he fell into acting.
Paul Gregory, a friend who years earlier had encouraged Garner to become an actor, by then was a producer and agent. He took Garner on as a client.
Gregory soon put Garner in the Broadway-bound play he was producing: "The Caine Mutiny Court-Martial," directed by Charles Laughton and featuring a cast that included Henry Fonda, John Hodiak and Lloyd Nolan.
Within a year, Garner was at Warner Bros.
While making the 1966 film "Grand Prix," Garner developed a fascination with auto racing and owned the American International Racing team in the late 1960s. He participated in both on-road and off-road racing and drove the pace car three times at the Indianapolis 500.
Garner's survivors include his wife, Lois, whom he married two weeks after they met in 1956; his stepdaughter Kimberly; and his daughter Greta, who is known as Gigi.
McLellan is a former staff writer. Times staff writer Steve Chawkins contributed to this report.
Sign up for Essential California for the L.A. Times biggest news, features and recommendations in your inbox six days a week.
You may occasionally receive promotional content from the Los Angeles Times.