Jane Randolph dies at 93; actress was best known for her role in the film noir 'Cat People'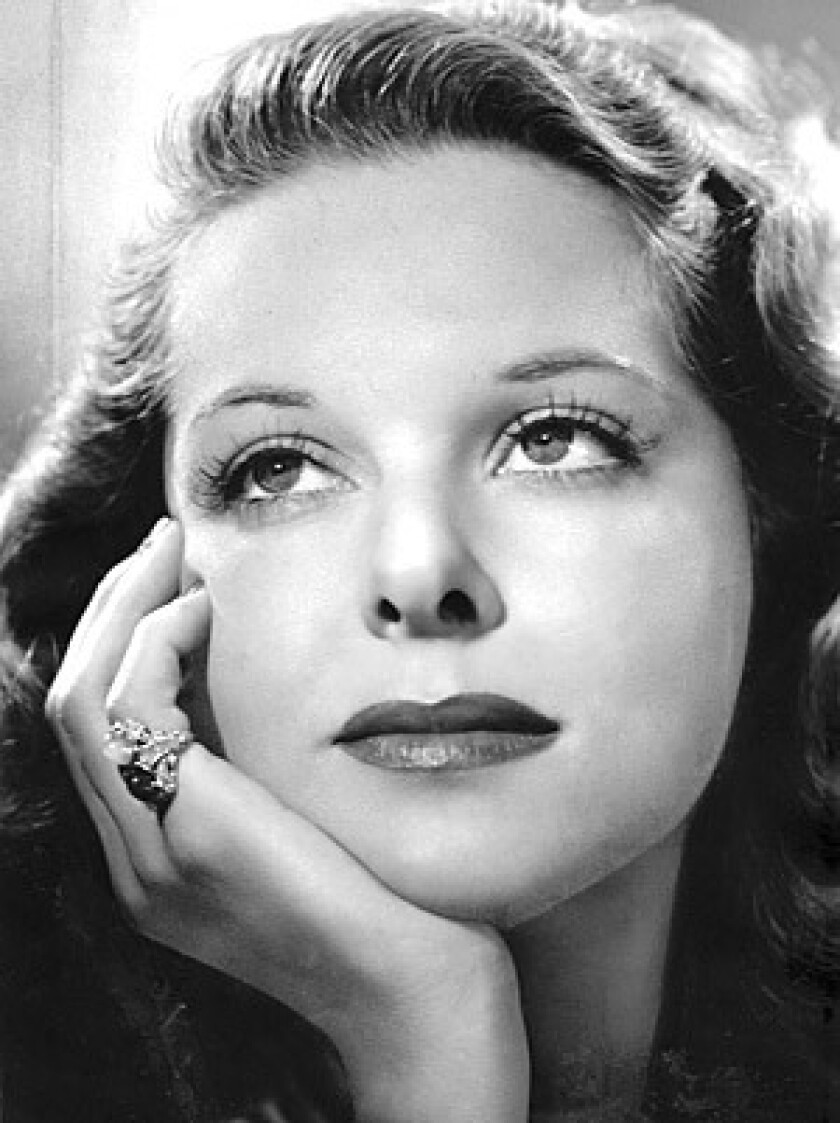 Jane Randolph, a B-movie actress in the 1940s who was best known for her role in the film noir "Cat People," died May 4 in Gstaad, Switzerland, after surgery on a broken hip, her daughter said. She was 93.
Under contract to the RKO studio in 1942, Randolph was cast as Alice Moore, the young woman terrorized during a nocturnal swim in "Cat People," the first of producer Val Lewton's horror films.
The scene of her becoming "trapped in an indoor swimming pool by an ominous feline creature whose eerie presence was suggested rather than revealed on screen" is "one of cinema's indelibly suspenseful scenes," Alan K. Rode, a writer and film historian, told The Times.
Randolph reprised the character two years later in the 1944 sequel "The Curse of the Cat People."
She played "vulnerable victims and conniving fatales with equal panache in a clutch of noir and fantasy 'B' pictures," Rode said.
Between 1941 and 1948, she made 20 films, playing a woman accused of killing her alcoholic husband in "Jealousy" (1945) and a bookie who frames an innocent man for murder in "Railroaded!" (1947).
She was born Jane Roemer on Oct. 30, 1915, in Youngstown, Ohio, to George Roemer, a steel-mill designer and his wife, Cora.
After growing up in Indiana, Randolph came to Hollywood in 1939 to study at director Max Reinhardt's acting school.
Briefly under contract to Warner Bros., she also attended the studio's talent-grooming school.
When the Army weekly Yank debuted in June 1942, Randolph appeared as the magazine's first pin-up.
For the animated Disney movie "Bambi" (1942), Randolph was one of two human models used for the ice-skating sequence with Bambi and Thumper.
Three weeks after wrapping her role as an insurance investigator in the 1948 film "Abbott and Costello Meet Frankenstein," she married Jaime del Amo. He would help develop Del Amo Shopping Center on family land in Torrance.
The couple spent most of their time in Spain. More recently, Randolph lived in a chalet in Switzerland and kept a home in Los Angeles.
She is survived by her daughter, Cristina del Amo.
---
Must-read stories from the L.A. Times
Get all the day's most vital news with our Today's Headlines newsletter, sent every weekday morning.
You may occasionally receive promotional content from the Los Angeles Times.