Jeffrey Hayden, veteran director and husband of actress Eva Marie Saint, dies at 90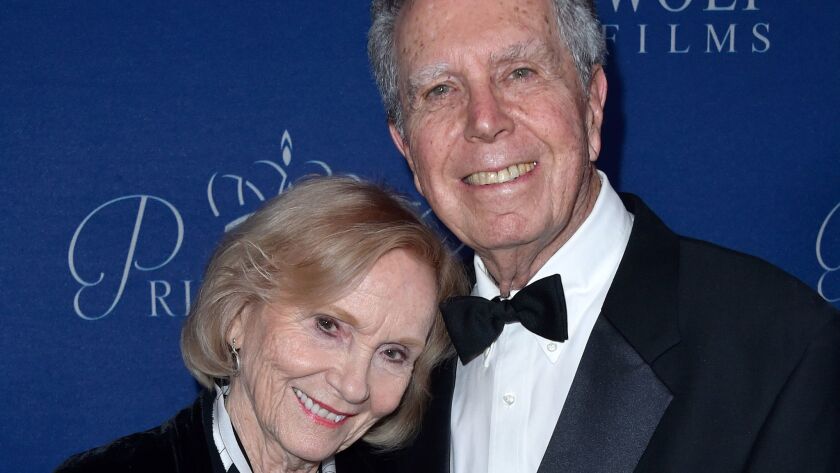 Jeffrey Hayden, a longtime director and writer who was involved in some of early-day television's most admired efforts to make educational and literary programming part of the American diet, has died at his home in Los Angeles.
Hayden died Dec. 24 after a yearlong battle with cancer, a family spokesperson said. He was 90.

For the record:
9:30 p.m. Aug. 15, 2022An earlier version of this story said Hayden died Saturday. He died Saturday, Dec.24
Known equally for his decades-long marriage to Academy Award-winning actress Eva Marie Saint – whom he directed on television and the stage, Hayden was among a modest swell of directors and writers who explored the possibilities of bringing intellectual fare to television viewers.
He directed his wife in "Omnibus," one of television's first magazine-format series that reached into literature, science and history and introduced BBC journalist Alistair Cooke to American viewers. He later joined the staff of "The Philco Television Playhouse," a live dramatic series that featured plays, musicals and original storytelling. Hayden worked with James Dean, Walter Matthau and Paul Newman while directing the show.
Born in New York on Oct. 15, 1926, Hayden moved with Saint to Los Angeles in the early '50s, her career rocketing upward after she appeared alongside Marlon Brando in "On The Waterfront," a role that earned her an Academy Award for best supporting actress, and opposite Cary Grant in Alfred Hitchcock's "North by Northwest."
Hayden found steady work in prime-time television, directing episodes of "The Andy Griffith Show," "Leave it to Beaver," "Route 66," "Mannix," "Peyton Place" and "Magnum, P.I." He was also executive producer and director of the daytime series "Santa Barbara" and directed several after-school specials for ABC.
He was equally prolific working from the stage, directing works such as "The Front Page," "Death of a Salesman" and "Candida." Often it was his wife in the featured role. At the Odyssey Theatre in L.A., he directed "The Sunshine Boys," "Fences" and "Desire Under the Elms." In 2015, he directed "Sunset Baby."
Perhaps because a director needs an actor, and an actor a director, Hayden and Saint found perfect company in each another.
"He's a director," she told the Washington Post in a 1981 interview. "I would never even date actors, you know, because they have needs that aren't reflected in the other person."
In recent years, they frequently traveled and performed together. They'd been married 65 years.
At times, Hayden seemed chagrined at the opportunities missed in mainstream television and found the flurry of scripts churned out to be tired and lacking.
"The scripts are terrible because everybody's rising, nobody's writing," he said in the 1981 interview. "The writer wants to be a story editor. The story editor wants to be producer. The producer wants to be a line producer. The line producer wants to be an executive producer. And the executive producer wants to do a spinoff."
He also argued, unsuccessfully, in favor of eliminating car chases from scripts, seeing them as a cheap device for keeping viewers glued to their screens.
"What has done this is the need to get to the next commercial without losing people," he said. Lost in the minutes devoted to spectacular car chases and running gun battles was the time and opportunity for a director to explore human conflict.
Hayden won the Governor's Media Award for "The Loretta Young Show," the NAACP Award for "Palmertown" and a variety of awards for "Children in America's Schools," a PBS documentary. He also wrote, produced and directed "Primary Colors: The Story of Corita" for PBS. He was also a guest lecturer at USC and UCLA.
In addition to his wife, Hayden is survived by children Laurette and Darrell and four grandchildren.
Twitter: @stephenmarble
---
Must-read stories from the L.A. Times
Get the day's top news with our Today's Headlines newsletter, sent every weekday morning.
You may occasionally receive promotional content from the Los Angeles Times.