Jerry Maren, last surviving munchkin from 'The Wizard of Oz,' dies at 98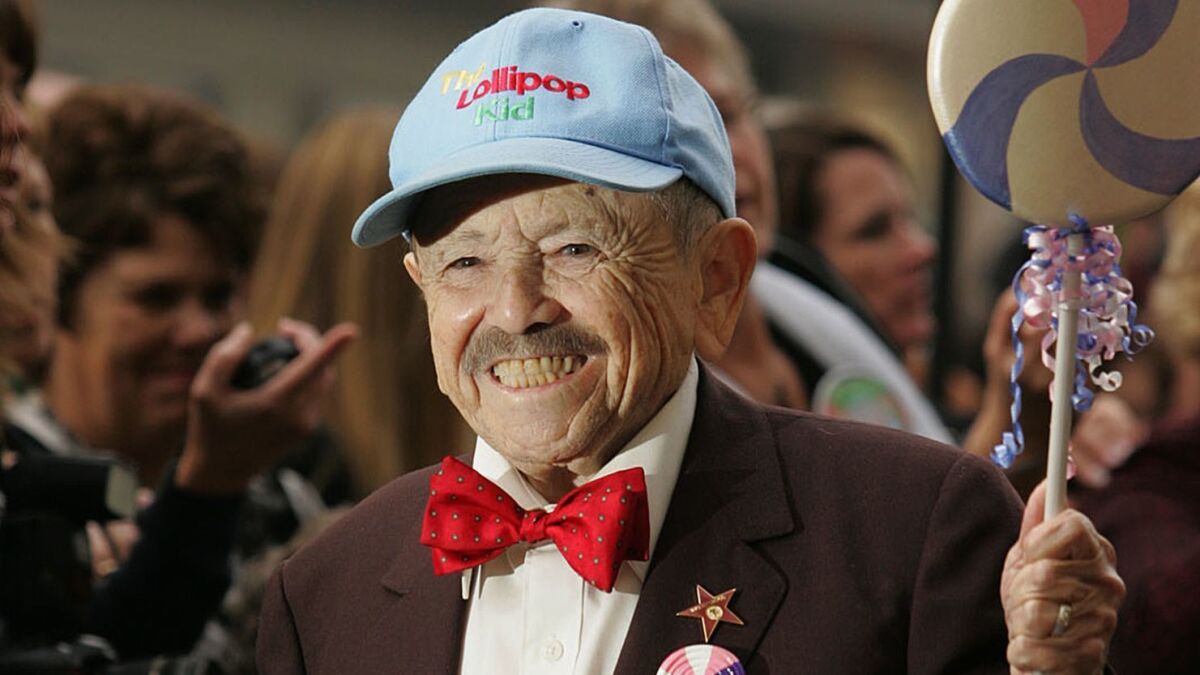 Actor Jerry Maren, the green-clad tough guy of the Lollipop Guild who famously handed Dorothy (Judy Garland) a giant lollipop in the 1939 film classic "The Wizard of Oz," has died at 98.
Standing at 4 feet 3, Maren was the longest-living member of the munchkins and the last surviving little person to appear in the iconic film.
He died on May 24 in a San Diego nursing home, his niece Stacy Michelle Barrington confirmed to the Los Angeles Times. News of his death only began circulating on Wednesday. His nephew Lloyd Decker told the New York Times that the cause of death was congestive heart failure.
Maren suffered from dementia for the past several years. He was diagnosed shortly after his wife, Elizabeth, died in 2011.
The diminutive actor paved the way for many like him who followed him to Tinseltown and helped found Little People of America, an organization devoted to improving the status of little people.
"Hey, I'm a normal human being. All of us little people are," Maren told The Times in 1993. "Some are wise guys. Some are a pain in the ass, just like the bigger folks. All the world is represented in little people."
Maren moved beyond society's stereotypes of shortness to make a successful living as an actor and spokesman. He racked up nearly 100 film and TV credits and starred in several commercials. He also played McDonald's Hamburglar and Mayor McCheese, as well as Buster Brown and Little Oscar in Oscar Mayer's 1950s ad campaigns.
Actor Kevin Thompson, a longtime friend of Maren's and also a member of Little People of America, met Maren while they played on the Hollywood Shorties baseball team for little people when Thompson was 11 years old. Thompson, who appeared alongside Maren in several pilots, noted that Maren "worked eight days a week as an actor, extra, stand-in or stunt double."
"Everybody knew Jerry Maren on every set I ever went to," Thompson said. "If he wasn't working, he was down at the Santa Anita racetrack. He liked those ponies … he was a downright nice guy, always had a cigar in his mouth like George Burns."
Stephen Cox — who co-authored Maren's 2008 autobiography, "Short and Sweet: The Life and Times of the Lollipop Munchkin," and "The Munchkins of Oz" — tracked down all the munchkins years after "The Wizard of Oz" debuted.
"He was one of the few pituitary dwarves, meaning they are proportionally correct, only miniature," Cox told The Times on Wednesday. "And that's the type of little people that MGM sought when they were making 'The Wizard of Oz.'"
Of the 124 munchkins who appeared in the film, Cox said about 96% were pituitary dwarves.
"Jerry was sometimes a quirky little guy," Cox said. "He was extremely generous, especially with other little people. He wanted to see them succeed and stay afloat and he didn't want to hear about his friends being in crisis."
Maren, who felt a responsibility with his fame, would often offer other little people money when he saw them at "Oz" reunions.
Cox said Maren certainly made a lot of money in film and television but also reaped the benefits of successful real estate investments in Southern California as well as lucrative ad campaigns.
Hey, I'm a normal human being. All of us little people are.
— Jerry Maren
Born Gerard Marenghi in Boston on Jan. 24, 1920, Maren was the last of 10 children born into an Italian American family of average-sized people.
He worked in vaudeville with friends and family while growing up, learning to sing and tap dance onstage in Boston. When MGM put out a search for little people for "The Wizard of Oz," Maren packed up and moved to Hollywood at 18 to make his film debut.
"He got the job because he was one of the few who knew how to tap dance," Thompson said.
The diminutive star appeared in the 1939 Marx Brothers film "At the Circus" (1939) and as an ape in 1973's "Battle for the Planet of the Apes" and then in "Little Cigars" the same year. The latter film follows a gang of little people on a crime spree.
He was a regular on "The Andy Williams Show" in the 1960s and showered bad performers with paper as "The Gong Show's" Confetti Man in the 1970s. He also had a walk-on role in "Seinfeld's" "The Yada Yada" episode.
During World War II, he took time off to perform for wounded soldiers at hospitals on USO tours, Thompson recalled.
"He would say, 'I served. I may not have fought … , but I served. I played at every single hospital no matter where it was,'" Thompson said. "He was proud of that."
Services for Maren were held at Forest Lawn in Hollywood over the weekend, according to TMZ, which was first to report his death on Wednesday.
Maren is survived by nieces, nephews and cousins.
Must-read stories from the L.A. Times
Get the day's top news with our Today's Headlines newsletter, sent every weekday morning.
You may occasionally receive promotional content from the Los Angeles Times.