John Mahoney, who played the cranky father on TV show 'Frasier,' dies at 77
John Mahoney came to the U.S. when he was young and landed a job as the editor of a medical magazine. His acting career didn't begin to bloom until he was in his early 40s.
John Mahoney, the English actor who became a familiar presence on American television as Kelsey Grammer's cranky-yet-sensible father on "Frasier," has died. He was 77.
Mahoney died Sunday after being hospitalized in Chicago, where he lived. His death was confirmed by the Steppenwolf Theatre Company, where he'd been an ensemble member since 1979.
Though Mahoney was best known for his role as Martin Crane — the ex-cop who regularly deflates the fully expanded egos of his two sons — his career was expansive and he tackled complex characters in both film and television.
He appeared in "Eight Men Out," "Barton Fink," "Tin Man" and "Moonstruck" and was a regular performer at the Steppenwolf, the acclaimed Chicago theater company.
Mahoney was twice nominated for an Emmy for his performance on "Frasier" and won a Tony Award for "The House of Blue Leaves." Mahoney's recent roles included guest appearances on "Hot in Cleveland" and a 2015 episode of "Foyle's War."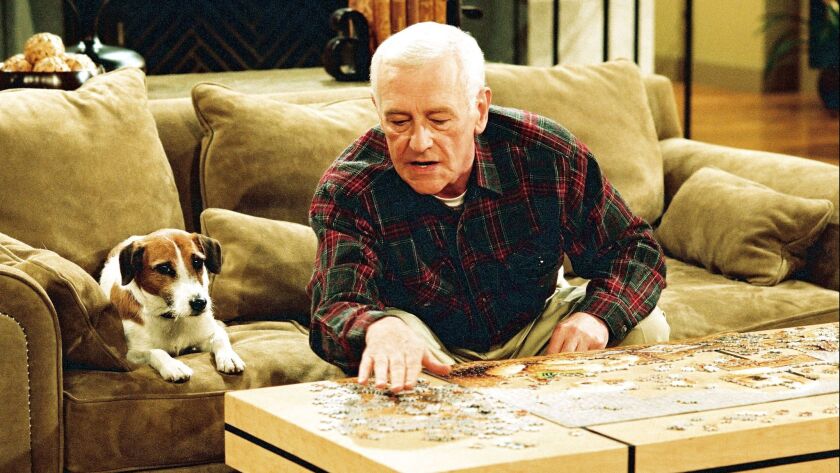 But it was his role as Martin Crane, seated in his less-for-wear recliner in the midst of Grammer's otherwise elegant Seattle apartment, for which he was best remembered.
Though he was prolific and his credits numerous, Mahoney said he became accustomed to people remembering his face but not his name.
"I've got a sturdy ego, and it doesn't bother me," he told The Times in 1996. "As long as writers, directors and the people who can employ me know who I am, I'm fine."
Born in Blackpool, Lancashire in England, Mahoney came to the U.S. when he was young and landed a job as the editor of a medical magazine, until the work tested his patience" "What's this, I'm going to write about hemorrhoids and cataracts the rest of my life?"
But his career as an actor didn't begin to bloom until he was in his early 40s.
"By the time I started my career, most people had given up and started selling insurance," he told the Chicago Tribune in 2004, "I didn't have so much competition."
So he took drama classes, landed roles at the Steppenwolf and worked with emerging actors such as John Malkovich, Gary Sinise and Laurie Metcalf.
As his television and film career blossomed, Mahoney shuttled between L.A. and Chicago and bounced freely between television, cinema and the stage.
"You're supposed to say how wonderful the stage is and how you only do film and TV for the money, but that sounds a bit whorish to me," he said in 2009.
"If it's a great script, I don't care what the medium is."
---
Must-read stories from the L.A. Times
Get all the day's most vital news with our Today's Headlines newsletter, sent every weekday morning.
You may occasionally receive promotional content from the Los Angeles Times.