Former Grateful Dead lyricist and internet activist John Perry Barlow dead at 70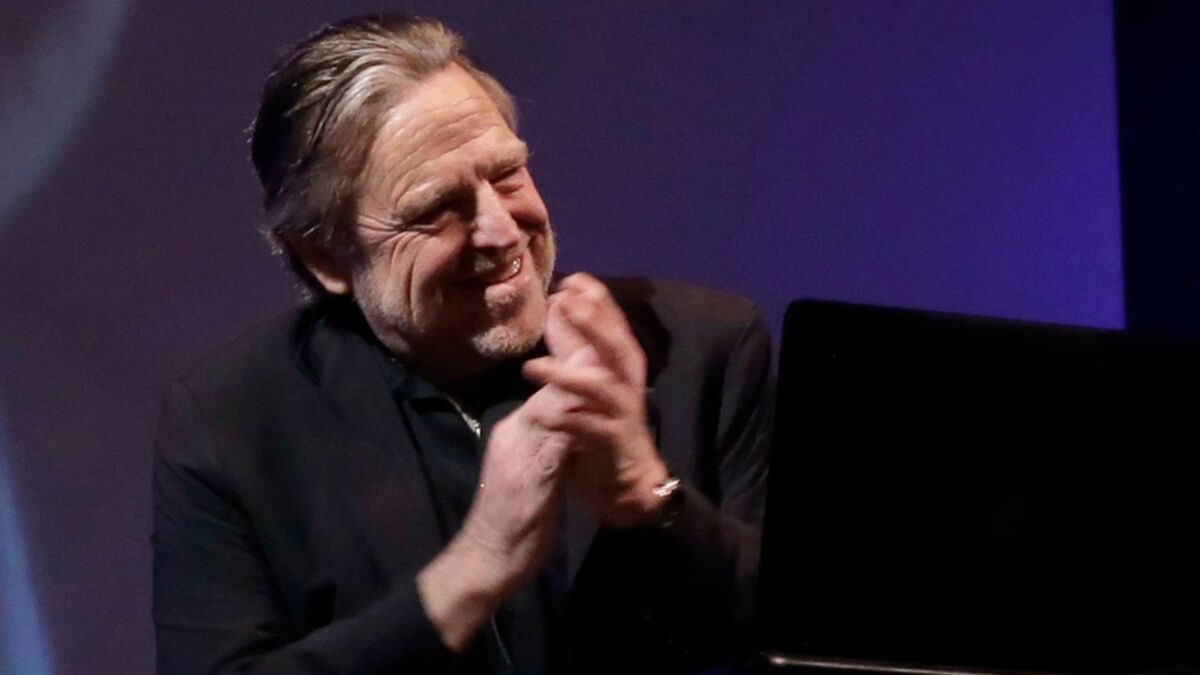 Reporting from San Francisco —
John Perry Barlow, an activist and independent voice who foresaw the internet's far-reaching implications, and who turned life's difficulties into adventures in songs he wrote for the the Grateful Dead, has died at his home in San Francisco.
The digital-rights group Electronic Frontier Foundation said Barlow died early Wednesday in his sleep. He was 70 and had been battling a variety of debilitating illnesses since 2015, according to supporters who organized a benefit concert for him in October 2016.

For the record:
2:20 p.m. Feb. 8, 2018This story has been corrected to remove "Touch of Grey" and "Brown Eyed Woman," which Barlow did not write.
Barlow co-founded the EFF in 1990 to champion free expression and privacy online. In a 1996 manifesto, the "Declaration of the Independence of Cyberspace," he argued that the U.S. and other governments shouldn't impose their sovereignty on the "global social space we are building."
"He's one of the very first people who recognized the internet was going to be important because it would help people connect in a way they couldn't in the physical world," said Cindy Cohn, the EFF's executive director.
Some of his policy views evolved over time, but he remained optimistic about the power of the internet to strengthen human connections as long as people weren't silenced by meddling governments or monopolistic businesses.
"He stayed consistent to this core idea that we could make something beautiful, or something awful, and it was up to us," Cohn said.
Barlow was born in rural Sublette County, Wyoming, in 1947 and raised near Pinedale, where his parents were ranchers and his father a state senator.
Barlow has said he grew up as a devout Mormon before leaping into the counterculture of the 1960s. He befriended Bob Weir, one of the Grateful Dead's founding members, when they were boarding school classmates in Colorado. Barlow graduated from Wesleyan University in 1969.
He later returned to Wyoming, where he ran the family cattle ranch for nearly two decades and dabbled in Republican politics. It was as a rancher in the 1980s that he first began exploring the web's early social networks.
"He saw very clearly that it was a way for those who had previously been disempowered to have a voice and to have agency, be able to express themselves and connect with kindred spirits," said software entrepreneur and EFF co-founder Mitch Kapor.
Kapor and Barlow began collaborating after both were sought out by FBI agents trying to investigate computer crimes.
"They didn't know what they were doing," Kapor said of the agents. "Men with guns, who aren't competent, is very scary."
The duo partnered with another software entrepreneur, John Gilmore, to create the EFF, which hired lawyers and sought to raise awareness about the importance of protecting civil liberties online. Although Barlow wasn't trained in computer science, his charm, oratory skills and big philosophical visions helped propel the cause forward, Kapor said.
By then, Barlow was already famous among fans of the Grateful Dead. He co-wrote several songs with Weir, including "Mexicali Blues," ''Black Throated Wind" and "Cassidy." With keyboardist Brent Mydland, Barlow wrote "Blow Away" and "We Can Run." He also wrote songs for String Cheese Incident and Burning Spear.
"John had a way of taking life's most difficult things and framing them as challenges, therefore adventures," Weir said in an online post Wednesday. "He was to be admired for that, even emulated. He'll live on in the songs we wrote."
His survivors include three daughters and a granddaughter. His memoir, "Mother American Night: My Life in Crazy Times," is due to be published later this year.
---
Must-read stories from the L.A. Times
Get the day's top news with our Today's Headlines newsletter, sent every weekday morning.
You may occasionally receive promotional content from the Los Angeles Times.