Johnny Hallyday, Gallic rocker worshiped as the 'French Elvis,' dies at 74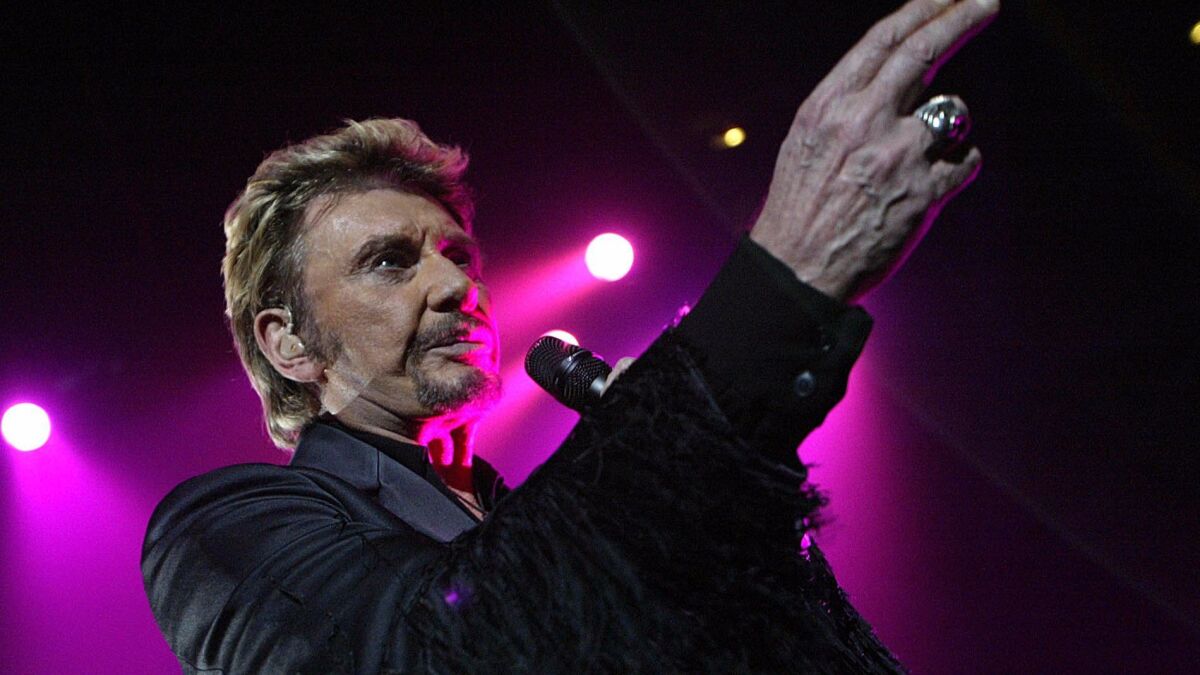 Johnny Hallyday, the French rock star who came to fame in the early 1960s with cover versions of American rock 'n' roll hits and continued to sell out concerts in France for decades, has died at his home outside Paris. He was 74.
Hallyday, who often was called "the French Elvis," died Wednesday, French President Emmanuel Macron announced in a statement. Fans — many in tears or carrying flowers — gathered outside his home to honor the rocker.
Macron said Hallyday "brought a part of America into our national pantheon." Hallyday, he said, seemed nearly invincible and long ago had been christened a "French hero."
Although many Americans had never heard of Hallyday, he was considered a godlike figure in France, where a survey once indicated he could likely get enough votes to be elected president.
"Hearing about Johnny's death has hurt us because Johnny is our God and nobody can replace him," one fan, Yves Buisson, told the Associated Press outside the Hallyday family's gated home in Marnes-La-Coquette. His arms were covered with tattoos of the star.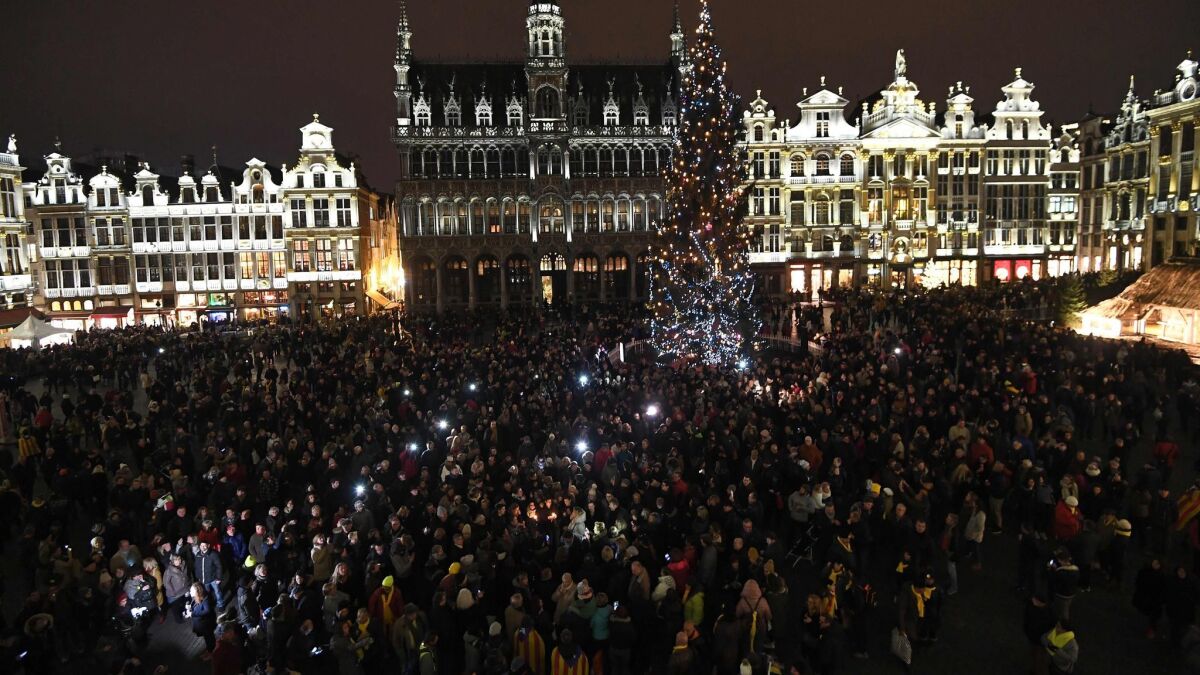 In 1997, French President Jacques Chirac presented Hallyday with the Legion of Honor.
The Elvis-inspired rocker scored early hits with French cover versions of U.S. records such as "Be-Bop-A-Lula," "Blue Suede Shoes," "Whole Lot of Shakin' Going On" and "Long Tall Sally."
His 1961 version of Chubby Checker's "Let's Twist Again" sold 1 million copies, and his early appearances in France caused riots.
"Johnny Hallyday introduced American rock 'n' roll to a vast French-speaking audience around the world," Howard Kramer, curatorial director at the Rock and Roll Hall of Fame and Museum, told The Times.
"He had a great reputation as a live performer, and he made records that were massively popular. He never really broke out of Europe, but his success was so massive he didn't really need to."
Over the decades, Hallyday reportedly sold more than 100 million records and performed before more than 15 million people in concert. In 1966, he selected Jimi Hendrix as an opening act and used eventual Led Zeppelin founder Jimmy Page in the recording studio as a session guitarist.
"Johnny is our god. We live and breathe him," a man in his 60s told the Times of London in 2009 when Hallyday launched a six-month sold-out farewell concert series, "Tour 66 — I'm Stopping Here."
Hallyday, who in recent years had split his time between Paris and Los Angeles, said at the time that he planned to continue recording occasionally. But he said decades on the road had worn him down. He had lung cancer and had repeated health scares over the years, including undergoing back surgery at Cedars-Sinai Medical Center.
"I have had enough playing Johnny Hallyday," the Times of London reported him as saying a week before the 2009 tour. "I want more and more to be Jean-Philippe Smet."
The son of a Belgian father and a French mother, he was born Jean-Philippe Smet in Paris on June 15, 1943.
His vagabond father, who performed in cabarets and theaters, soon left, and his mother became a model to earn money.
Hallyday was raised by his paternal aunt, who had acted in silent films and had two daughters who became dancers. As a child, he lived with his aunt and cousins in London for several years and traveled with them when they performed in Belgium, Germany and Portugal before returning to Paris.
He also made his film debut as a child — an uncredited walk-on in Henri-Georges Clouzot's 1955 thriller "Diabolique."
As a teenager, Hallyday idolized Marlon Brando, Montgomery Clift and James Dean, and his favorite movies were "East of Eden," "On the Waterfront" and "The Wild One."
"I adored all that period in the history of cinema — everything that spilled forth from the Actors Studio," he told Fort Lauderdale's Sun-Sentinel in 2003. "I actually wanted to be an actor before I became a singer. But when I was 12, I discovered rock 'n' roll through Elvis Presley."
At 17, he recalled, "I was playing a ballroom gig one Sunday to get some money to pay for my acting classes when a producer heard me and asked me to do a record. I did it, and it all just happened from there."
Hallyday began appearing in French movies after he gained rock 'n' roll fame, but he primarily played singers.
"It wasn't what I wanted to do," he told the New York Times in 2003. "I wanted to separate the singer from the actor. So I stopped for several years and then started to work again with [directors] Costa-Gavras, Jean-Luc Godard — roles where I wasn't a singer at all."
Hallyday received critical acclaim for his role as a bank robber in director Patrice Leconte's "Man on the Train."
"He's the equivalent of Joan of Arc in France," late actor Jean Rochefort, who co-starred in the film, once told the New York Times. "For me, he isn't really an actor but a man who has a presence, an undeniable charisma."
Hallyday, who had several marriages, including to French singing star Sylvie Vartan, is survived by his wife, Laeticia; and four children, Jade, Joy, Laura Smet and Dave.
McLellan is a former Times staff writer.
---
UPDATES:
11:35 a.m.: This article was updated with additional details and reaction.
This article was originally published at 9:50 a.m.
Must-read stories from the L.A. Times
Get the day's top news with our Today's Headlines newsletter, sent every weekday morning.
You may occasionally receive promotional content from the Los Angeles Times.