Josine Ianco-Starrels, curator who helped shape L.A. art scene, dies at 92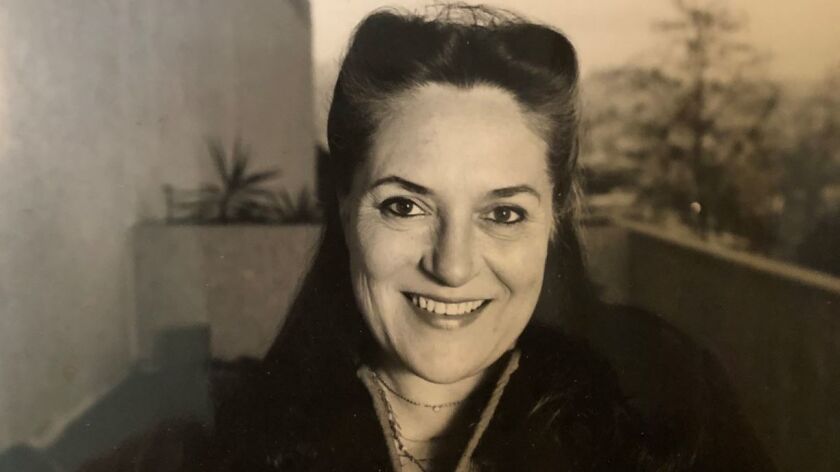 Josine Ianco-Starrels, a dynamic curator whose passion for artistic independence and social justice had a strong influence on Los Angeles' burgeoning art scene in the mid-20th century, has died of natural causes at 92.
Ianco-Starrels died at her home in Rogue River, Ore., on April 8, her daughter, Elissa Kline, said.
Fiery, outspoken and infused with equal portions of romanticism and pragmatism, Romanian-born Ianco-Starrels directed the city-funded Municipal Art Gallery in Barnsdall Park from 1975 to 1987, when professionally run nonprofit showcases for contemporary art were relatively scarce in Los Angeles.
Providing an alternative to commercial galleries and conventional museums, she focused on Southern California's under-recognized artists of all ages and colors. But the Muni was merely the highlight of a career that included curatorial positions at the Lytton Center of the Visual Arts, Cal State L.A. and the Long Beach Museum of Art. She also compiled The Times' Sunday Art News column in the 1970s and '80s.
"Ianco-Starrels' credentials as one of art's great populists are impeccable," William Wilson, a former Times art critic, wrote in 1990. "She specialized in art and artists of the overlooked and undervalued sort."
A champion of women, artists of color and forgotten men, she presented "Newcomers" and "Multi-Cultural Focus" group exhibitions and shined a spotlight on many individuals who rose to prominence, including Betye Saar, Helen Lundeberg, Vija Celmins and Charles White.
"She had the confidence to take incredible chances," said Jay Belloli, former gallery director at the Armory Center for the Arts in Pasadena. "In terms of diversity, she got there long before other curators. She just had the eye and knew what was really good."
Born in Bucharest on Oct. 17, 1926, Ianco-Starrels was the daughter of Marcel Janco, an artist, architect and co-founder of Dada, an anarchic art movement that erupted in Zurich, Switzerland, as World War I began. (German writers changed the spelling of his last name and the new version stuck, but Josine kept the original spelling.) Janco was part of a prosperous family, but he was also Jewish.
In a desperate move that sharply reduced his circumstances, he immigrated to Palestine with his wife and two daughters during World War II.
Ianco-Starrels, who studied at the University of Tel Aviv but left to go to Paris, moved to New York in 1950 and enrolled in the Art Students League.
Her first marriage, to educator and journalist Harold Manson, fell apart, and in 1956 she married Herbert Kline, a documentary filmmaker. They moved to Los Angeles, and her career began in 1960 as curator of the Lytton Center of the Visual Arts, established by financier Bart Lytton.
Initially hired to organize Lytton's collection of pre-cinema paraphernalia, Ianco-Starrels was well-positioned when Lytton decided to open a gallery for California art. She found her calling by presenting a landmark show of work by California women, among many other exhibitions. She also met her future third husband, Maurie Starrels, a Lytton banking executive whom she married in 1969.
The Lytton gallery closed in 1969, and Ianco-Starrels became director of the art gallery at Cal State L.A., where she designed an innovative program for the university's multicultural student audience. That experience led to the Muni, where she flourished until a change in management forced her into a bureaucratic position.
Awarded an honorary doctorate degree from Otis Art Institute of Parsons School of Design (now Otis College of Art and Design) in 1985, she was senior curator at the Long Beach Museum of Art from 1987 to 1990, then shifted to freelance projects. But her professional life was never the same.
"I feel like a cavalryman without a horse," she told Wilson.
Ianco-Starrels retired in 2000 and moved to Oregon, where she was a volunteer guest curator at the Schneider Museum of Art at Southern Oregon University in Ashland. She is survived by her daughter, Elissa Kline; son Ethan Kline; sister Dadi Janco and grandsons Miles Kline and Ian Janco Gillberg.
Muchnic is a former Times staff writer.
---
Must-read stories from the L.A. Times
Get the day's top news with our Today's Headlines newsletter, sent every weekday morning.
You may occasionally receive promotional content from the Los Angeles Times.