Juan Gabriel, superstar Mexican singer and songwriter, dies at 66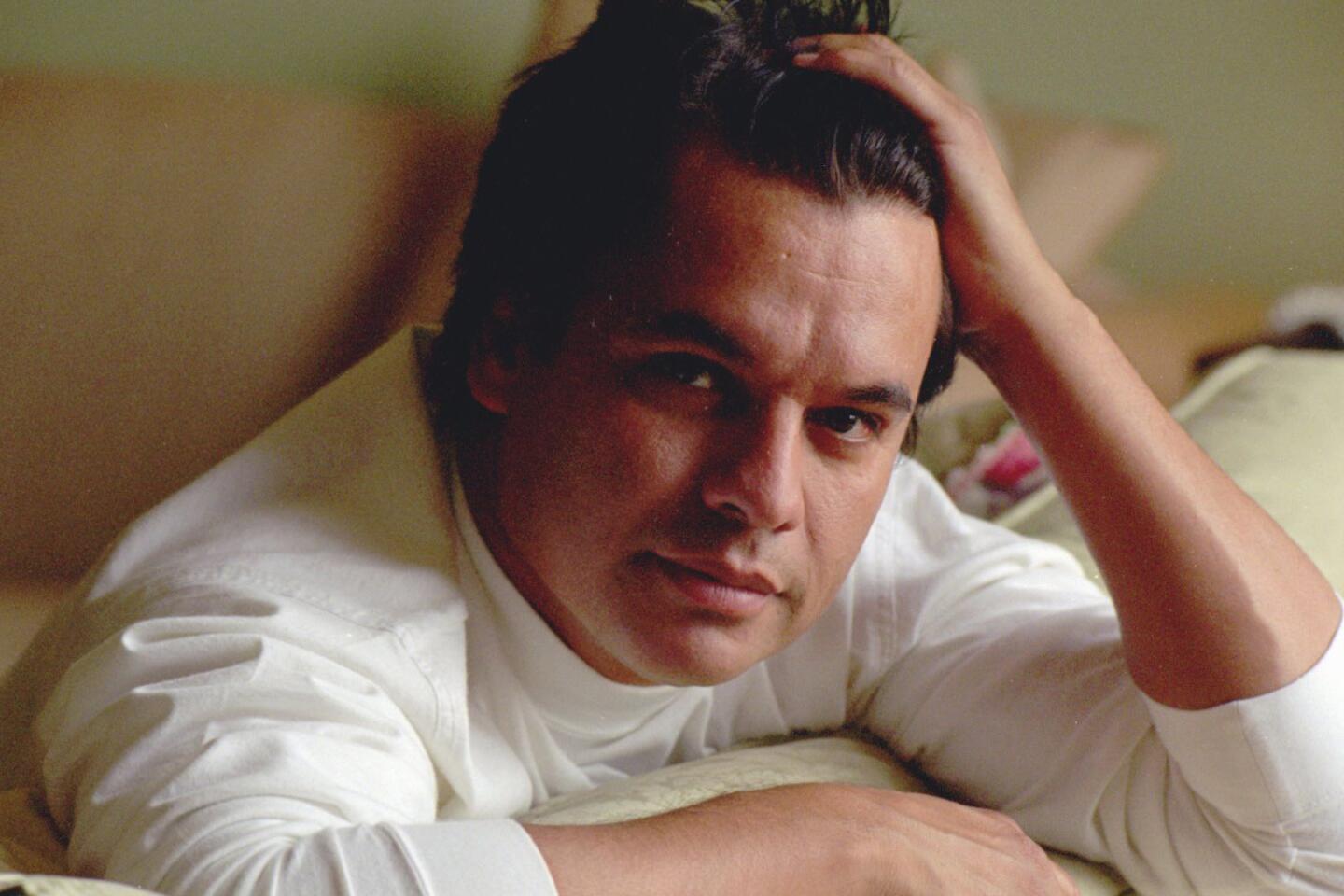 Mexican pop superstar Juan Gabriel, who had suffered from health problems in recent years, died of natural causes according to the Los Angeles County Coroner. He was 66.
(Vince Compagnone / Los Angeles Times)
Juan Gabriel performs at this year's Latin Billboard Awards in Coral Gables, Fla.
(Wilfredo Lee / Associated Press)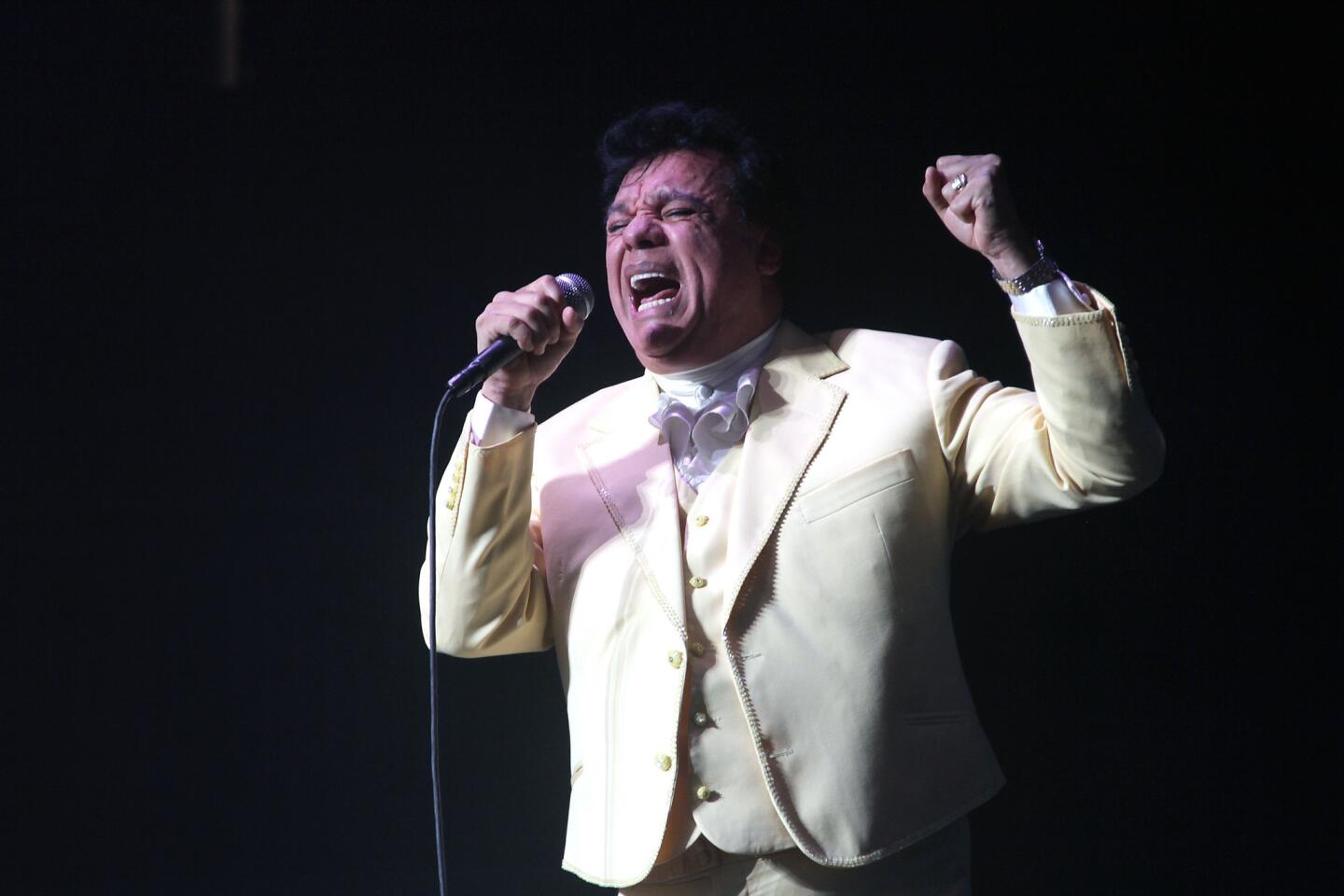 Juan Gabriel performs in San Juan, Puerto Rico, as part of his Volver 2015 tour.
(GV Cruz / WireImage)
Juan Gabriel performs at the 2009 Latin Grammy Awards in Las Vegas.
(Matt Sayles / Associated Press)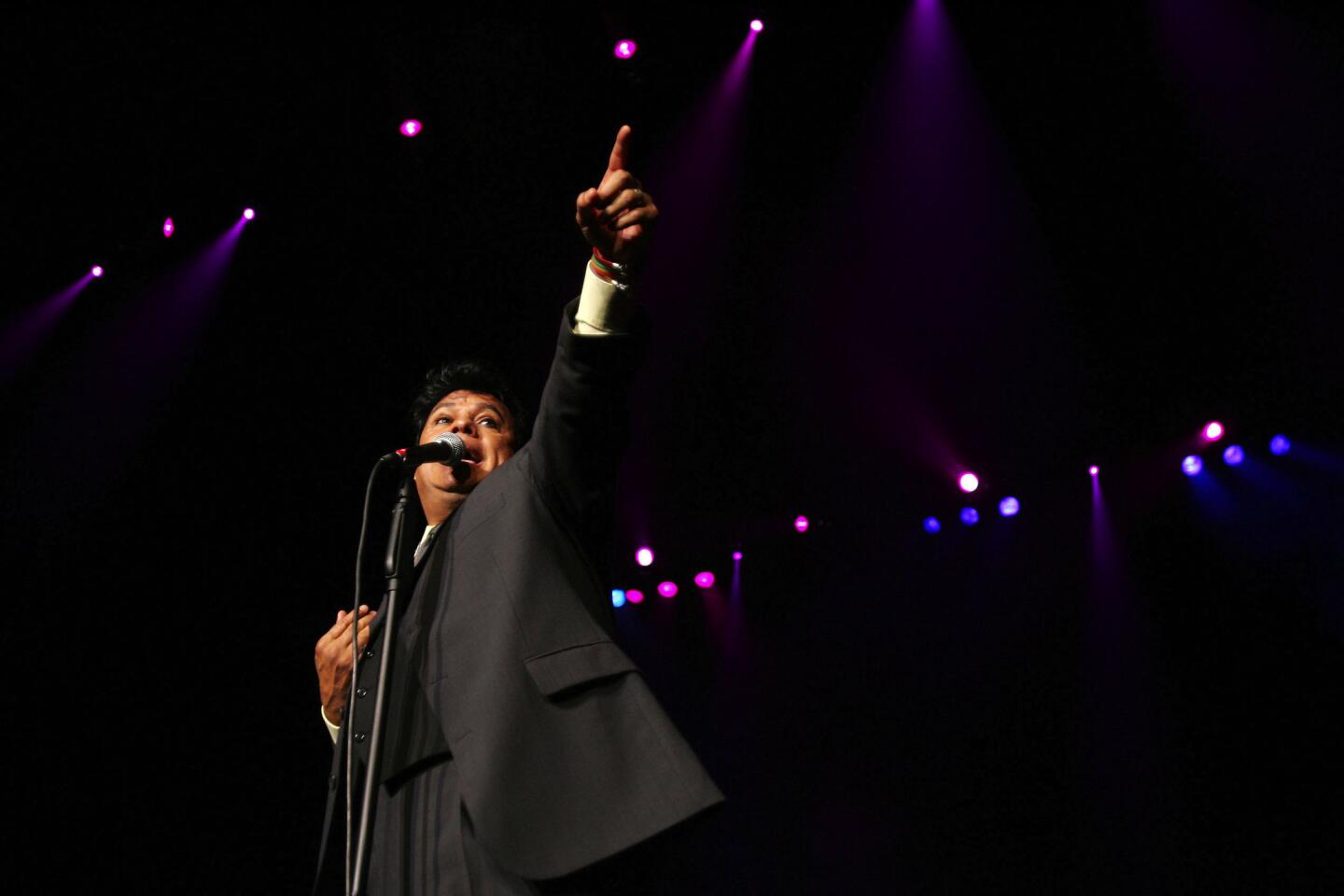 Juan Gabriel performs at the Staples Center in 2004.
(Ringo H.W. Chiu / For The Times)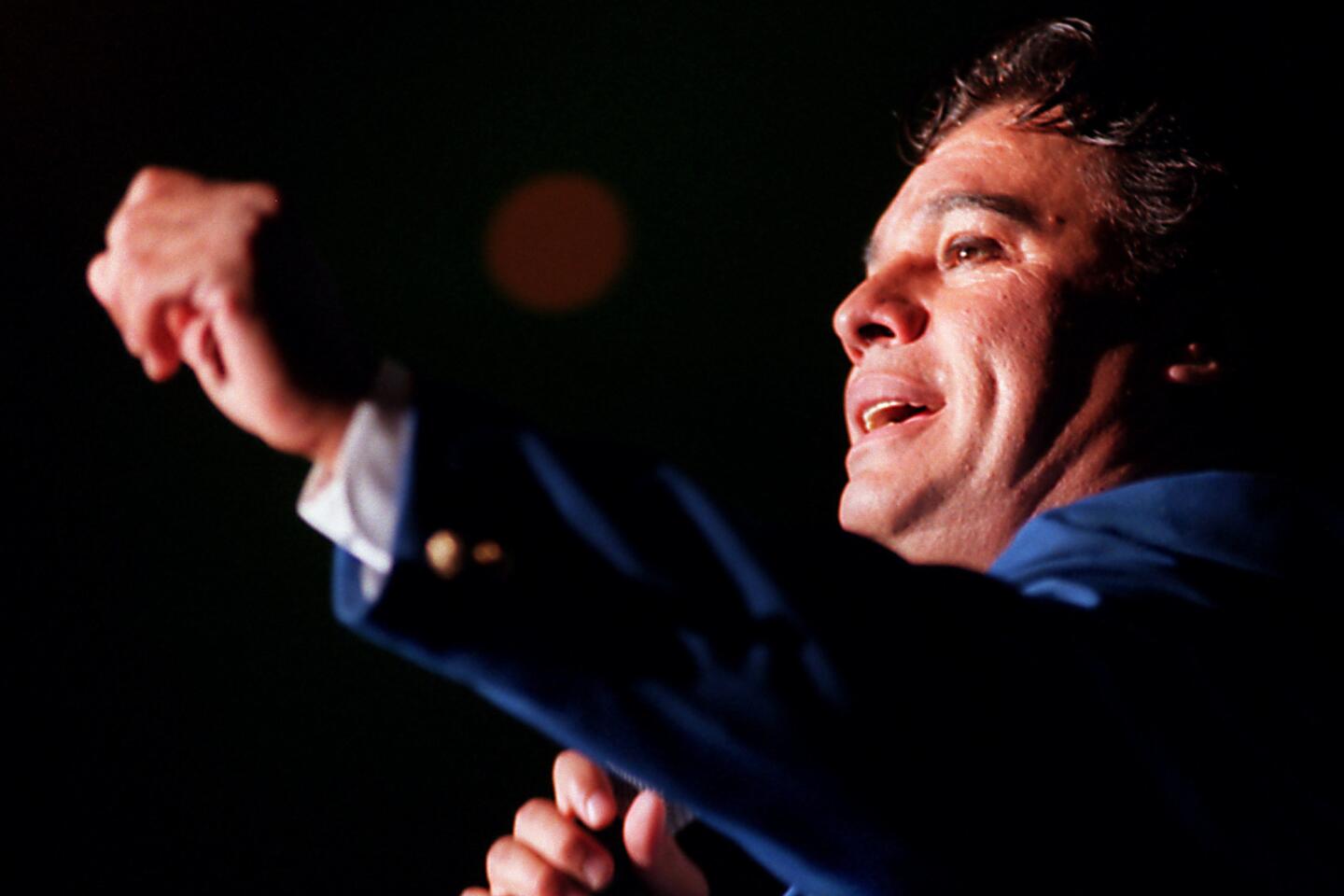 Juan Gabriel reaches out to the audience during his concert at the Anaheim Convention Center in 1999.
(Alex Garcia / Los Angeles Times)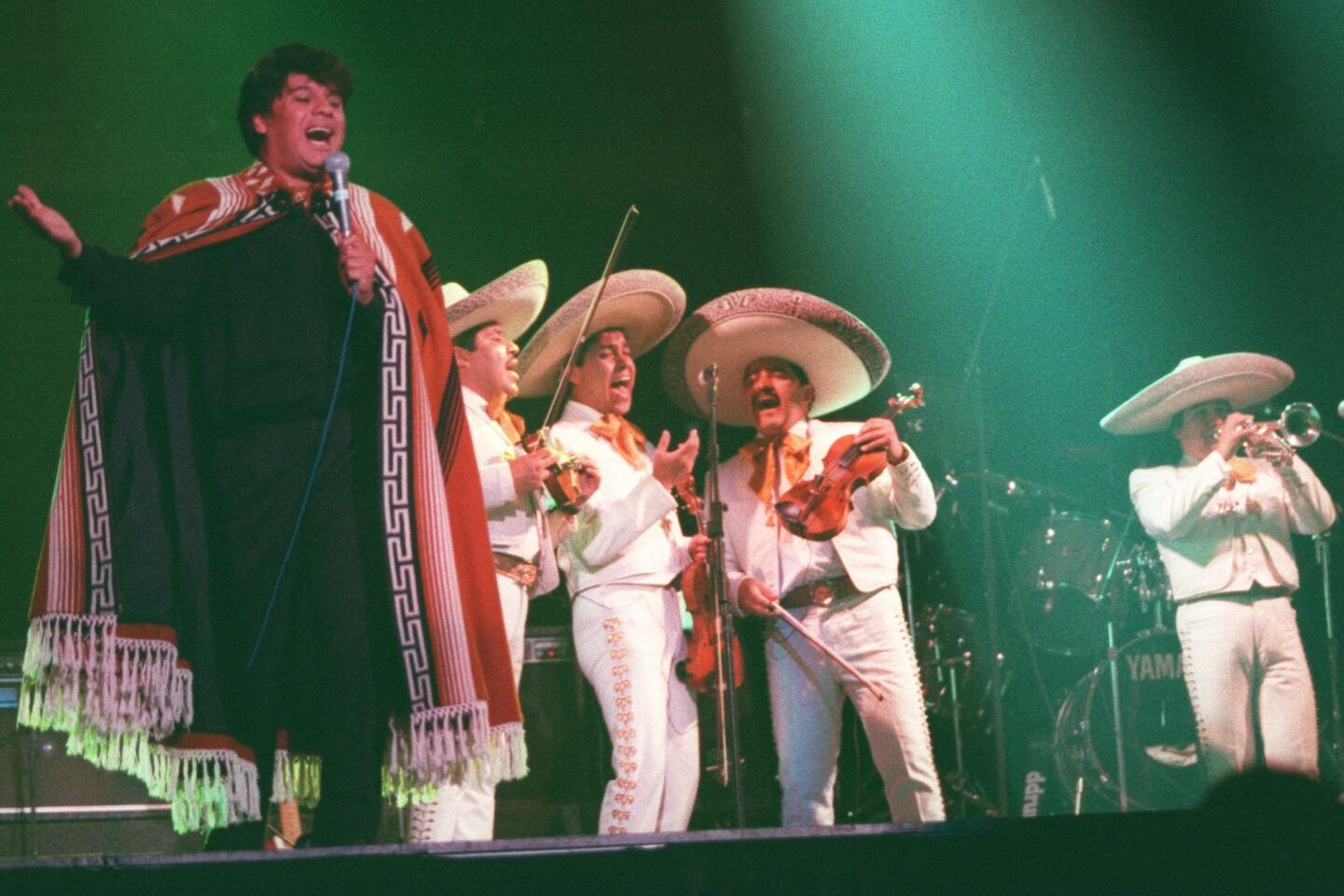 Juan Gabriel performs with mariachi in 1996.
(Julia Cheng / Los Angeles Times)
Juan Gabriel is shown in 1999 in Las Vegas.
(Kirk McKoy / Los Angeles Times)
Reporting from Mexico City —
Juan Gabriel, the beloved top-selling Mexican singer who wooed crowds on both sides of the border with ballads of love and heartbreak for more than four decades, died Sunday at his home in Santa Monica.
Juan Gabriel, who had suffered from health problems in recent years, died of natural causes, according to the Los Angeles County Coroner. He was 66.

For the record:
8:15 a.m. Aug. 29, 2016An earlier version of this article gave Juan Gabriel's name at birth as Alberto Aguilera Valdez. The name was Alberto Aguilera Valadez.
The flamboyant performer's sudden death spurred an outpouring of grief across Mexico, with back-to-back television tributes to Juan Gabriel replacing regularly scheduled programming and the Mexican government offering to host an event honoring the singer at the national opera house in Mexico City.
"A voice and talent that represented Mexico," Mexican President Enrique Pena Nieto wrote of Juan Gabriel on Twitter. "His music is a legacy for the world."
News of Juan Gabriel's death also rippled across Los Angeles Sunday, where Spanish-language radio stations played his songs and fans mourned over text messages and social media.
"If you live in a Mexican family, you know about Juan Gabriel," said Joanna Franco, 25, of the South Bay, who said her mother used to put on Juan Gabriel's albums as she cleaned the house. "He's a staple. One of the legends."
Sent to live at an orphanage at age four, Juan Gabriel's rags-to-riches story was as well-known as his glittery outfits and his unrelentingly romantic lyrics.
It was not uncommon for fans to cry at his shows, which sometimes stretched as long as five hours.
Sporting a perfectly coiffed pompadour — and sometimes a flowing cape — Juan Gabriel was known for his epic stage performances, where he was often accompanied by an orchestra, dancers and dozens of mariachis dressed in tight jackets and sombreros.
Juan Gabriel was in the middle of a tour and performed for the last time on Friday night, in front of thousands of fans at the Forum in Inglewood, a testament to his popularity among Spanish speakers outside of Mexico.
Adriana Peña, a Burbank homemaker, said Juan Gabriel was the first musician she ever saw in concert, alongside her mother at the age of seven or eight. She remembers being in awe of the flamboyant singer.
"He was very humble -- but he put on a great show," she said. "He was like the Michael Jackson of Mexico."
Born Alberto Aguilera Valadez in Parácuaro, Michoacán, but better known by his stage name, Juan Gabriel spent most of his final decades living in the United States. But unlike other Latin music stars, such as Enrique Iglesias or Marc Anthony, he shied away from recording music in English and fiercely guarded his Mexican identity.
"American music has infiltrated the entire world enough as it is," he told a Times reporter in 1999. "Mexican music must be defended with vigilance.… My thoughts, my feelings, my spirit, they are all in Spanish."
Juan Gabriel was born in 1950, the youngest of 10 children. He said his first memory in life was of his mother leaving him at an orphanage in the border city of Juarez.
"You don't know the word for 'abandon' at that age," he told The Times. "But you know what is happening. You know you want to be with your mother, and she is not there."
As a teenager, Juan Gabriel wrote songs in his head and sang them as he sold tortillas in the street. His voice turned heads, and soon he moved to Mexico City, where he scored his first recording contract. In 1971 he released his first gold record, "No Tengo Dinero" (I've Got No Money).
Juan Gabriel went on to become the best-selling artist in Mexican history, writing more than 1,000 songs for himself and other performers in a variety of styles that stretched from rock to disco and ranchera.Gabriel also dabbled in acting. But he is best remembered for his ballads, such as Querida ("My Dear"), a 1984 love letter to a former lover considered by many fans to be his greatest hit.
"Look at my loneliness," he sings in Spanish, his voice quivering. "I want to see light in my house again."
Juan Gabriel credited his simple, soulful lyrics with his upbringing.
"I compose songs with a lot of simplicity because my school has been the streets and people have been my books," he said after his induction into the Billboard Latin Music Hall of Fame.
His songs were soundtracks for the lives of generations of Mexicans and Mexican-Americans.
"I think all of us, Mexican or not, have scenes in our lives linked to Juan Gabriel's songs," Mexican journalist Peniley Ramirez wrote on Twitter. She said she remembered singing his songs in her house while she was pregnant.
Frank Marez, an Arroyo Grande resident who was in Los Angeles on Sunday for a Dodgers game, said Juan Gabriel made him proud to be Mexican-American.
"You knew a Juan Gabriel song when you heard it," he said. "It's hard when one of yours is gone."
Although he continued to perform, Juan Gabriel suffered from health problems in recent years. In 2014, he was hospitalized with pneumonia after a Las Vegas show. Juan Gabriel, who had four children, never married.
His colorful outfits and flamboyant dance moves drew speculation about his sexuality, but Juan Gabriel preferred to remain coy on the issue.
He was never coy when talking about music. At lunch with a Times reporter in Malibu in 1999, he said he wouldn't care if he lost all his money.
Making music is all he needed to be happy, he said.
"To make it, you have to be fully alive," he said. "I do my best to do that. I enjoy every moment, because I believe that once we die, that's it. We're not coming back. Lovers come back. Styles come back. But time? It never comes back."
Times staff writers Matt Stevens and Emily Alpert Reyes and Cecilia Sanchez of The Times' Mexico City bureau contributed to this report.
ALSO
Framed: She was the PTA mom everyone knew. Who would want to harm her?
'Granny flats' in Los Angeles are in legal limbo amid City Hall debate
Mother was deported to Mexico and her kids remain in the U.S. Here's how this family works.
---
UPDATES:
8 p.m.: This article was updated with staff reporting.
4:35 p.m.: This article was updated and rewritten throughout.
This article was originally published at 3:30 p.m.
Sign up for Essential California for the L.A. Times biggest news, features and recommendations in your inbox six days a week.
You may occasionally receive promotional content from the Los Angeles Times.