Katherine Helmond, affable matriarch of 'Soap' and 'Who's the Boss?', dies at 89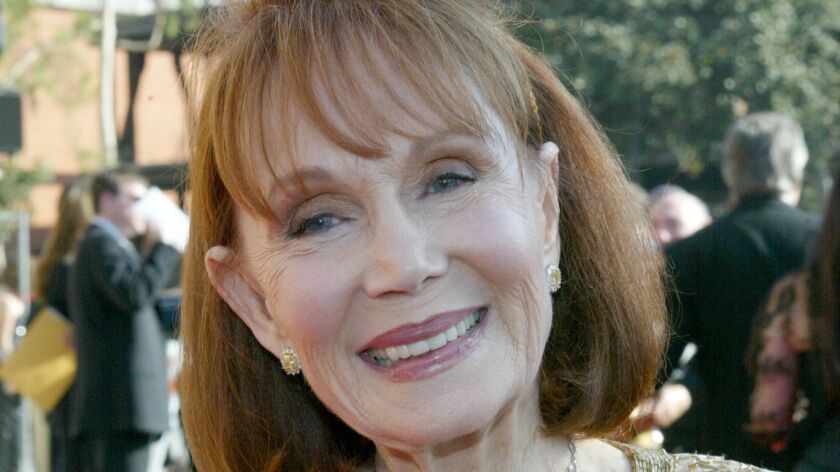 Katherine Helmond, the sitcom star whose memorable roles as ditzy matriarchs in "Soap," "Who's the Boss?" and "Coach" endeared her to audiences of all ages, has died. She was 89.
Helmond died Feb. 23 at home in Los Angeles from complications of Alzheimer's disease, according to her talent agency, APA.
"She was the love of my life," her husband, David Christian, said Friday by email. "We spent 57 beautiful, wonderful, loving years together, which I will treasure forever. I've been with Katherine since I was 19 years old. The night she died, I saw that the moon was exactly half-full, just as I am now — half of what I've been my entire adult life."
Helmond, who began her career in the 1950s, also starred in director Terry Gilliam's films "Brazil" and "Time Bandits" and provided the voice for Lizzie, a crazy, old Model T, in Disney's "Cars" franchise.
She was nominated for Emmy Awards seven times and won two Golden Globe Awards for her character work as Jessica Tate on the 1970s hit parody "Soap" and as Mona Robinson and the 1980s sitcom "Who's the Boss?" She was nominated for another Emmy in 2002 for her guest role in "Everybody Loves Raymond."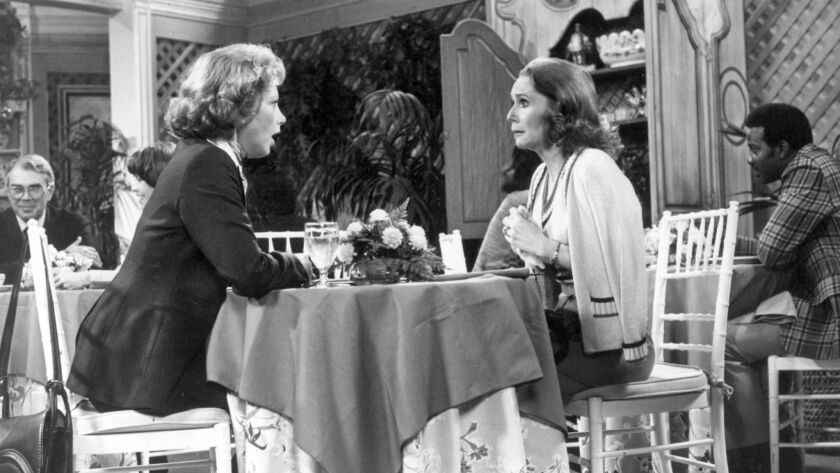 Though television was her biggest claim to fame, the Texas native had a long and successful stage career. She performed in regional theaters and ran her own repertory theater in upstate New York.
Helmond appeared in four Broadway productions and was nominated for a 1973 Tony Award for her role in "The Great God Brown." She also appeared off-Broadway.
In 1972, she won a Los Angeles Drama Critics Circle Award for her performance as Bananas in "The House of Blue Leaves," and local producers began calling her.
But her TV career launched in the late '70s, when she was cast as the daffy Jessica Tate on Susan Harris' "Soap," a prime-time soap opera parody that also starred Richard Mulligan, Robert Guillaume and Billy Crystal.
The ABC comedy was boycotted by religious groups offended by the early press reports about the sexual content of the comedy series.
"Soap" pushed boundaries when it debuted in 1977, lampooning the often overwrought daytime soap operas that once crammed network schedules. The show was built around two sisters from different economic worlds. Helmond played Jessica, the naive and wealthy red-headed sister whose husband was an unabashed philanderer. Her own flirtatiousness — and affairs — was a punchline on the show. Her character had an African American butler named Benson, played by Guillaume, who became a breakout star of his own.
Several ABC affiliates declined to air the series and others delayed it until after 11:30 p.m. in some markets. Even though it caught on with viewers, the comedy's commercial time had to be sold at fire-sale prices that failed to cover the production costs, according to Times reports.
"Soap" was canceled in 1981 after four seasons so that the network could cut its losses. After that, Helmond appeared in several short-lived series and movies, including "The Love Boat" and 1987's "Overboard."
But her eight-season run as the daffy, man-obsessed grandmother Mona Robinson alongside Tony Danza and Judith Light in "Who's the Boss?" allowed her to play an unapologetic, contemporary woman not defined by age.
"I can be serious and I can be funny and vulnerable and blunt and brutal and loving. Yeah, a contemporary woman," Helmond told The Times in 1989. "I wanted to show a woman my age who doesn't fulfill the expectations [held] of grandmother and mother and nice lady in Connecticut — but someone who's in life, not outside looking in.
"I'd really like to show women my age — who've had children grow up or lost husbands or retired after working all their lives — that there are options. There are choices. We don't have to just sit around and be invisible. Women have been brought up to be passive, accepting, not come forward and play a major role in life. And with age, there's a tendency to revert to that — to pull back, recede. I don't think it's advisable or admirable."
Light joined a number of celebrities who saluted Helmond on Friday.
"Katherine Helmond was a remarkable human being and an extraordinary artist; generous, gracious, charming and profoundly funny," Light said in a statement to The Times. "She taught me so much about life and inspired me indelibly by watching her work. Katherine was a gift to our business and to the world, and will be deeply missed."
Alyssa Milano, who played Helmond's granddaughter, also paid tribute.
"My beautiful, kind, funny, gracious, compassionate, rock," Milano wrote on Twitter. "You were an instrumental part of my life. You taught me to hold my head above the marsh! You taught me to do anything for a laugh! What an example you were!"
And in a tweet Danza said, "We lost a national treasurer today. No words can measure my love."
In addition to her husband, Helmond is survived by her half-sister, Alice Parry, and several nephews and nieces.
Times staff writer Meg James contributed to this report.
---
Must-read stories from the L.A. Times
Get all the day's most vital news with our Today's Headlines newsletter, sent every weekday morning.
You may occasionally receive promotional content from the Los Angeles Times.